Bomb Attacks Kill 40 Iraqis
More than 40 people died in bombings in Iraq on Thursday in the worst violence since United States combat troops withdrew from urban areas at the end of last month.
Even though attacks are down sharply from past years of war, the carnage was a reminder that insurgents remain intent on destabilizing Iraq as the United States shifts its focus to the war in Afghanistan. Militants have been driven from many strongholds, but they routinely inflict casualties in Baghdad and northern Iraq, a cauldron of ethnic and sectarian tension.
Some 130,000 U.S. troops remain in Iraq, but they have a much lower profile in line with a security agreement with Iraq that mandates their complete pullout by the end of 2011. Iraqi attitudes are mixed, with some rejoicing over the absence of American troops in their streets and a new sense of sovereignty, and others worried that extremists will now have more freedom to operate.
The day's violence began at 6:30 a.m., when a suicide bomber in a police uniform and carrying a radio and a pistol knocked on the door of an investigator in the anti-terrorism police force in the northern city of Tal Afar. When the officer opened the door, the bomber detonated his explosive belt, killing the man, his wife and son, said Maj. Gen. Khalid al-Hamadani, police chief of the northern Ninevah province.
As people gathered in the aftermath, another suicide bomber detonated his explosives belt, al-Hamadani said. The coordinated attack killed a total of 34 people and injured 70. A day earlier, bombs in two Shiite villages near Mosul, another northern Iraqi city, killed 16 civilians and injured more than two dozen.
Haneen Qaddo, a lawmaker representing Shiites in the Mosul region, complained about a "big security vacuum" in the north and said Kurdish forces, known as peshmerga, should withdraw from some areas and allow Iraqi army units to deploy. Tensions between Iraqi Arabs and Kurds, who run a virtual mini-state in part of northern Iraq, are considered a major threat to the region's long-term stability.
Insurgents also struck Baghdad on Thursday morning, detonating roadside bombs that killed seven people. Six died and 31 were injured in coordinated blasts near an outdoor market in the Shiite district of Sadr City, said Maj. Gen. Qassim al-Mousawi, spokesman for the city's operations command center. Explosives experts defused a third bomb in the area.
Hassan Abdullah, a 32-year-old vegetable salesman, said he heard the first blast and went to see what was happening when a second bomb hidden in trash about 100 meters away exploded. He said he fell to the ground and was taken to a hospital with hand and leg injuries.
In the Karrada district of central Baghdad, one civilian was killed and five people were injured in a roadside bomb attack on the convoy of Central Bank Gov. Sinan al-Shibibi, a police officer said on condition of anonymity because he was not authorized to speak to the media. Three of the injured were guards of the governor, who was unharmed.
Five people were injured in bombings in other parts of Baghdad.
Also Thursday, U.S. forces released five Iranian officials detained in January 2007 in northern Iraq on suspicion of aiding local Shiite militants, Iranian and Iraqi officials said. Iraq's foreign minister, Hoshyar Zebari, predicted the release would help improve dialogue between Iran and the United States, which are longtime adversaries.
The U.S. military did not comment on the Iranians, saying the release and transfer of detainees to Iraqi authorities was a private matter that occurs regularly in line with a security agreement. Separately, it said it was investigating the death of a U.S. soldier who had been found "unresponsive" on a military base.
Tallen Solicits Men's Support Against GBV, Other Practices Against Women, Girls
The Minister of Women Affairs, Pauline Tallen, has solicited the support of men in the fight against Gender-Based Violence (GBV) and other atrocities committed against women and girls, stressing they cannot continue to speak alone.
She made the appeal while receiving the delegation of Boys Champion, a non-governmental organisation (NGO), supported by the Nigeria's Diaspora Commission (NIDCOM) officials which came visiting her to present the 1st Place Winner of AFS Award for JNG Global Citizens awarded to the founder of Boys' Champion, Noel Ifeanyi Alumona, a Diasporean.
According to a statement by Director, Press and Public Relations, Olujimi Oyetomi, the minister, who commended the Director-General and CEO of NIDCOM, Abike Dabiri-Erewa, for her concern on Diaspora matters, pointed out that the country's gender-based violence rate is worrying and emphasized the need for more males to speak out in support of women in order to reduce or eradicate GBV.
She said: "Women cannot continue speaking alone. With voices like yours (Boys Champion), we need more boys and more men to lend their voices to speak out and to condemn all forms of violence against women and girls."
Tallen described her ministry, as a "Diaspora-inclined organization", pledging that the ministry would partner with the Boys Champion to spotlight violence against vulnerable persons in whatever form it may take.
She further pledged collaborations with the organization to ensure a success of its aims and objectives.
The minister also described the Boys Champion's contributions at home as excellent, noting that their support for women and girls is a way for them to give their fair share to the country's growth and noting that they will be unhappy if things are not going well in Nigeria.
She applauded the NGO for taking on the challenging task of educating young men about gender equality and rights, as well as for its awareness-raising event in Enugu State, which focused on getting boys and young men to respect women and put an end to gender-based violence.
Tallen pledged to collaborate with the group on their admirable activities and stated that the ministry was prepared to assist the project.
The minister emphasised that while discussing gender equality, it is not about men fighting women but rather about both of gender cooperating to produce better results on gender-related issues.
She described women as "God's last born," intended to provide a support system for men.
In his remarks, the Boys Champion Founder, Noel Ifeanyi Alumona, expressed appreciation to the minister for the warm welcome accorded his team, and explained the purpose of their visit, included presenting the "AFS Award for Young Global Citizen" to her which he won as a "1st Place Winner".
The visitors were led by officials of Nigerians the Diaspora Commission (NIDCOM), which include Senior Information Officer, Oloye Olufunke, and Senior Diaspora Officer, Idio Elyon.
Buhari Approves N80bn For Reconstruction Of Sapele-Benin, Amukpe-Agbor Roads
President Muhammadu Buhari has approved the release of a sum of N80billion for the reconstruction of the Sapele-Benin road and Amukpe-Agbor-Uromi roads.
The Deputy President of the Senate and APC governorship candidate in Delta, Senator Ovie Omo-Agege, made this disclosure during a meeting with members of the Christian Council of Nigeria, held in Sapele.
According to Omo-Agege, he had requested Delta State Governor, Dr.Ifeanyi Okowa, to know the status of the road all the way from Petroleum Training Institute to Agbor, when he became deputy president of the Senate.
He said this was because he knew the contract had been awarded previously and requested a review so he could put it in the Niger Delta Development Commission (NDDC) budget.
Omo-Agege, however, explained that "because Okowa felt he would not get the political credit, the issue died."
He noted that recently, with the reconstitution of the NDDC board, Buhari ordered that N500billion of the commission that was frozen be released for development projects, and the sum of N80billion was approved when he pleaded with the President to consider the Sapele-Benin road and the Amukpe-Agbor road.
Omo-Agege also said it would be insanity to repeat the same thing over again and expect different results adding that Okowa has failed to develop Delta State.
He assured that if elected governor he would create an enabling environment for companies that have left Delta State as a result of insecurity and other factors to return.
He said, "When I become governor on May 29, 2023, I will not wait for the Federal Government before constructing strategic roads in Delta and ensuring the implementation of the local content law so as to provide job opportunities for our youths."
Omo-Agege used the forum to clarify the issue of the Muslim-Muslim ticket of the APC presidential and vice presidential candidates saying, "we want power for development and progress. That's what we use power for."
He spoke further, "Tinubu has a wife who is a Pastor and if he could not Islamise his wife, how would he be able to Islamise other Nigerians?
"I believe that after eight years of Buhari it is only fair and equitable for power to move to the South. I put all my strength into it. Governors of the APC supported it. All governors of Southern Nigeria supported it and met and signed a communique in Asaba. Okowa read the communique.
"But no sooner had that been done, than, during the PDP national congress, Okowa asked delegates of Delta to vote for a northerner. Yet, he is the one crying about a Muslim-Muslim ticket. The same Okowa that said take the presidency back to the North, just give me vice president?
"The focus should be who can bring development to our people. Okowa who is a Christian has he changed anything, are Deltans not crying?"
Omo-Agege also dismissed the views in some quarters that because his father, the late Justice James Omo-Agege was an adherent of African Traditional Religion, specifically the Urhobo "Igbe" movement, he was also one.
He said while the Constitution of Nigeria guarantees freedom of religion and to that extent, he could not dictate the religious choices of his father, so too, his father could not dictate his own personal choice of religion.
"As a result of this, all my siblings and I are devout Christians of the Catholic faith. Christianity is a conscious choice for us," he explained.
Earlier, the Chairman of the Christian Council of Nigeria, Delta State chapter, Rev Dr. Jonathan Iwhiwhu, highlighted the contribution of the Church to development and called for assistance in terms of the construction of a secretariat and official bus.
He had drawn Omo-Agege's attention to the deplorable Sapele-Benin road and the Amukpe-Agbor-Uromi road. He pleaded that policies that negatively impact the economic ventures of the church such as schools should be moderated if he becomes governor.
Iwhiwhu also called for the provision of job opportunities for the youths of the church as a reward for the church's support for his election as governor.
Allegiance To Nigerians Sacrosanct, Yakubu Warns INEC Staff …Says INEC'll Reprint Burnt PVCs In Two Days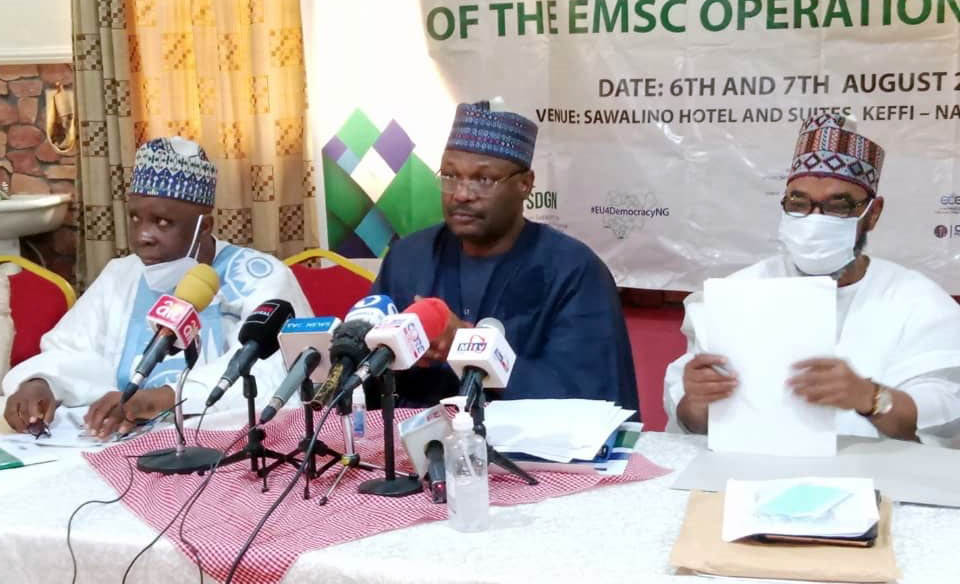 The Independent National Electoral Commission (INEC) has reassured Nigerians that its allegiance and loyalists are to Nigerians.
The Chairman, Prof. Mahmood Yakubu, gave this assurance at the opening of a two-day Induction Retreat for the commission's Administrative Secretaries organised by the United Nations Development Programme (UNDP) in Lagos.
Yakubu, who was represented by National Commissioner, Election and Party Monitoring Committee (EPMC), Mr. Sam Olumekun, said the retreat was part of preparation of INEC for the 2023 general election.
According to him, over the last 23 years since the return of democratic rule, the commission has recorded a steady progress with the nation's elections getting better and citizens' confidence in the process increasing.
"Let me repeat once again that the commission's allegiance is to Nigeria. Our loyalty is to Nigerians who want free, fair, credible and verifiable elections.It is in this respect that I want to warn all members of staff of the commission to be neutral and professional in their conduct during the forthcoming election."
He said since 2011 general election, the reliance on new knowledge and experience gathered from the conduct of previous elections, enhancing electoral integrity and improving voter experience through innovations, planning and technology had guided INEC through several elections.
"Consequently, our elections have become better, electoral outcomes less contentious and less stressful."
He said with the first poll in 2023 general election remaining 88 days, there was the need, more than ever, for the commission to remain focused and deliver a successful election.
"This retreat is, therefore, an opportunity to not only bring our Resident Electoral Commissioners (RECs) up to date about preparations, procedures and requirements for a successful election but also get the commitment of our Administrative Secretaries towards attaining the highest level of efficiency in implementing the strategies outlined for a successful 2023 general election.
In this regard administrative secretaries are expected to be effective coordinators and provide timely progress reports and highlight challenges to proactively addressed without affecting relevant timelines."
Yakubu said the administrative secretaries were also expected to fully support their respective RECs to ensure the effective coordination and deployment of men and materials focused mainly on delivering expected outcomes.
He urged state offices of INEC to have regular reassessment of preparedness to identify and address possible bottlenecks and update the relevant authorities of the commission.
"Over the last two years, the commission has increased the deployment of technology in elections in Nigeria."
Yakubu said INEC had designed systems, portals and developed them to cater for different electoral activities ranging from voter registration and accreditation, result transmission from the polling units.
He said such portal was also to cater for the nomination of candidates by political parties, accreditation of polling agents, observers among other activities for elections.
"Of these innovations, most Nigerians are now familiar with the Bimodal Voter Accreditation System (BVAS) which doubles as a device for accreditation as well as upload of the Polling Unit level result sheets to the INEC Result Viewing (IReV) portal on Election Day.
"The combination of the BVAS and the IReV portal have come to stay as a means of voter accreditation and transmission of election results. I urge you to thoroughly familiarise yourselves with the election technologies of INEC," he said.
In his address of welcome, Residents Electoral Commissioner, Lagos State, Mr. Olusegun Agbaje, said it was imperative for the electoral umpire to step up its preparation for the conduct of 2023 elections, hence the retreat.
He noted that INEC must not rest on its oars but re-double efforts to achieve a seamless conduct of the polls.
In his goodwill message, Chief Technical Advisor, UNDP, Mr. Deryck Fritz, said the peaceful transfer of power was inextricably linked to processes and outcomes that were accepted by the political actors, civil society and the population at large.
Fritz said the retreat would provide an important opportunity for information-sharing and discussion on the preparations and key aspects of the electoral process, to ensure uniform understanding and consistency of implementation of electoral procedures.
The retreat has in attendance all the INEC Administrative Secretaries nationwide and top management staff of the commission.
Meanwhile, the Chairman of the Independent National Electoral Commission, Prof. Mahmood Yakubu, has said the 2023 elections will be the best.
Yakubu also said the burnt permanent voter cards in Ogun and four other states would be reprinted in two days, saying efforts were in top gear towards replacing the materials lost to the inferno.
The INEC boss said this, yesterday in Abeokuta, the Ogun State capital, during the on-the-spot assessment of the burnt office in Abeokuta South by suspected arsonists.
Suspected Arsonists had on November 10 attacked the Abeokuta South Local Government Area and destroyed over 65,000 uncollected PVCs among others.
Yakubu who arrived in Abeokuta around 9am and paid a visit to the Alake of Egbaland, Oba Adedotun Gbadebo, also visited the new Oke-Ilewo office where the staff members were relocated to and later visited the burnt office.
Apart from Ogun State, the hoodlums had recently attacked INEC offices in Osun and Ebonyi states.
The INEC boss while speaking with newsmen after he assessed the extent of damage, described the arsonists as "undemocratic and retrogressive elements."
Yakubu said the commission would not be cowed from conducting next year's elections by arsonists attacking the commission's facilities nationwide.
He vowed that the commission would not be intimidated by an act of arson despite that five facilities were attacked nationwide in the last four months.
He said, "The purpose of our visit to this office is to further access the extent of damage, to meet our staff, particularly in the place where they have relocated to in Oke-Ilewo, to boost their morale and to assure the people of Abeokuta South that despite this unfortunate incident, elections will hold in Abeokuta South in 2023.
"Whatever material we have lost, the commission is making efforts to replace the materials. We lost 65,699 PVCs, we want to assure all those that have not collected their PVCs, who may have been affected, that we are making plans to reprint the PVCs quickly and to bring them back to Abeokuta South for people to collect and vote.
"We want to assure the people of Abeokuta South that this incident, as terrible as it is, will not deter and will not discourage us, will not discourage our staff from conducting the 2023 general election and we want to once again assure the people of Abeokuta South, the people of Ogun State and the people of Nigeria that the commission is determined to make the 2023 elections our best, we will not be deterred nor cowed by an act of arson by undemocratic and retrogressive elements.
"As soon we get the voter identification numbers to be harvested by the state office, we will reprint, it doesn't take longer than two days to print 65,000 PVCs, but we have to get the VINs for the cards that were lost so that we can quickly reprint. It doesn't take longer than two days to reprint those numbers of the PVCs.
"It is very disappointing, particularly because in the last four months, five of our offices were attacked nationwide, but this will never deter us. We will make sure we replace burnt and destroyed equipment and also reprint the PVCs and conduct elections."
Yakubu said INEC "is determined to make 2023 elections the best."