Troops Immobilise 39 Illegal Refineries, Recover 950,000 Litres Of Stolen Crude Oil In N'Delta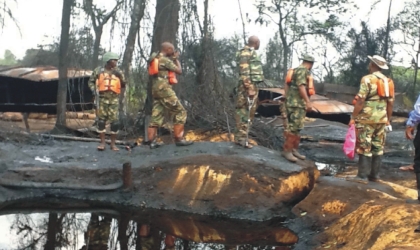 Troops of Operation Delta Safe have discovered and immobilised a total of 39 illegal refining sites, 91 cooking ovens, 24 reservoirs, 17 large dugout pits and 96 storage tanks in the Niger Delta region in the last two weeks.
Also, a total of 637,500 liters of illegally refined automotive gas oil; and 950,000 liters of stolen crude oil were recovered in the course of the operations.
Acting Director, Defence Media Operations, Major General Bernard Onyeuko made this known at a briefing yesterday. He said, ten (10) criminals associated with pipeline vandalism, piracy, illegal oil bunkering and armed robbery were arrested.
Onyeuko said recovered items in the worse of the operations which included; 3 assorted arms, 48 rounds of different calibres of ammunitions, 2 AK-47 rifle magazines as well as 17 pieces of galvanised pipes and 23 wooden boats among other items used for illegal oil bunkering activities along with all the arrested criminals, have been handed over to relevant security agencies for further action.
According to him, troops' of Delta Safe conducted these operations at different locations in villages, creeks and towns in Emohua, Ikwere, Port Harcourt and Ahoada LGAs of Rivers State.
Other locations were villages, towns and creeks in; Warri South, Warri South-West and Warri North LGAs of Delta State as well as in Ekeremor, Brass and Southern Ijaw LGAs of Bayelsa State.
Bayelsa Ministry Ready To Partner TCAM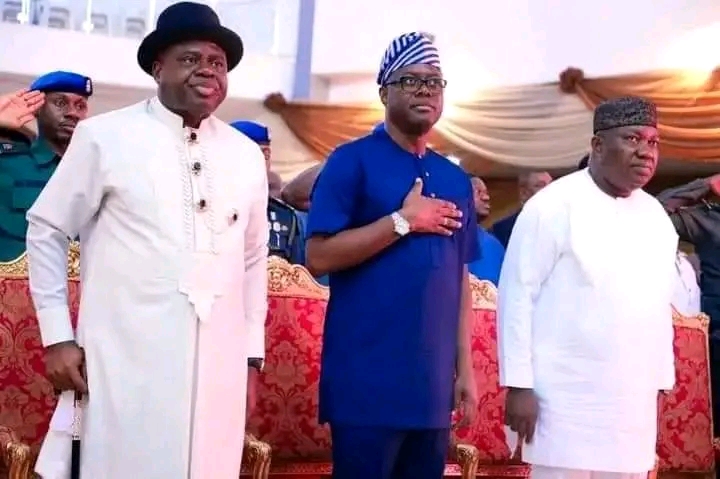 The Bayelsa State Ministry of Health is prepared to collaborate with the Traditional, Complimentary and Alternative Medicine (TCAM) to ensure effective healthcare delivery to people of the State.
Permanent Secretary, of the Ministry, Dr Oluwatoyin Azebi disclosed this when the TCAM practitioners paid her a courtesy visit at the State Ministry of Health.
Azebi noted that traditional and alternative medicine is also essential in service delivery of quality healthcare.
Earlier, the State Coordinator of TCAM, Dr Ruth Okhiema, disclosed that the purpose of the visit was to strengthen the relationship between the health Ministry and TCAM.
While appealing for an enabling working environment, Dr Okhiema highlighted various challenges faced by the unit, and called for prompt inauguration of the TCAM Technical Working Group.
This, she said, would translate into the formal recognition of the TCAM unit in the State.
On his part, the Unit Head and Desk Officer, TCAM, Bayelsa State, Dr Tarila Prefa, and Chairman, Modern Traditional Medicine Practitioners in the State, Dr Joe Edem, applauded the Ministry for meeting their request.
By: Ariwera Ibibo-Howells, Yenagoa
Delta To Give Grants To 40 Mission Schools
Governor of Delta State, Senator Ifeanyi Okowa, on Sunday, said the state government would provide financial support to 40 schools it returned to religious missions in 2011.
Okowa said this during a thanksgiving service marking the end of the 16th Synod of the Asaba Diocese, Church of Nigeria (Anglican Communion) at Cathedral Church of St. Peter, Bishop's Court, Asaba.
The Governor said the grant had became necessary to assist the schools in running effectively, particularly in the prevailing harsh economic situation in the country.
Okowa, accompanied by his wife, Edith, up and top government functionaries, read the first lesson taken from Ezra 3: 6 -13.
He congratulated the new Bishop of the Diocese, Rt. Rev. Kingsley Obuh, on his consecration and enthronement.
"It is not easy for such schools to be managed given the current economic condition of the nation," he said.
He commended the church for drawing his attention to the plight of the schools, especially his promise to ensure that grants were given to missions.
The Governor directed the Secretary to the State Government (SSG) to take action on the released grants to the affected schools.
"It is in the best interest of the Government of Delta State that they are supported to stand because they provide a space for study for some of our children.
"So, we will try to take action, at least, the first tranche of it to see what we can do to support our missions," he said.
Okowa commended the church for its contributions to the health sector in the State, saying that their effort helped to provide health care services particularly to the less-privileged.
"As a government, we have continued to pay special attention to education and health.
"Delta has become a role model for contributory health insurance with over one million people enrolled in the scheme," Okowa added.
Earlier in a sermon titled "Spiritual Foundations, Inevitable for Sustainable Work with God," Rt. Rev. Chigozirim Onyegbule, Bishop, Missionary Diocese, Ikwuano, Abia, urged Christians to build strong foundation in their work for God.
He said for Christians to work effectively for God, their spiritual foundation must be very solid, adding, "if your foundation is not strong, you cannot withstand the problems of life.
"Everything on the face of the earth has a foundation and a weak foundation produces a miserable life.
"God is looking for those that He will partner, but if your foundation is weak, God cannot work with you."
NSCDC Warns Illegal Security Firm Operators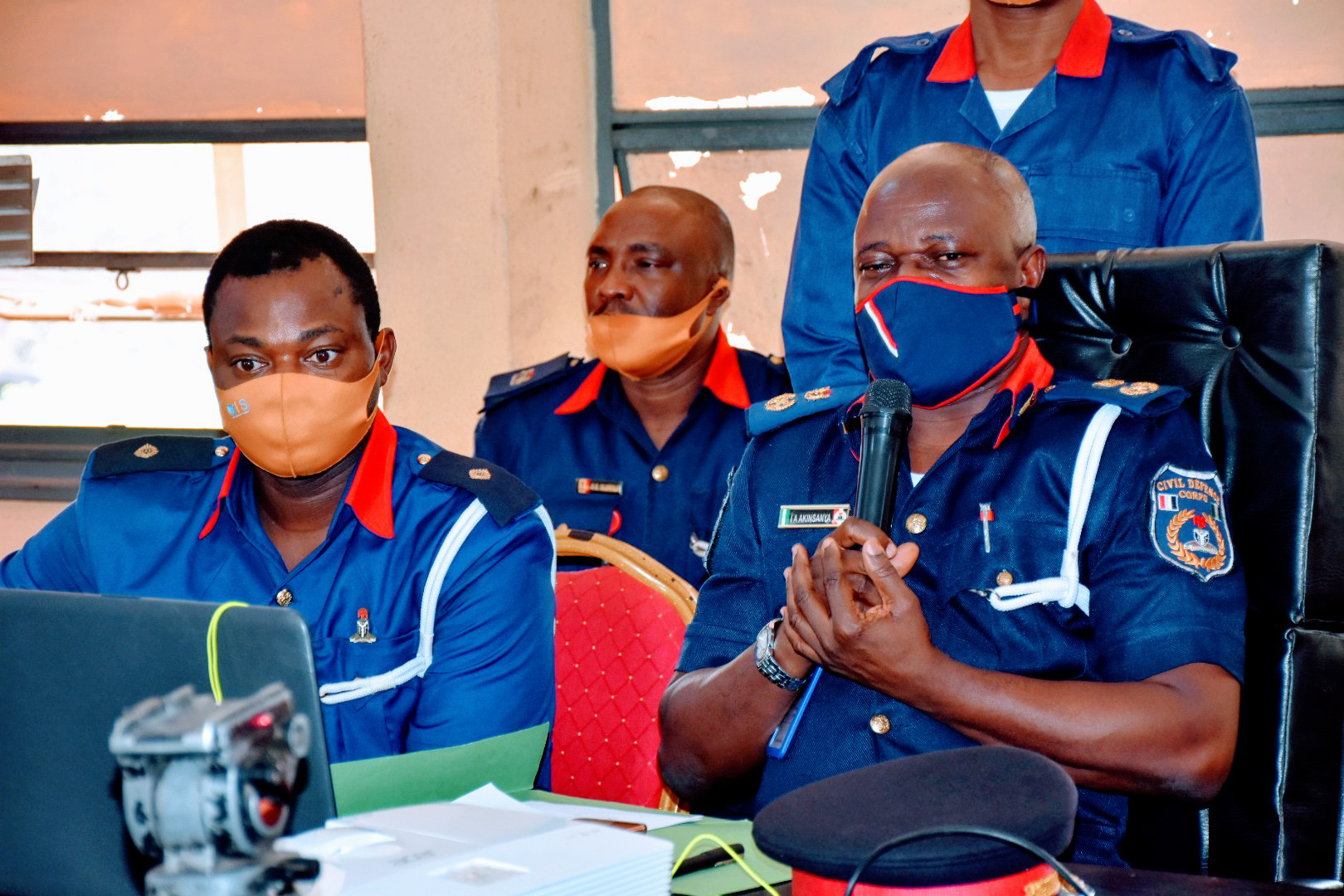 The Nigeria Security and Civil Defence Corps (NSCDC) has warned operators of private security firms in Akwa Ibom State to register them or face the consequences of their actions.
The State Commandant of NSCDC, Mr Abidemi Majekodunmi, gave the warning in Uyo on Monday in an interview with The Tide's source.
He told source that the corps has registered 67 Private Guard Companies (PGCs) in the State.
Majekodunmi said it was mandatory for all private guard companies to register with the corps, adding that anything short of that was unacceptable.
"The role of PGC's is to provide security, protection, information and quality intelligence since they operate in locations of government and private units in every sphere of occupational engagements.
"Through training and oversight supervision activities by NSCDC, they are imbued with cutting edge competence skills and capacity enhancement.
"The concept is in tandem with emerging global trends in the area of public-private partnership to provide security and contain insecurity in the country," Majekodunmi said.
The State Commandant said NSCDC would not tolerate any unregistered private guard company in the State, especially due to security challenges confronting the country.
He urged individuals and organisations wishing to hire private security guard to cross check with the NSCDC to ensure that they patronise registered ones.
Majekodunmi warned against dealing on adulterated petroleum products, vandalism of transformers and electrical installations in the state.