Declare State Of Emergency In Education, JAMB Tasks Govt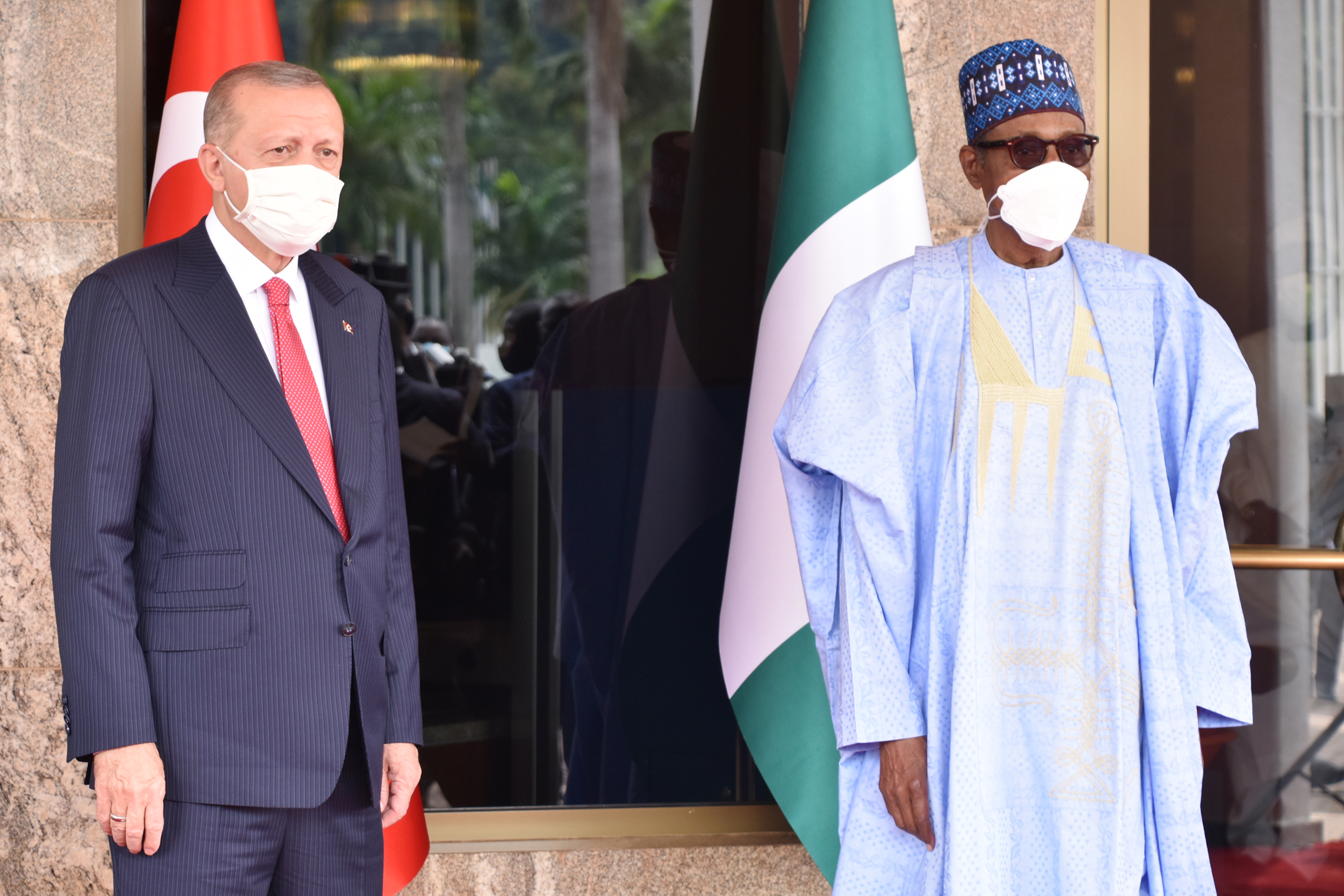 The Registrar, Joint Admissions and Matriculation Board (JAMB), Prof. Isaq Oloyede, has called on the governments at all levels to declare and prosecute a state of emergency in the education sector with a view to addressing all the challenges facing it comprehensively.
Oloyede, who was the Guest Speaker at the 2021 Faculty of Arts, Lagos State University (LASU), Annual Lecture in Lagos yesterday, also called for an increase in budgetary allocations to the sector that at least would be comparable with African countries with lower Gross Domestic Product (GDP), than Nigeria's but have nonetheless given education the priority it deserves.
His lecture was titled " Normalising the Abnormal: JAMB Operations during the Covid-19 Era."
"Apart from the state of emergency in the sector and allocating more funds, we must return excellence and competence as the main criteria for the recruitment of staff, not clannish or ethnic patronage.
"We must also improve learning resources and infrastructure in our schools preparatory for another pandemic which it is hoped, would not be here soon," he stated.
Oloyede also called on stakeholders in the education sector to strive towards establishing pedigree of integrity by sticking to honesty, probity, and transparency in examination processes.
Recalling some of the steps taken by the Board in the face of the outbreak of the pandemic to make its operations easier and better, he said manual payment for applications was eliminated and the use of Point of Sales machine and online payment adopted.
Oloyede, a former Vice Chancellor of the University of Ilorin (UNILORIN), Kwara State, also noted that VCs in Nigerian universities have to contend with issues such as the provision of municipal services that the larger society ought to have taken care of.
"Municipal services like the provision of electricity, potable water and even accommodation have become serious issue that VCs in our universities are contending with. In advanced climes, those things are not their headache. If those things are taken away from the issues our VCs are contending with, they would do well," he said.
In her speech, the Vice Chancellor, LASU, Prof. Ibiyemi Olatunji-Bello, said the Covid-19 pandemic engendered various responses from different angles.
"These responses have given rise to multidisciplinary research efforts across the fields of medicine, pharmacy, sociology and even philosophy. As a result of this, it has triggered multiple discursive processes relating to the cause, spread, and measures taken by the government to confront and combat the disease in order to check further spread and fatalities, "she said.
She described Oloyede as a mentor to many and that his performance as JAMB boss showed that public offices could still be occupied by dedicated persons.
The Chairman of the occasion, Hon. Victor Akande, commended the university management and the faculty for putting up such a great event.
The Dean of the faculty, Prof. Tayo Ajayi, thanked Oloyede for honouring the invitation to deliver the lecture.
PDP'll Support Presidential Candidate With Capacity To Salvage Nigeria -Wike …Says, I Won't Impose My Successor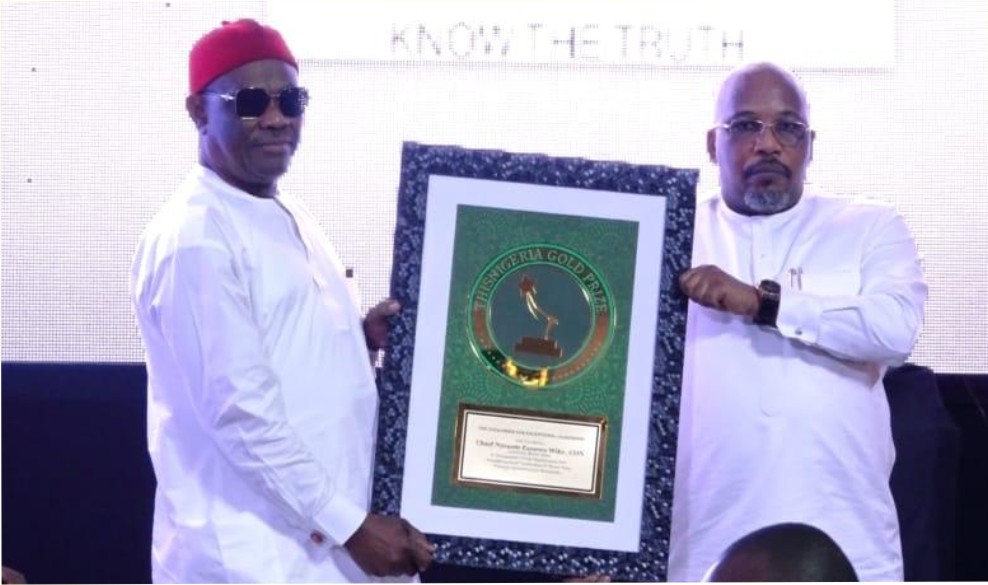 Rivers State Governor, Chief Nyesom Wike has explained that only a courageous person with the capacity and vision to salvage the country would be supported to fly the presidential ticket of the Peoples Democratic Party (PDP) in the 2023 general election.
He clarified that although the party was yet to decide whether such candidate would be from the southern or northern part of Nigeria, adding that "one thing is certain, the candidate will be one who can confront the evil tactics of All Progressives Congress (APC)".
Speaking on African Independent Television (AIT), yesterday, Wike said the process to determine who PDP would field as its presidential candidate would be a turbulent one.
"Let nobody come and tell you that in arriving at a presidential candidate that it will be easy. No way, it can never be. You know, there are two types of turbulences. There is turbulence that will not have a crash, which is a normal turbulence. There are turbulences that there is likely to be a crash.
"Our own turbulence in PDP is the normal turbulence, which I believe we will get through it, but APC turbulence is a turbulence that is likely to lead to a crash.
"PDP has redeemed its position towards what Nigerians are expecting, because Nigerians are tired of what is going on in the country. So, they need an alternative, and the only alternative as it is today is the Peoples Democratic Party (PDP)."
Wike said as a firm and courageous person, who having demonstrated such selfless leadership in Rivers State, he would only support a presidential candidate who would not mortgage the party for other selfish interests.
"And so, if you want to run for presidency under PDP, I will not support somebody who'll just want to bear the name of former presidential candidate, I will not agree to that. I must see that you are prepared for it, and to confront this evil called APC."
Wike boasted that he feels fulfilled that PDP got it right with a peaceful conduct of its national convention that saw the emergence of a new competent National Working Committee (NWC).
He dismissed insinuations in some quarters that PDP governors had forced on an early convention because they wanted sole control of the party.
According to him, any true party man would love a PDP that is stable, focus and forward looking.
The governor maintained that already the new leadership of the PDP, waiting to be sworn-in on the December 9, 2021, have started engaging Nigerians and other party members on identifying what the problems are and how to address them properly.
Wike said Nigerians are tired of the misrule of APC and would not allow their evil to continue beyond 2023.
"Nigerians are waiting. Nigerians cannot have this type of evil come up again in 2023. We will be doing a disservice to Nigerians to allow this to continue."
He said PDP is already aware of the antics of the APC-controlled Federal Government to ensure it holds on to power at all cost.
According to him, APC is already gearing up to deplore unconstitutional means to frustrate the conduct of a free and fair 2023 general election.
Wike expressed strong reservation on the likelihood of President MuhammaduBuhari ever assenting to the Electoral Act Amendment Bill.
"The president will not sign the Electoral Act Amendment Bill. The signs are already there. It is dead on arrival. The president does not disappoint people."
He stated that the seemingly disagreement between members of the national lawmakers and APC governors over the Electoral Act Amendment Bill was devised to frustrate it.
The governor wondered why the president would be seeking INEC's advice on a law that is already passed by the National Assembly.
He asserted that issues of security and cost implication would be used eventually as reasons why presidential assent would be declined.
Wike said the current Senate and House of Representatives controlled by the APC lack the capacity to use veto power to override Buhari, if he refuses to assent to the Electoral Act Amendment Bill.
Speaking on how his successor would emerge, Wike reassured that the leadership of the party would meet to decide who to support at the appropriate time.
Wike maintained that he was obliged to ensure that PDP wins the 2023 governorship election, but he would not impose any candidate on the party.
"There is no right thinking Rivers person who will say Wike's administration has not done well for Rivers State. And so, I believe everybody will want somebody who has something positive to add.
"One mistake I will not make is to impose somebody. From my experience as a student of history, reality has shown that it is difficult for you to say Joseph is the man I can trust. Until you give somebody power and money, that is only when you will know whether that person is trustworthy or not."
Wike said God will not allow someone that will destroy all the remarkable progress the state has made over the years to be the next governor.
According to him, God will ensure that it is only someone who is courageous, firm and ready to protect the interest of Rivers State that will succeed him.
"Rivers State is a state that so many people have interest. It is a state that you have to put your feet on the ground. It is a state that you have to annoy a lot of Nigerians, and a lot of Nigerians will hate you. But what is important is for you to know what is good for your people, and stand for your people. Do not allow personal interest to sway you against the interest of your people."
'140m Nigerians Lack Access To Justice'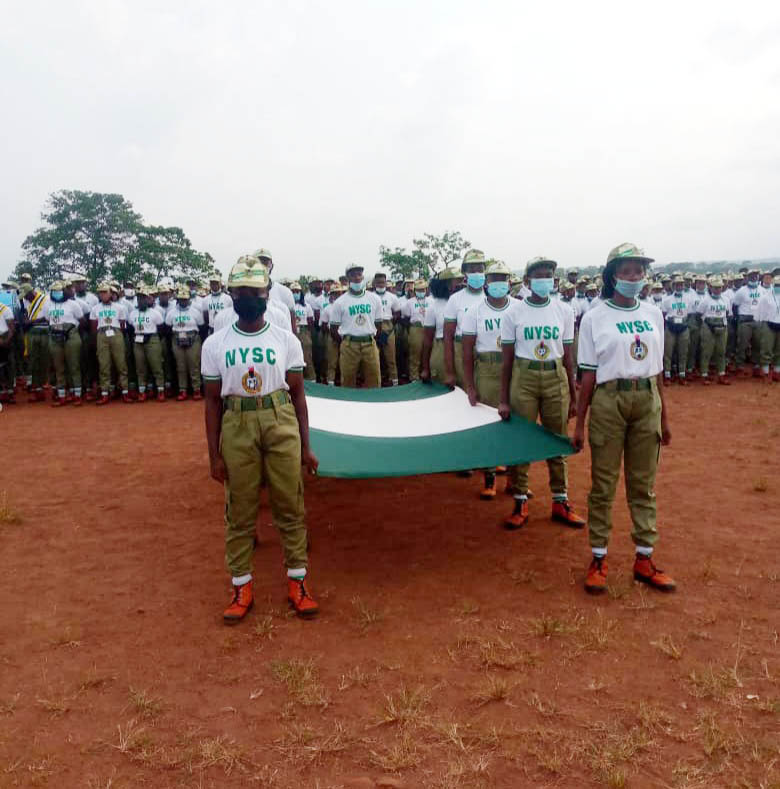 About 140million Nigerians are among the 5.1billion people in the world that lack access to justice, Country Director, Hague Institute of Innovations of Law (HIIL), Mrs. Ijeoma Nwafor has said.
She said this while addressing the Justice Transformation Lab in Kaduna, adding that 11million residents in Kaduna State also lacked access to justice.
According to her, the Hague Institute of Innovations of Law came into being in Nigeria in 2018 and had been in Imo State before coming to Kaduna State, adding that it is ready to help 150million Nigerians have access to justice by solving the most urgent and most important of their justice challenges in the next nine years.
She added, "We want to help 150million Nigerians solve their most pressing justice problems by 2030. This is in line with the Sustainable Development Goals (SDGs)."
The country director explained that HIIL intervention is hinged on five pillars such as working from data, applying best practices, scaling game-changers, creating enabling environment for actionable plans, and strengthening the movement to ensure that people-centred justice is possible in Kaduna and in Nigeria.
Responding, the Attorney General of Kaduna State and Commissioner for Justice, Mrs. Aisha Dikko, said that HIIL as an organization focuses on a user-friendly approach to provide access to justice.
She opined that the collaboration would support the justice sector in identifying key issues and practical solutions to the administration of justice in Kaduna State.
She expressed the belief that the engagement and outcome will birth the first Justice Transformation Lab in Kaduna State, saying that the Ministry of Justice is determined to work with all stakeholders in focussing on effectively achieving its mandate.
Put Pressure On Buhari To Sign Amended Electoral Act, Wike Tells Media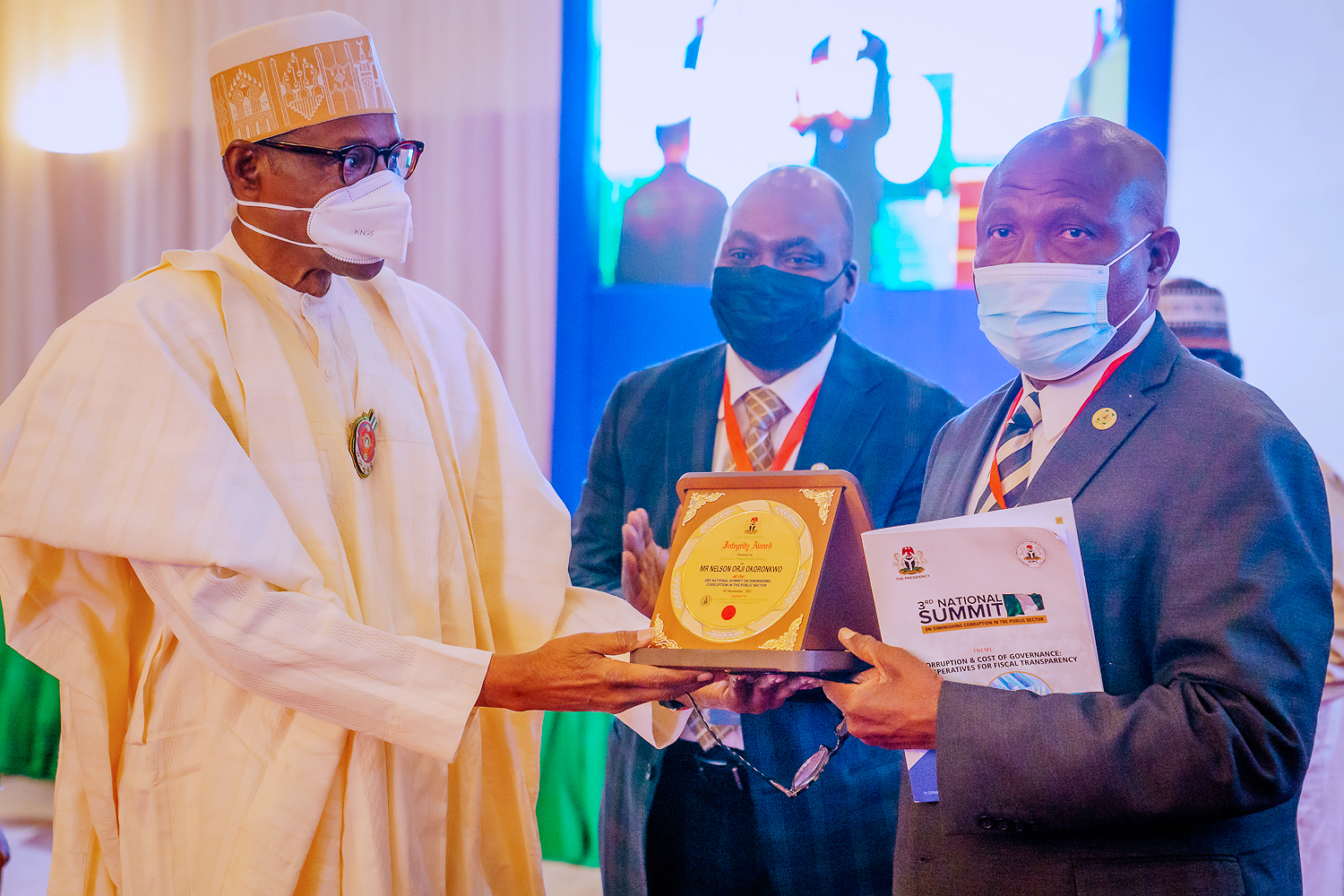 Rivers State Governor, Chief Nyesom Wike has charged the media to exert pressure on President Muhammadu Buhari to assent to the amended Electoral Act.
The governor said it was important that the media should enlighten Nigerians to know why there should be electronic transmission of election results in order to save the nation's democracy.
Wike stated this in his remark after he was conferred with the "Gold Prize for Exceptional Leadership," award by the This Nigeria Media Newspaper in Abuja, last Wednesday.
He said considering the importance of the Electoral Act amendment to the survival of the nation's democracy, the media ought to deem it a priority to exert pressure on the president to sign the amended Act.
"As watchdog of the society", the governor said, "the Nigerian media should enlighten Nigerians on the benefits of both direct and indirect primaries.
"Who are those to benefit more if the direct primaries is conducted. Who are those to benefit more if it is indirect primaries? So, it is important that Nigerians should know why there should be electronic transmission of results in order to save our democracy", the governor said.
The governor said the only way those in position of authority can become accountable to the people, is when electoral process is free and fair.
He maintained any electoral system that permits security agencies to be used to rig election, and for Independent National Electoral Commission (INEC) officials to be manipulated, would not yield accountable governance.
Wike commended the INEC for the successful conduct of the just concluded Anambra State governorship election.
"Now, they have performed well in Anambra State, everybody is praising them. But when they did not perform well in Rivers State, should we praise them? We cannot. When a general in the Army will convert a whole division to INEC office, will you be happy?"
Wike urged Nigerians to always deemphasise their ethnic and religious affiliation in order for the country to achieve the desired national cohesion.
"There is the need for all of us to still believe that this country must be united. But, if we want to move forward, we must drop the issue of where you come from. We must drop the issue of where you worship. Overemphasis of these things causes a lot of disintegration and which is not the best for us."
Chairman of the Nigerian Governors' Forum (NGF) and Ekiti State Governor, Dr. Kayode Fayemi, who chaired the occasion, said the country was going through tough times.
According to him, the current travails of the country also offer opportunities for the emergence of a great nation.
The guest speaker, Bishop Mathew Hassan Kukah, who delivered the This Nigeria Inaugural Lecture with the theme: 'National Cohesion for Sustainable Growth and Progress: The Nigeria Dilemma,' blamed the drafters of the Nigerian Constitution for the country's lack of national cohesion.
"Something as fundamental as a Constitution, the debate and the issues that ought to form the kernel of our governance have never been subjected to the intellectual rigour that is required. The result is that we have never debated our Constitution based on the peculiarities, the cultural expectations, the hopes, the anxieties, and the fears of ordinary Nigerians", he said.
He argued that the country would not be fixed until Muslims understand the grievances of the Christians; and until Christians understand the grievances of Muslims.
The Publisher of ThisNigeria, Mr. Eric Osagie said Wike was conferred with the flagship award of the newspaper because of his exceptional leadership in the vanguard of infrastructural revolution.
The "Gold Prize for Exceptional Leadership", according to him, "is usually bestowed on that man or woman who has impacted exceedingly in the lives of Nigerians, and in whose legacy has potential of transcending time and space.
"Wike", Osagie noted, "has injected over 70percent of the state income in capital projects in the funding of roads and other critical infrastructure. A feat, that is unprecedented in the history of state administration in Nigeria".
This Nigeria Newspapers also conferred Gold Prize in Public Service award on Borno State Governor, Prof. Babagana Umara Zulum; Registrar of the Joint Admissions and Matriculation Board (JAMB), Prof. Ishaq Oloyede; and Chairman of INEC, Prof. Mahmood Yakubu, respectively.