NURSS Leaders Hail Sekibo Over Scholarship To AKULGA Students
Chairman of Akuku-Toru LGA, Hon. Rowland Charles Sekibo has been commended for granting scholarship to 100 students of the area to study various courses in tertiary institutions in the state and across the country.
He received the commendation when he played host to a delegation of leaders of the National Union of Rivers State Students at the council secretariat, in Abonnema.
Making the commendation, National President of NURSS Worldwide, Comrade Zachariah George, noted that their solidarity visit was geared towards appreciating the numerous projects executed within the chairman's 100 days in office, especially the award of N150,000.00 scholarship grant to each of over 100 AKULGA students.
He said that as a promise keeper, the student community was hopeful that soonest, the chairman would begin implementation of the N20,000.00 Annual Bursary Scheme for students from the area.
In his remarks, National President, Federated Union of Kalabari Students, Comrade Tamunoemi Georgewill, said the student community in the area was pleased with the chairman's excellent performance, and stressed the need for others to emulate the kind gesture.
Also speaking, President, NURSS in Captain Elechi Amadi Polytechnic, Comrade Nemi Judith, extolled the chairman's vision in revamping education in the local government and state at large.
"Students of my institution are beneficiaries of the scholarship you awarded and that has helped solve their immediate challenges in school.
"This is unprecedented and in the spirit of solidarity with the AKULGA students, we present to you this award of excellence in human capacity building", she said.
The President, NURSS at Ignatius Ajuru University of Education, Comrade Iyo said they were satisfied with the chairman's education policy, adding, "We present to you this award of merit for your outstanding performance and sterling leadership prowess in driving a true democracy in AKULGA".
In his response, AKULGA Chairman, Hon. Rowland Sekibo, thanked the student leaders for acknowledging his little efforts in delivering democratic dividends to his people.
He further noted that the students' appreciation would continue to spur him to do more despite the 17th position of his LGA in the state in terms of statutory allocation.
Again, he promised to commence payment of bursary to students in tertiary institutions while carrying out meaningful and people-oriented projects in other communities that make up the LGA.
By: Nelson Chukwudi
Nigeria Can't Survive Another Four Years Of APC, PDP Warns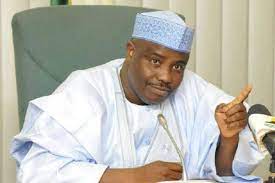 Chairman, Peoples Democratic Party (PDP) Governors' Forum, Rt. Hon. Aminu Tambuwal, has described the ruling All Progressives Congress (APC) as a rickety vehicle that cannot take Nigeria to any destination.
Speaking at the PDP retreat in Abuja, yesterday, the Sokoto State governor accused the APC of destroying the nation's economy.
Tambuwal said Nigeria cannot survive another four years under an APC-led Federal Government.
"Can Nigeria survive another four years of APC? The answer is a resounding NO. It is too frightening to contemplate," he said.
The governor stated that it is time to rescue and rebuild Nigeria.
He said: "A rickety vehicle cannot take Nigeria to its destination as the nation with possibilities for greatness and progress. PDP is now once again a well-oiled, serviced vehicle that will midwife the Nigeria of our dreams.
"It is, indeed, time to Rescue and Rebuild Nigeria. Nigeria is in an urgent need for a surgical operation. Nigeria is in a permanent emergency.
"We all know what the problems are. They are man-made. And is, therefore, resolvable. It requires a focused, determined, knowledgeable and patriotic organisation of like minds to build the critical mass necessary for a great leap forward. Yes, it requires leadership, with vision and discipline."
The former speaker of the House of Representatives stated that Nigeria is suffering from the crisis of governance.
According to him, "We suffer from a crisis of governance. The unity of Nigeria is facing unprecedented challenges. Life in Nigeria is increasingly becoming brutish and short as insecurity ravages the land. Poverty is the forte of the ordinary Nigerian. The health and education of our people has not improved.
"Our people are in want. The economy is in dire straits with the exchange rate now about N540 to a Dollar from the N150 to a Dollar when PDP left office. Prices of food stuff and essential commodities are unsustainable. Clearly beyond the reach of the average Nigerian.
"Between 35 to 40% of Nigerians are unemployed. And women and youths bear the main brunt. Bandits, kidnappers, terrorists are having a field day almost unchallenged. Our children are not safe even in their schools.
"Corruption still stalks the land. Nepotism, ethnic and religious bigotry reign supreme in today's APC's Nigeria. Our infrastructure is still comatose.
"Trust and hope in Nigeria is at its lowest. Our lamentations can go on, ad infinitum. But the test of leadership is the ability to solve problems. What solutions will PDP offer? What is the way forward?"
Tambuwal stated that the PDP is ready to change the fortunes of the country.
"Well, this is why we have gathered here, to brainstorm and offer policy options for Nigeria. We cannot only criticise; we must provide workable solutions and clear policy alternatives. This will be presented to the Nigerian people. A sharp contrast must be drawn with the ruling incompetent and rudderless APC administration.
"PDP has shown that it has learnt its lessons. It is ready for power in 2023 to provide hope where ineptitude currently exists.
"Where APC thrives in excuses, PDP will take responsibility. Where APC thrives in propaganda and deceit, PDP will be transparent with Nigerians. Whereas APC government thrives in insecurity, PDP will secure Nigeria. Whereas APC presides over Nigeria as the poverty capital of the world, PDP will make Nigeria prosperous. APC has wrecked our economy, but PDP will salvage it. Where APC focuses on selective anti-corruption fight, PDP will fight corruption with appropriate institutional reforms," he said.
The governor stated that Nigeria must embrace restructuring to survive.
"It must restructure its polity, economy, security and ways of doing things. It must embrace relative autonomy and decentralisation of power. This will unleash the energies of our people, especially, the young. It is time to allow Nigeria blossom. It is doable with all hands on deck.
"We must embrace innovation and technology as a way of life. Technology will solve the youth unemployment time tomb. Technology will improve our agriculture, health, industralisation, education and indeed, it has implications and impacts on all facets of our lives. It is in this respect that we continue to condemn the twitter ban as a retrogressive action that should never have happened," he said.
The Tide's Deputy Editor Loses Mother In-Law
The burial of the mother in-law of the Deputy Group News Editor of The Tide Group of Newspapers, Rev. Igbiki Benibo, is scheduled for Saturday, November 27.
According to a statement by the bereaved family, the Late Madam Fabiawari Nicholas died on May 29, this year at the Larosa Specialist Hospital, Port Harcourt following a protracted sickness.
The statement signed by Mr. Goodluck Nicholas on behalf of the families, said a transitional Service would be held at Second Market Eneka in Obio/Akpor Local Government Area of the State on Saturday by The Redeemed Christian Church of God from 9:30am to 11:30am.
Interment, the statement added, would take place at the Port Harcourt Cemetery by 12noon.
Speaking on the development, the Deputy Group News Editor of The Tide Group of Newspapers, Rev. Benibo described his late mother in-law who hails from Bukuma in Degema Local Government Area as selfless, conscientious and humane.
Rev. Benibo extolled the qualities of his late mother in-law, saying "when a mother in-law is selfless, marriage is made easy".