NIWA Inaugurates Waterways Safety Task Force -Procures 20 Patrol Boats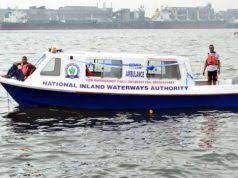 The National Inland Waterways Authority (NIWA), has inaugurated a task force to enforce safety standards across the nation's  waterways.
NIWA has also procured 20 patrol boats to ensure safety of lives and property in the waters.
Managing Director, NIWA, Chief George Moghalu disclosed this at an event held in Lagos, recently. 
Moghalu decried overloading of passenger boats by drivers, warning  defaulters would henceforth be sanctioned.
He attributed  high rate of  boat mishaps in the nation's waterways to overloading and over speeding by operators.
"Today is a very important day in the history of NIWA. This inauguration is what we have to do and do immediately, this is because it is meant to ensure security and sanity in our waterways.
"We have procured about 20 patrol boats. We are laying more emphasis on security at this point in time, and as a matter of fact, we don't want to be losing either boat operators themselves or passengers.
"We have also procured two ambulances while seven others are on the way. 
"We have placed an embargo on boat ferrying after six o'clock in the evening because many accidents we recorded took place in the night while some of them were victims of overloading. And some of them do not have navigational facilities.
"We want to boldly say at this juncture that the task force has our full support. We are ready to listen to your requests," Moghalu said.
Earlier, General Manager, Marine, NIWA, Engr. Joseph Ororo, said the agency has repaired its wreck removal equipment.
He said the equipments would be deployed on the inland waterways soon.
Union Slams Ban On Night Travels, Vows To Arrest Defaulters
The Bonny Maritime Transport Association (BMTA) has threatened to sanction any boat operator who plies at odd hours in the state.
The union described night travels by boats as risky, saying the BMTA will impound and dismiss any boat driver who indulges in the act.
Marine Safety Officer, Bonny Maritime Transport Association, Comrade Kins Dimkpa, made the threat during an interview with The Tide in Port Harcourt.
Dimkpa said the association had placed restrictions on night travels by boats from 5pm to dawn, saying any violator of the restriction order risks sanction by the union.
According to him, the ban was placed to save lives of passengers and drivers from pirates.
He noted that most of the boat mishaps take place at night as most speed boats do not have headlamp.
"As a union serving the public, we are here to save lives and do our business without loosing our passengers and our drivers to accident or sea robbers", he said. 
Dimkpa also advised passengers not to board any boat to and from Bonny Island to Port Harcourt after 5pm.
He insisted that defaulters would be arrested by the marine police and prosecuted accordingly.
The safety officer urged the security agents to assist in ensuring the safety of lives in the waterways by patrolling the creeks and channels, especially in the riverine communities.
He also advised passengers to always wear their lifejackets before boarding boats, just as he cautioned drivers against ferry passengers without life vest.
By: Chinedu Wosu
Navy Nabs 22 Thai Sailors For Smuggling Cocaine Into Nigeria
No fewer than 22 sailors of Thai origin have been arrested by the Nigerian Navy for smuggling 32.9kg of cocaine from Brazil to Nigeria.
The suspects, who are currently being detained at the Lagos Port Complex, Apapa, pending further investigation, were arrested on-board a ship named MV CHAYANEE NAREE by the Navy following an intelligence report from the UK Border Force.
It was learnt that the cargo ship left Santos in Brazil for Nigeria on September 19.
The Commander of Nigeria Navy Services, NNS BEECROFT, Commodore Bashir Mohammed, said the operation that led to the arrest of the suspects was carried out through collaborative efforts between the Nigerian Navy, Interpol, Nigeria Custom Service, Nigerian Ports Authority and the National Drug Law Enforcement Agency (NDLEA). 
Mohammed said the vessel departed Santos Brazil on September 19, 2021 and drifted for a week at a position about 250nm (approximately 500 kilometres) off the coast of Benin Republic from October 1 to October 8 before setting sail and arriving Nigeria on October 8, 2021. 
"Upon entering Nigerian waters, the vessel was intercepted by Nigerian Navy Ship, EKULU and escorted to NPA Port where it was directed to berth on October 9, 2021 and taken into custody by the Navy.
"Thereafter, other agencies were invited to conduct an extensive and comprehensive search of the vessel for narcotics and other contraband items.
"The suspected vessel was thoroughly searched by a combined team of Nigerian Navy, Interpol Nigeria, Nigeria Customs Service and Nigeria Drug Law Enforcement Agency", he said. 
Mohammed explained further that the search began on October 9, 2021 and at about 6pm on October 13, the efforts of the search team yielded results when a bag was found in the vessel's cargo Compartment One.
He said tests conducted on the contents of the bag by the NDLEA confirmed the substance to be cocaine wrapped in 30 slabs weighing 32.9kg.
He said the substance had been handed over to the NDLEA while further search and investigation continue on the vessel. 
Also speaking, Customs Area Controller, Apapa Command, Ibrahim Malanta Yusuf, said it was gratifying to note that the success of the operation was as a result of the synergy between relevant agencies of government.
Tin Can, Rivers Ports, Need Urgent Reconstruction – NPA MD
The Acting Managing Director, Nigerian Ports Authority (NPA), Mohammed Bello-Koko, says two of the nation's ports, the Tin Can Port in Lagos and the Rivers Port Complex in Port Harcourt need urgent reconstruction.
He said while the Tin Can Port has been overtaken by population explosion, the Rivers Port Complex is over 100 years old and has actually reached the end of its productive life cycle.
The NPA boss stated this while speaking to newsmen in Lagos, recently. 
According to him, the Rivers Port channels cannot be dredged below the current draft because of restriction imposed by the initial engineering design of the berths.
"It is pertinent to mention that the channels cannot be dredged below their current draft because of restriction imposed by the initial engineering design of the berths", he said. 
He regretted the activities of vandals at the Rivers Port where suspected vandals resident in the host community deployed welding equipment to cut the beams supporting the quay aprons.
"We are also grappling with cases of vandalization, for instance in Rivers Port, where suspected vandals resident in the host community deployed welding equipment to cut the beams supporting the quay aprons.
"The marine police have been doing a good job by trying to put a stop to these nefarious activities usually perpetrated at odd hours", he said. 
Bello-Koko assured of the NPA's efforts at fixing the access roads to the port.
"We have also not relented in efforts aimed at fixing the ports access roads and we have been liaising with the Federal Ministry of Works to ensure that those roads are fixed and they have been very cooperative. We have been in touch with Hi-tech Infrastructure Company
"We also enforce the minimum safety standard of trucks to ensure the quality of trucks that go into the port, because broken down trucks on that axis cause most of the congestions.
"So, things are improving, we have been publishing the number of trucks that go into those port locations on a weekly basis and you can find this information on all our social media platforms. This data gives you an idea of the number and types of trucks. 
"In keeping with our resolve to maximise the benefits of multi-modalism, we have encouraged the use of barges. This is also to reduce congestion and pressure on our roads. You can see there are many barging activities ongoing and it has really assisted in reducing the evacuation of containers by road.
"To curtail the incidence of barge accidents along the channels, barge licenses that do not meet up with our safety standards will be withdrawn. It is now mandatory for barges to have communication equipment. 
"The incidences of barges moving at night or double banking must also stop because of safety issues. We will also be introducing tariffs on barge operations in order to increase accrueable revenue to government", he said.