African Ministers To Support, Track Nigeria's WASH Commitment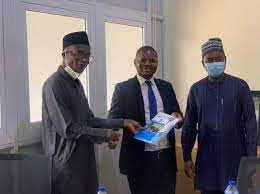 African Ministers' Council on Water (AMCOW), has pledged commitment to support Nigeria in actualising its Sanitation And Water For All (SWA) with a view to improving sanitation and hygiene by 2025.
AMCOW's Acting Executive Secretary, Mr Thomas Banda, said this while receiving members of the Society for Water and Sanitation (NEWSAN) in Abuja.
The Tide source reports that the Federal Government, through the Minister of Water Resources, Suleiman Adamu, had in 2019, pledged the creation of a $122 billion Water, Sanitation and Hygiene (WASH) fund to meet the country's target.
Banda urged member states to align its National sanitation policies in line with the sustainable development goals.
He said that the newly released African Sanitation Policy Guidelines (ASPG) was a continental guideline that prescribed the benchmark on what a sanitation policy should look like.
"We urge our member states to sit back and review their sanitation policies that are already in place, From our statistics, most of these sanitation policies that were reviewed were done during the MDGs.
"But now that we are talking about the SDGs, for us to achieve the SDG six on accelerated access to sanitation, we really need to make sure that these sanitation policies are very much focused on the SDGs and not the MDGs.
"We also noted that there are quite a lot of gaps in existing policies in the countries, a lot of countries do not have sanitation policy guidelines at all.
"So, we developed the continental ASPG to provide some guidelines to member states, so that they can come up with their own tailor-made sanitation policies," Bandan said.
He commended NEWSAN on its activities towards supporting the country in scaling up access to improved sanitation and hygiene and pledged to continue to advocate continentally.
He noted that AMCOW's mandate was continental and Nigeria's mandate was just one out of its 55 member states, saying the continental progress report done annually showed that Nigeria had some positive trends that showed it was moving in the right trajectory.
"We have heard about the Clean Nigeria campaign, it is a very good initiative and many other indicators that show that it is moving well, but just like any other member states, there are still some challenges.
"A lot of investment gaps, if we are to achieve our water and sanitation related goals in the SDGs, we still have a lot of things to achieve by closing the investment gaps.
"It has been quite a positive visit, ideas have been exchanged, AMCOW as a continental organisation can put in a voice to member states' aspirations domestically".
Mr Benson Attah, NEWSAN's National Coordinator, said the visit was an advocacy to support government's effort and track commitments made to the Sanitation and Water for All in 2019 which it proposed the establishment of a WASH fund for the country.
Expert Seeks Strong Punitive Measures Against Open Defecation
An environmentalist, Mr Gafar Odubote, says it will be difficult to eradicate open defecation until strong punishments are meted on offenders.
Speaking with The Tide source in Lagos recently Odubote, Network Coordinator, Africa Region Let's Do It World (LDIW), also called for increased awareness on the dangers of open defecation to health.
He said introduction of stiffer penalties by different levels of government against offenders would serve as deterrent to others.
"When people are being punished and fined for indiscriminate open defecation, it is then we will notice a shift in attitude as regards the practice,
According to the environmentalist, Nigeria ranked high amongst nations with open defecation practices simply because of the lack of adequate awareness on its dangers to health.
He noted that those who had the awareness were obstinate when cautioned.
Odubote noted also that Nigeria had an estimated 46 million people defecating openly.
"With a country like ours, with a vast population, we need to appropriately sensitise citizens on the dangers of open defecation to human health and the environment.
"We need strong laws and effective system to curb unsanitary defecation and make Nigeria open defecation-free by 2025, as projected by the federal ministry of water resources, in its road map of 2019.
"We have a lot to do to discourage open defecation practices in Nigeria. We need to put adequate laws and punishments in place to stop open defecation in the country.
"We are aware of activities in place by various governments and NGOs to stop open defecation.
" Open defecation is one of the origins of waste pollution in the environment. It ranges from air, land, and most especially water pollution,'' he said.
Odubote emphasised the need to install strong disciplinary measures against defaulters to be able to checkmate the menace.
"Open defecation also has negative effects on the aesthetics of our environment. It erodes the beauty of the environment and increases stench in the atmosphere.
"Open defecation practice is an attitudinal problem because some Nigerians will know readily that something is bad and injurious to their health and that of others, yet they will still do it,'' he said.
Odubote asked authorities to also provide adequate and regularly maintained sanitary toilet services, so that the campaign to make Nigeria open defecation-free could be attained.
'Nigeria Loses 200bn Cubic Meter Of Fresh Water To Atlantic Ocean Annually'
An expert, Engr Daso Mark Derefake, says Nigeria loses 200 billion cubic meter of fresh water annually to the Atlantic ocean.
Derefake, who is the managing director of Niger Delta Basin Development Authority (NDBDA) said this during the celebration of the 2021 World Rivers Day in Port Harcourt by the authority.
He said that Niger Delta area was contributing 14 billion cubic meters to the country's fresh water loss to the Atlantic ocean.
"Waterways in the catchment area are equally changing due to human activities within our surrounding communities.
Nigeria loses 200 billion cubic meter of fresh water to the Atlantic ocean annually with our catchment area contributing 14 billion cubic meters lose".
The NDBDA managing director said if the water is properly harnessed and utilised, it will boost the nation's agricultural production, sustain industries, create employment for youths as well as give sufficient useable water to the communities within the agency's catchment states.
He listed some activities of water pollution in the Niger Delta to includes fertilizer and pesticide being washed into the rivers, dumping of plastic waste and other non-biodegradable wastes into drains, open defecation, indiscriminate exploitation of ground and surface water, oil spill into rivers which decimate aquatic lives.
Derefake also stressed the need for the rejuvenation of policies to revive the rivers.
According to him, the water ways should be cleaned periodically of debris and regular distilling between 3-5 years, sensitisation of communities for the preservation of rivers and water ways in the region, while open defecation should be discouraged in the Niger Delta.
He also urged for the establishment of recycling plants to recycle non-biodegradable products and plastic, while relevant laws against over exploitation of water bodies within the catchment area should be enforced.
Other recommendations includes planting of trees along river banks to improve aesthetics and make for greener environment, while private sector participation in water rejuvenation should be encouraged.
By: John Bibor
NEMA Tasks Residents In Flood Plains On Positive Attitude
The National Emergency Management Agency (NEMA) has called on people living in flood prone areas to have a change of attitude towards the environment to minimise the negative impacts of floods.
Head, Abuja Area Operation Office of NEMA, Mr Justin Uwazuruonue,made the call in Lokoja, at a one-day stakeholders workshop on flood sensitisation campaign.
He said that the increasing cases of flood disaster and its attendant damage to means of livelihood and property were largely due to the poor attitude of the people to the environment.
Nwazuruonnye, who reminded the people that the occurrence of floods in Kogi State has become a yearly one, stressed the need for all hands to be on deck to minimise the effects of the disaster.
He also called on the people to start taking flood warnings and predictions from relevant government agencies seriously.
The NEMA chief further urged stakeholders to regularly visit people in flood prone communities with a view to cautioning them on their actions and inactions, leading to flood disaster.
He also called on residents of flood prone nine local governments in the state to get ready to relocate to safer places in case of floods.
"This will prevent or limit loss of lives , damage to property and the environment," he said.
The Executive Secretary of the Kogi State Emergency Management Agency (KOSEMA), Mr Sunday Obari, told stakeholders at the workshop that government had set up a task force to enforce relocation of residents living in flood plains.
He also disclosed that the government had established camps in Lokoja, Idah , Koton Karfe and other communities for those that were likely to be displaced from their houses by the impending floods.
He called on participants to come up with suggestions that would help in reducing the impact of the flood disaster on the people and the environment.
Obari also called on flood desk officers in the nine flood prone local governments to work in synergy and get acquainted with telephone number of emergency providers across the state.
The workshop was attended by stakeholders from the Red Cross, health, security agencies and marine sectors.