Osinbajo Commissions Projects In A'Ibom, Today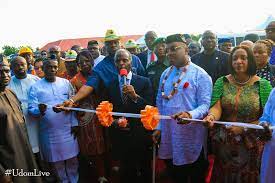 Vice President, Yemi Osinbajo, will inaugurate the Dakkada Luxury Estate and Dakkada Luxury Tower, today in Akwa Ibom State designed to provide affordable housing for the people.
This would be done on the sidelines of Akwa Ibom State government's 34th-year anniversary celebration, in which Osinbajo would commission the projects as part of activities to marking the day of its creation.
While briefing journalists on activities slated for the anniversary, Commissioner for Information & Strategy, Ini Ememobong, Wednesday said the ceremony, which began yesterday, will host Osinbajo today with a view to intimating him with developments in the state.
He explained that the anniversary celebration would be low-keyed due to adherence to the Covid-19 guidelines, adding, however, that the state government would not declare today as a public holiday.
Emenobong explained that other events lined up to mark the state's anniversary celebration include the commissioning of two 45M span bridges at Obot Akara Council, internal roads in Shelter Afrique Estate, swearing-in of new paramount rulers and an interactive media session with Governor Udom Emmanuel on Saturday.
Furthermore, the expanded 25Km Uyo-Ikot Ekpene road will be commissioned on Wednesday, October 6, while internal roads in Oron, Udung Uko councils and the Akwa Ibom State University would be inaugurated on Friday, October 8, 2021.
"In furtherance of Governor Emmanuel's commitment to improving the quality of healthcare delivery in the state, the remodeled Ikot Ekpene General Hospital will be commissioned on Tuesday, October 26, while an Oil Palm Processing facility will be inaugurated at Essien Udim Council," he said.
Edo State government, last Friday, immortalised the late Sir Victor Uwaifo by naming the Edo Creative Hub after the late music maestro.
Governor Godwin Obaseki, who announced the gesture while paying his tribute at the lying-in-state for late Uwaifo, held in Benin City, described the passing of the music legend as the end of an era.
Obaseki said the government and the people of Edo mourn the death of Uwaifo, whom he further described as a living legend.
He added: "For us, the passing of Sir Victor Uwaifo marks the end of an era that produced some of the prolific artistes from Edo.
"It was a generation with creative minds, such as the late Erhabor Emopkai, Dr. Victor Eghareva and Sir Victor Uwaifo. Uwaifo's passing marks the end of that era.
"As a mark of honour to the late Guitar Boy, the Edo State government has decided that our newly built Creative Hub will be named after Uwaifo. This Creative Hub, which is going to be commissioned by the second week of November 2021, has a multi-million-dollar studio to support artistes."
Obaseki stated that the hub would promote creativity in Edo.
"It has editing suites. It will incubate state-based groups and artistes. It will be used for live shows. It has studios for Nollywood to rent for its productions.
"There will be spaces for artistes in the performing arts. That is the least we can do for a man who changed the face of music in Nigeria; that is the least we can do for the man who composed the song, Joromi. That was the first song from Africa and Nigeria to win a golden disc as at the time it did.
"We will always remember Sir Victor Uwaifo for what he meant and what he represented. He represented Edo values, which include hard work, creativity and innovation. It is going to be very difficult for us to imagine our entertainment scene and music space without Sir Victor Uwaifo. May his soul rest in perfect peace," the governor said.
RSG Warns Against Exposing Water To Sunlight
The Rivers State Ministry of Water Resources and Rural Development says washing of hands contributes to 40 percent of protecting one against disease.
The Commissioner for Water Resources and Rural Development, Dr. Tamunosisi Gogo-Jaja made this known while commemorating the 2021 Global Handwashing Day and launching of campaign against exposure of bottle and sachet water to sunlight in Port Harcourt.
He noted that hand washing contributed positively during pandemic and enjoined everyone to inculcate the habit of hand washing.
The commissioner further said the state government was committed to enlightening the people of Rivers State on the danger associated with exposing bottle and sachet water to sunlight.
Also speaking, the Rivers State Commissioner for Information represented by a director in the ministry, Celestine Ogolo, said the ministry would continue to use its platform to enlighten Rivers people on the importance of hand washing and exposure of bottle and sachet water to sunlight.
On his part, the National president and Rivers State chairman of Water Producers Association of Nigeria, Egberi Oderi said with the support of the state government on the enlightenment drive on the dangers associated with the exposure of water to sunlight would go a long way to curb the practice.
The Tide reports that the theme for this year's Global Handwashing Day is: Our Future At Hand: Let's Move Forward Together.
Police Parade Blind Woman With Human Skull In A' Ibom
Akwa Ibom State Police Command, Saturday, paraded a blind aged woman arrested by its operatives for allegedly possessing a fresh human skull.
The suspect was paraded alongside 138 others who were arrested across the state for various offences including murder, militancy, abduction, cultism, armed robbery, stealing, unlawful possession of firearms and vandalism, among others.
A breakdown of the number showed that 11 suspects were arrested for alleged murder, 47 for armed robbery and stealing, 10 for defilement and rape, 21 for alleged cultism, 16 for vandalism, seven for kidnapping and abduction, three for militancy and 24 for others crimes including child stealing.
The Public Relations Officer (PPRO) of the State Police Command, SP Odiko Macdon, who paraded the suspects at the police headquarters in Ikot Akpan Abia, Uyo, said they were arrested in the third quarter of the year.
The aged blind woman, Mrs. Eseme James, was paraded with the human skull reportedly seen in her house at Nnung Oku Ibiet village in Oruk Anam local council of the state.
According to him, the woman was arrested with the aid of her daughter on October 12, 2021, about 6:45 p.m by soldiers of the 'Exercise Still Water' and handed over to the police for discreet and diligent investigation and prosecution.
He said the police was suspecting that the woman must have been involved in ritual activities even though she has told the police that her deceased husband was a native doctor and that her son took over the trade.
"The worry of the police is: What is she doing with a fresh human skull? It means murder has been committed somewhere recently," Macdon said.
In an interview with journalists, the woman denied knowledge of the human skull allegedly found in her residence, saying she only heard from her daughter that the skull was exhumed by the police at the boundary of a disputed piece of land near her house.
"I don't know anything about this skull. When they came to the house, I asked this girl what was going on since I cannot see. She told me that police exhumed a human skull from the boundary of that disputed land. They gave it to me to bring to the police station; that is why I'm here.
"When they came to the house, I was the only person they saw and they said, 'take let's go.'
"My husband was a native doctor; I have never seen him do anything with human parts. I don't know who buried that skull there. The land has been in dispute even before he died," the accused said in his native language.
Macdon, who stood in for the State Commissioner of Police, Andrew Amiengheme, also disclosed that two suspected foreign militants and a Nigerian were arrested on September 13, 2021, with explosives.
According to him, men of AIG Border Patrol Monitoring Unit arrested the militants, two Cameroonians and a Cross Riverian, while on stop and search operation along Okobo-Oron highway in the state.
He gave their names as Adede De Black, Fombutu Tita, both males from the Republic of Cameroon and Bernard Mfam, a man from Ikom Local Council of Cross River State, adding that they had been charged to court.
"The suspected militants were arrested with two bags of dynamites, containers of incense powder, a bag containing items suspected to be talismans, some bottles of concoction, packets of incense oil, a piece of love soap, a bag of ground herbs and five new sets of walkie talkies," he added.
He attributed the successes recorded by the Command in crime prevention to its gallant officers and men, effective collaboration with sister security agencies, support from the state government and cooperation from members of the public who always volunteer information.