AfCFTA: Chamber Seeks Single Africa Passport, Free Visa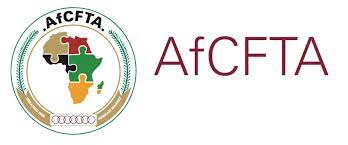 The Nigeria-South Africa Chamber of Commerce (NSACC) has called for a single Africa passport and free visa to ensure success of the Africa Continental Free Trade Area (AfCFTA) agreement.
Its President, Mr Osayande Giwa-Osagie spoke yesterday in Lagos during the chamber's  September Breakfast Forum, with the theme: 'Perspectives on the Africa Continental Free Trade Area in Relation to Nigeria'.
AfCFTA is a single continental market for free flow of goods, services and capital, supported by the free movement of persons across Africa.
Giwa-Osagie noted that AfCFTA would boost intra-African trade by 22 per cent, adding that its implementation would impact positively on the Nigerian economy.
He however said Nigeria must diversify its economy in order to harness the gains of the agreement.
"Current intra-African trade rated at 15 to 17 per cent is low and the AfCFTA is expected to boost intra-African by 22 per cent.
"Challenges to its implementation are lack of infrastructure, political instability and lack of economic diversification.
"This gives rise to the need for Nigeria to diversify its economy to harness the gains of the agreement.
"Given the importance of free movement of people , there is need for a free visa Africa and a single Africa passport.
"While the implementation would help boost the Nigerian economy, impact would be limited if there are no free movement of people," he said.
Head, Trade and Transactional Services, Stanbic IBTC Bank, Mr Jesuseun Fatoyinbo, said the business community needed more clarification on tariff reduction or elimination under the agreement.
According to him, the little information available to corporate organisations with regards to tariffs, may lead to hold back on investments.
"We have noted increased interests from global multinationals and other corporates in setting up facilities in Africa aimed at serving the continent and exporting abroad.
"So more transparency around tariff reductions both in terms of timelines and details of goods could prompt companies to act," he said.
Fatoyinbo also called for more attention to the digitisation of trade processes across the continent.
"Currently, trade in Africa is largely reliant on physical documentation and this is a major impediment.
"Policymakers need to prioritize regulatory amendments that allows for the digital signatures, digital certificate of origin, digital bills of lading, and other documentation," he said.
Troops Deactivate 51 Illegal Refineries, Arrest 23 Oil Thieves – DHQ
The Defence Headquarters say troops of Operation Delta Safe have deactivated 51 illegal refineries in the last two weeks.
It said the refineries had a total of 76 ovens, 52 cooking pots/boilers, 22 cooling systems, 102 reservoirs, 16 large dugout pits and 513 storage tanks.
The Acting Director, Defence Media Operations, Brig.-Gen. Bernard Onyeuko, made this known while giving update on the military operations across the country on Thursday in Abuja.
Onyeuko said the deactivated sites which also had drums and sacks laden with illegally refined oil, were discovered in Rivers, Abia, Cross Rivers, Bayelsa, Akwa Ibom and Imo states.
He said that a total of 23 criminal elements were arrested and 73 rounds of 7.62mm ammunition, five cartridges, two AK-47 rifles, and one double-barrel gun were recovered in the course of the operations.
Onyeuko also said that one pump action gun and three locally-made pistols among other items were recovered.
According to him, a total of 317,450 litres of illegally refined AGO, 8,000 litres of DPK and 159,000 litres of stolen crude have been recovered in the course of the operations.
"These were in addition to several other vehicles and boats loaded with sacks/polythene bags and jerry cans of illegally refined oil products and equipment used for illegal oil production as well as illicit drugs impounded by troops within the period.
"Troops of Operation Delta Safe have sustained operations to forestall the activities of economic saboteurs and other criminal elements in the South-South Zone.
"However, the Armed Forces of Nigeria and other security agencies will not relent nor rest on its oars in the fight against criminalities in all parts of the country.
"The Military High Command commends the continued sacrifices of its troops and salutes their courage and resilience toward achieving sustainable peace in the country," he said.
NURSS Leaders Hail Sekibo Over Scholarship To AKULGA Students
Chairman of Akuku-Toru LGA, Hon. Rowland Charles Sekibo has been commended for granting scholarship to 100 students of the area to study various courses in tertiary institutions in the state and across the country.
He received the commendation when he played host to a delegation of leaders of the National Union of Rivers State Students at the council secretariat, in Abonnema.
Making the commendation, National President of NURSS Worldwide, Comrade Zachariah George, noted that their solidarity visit was geared towards appreciating the numerous projects executed within the chairman's 100 days in office, especially the award of N150,000.00 scholarship grant to each of over 100 AKULGA students.
He said that as a promise keeper, the student community was hopeful that soonest, the chairman would begin implementation of the N20,000.00 Annual Bursary Scheme for students from the area.
In his remarks, National President, Federated Union of Kalabari Students, Comrade Tamunoemi Georgewill, said the student community in the area was pleased with the chairman's excellent performance, and stressed the need for others to emulate the kind gesture.
Also speaking, President, NURSS in Captain Elechi Amadi Polytechnic, Comrade Nemi Judith, extolled the chairman's vision in revamping education in the local government and state at large.
"Students of my institution are beneficiaries of the scholarship you awarded and that has helped solve their immediate challenges in school.
"This is unprecedented and in the spirit of solidarity with the AKULGA students, we present to you this award of excellence in human capacity building", she said.
The President, NURSS at Ignatius Ajuru University of Education, Comrade Iyo said they were satisfied with the chairman's education policy, adding, "We present to you this award of merit for your outstanding performance and sterling leadership prowess in driving a true democracy in AKULGA".
In his response, AKULGA Chairman, Hon. Rowland Sekibo, thanked the student leaders for acknowledging his little efforts in delivering democratic dividends to his people.
He further noted that the students' appreciation would continue to spur him to do more despite the 17th position of his LGA in the state in terms of statutory allocation.
Again, he promised to commence payment of bursary to students in tertiary institutions while carrying out meaningful and people-oriented projects in other communities that make up the LGA.
By: Nelson Chukwudi
Wike Swears In Dame Barasua As Bonny LG Chairman
Governor of Rivers State, Chief Nyesom Wike has sworn in Dame Anengi Barasua, as the chairman of Bonny Local Government Area of the State.
Barasua, who was the vice chairman of the council, was sworn in yesterday at the Government House, Port Harcourt following the death of the former council chairman, Mr. David Irimagha in September.
Governor Wike said he was shocked when he was informed of the abrupt death of Irimagha, whom he described as one of his staunchest supporters in Bonny and in the State.
He urged the newly sworn in council chairman to continue with the laudable projects aimed at improving the well-being of the people of Bonny that were initiated by her predecessor.
"Go ahead, continue with the projects he started and even initiate new ones."
The governor urged Barasua to use the opportunity which providence has availed her, to showcase her true leadership mettle.
"It is an opportunity for you to showcase your leadership. There is nothing stopping a woman from ascending to the highest position. You never can tell what other opportunities will come if you perform better."
Governor Wike advised the council chairman to work in unison with critical stakeholders in Bonny led by the Commissioner for Local Government Affairs, Mr. Rodaford Long-John.
"I have never heard of political crisis in Bonny in terms of leadership, I don't want to also hear of it. Keep the place together. Work with the leadership."
Governor Wike cautioned the council chairman to refrain from engaging in divisive politics that could be detrimental to the peace and development of Bonny.
"I don't want you to go there and divide Bonny or create new structure for yourself. It will not work. The leadership must be there. Keep Bonny united. Make sure that you work for the development of Bonny."
The governor charged the council chairman to work assiduously for the growth and development of Bonny Local government area.
He disclosed that the State government will play active part in the burial ceremony of late Irimagha.
Dame Barasua told journalists after she was sworn in, that she will adhere to the vision of her predecessor. She also gave assurance to offer the council good governance.
"I will look up to God for wisdom and strength to carry Bonny forward . I will uphold the vision of my late boss and add mine. And by the grace of God, I am going to give Bonny people good governance."