It is not all joy here in our clime and elsewhere. The world is full of ambivalence of fortunes and misfortunes.
This is why government institutions are established to address the contradictions in human societies. Indeed, every institution such as hospitals, schools and social welfare infrastructures are established to take care of the welfare and well being of humanity.
Every grand norm declares that the business of government is to guarantee the security of its citizens. Security could be food, physical or psychological security, and social security. In doing this the business of government is divided into two broad parts, the social sector and economic sector.
The economic sector drives the prosperity of any country while the social sector nurtures the human capital to life. It is important to agree with the notion that without the social sector the economic sector cannot actualize the prosperity of a nation.
Health, education and social welfare top the social sector. Indeed it is expected that the government should take care of the economic and infrastructural needs of the people and also address their mental and psychological needs.
The present global and national social pressure has increased mental and psychological crisis especially among the younger generation.
The younger generation of Nigerians in particular are hooked unto drugs and substance abuse. Experts say young people between the ages of 19 and 22 have been initiated into the unholy communion. Tide News Investigation reveals that no fewer than 14.3 million Nigerians between the ages of 16-64 are involved in one substance abuse or the other including psychotropics like heroine.
Sadly, the common opium of the people in this circle of abuses are those who consume cannabis or Indian hemp.
Indeed not less than 10.6 million are enmeshed in the addiction of cannabis according to the National Drug Law Enforcement Agency (NDLEA).
The core productive age of young Nigerians are vulnerable to mental illness, majority of who are roaming the streets picking from dustbins or from drains. The rest of the addicted are the "Chidinmas" of this world who are allegedly vulnerable to violence and murder.
Recently, a young student of a University undergraduate was said to have jumped from a third floor of his hostel and died. He was said to be a new initiate who could not cope with the effect of a drug he injected.
The authorities of the NDLEA have complained about lack of rehabilitation facilities to treat those who are suffering from addiction in Rivers State. This development leaves a lot of young people who have lost it to remain with their parents wasting and creating serious burden of liability.
Drug addiction, experts say, requires special treatment in treatment facilities. Many parents say they cannot afford to send their wards who are mentally ill to the psychiatric medical facilities in the state. There is also the issue of stigma.
Many people may have lost their mental wellbeing as a result of other social pressures which are not drug related. Today some of them are roaming the streets without any one catering for them. They mix up with destitutes and other social derelicts to constitute nuisance in our streets.
Happily, Governor Nyesom Wike who had declared Rivers State a Christian State, has come out to be their messiah. The reconstruction and equipment of the State Rehabilitation Centre at Iriebe to take care of the mentally ill, destitutes and other unfortunate members of our society is an indication that the New Rivers Vision is an inclusive philosophy which was packaged to solve the problem of all segments of our society.
The move by Governor Wike to sanitise the streets of Rivers State of lunatics, drug victims is a demonstration of his candid compassion for humanity. This is the reason behind the reconstruction and equipment of the centre.
According to him any government that ignores the less privileged is doomed to fail. Taking care of the social, psychological needs of the disadvantaged members of the society is a programme that must be factored into other programmes of government such as infrastructure.
The Iriebe Rehabilitation Centre which will be home to people with different mental and social-economic challenges has the right ambience. The institution will keep the State Ministry of Social Welfare busy. Meanwhile Governor Wike has given an initial take off grant of 200 million naira to the Ministry.
This is an eloquent demonstration of the resolve of the Governor to place the social well being of the people on the front burner. Over the years social rehabilitation in the state has been anonymous. The mentally ill roam the streets uncatered for and those with the need for drug treatment have been wasting after dropping out of school.
The centre is equipped with hospital facilities, vocational centres, rehabilitation hostels for different patients and persons of need who will be segregated into appropriate homes.
The call by the Deputy Governor of the State, Dr Ipalibo Harry Banigo on parents to shield their children and wards against all forms of drug abuse has become timely to reduce the expensive burden of rehabilitation and loss of the productive segment of the society.
The motherly call by no less personality than the Harverd nurtured Public Health Physician must be heeded to. This is the time to heal our hand.
By: Bon Woke
50th Edition Of Catalogue: A Reflection
This is our 50th Edition on this weekly column christened catalogue on The Tide News paper.
Catalogue was created to look at trending issues of National importance, subject them to critical rationality and seek solutions. In Biblical Numerology, the number 50 is a symbol of freedom, release and a period of atonement and forgiveness of debts, release of those in slavery. We have had Fifty weeks of consistent and regular critical profiling of trends. For catalogue, 50th Edition means the beginning of a new cycle of critical realism and pursuit of new strategies in analyzing socio-economic realities of our time.
It is our belief that everything taken from the Nigerian people in form of denial by the powers that be will be redeemed.
These include the rule of law, security of life and property, peace, true federalism, free elections, fiscal federalism, freedom from hunger and denial of common prosperity.
Catalogue in the last 50 Editions has pursued the vision and mission of articulating advocacies for a better Nigeria. We have looked at the failure of institutions in Nigeria and have critically associated it with a social malaise called the Nigeria Factor.
We observed that "the excuse for failure called the Nigeria Factor is anathema to development. The positive philosophy in Nigeria is called the Nigerian Spirit."
The above quote in that edition sums up the Nigerian dilemma, where the Nigerian spirit to strive, thrive and succeed is shrouded by a negative spirit of excuse for failure.
Anything that works elsewhere can't work here because of the albatross that assaults the national psyche; "The Nigeria factor" which includes corruption, laziness, incompetence, ethno religious factors, lack of innovativeness etc.
Another edition of catalogue in the period under review dealt with the poor Reward System in Nigeria.
Catalogue had observed that Nigerians Eat the Bread of sorrow daily in all their efforts to survive.
Bread of sorrow is the angst and disappointment we experience in any of our struggle as a people or individuals when we gain nothing in the process.
In the book of Psalm 127 verse 2, David wrote: "it is vain to rise up early, to sit up late to eat the Bread of Sorrow. He said the Lord blesses His people even when they are asleep. Bread of Sorrow is the anxiety and vain pursuit to profit from the good things of life in the absence of divine direction.
The experience of Nigerians is that of misadventure and futility in all sectors of the economy.
We observed that many Nigerians Eat the Bread of Sorrow in their every day pursuits in a dislocated and unsustainable economy where the take home of workers cannot take them home and the efforts of the labourer end in meager earnings.
Unfortunately, we concluded in a quote "The reward system is one in which bad governance has led every employee in the labour sector to the table served with the Bread of Sorrow."
The situation is like the proverbial "working like an Elephant and eating like an Ant.
Catalogue has also looked into the predicament of young people in Nigeria. We wrote: "The younger generations of Nigerians in particular are hooked unto drugs and substance abuse. Expert say, young people between the ages of 19 and 22 years have been initiated into the unholy communion."
The Tide News investigation revealed that no fewer than 14.3 Million Nigerians between the ages of 16 and 64 are involved in one substance abuse or the other, including psychotropic substances like cocaine.
Unemployment and other socio-economic factors are responsible for this development.
There is therefore the need for sustainable social rehabilitation programmes in the country.
States should Follow the example of Rivers State in this sector.
Recall that Rivers State Government reconstructed and fully equipped the Iriebe Rehabilitation center.
A major pre-occupation of Catalogue has been the call for devolution of powers in most of the previous editions. The devolution of power to the Federating States has been resisted by very strong forces in the polity.
We are excited that in this 50th Edition of our column, which is a coincidence in our pursuit of a new cycle, that Governor Wike has set a new agenda for Fiscal Federalism.
The recent moves to domicile the collection of Value Added Tax (VAT) in Rivers State is a bold step in this revolution to ensure that states benefit fully from their God-given resources.
It is however sad that some people who have been clamouring for Resource control have now exposed their deceitful fangs to bite off the new vision. We now know the true heroes of our state. Happily, Lagos State has joined the fray.
It is therefore a non-partisan struggle.Why should some states be exploited for the benefits of others?
Why should some states display the trait of the proverbial chichidodo, a bird that enjoys eating maggots with relish but hates excrements as captured by Ayi Kwei Amah's "The Beautyful Ones Are Not Born"? Kano State and other states display this hypocrisy, as they have placed ban on the sale and production of alcohol in their states but enjoy VAT from the products from other states. Every state should enjoy the revenue from the value they have given to their resources.
The courts may stop VAT for now but the revolution to change the narrative has begun.
Catalogue is mourning the death of the amiable, forthright, hardworking Acting Editor (Daily) of The Tide group, Lady Juliet Njiowhor. According to Albert Pike. "What we have done for ourselves alone dies with us; what we have done for others and the world remains and is immortal". Madam Julie as we addressed her supported the hoisting of the column Catalogue on The Tide News paper, strategic page 9, every Wednesday. Without her cooperation Catalogue wouldn't have been created. May her humble soul rest in peace. Amen
By: Bon Woke
L.G.As And Environmental Sustainability
It is the business of Government at all levels to ensure a safe and sustainable environment. Every tier of government has a role to play in environmental sustainability. The State Government especially Rivers State has taken much of the responsibility on environmental control and sanitation management. The local councils have since then become docile in addressing environmental challenges especially in the area of sanitation and flood. The issue of flooding is not expected to be the business of state and Federal Government alone. The Local Government councils have a lot of roles to play in control measures and mitigation.
Unfortunately, this is not the case. Communities in the Local Government areas are ravaged by flood because there is little or no form of environmental control measures in place. This is why when flood alerts are given by NIMET, the local government areas simply surrender to the impending doom of flash flood which causes collateral damages to lives and property of their citizens. Sadly, this is the situation, yet councils collect land rents, and other built environment rates.
Houses are built to block water rights of ways. Residents dump refuse in drains or gutters. It is the responsibility of Local Council Administration to put proper governance in place to control the poor behaviour of their population towards the environment.
Councils sit back and expect the state government to do everything. What then are the functions of local government administration? The core function of local Government Administration which include pre-primary, primary, and adult education, Primary Health care delivery, Town planning, Roads, Transport and Waste Management have suffered setbacks because of lethargy on the part of the functionaries.
Some of the councils can't even pay salary. Most of the councils only engage in eye service such as painting of their secretariat and at best buying official vehicles for councilors. Many Local councils don't have befitting markets in their localities and where such markets exist, they are kept in unsanitary conditions.
Some markets are seriously flooded and lack access. Internal roads or streets are either non-existing or in poor state of decay. The new local government administration inaugurated in June by Governor Nyesom Wike have monumental challenges to change the narrative.
The scenario where councils wait for the state Government to come and construct essential infrastructures should be a thing of the past. Urban and semi-urban centres like Bori, Ahoada, Omoku, Elele, Choba, Igwuruta, Ngo, Buguma,Okrika to mention but a few need serious attention. Local Government Councils should be responsive and responsible to their infrastructural challenges. The sad state of Affairs in the small towns and semi urban communities in the local government areas of the state is the failure of the relevant council institutions.
Houses are built haphazardly without planning. The outcome is that the communities outside the state capital are developing into big slums. Land speculators in these communities especially in areas close to the Greater Port Harcourt axis are taking advantage of lack of proper urban control regulations by local councils. They build without respect to best practices in Town Planning and development.
In Ahoada, Omagwa, Elele, Bori, make shift structures are hoisted indiscriminately along the Internal Roads without sanctions to erring landlords who block drains with these ugly prefabs. It is the responsibility of Local Government Town Planning Offices to ensure sanity in these areas of their jurisdiction.
Local Councils which have failed in constructing internal roads for towns and villages should not fail in their responsibility to ensure that such rural infrastructures like internal roads are maintained and rehabilitated from time to time. At least this is the best they can do at the moment where the state Government is taking up some of their responsibilities.
The Works Departments of Local Councils lack visibility in infrastructural maintenance and constructions in various communities.
The lethargy and poor performance by Local Government operatives in Rivers State is partly responsible for the one city status of the state. Municipal Administrations have the responsibility of putting in place proper logistics that can grow the rural communities into semi urban centres and cities.
The councils enjoy allocation of funds from the Federal Government Account every month. Joint Allocation Account as defined by law is not problematic in Rivers State at present.
Funding is not a major issue for the docile nature of councils on development. Prudent management of resources is vital. Dr. Chidi Julius Llyod, Chairman, Emohua Local Government had opened up on this reality when he said his Administration would put its development agenda on priority scale beyond the payment of salaries.
He demonstrated this by the commencement of a rural and road construction in Odegu community recently. Council Bosses must strive to go beyond soap box rhetoric. The Governor of Rivers State, Nyesom Wike has made it clear that Local Government Administrations should be a partner in the development of the state.
A scenario where the infrastructural inauguration in LGA's, must be by only the moving train of Mr. Project, is unfair. Local Government Councils can complement the efforts of the state government in project execution.
The expectation is that Local Government councils should be able to leverage on this relief and be focused on construction of drains, rural sanitation, paving of streets and general maintenance.
By: Bon Woke
Demystifying Ethical Orientation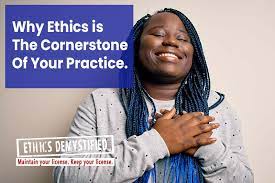 The core issue at the centre of national consciousness and moral rearmament is ethical orientation among Nigerians. However, the common ghost haunting this ideal is the mystification of the concept itself.
What should be the core value of national orientation in Nigeria? Should Nigeria have a uniformity of values and ideals?
There is urgent need for a national core value reorientation that will engender patriotism among the citizens of Nigeria. Sadly Nigerians have greater loyalty for their religion and ethnicity.
In a country with a diversity of ethnic conglomeration and culture, it is difficult to give a uniform stamp to a national philosophy, core values and ethnical orientation.
It is important to observe that a proper understanding of ourselves as a people of diverse culture will assist us in defining our values, and common ethical precepts. A push towards national integration over time by different political dispensations in Nigeria, would have opened the window for a national ethical orientation, but it has been a case of every one to their tent.
Nigerians are seen or perceived according to their ethnic orientation. We often see ourselves saying, "this is how the Yorubas behave", the Yorubas have great respect for elders, the Igbos are their brothers keeper. "We also say the Hausa Fulani have great dexterity in political solidarity."
These ethical stereotypes are also common among the minorities. The Niger Delta group for example are known for their strong will for mobilization towards common goals.
All these are ethical values that can grow a nation. These values can also nurture patriotism, loyalty and nationalism.
However, what every group brings to the common plate is what counts and can add value to a common national ethics.
What often comes to the centre are the wrong values, crime and other forms of social malaise. It is therefore difficult to point at a common ethical standard.
Different religious environments also have their own ethical standards. So it is difficult to talk about the Nigeria ethics. However, there is a common concern about how we can have a Nigeria society that everyone can be proud of, that is orderly, with citizens that demonstrate discipline and exhibit positive national consciousness.
This preoccupation gave rise to the establishment of institutions charged with mobilizing the citizens of Nigeria towards ethical revolution. Once upon a time the military hoisted "War Against Indiscipline". War Against Indiscipline (W.A.I) was established in 1984/85 by General Mohammadu Buhari and Idiagbon military junta.
It was aimed at correcting social maladjustment and widespread corruption. This good intention was squandered on the altar of bad-will, associated with the dictators who placed more emphasis on the stick rather than the carrot.
The philosophy was predicated on the perception that Nigerians lacked discipline, were morally bankrupt and needed to be whipped into line to maintain orderliness in public places. Queue culture was emphasised.
It became a contradiction when Nigerians were forced to queue for essential commodities.
Citizens were whipped to queue up to scramble for goods at supermarkets.
The W.A.I regimentation subjected Nigerians to refugee status. Nothing was done about creating an appropriate national consciousness that would grow ethical orientation for patriotism, transparency and dignity of labour.
Next was MAMSER; mass mobilization for Self Reliance, and Economic Recovery of 1987. It was General Babangida's idea of ethical revolution and national orientation for economic development.
MAMSER was a valid mass mobilisation for economic development and self reliance. It was aimed at banishing the culture of consumption mentality.
Nigerians have refused to work, and be productive, but prefer to import goods from the metropolitan economies. The objective therefore was to encourage self reliance, culture of hard work and productivity.
However, it did not have a grassroots penetration, rather it was an exercise in political orientation in Nigeria.
The National Orientation Agency (N.O.A) was established via Decree 100 in 1993.
It was aimed at developing a society that is orderly, responsible and disciplined. A society where citizens demonstrate core values of honesty, hard work and patriotism. Main objectives of N.O.A are to ensure that government programmes and policies are better understood by the people and mobilizing favourable public opinion.
This military institution was inherited by the civilian administration through an Act of Parliament.
NOA is expected to be an institutional framework for educating, orientating and indoctrinating Nigerians towards attitudes, values and culture that would promote national cohesion.
Sadly, the impact of NOA is yet to reach the intended grassroots population. This is because the Nigerian leadership still see value orientation as a subject for sloganeering.
The history of Nigerian institutional frame work for ethnical reorientation is sadly that of flawed ideological profiling of issues. Creating a sense of loyalty to the nation should be at the centre. The Nigerian population must be mobilized in a sustainable manner, through deliberate restructuring of our institutions to give every citizen a sense of belonging. Political and economic development must be people centred to nurture Nigerians to love their beloved country.