Obasanjo Hails Chinese Party, CPC At 100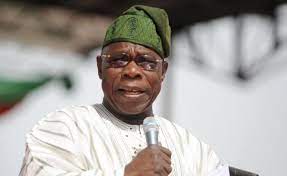 Former President Olusegun Obasanjo, has extolled the Communist Party of China (CPC) for the remarkable achievements it has recorded in the various spheres of China since it was founded 100 years ago.
In a goodwill message addressed to Chinese President Xi Jinping, who is the General Secretary of the CPC and Premier of the State Council of the People's Republic of China, Li Keqiang and members of the Standing Committee of the CPC, Obasanjo declared that China's growth and strength were unstoppable.
Obasanjo noted that since the establishment of diplomatic relations between Nigeria and China in 1971, Nigeria's relationship with China has developed into one of the most important bilateral relationships maintained by either country.
The relationship, he added, has broadened and deepened with China's growing power and interest in securing its regional interests, particularly within the South China Sea, and taking its place as a major global actor.
China and Nigeria, Obasanjo further noted, have signed a number of agreements on trade, economic and technological cooperation, as well as in the area of investment protection.
Obasanjo said, "In May, 1999 when Nigeria returned to constitutional democracy, I visited China twice in 2001 and 2005, respectively with my Chinese counterpart reciprocating both visits. The combination of domestic political and economic reforms and policy re-alignment enabled Nigeria to re-open dialogue and cooperation with major trading partners.
"As a result, there was evidence of growth in the country's trade relations with its traditional allies, as well as emerging economies such as India and China. Indeed, by 2004-2005, China has succeeded in displacing other countries such as the United States, United Kingdom and the Netherlands as Nigeria's biggest trading partner.
"During former President Hu Jintao's visit to Nigeria in 2006, as Nigerian President, I remember making the following remarks, 'From our assessment, this twenty-first century is the century for China to lead the world. And when you are leading the world, we want to be close behind you. When you are going to the moon, we don't want to be left behind'.
"Today, China is one of the most important lenders of development finance to Nigeria. Chinese firms and finance play a prominent role in Nigeria's infrastructure development. This is notably in the construction of railway lines and road reconstruction across the country. Nigeria marked symbolic progress of railway service in July, 2016, when its first completed standard gauge railway modernization project, Kaduna to Abuja, assisted by China was put into commercial operation. The light rail, the first of its kind in West Africa, fully reflects China's technology, quality and speed.
"As of 2017, Nigeria was China's largest engineering contract market, second largest export market, third largest trading partner, and major foreign direct investment destination in Africa. Nigeria is also the first African country to accept Chinese renminbi (RMB) in its foreign reserve. China and Nigeria have maintained a steady development of Lekki and Ogun free trade zones in the Southern part of the country. The zones aim to attract foreign investors and manufacturers to optimize Nigeria's industrial structure and improve its national living standard.
"Clearly, the relationship has become more economic as China evolved from a political power to a global economic giant. The growing trade and presence of Chinese finance in Nigeria has also led to changing narratives about increased migration on both sides. China has also contributed to the development of Nigeria's human capital. Many Nigerian students now study in Chinese schools – with a few on scholarships.
"China's visibility in Africa's infrastructural landscape is clear. From the landmark $200million African Union Secretariat building in Addis Ababa, Ethiopia, which was a gift in 2012 by China, to the roads, airports, railways, universities and libraries, Chinese investment in Africa increased from around $75million in 2003 to $2.7billion in 2019. Africa has also served as a market for Chinese manufacturing and as a source of raw materials.
"Chinese companies are also building education and training facilities in Nigeria. Nigeria was the first African country to establish a cultural centre in China, and the Chinese Cultural Centre was established in Nigeria in 2013. Every year, many cultural and academic groups from both countries visit each other, promoting art and people-to-people exchanges between the two countries.
"Let me conclude with a poser I raised in the Vol. III of my memoir, My Watch: Now and Then, 'What events are we to watch for in the future?' China's growth and strength remain unstoppable. How China uses its increased power will matter to the world. Technology will keep moving. Africa must be innovative, shrewd and resourceful to know where and how to jumpstart technology, not by re-inventing the wheel but by being only a step behind the cutting edge of science and technology and by being part of the creation of relevant technology for our needs, development and progress. Africa must not be detached from the world of science, technology and innovation led by China," Obasanjo wrote.
In the message, the former president congratulated the Chinese community all over the world and the entire good people of China on the 100 years celebration of the CPC, which he said, was the second largest political party in the world.
"I am, indeed, pleased and honoured for the opportunity accorded me to send in my goodwill message in support of the centenary celebration. I bring to you the good wishes of the entire people of my great country, Nigeria.
"Founded in 1921, the Communist Party of China (CPC) has always been committed to its original aspiration and mission of seeking happiness for the Chinese people and rejuvenation for the Chinese nation. It is important to note that, China's success can be ascribed to its political system. The party has led the country from the era of Chairman Mao to become the economic powerhouse it is today. At $16.64trillion GDP, it's the second largest economy after USA with $22.68trillion GDP.
"The Peoples' Republic of China is sometimes referred to as a modern day miracle and continues to draw the attention of the entire world for the remarkable progress it has made in economic development, science and technology. There are several important elements that led China to the Superpower status. One of the factors that have contributed immensely to the growth of the country is the leadership of the party. Indeed, the party exercises overall leadership over all areas of endeavour in every part of the country, and thus guides the socialist modernization of China.
"With the founding of the People's Republic of China, headed by Mao Zedong who is regarded as the Founding Father of Modern China, China's leaders began their exploration of the road to socialist industrialization and modernization. Working towards the goal of economic modernization, their strategy moved from 'national industrialization to four modernizations'. Mao was responsible for many of the political initiatives that transformed the face of China.
"Following Mao's death in 1976, the new leader, Deng Xiaoping, commenced a series of reforms that radically changed China. Deng encouraged international trade and allowed foreign capital investment. The result has been China's phenomenal entry into world markets and a booming economy. The economic reforms that were introduced by Deng Xiaoping in the late seventies have transformed the Chinese economy and produced a period of spectacular growth. With Deng Xiaping's reform policies of the 1970s and 1980s, China's dramatic growth and modernization and attendant industrial, energy and market expansion needs brought it into greater contact with Africa," Obasanjo also said.
Senators Fault Buhari's Planned Farm Settlements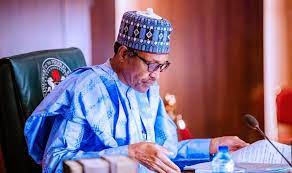 Some senators have expressed concerns over plans by the regime of President. Muhammadu Buhari, to establish farm settlements in each of the 108 senatorial districts in Nigeria.
They noted that any arrangement to acquire land by the Federal Government at the moment without giving details of what it would be used for, might face stiff resistance from various communities.
The President had last month, directed the National Agricultural Land Development Authority to set up the integrated farm estates in 108 senatorial districts nationwide.
Already, the policy has been greeted with criticisms from the leadership of the various ethnic groups in the middle belt, and southern part of the country, describing it as an attempt in disguise, to create grazing areas for cattle.
The Senator representing Edo South Senatorial District, Matthew Urhoghide, said the Federal Government should give details of the project before approaching state governments for land allocation.
He said, "We are in the Senate to represent our people. I know what my people want
"What we quarrel against is open grazing; we are not against ranching. We are not saying that a Fulani man that has a herd of cattle cannot come to the South to do the business of ranching but he cannot come to carry out open grazing.
"Grazing has two effects. It leads to wanton destruction of farmland. You cannot use animal husbandry to destroy crop farming. There are also criminal cases associated with it including murder.
"If the Federal Government is coming to get land in my state for ranching, it is okay because we need beef, which would be richer, when it is from the ranching system.
"However, the government should make its intention very clear on the policy to avoid major clashes and crisis."
Similarly, Senator Abba Moro, representing Benue South in the red chamber said government could make arrangements for herders to do the business of ranching but not at the  expense of the farmers.
He advised the Federal Government to go to the drawing board and come up with a modern arrangement to make ranching the way to go.
He said, "When government policies are viewed with suspicion, when citizens lack trust in government policies, then something is wrong.
"Until we address the root causes of conflicts between herders and farmers, and genuinely come out with the right way to go through dialogue, any policy that is thrown at the citizens will be looked at with suspicion which would cause some level of tension.
Senator Wants Improved Network For Results Transmission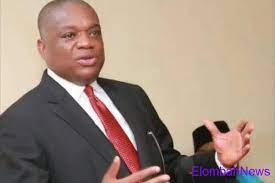 The Senate Chief Whip, Sen. Orji Kalu, says  Nigeria requires 95 per cent of national network coverage to enable electronic transmission of election results in the country.
Kalu said this in an interview with The Tide source yesterday in Abuja.
Recall that 52 senators on July 15 voted against electronic transmission of results in the forthcoming general election while 28 voted for and 28 absentees.
The senators insisted that the Independent National Electoral Commission should be compelled to seek clearance from Nigeria Communications Commission (NCC) while the National Assembly would have to approve the verdict of NCC.
Kalu, insisted the current network coverage was inadequate.
"I have never been against transmission of results , I only said we don't have adequate coverage where we live,this is the issue.
"We have coverage, but it is not adequate.
'Like Abia North Senatorial District where I come from, there is no adequate coverage, may be 43 per cent coverage, so how are we going to do that.
" I believe in electronic transmission,but I want to quickly urge the NCC to deploy their technology to ensure wider coverage; I believe in that process because it is transparent.
" I don't want to listen to officials who want to buy equipment and make commissions, I am telling myself the truth, if we even have a coverage of 95 per cent it will be okay, but we have below 50 per cent in the entire country.
"I am not talking about my constituency.
" It wasn't a party decision to vote against e transmission and not a clique decision, it was out of my conscience.
" I can only do what I will do that will benefit all Nigerians," Kalu said.
Igbo Stakeholders Decry Absence Of S'East Govs At Forum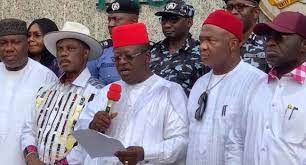 The absence of four Governors of the South-East in the Southern Governors' Forum meeting held last Thursday in Enugu has been strongly condemned by members of the Concerned Igbo Stake-holders Forum (CISF). 
The leader of the group, Mr Chukwuma Okenwa told newsmen in Enugu that there was no justifiable reason that would be enough for these governors to be absent in a meeting of such magnitude.
According to him, it was wrong particularly coming at a time when the region is battling socio-economic and security concerns stemming from the sit-at-home order issued by the proscribed separatist group, Indigenous People of Biafra (IPOB).
His words: "The absence of the Governors of Abia, Ebonyi, Imo and Anambra States leaves a lot to question the commitment of these governors to the growth and advancement of the South-East in missing a crucial meeting held within their geopolitical zone.
He further described as very disturbing the conspicuous absence of the Anambra Governor, Chief Willie Obiano, or a representative from the state at the meeting. 
Okenwa said that the body language of the South-East governors in recent times leaves no one to doubt that these governors have magnified their interest above that of the region and Ndi-Igbo in general.
"Their gaze at the forthcoming elections in 2023 is becoming an unbearable distraction for them in delivering their mandate to the people," he also lamented.
The group, therefore beckoned on Ndi-Igbo, regardless of political party affiliation, to unite and formidably negotiate a favourable space in the political scheme of things.
According to him, when this is done, we will ensure an unhindered growth and development of all Igbos, he added.
By: Canice Amadi, Enugu