NHRC Seeks Prioritisation Of Children's Rights In National, State Budgets
The Executive Secretary of the National Human Rights Commission, Mr Tony Ojukwu, has called for the prioritisation of child rights issues in both the national and state budgets.
Ojukwu, represented by Abdulrahman Yakubu,  director, political and civil education rights in the commission made the call in Abuja at an event organised by the commission to commemorate the 2021 International Day for the African Child  (DAC), celebrated every June 16.
He also called for alignment of national implementation plans of the Child's Rights Act with international action plans like the Agenda 2040 and the Sustainable Development Goals (SDG) agenda to ensure a more holistic and measurable implementation outcome
"While progress has been made on the implementation of the Child's Rights Act and Laws across the   states that have adopted it, challenges bordering on non-prioritisation of child rights in the budget, poverty.
"Harmful traditional practices, inadequate access to educational and health services, armed conflicts and more recently the COVID-19 pandemic have continued to slow down process across all sectors.
"I call on all concerned Ministry , Departments and Agencies and child-focused organisations to explore  new tools and innovations like technology and social media to accelerate the implementation of child-based laws and policies in the country," he said.
He also called for the adoption and implementation of measures to ensure universal health coverage, access to quality health-care services for all while closing all gender and vulnerability gaps.
Ojukwu also called for equal access to compulsory and quality education to all children, including children in rural communities, the girl child, children living with disabilities, children in conflict and humanity settings.
"We must address the root cause of conflict and engage early warning mechanisms to eliminate the impact of armed conflicts on children" he said.
The executive secretary said the DAC serves as a strong advocacy and sensitization tool for implementation of children's rights.
"Beyond honouring the memory of the fallen heroes, the DAC celebration calls for introspection and self-assessment by the AU member states on the level of child rights implementation in respective countries.
The theme for the 2021 DAC celebration as selected by the African committee of Experts on the Rights and welfare of the child, he said, 30 years after the adoption of the charter: accelerate the implementation of the Agenda 2040 for an Africa fit for children.
In a goodwill message, the Country Representative of UN  Women Nigeria, Ms Comfort Lamptey called for education-in-emergencies in Borno,  Yobe and Adamawa.
The country representative, represented by Patience Ekeoba,  National Programme Officer,  UN Women Nigeria,  Lamptey said that children of these three conflict affected states need education -in-emergencies.
" In the north east of Nigeria, 2. 8 million children need education -in-emergencies support. No fewer than 802 schools remained closed and 497 classrooms are listed as destroyed with another 1, 392 damaged but repairable in Borno, Yobe and Adamawa.
"In addition to this,  the COVID-19,  insecurity and humanitarian crisis and other prevailing challenges have presented new and additional challenges," she said
"A lot of countries in Africa have robust legal frameworks policies,  conventions and other frameworks that guarantee the rights of the child," she added.
Senators Fault Buhari's Planned Farm Settlements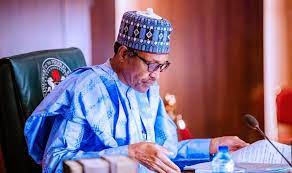 Some senators have expressed concerns over plans by the regime of President. Muhammadu Buhari, to establish farm settlements in each of the 108 senatorial districts in Nigeria.
They noted that any arrangement to acquire land by the Federal Government at the moment without giving details of what it would be used for, might face stiff resistance from various communities.
The President had last month, directed the National Agricultural Land Development Authority to set up the integrated farm estates in 108 senatorial districts nationwide.
Already, the policy has been greeted with criticisms from the leadership of the various ethnic groups in the middle belt, and southern part of the country, describing it as an attempt in disguise, to create grazing areas for cattle.
The Senator representing Edo South Senatorial District, Matthew Urhoghide, said the Federal Government should give details of the project before approaching state governments for land allocation.
He said, "We are in the Senate to represent our people. I know what my people want
"What we quarrel against is open grazing; we are not against ranching. We are not saying that a Fulani man that has a herd of cattle cannot come to the South to do the business of ranching but he cannot come to carry out open grazing.
"Grazing has two effects. It leads to wanton destruction of farmland. You cannot use animal husbandry to destroy crop farming. There are also criminal cases associated with it including murder.
"If the Federal Government is coming to get land in my state for ranching, it is okay because we need beef, which would be richer, when it is from the ranching system.
"However, the government should make its intention very clear on the policy to avoid major clashes and crisis."
Similarly, Senator Abba Moro, representing Benue South in the red chamber said government could make arrangements for herders to do the business of ranching but not at the  expense of the farmers.
He advised the Federal Government to go to the drawing board and come up with a modern arrangement to make ranching the way to go.
He said, "When government policies are viewed with suspicion, when citizens lack trust in government policies, then something is wrong.
"Until we address the root causes of conflicts between herders and farmers, and genuinely come out with the right way to go through dialogue, any policy that is thrown at the citizens will be looked at with suspicion which would cause some level of tension.
Senator Wants Improved Network For Results Transmission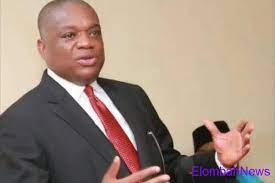 The Senate Chief Whip, Sen. Orji Kalu, says  Nigeria requires 95 per cent of national network coverage to enable electronic transmission of election results in the country.
Kalu said this in an interview with The Tide source yesterday in Abuja.
Recall that 52 senators on July 15 voted against electronic transmission of results in the forthcoming general election while 28 voted for and 28 absentees.
The senators insisted that the Independent National Electoral Commission should be compelled to seek clearance from Nigeria Communications Commission (NCC) while the National Assembly would have to approve the verdict of NCC.
Kalu, insisted the current network coverage was inadequate.
"I have never been against transmission of results , I only said we don't have adequate coverage where we live,this is the issue.
"We have coverage, but it is not adequate.
'Like Abia North Senatorial District where I come from, there is no adequate coverage, may be 43 per cent coverage, so how are we going to do that.
" I believe in electronic transmission,but I want to quickly urge the NCC to deploy their technology to ensure wider coverage; I believe in that process because it is transparent.
" I don't want to listen to officials who want to buy equipment and make commissions, I am telling myself the truth, if we even have a coverage of 95 per cent it will be okay, but we have below 50 per cent in the entire country.
"I am not talking about my constituency.
" It wasn't a party decision to vote against e transmission and not a clique decision, it was out of my conscience.
" I can only do what I will do that will benefit all Nigerians," Kalu said.
Igbo Stakeholders Decry Absence Of S'East Govs At Forum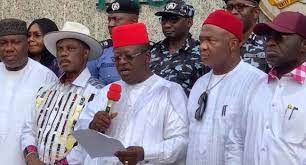 The absence of four Governors of the South-East in the Southern Governors' Forum meeting held last Thursday in Enugu has been strongly condemned by members of the Concerned Igbo Stake-holders Forum (CISF). 
The leader of the group, Mr Chukwuma Okenwa told newsmen in Enugu that there was no justifiable reason that would be enough for these governors to be absent in a meeting of such magnitude.
According to him, it was wrong particularly coming at a time when the region is battling socio-economic and security concerns stemming from the sit-at-home order issued by the proscribed separatist group, Indigenous People of Biafra (IPOB).
His words: "The absence of the Governors of Abia, Ebonyi, Imo and Anambra States leaves a lot to question the commitment of these governors to the growth and advancement of the South-East in missing a crucial meeting held within their geopolitical zone.
He further described as very disturbing the conspicuous absence of the Anambra Governor, Chief Willie Obiano, or a representative from the state at the meeting. 
Okenwa said that the body language of the South-East governors in recent times leaves no one to doubt that these governors have magnified their interest above that of the region and Ndi-Igbo in general.
"Their gaze at the forthcoming elections in 2023 is becoming an unbearable distraction for them in delivering their mandate to the people," he also lamented.
The group, therefore beckoned on Ndi-Igbo, regardless of political party affiliation, to unite and formidably negotiate a favourable space in the political scheme of things.
According to him, when this is done, we will ensure an unhindered growth and development of all Igbos, he added.
By: Canice Amadi, Enugu