Contempt of court is a behaviour that opposes or defies the authority, justice and dignity of the court. When an order of court is disobeyed, it affects the dignity of the court in the administration of justice and courts do not treat such conduct with levity. According to U. Mohammed, J.S.C. in Okonofua Vincent Omoijahe V. Uwesu Omonu & Ors (1999) SC, it is justice itself that is flouted by contempt of court, not individual court or judge who is attempting to administer it. Also, in the case of Atake V. Attorney General of the Federation (1982) LPELR 586 (SC) Idigbe JSC states as follows:
It is indeed difficult to give exact definition of contempt of court, and this is because it is so manifold in its aspect … but generally it may be described as any conduct which tends to bring into disrespect, scorn or disrepute the authority and administration of the law or which tends to interfere with and/or prejudice litigants and/or their witnesses in the course of litigation.
There are two types of contempt, contempt in faciecuriea, which means contempt in the face of the courts, and ex facie curiea which means contempt outside the court. Contempt in the face of the court may arise as a result of disrespectful conduct or comments made in the courtroom by a contemnor when proceedings are going on which is heard and seen by the judge which undermines the dign ity of the court or which interferes with the administration of justice. Note that the law of contempt only exists to uphold and ensure effective administration of justice. The power of court to punish for contempt must always be exercised to secure and protect the authority of the court. Because it is not every act of discourtesy to the court by counsel that amounts to contempt.
The Supreme court of Nigeria in the case of INEC & Anor V. Oguebego & Ors, held that whilst considering the instances when words or actions used in the face of the court or in course of proceedings be deemed contemptuous, held as follows: "For words or actions in the face of the court or in course of proceedings to be deemed contempt, they must be such that would interfere with the course of justice. A superior court of record has the inherent jurisdiction to deal with contempt in facie curiea and punish for the offence summarily. In must once again be emphasised that summary powers for punishing for contempt should however be used sparingly and only in serious cases…"
Ex-facie curiea which is contempt outside the court arises from disobedience and obstruction of lawful court order when this is the case, the court is entitled to invoke its innate powers to punish an erring party, by committing them to prison. The procedure for punishment of the contempt is governed by the Sheriff and Civil Process Act LFN 2004 (SCPA) and Order 9 Rule 13 of Judgment Enforcement Rules. Section 72 of the SCPA provides that: "If any person refuses or neglects to comply with an order made against him, other than payment of money, the court instead of dealing with him as a judgement debtor guilty of misconduct defined in paragraph (f) of section 66 of this Act, may order that he be committed in prison and detained in custody until he has observed the order in all things that are to be immediately performed…"
By: Nkechi Bright-Ewere
LG Boss Wants FG To Establish Trust Fund
The Federal Ministry of Environment has been urged to establish an environmental trust fund to help cushion the negative impact of oil exploration and pollution suffered by the people of Eleme in Rivers State.
The Chairman, Eleme Local Government Area, Obarilomate Ollor, made the call during the visit of the Minister of Environment, Mohammad Abubakar to Eleme, for the flag-off of HYPREP training of community workers on remediation.
He thanked the minister for coming personally to flag off the training of the youths in the area for the basic remediation technics, which according to him is a lifetime experience.
He urged the youths to take the programme seriously to reduce the impact of hydrocarbon pollution, especially the oil spill in the area.
"Our people are friendly, hospitable and peaceful, but sometimes we feel that we are taking for granted for our peaceful deposition and that is why you hear issues of unrest sometimes.
"But this visit today has assured us that government attention and presence has come down to our people".
"Apart from this hydrocarbon pollution that we have in Eleme, because of the presence of a lot of multinationals in our local government, we have pollution problems, which have affected lives.
"We don't intend to approach this in a violent manner or be confrontational, but at this point, the government should begin to look at how to remedy this situation for our people before it becomes an issue".
To stop pollution in the area, Ollor advocated for an Environmental Trust Fund for Eleme people that are heavily impacted by activities of industries to give some sort of confidence and courage to the people that they are not playing host to companies that don't care about them.
"So, it's an opportunity for me to mention it to you and I think that if you agree with me, our people have been friendly, even in the ongoing exercise and so we welcome you today to our local government for the flag off and the inspection you are to carry out".
He appealed to the minister to carefully take a review of the impact of activities of industries on the people and fashion out a corporate plan on how to solve the problems before it becomes an issue of serious contention.
He maintained that the visit was timely and an indication that better days are ahead.
The high point of the minister's visit was the flagging off of HYPREP training of community workers on remediation in Ogoniland.
Also present at the event were; Minister of State for Finance, Budget and National Planning, Clem Ikanade Agba; representative of the Minister of Niger Delta Affairs, Babayo Ardu, who is the permanent secretary of the Ministry of Niger Delta; Rivers State Commissioner for Agriculture, Dr Fred Kpakol; HYPREP BOT Chairman, Mike Nwieleghi; Vice Chairman of Eleme LGA, Virtue Ekee; Paramount Ruler of Ogale, Emere Nchia, Bebe Okapbi; Paramount Ruler of Ebubu, Emere Godwin Y. Chinwi; councillors, principal officers of the council; Eleme Youth Coordinator, Prince Okereke Nseo; HYPREP trainees; amongst others.LG Boss Wants FG To Establish Trust Fund
Tokyo 2020: Adegoke, Amusan Break Nigeria's Olympic Records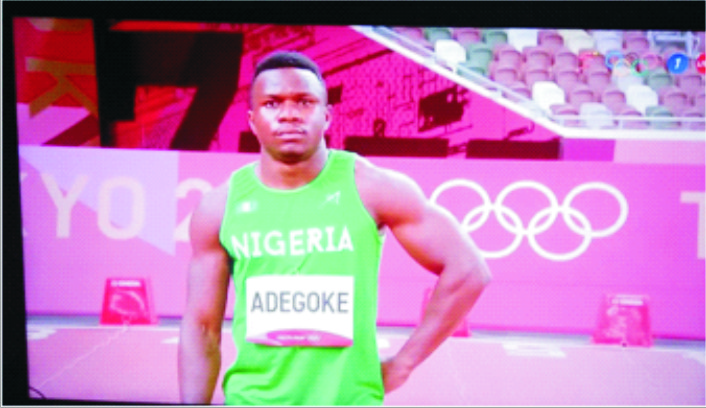 Enoch Adegoke and Tobi Amusan have broken Nigeria's records in athletics at the Olympics.
Adegoke became Nigeria's first 100m Olympic finalist since 1996 clocking 10.00s in heat 2 of men's 100m semis.
With this, he broke a 25-year record after Davidson Ezinwa at Atlanta in 1996.
On her part, Amusan wins her first semi-final in 12.62s to become the first Nigerian since Glory Alozie at Sydney 2000 to qualify for the 100m Hurdles final at the Olympics.
She broke Nigeria's 21-year-old record.
Nigeria's Oduduru disqualified, Itsekiri advances in men's 100m
The men's 100m semis was a tight race that ended in a photo-finish, with Adegoke ending up in second place in 10.00secs, the same time as American T. Brommell, with Great Britain's Zharnel Hughes, who clocked 9.98secs, in the first place.
Compatriot Usheoritse Itsekiri crashed out in the semi-finals of the men's 100m after he finished seventh in his heat in 10.29secs.
Adegoke's 10.00secs is the slowest among the eight athletes who qualified for the final, and the Nigerian, who clocked 9.98secs on the way to the semis, will be hoping to be in the form of his life to end up on the podium.
In the women's 100m hurdles event, Amusan clocked 12.62s to book a place in the final, which comes up today.
Police Begin Investigation Of Ebube agu Personnel Shooting In Ebonyi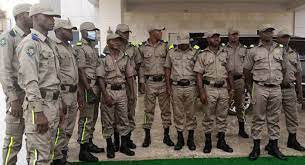 The Police Command in Ebonyi says it has commenced investigations into the shooting of an Ebube agu Security Network personnel on Saturday.
The newsmen recalls that the personnel, simply identified as Seriki, was reportedly shot during the All Progressives Congress (APC) ward congress in Ugwuachara area of Ebonyi Local Government Area of the state.
The Commissioner of Police in the state, CP Aliyu Garba, told newsmen yesterday that investigations had commenced on the incident.
"We are still investigating the incident and we will brief the press at the end of the investigation," he said.
Other sources, however, gave a different versions of the incident, which made residents of the area scamper for safety.
One of the sources said that the Ebube agu personnel was shot during an exchange of gunfire with some unknown gunmen who attempted to snatch the ward congress voting materials.
"The Ebube agu personnel, with the assistance of security agencies, engaged the unknown gunmen who later fled the scene, having being overpowered.
"The personnel was hit during the crossfire, while efforts to revive him at the Alex-Ekwueme Federal Teaching Hospital Abakaliki yielded no result," the source narrated.
Another source, however, said it was during the exchange of fire that a personnel of one of the security agencies accidentally shot the Ebube agu operative.
"He was mistakenly shot by a security personnel, as they were pursuing the fleeing gunmen," he said.