Remember VAIDS? You most probably do. But not many Nigerians can still off-handedly volunteer its full meaning. Nor are there more than a few who can readily recall its main essence.
In any case, the acronym still stands for Voluntary Assets and Income Declaration Scheme. It was invented via presidential Executive Order No. 4 of June 29, 2017 which took effect from July 1, 2017. The scheme was originally intended to terminate after nine months on March 31, 2018 but was later extended by three months to June 30, 2018. According to the authorities, this followed appeals by professional tax bodies and individual tax defaulters for a shift of the timeline and also coupled with an early sign that the initiative held the promise of a bountiful reward.
VAIDS was introduced to give tax payers the opportunity to regularise their tax status, especially for the period between 2011 and 2016, in return for a waiver of any penalty like accumulated interest charges, investigation and criminal prosecution. Its main objective was to widen the nation's tax net while also raising her abysmally low rate of Tax to Gross Domestic Products (GDP).
Indeed, with a Tax-to-GDP ratio of 6%, Nigeria was said to have ranked as the lowest tax-collector nation not only in Africa, but the world. The ratio now stands at 9%, still short of the 15% approved as the sustainable figure for any economy by the UN-backed Organisation for Economic Cooperation and Development (OECD).
Just as Nigeria's overdependence on crude oil resulted to the relegation of agriculture as a major export revenue earner, so also did she play down on taxation as a traditional revenue generating source; hence, tax avoidance, evasion and covert off-shore lodgments of taxable earnings soon became the new order.
The VAIDS tax amnesty was launched as part of a series of reforms introduced under the federal government's Economic Recovery and Growth Plan (ERGP).
Former Chairman of the Federal Inland Revenue Service (FIRS), Mr. Babatunde Fowler, had said that the government planned to realise N305 billion from its VAIDS programme. He said that the scheme was being used to correct the abnormal situation where only 14 million Nigerians were tax compliant in a country of 70 million economically active citizens.
So far, there seems to be indications that the scheme's total take-back will surpass its expectation. For instance, in the one year of VAIDS' existence, President Muhammadu Buhari confirmed that the federal government received 5,122 applications with N92.62 billion tax liability. Out of this figure, N34.67 billion had been paid while N57.95 billion was to be settled in installments.
Buhari spoke through the Permanent Secretary, Federal Ministry of Finance, Budget and National Planning, Mahmood Isa-Dutse, while addressing the 21st Annual Conference of the Chartered Institute of Taxation of Nigeria (CITN).
Also speaking on the essence of VAIDS, early last year, the Finance Minister, Mrs. Zainab Ahmed, had said that "Data from the VAIDS Tax Amnesty programme has since generated over N70 billion in terms of tax revenue in unpaid taxes and significantly increased the quantum of previously undeclared, but taxable assets.
"Project Lighthouse continues to illuminate the grey areas where non-compliant tax payers reside."
She was reported to have further disclosed that the newly established Tax Appeal Tribunals (TATs) had identified new cases of tax default while recording 78 new appeals with disputed value of N73.3 billion and $19.5 billion. The appeal tribunals, she said, have resolved over 67 appeals with a disputed tax value of over N328.8 billion and $6.6 billion.
For the one year that VAIDS lasted, and going by all the declarations made so far, it would be safe to assert that the exercise was worth the attempt, after all. However, I am a little discomfited by the amnesty having to include tax defaulters who failed to remit deductions made from contractors, employees, taxable goods and other sources in the form of withholding taxes. Much as they, like others, were eligible to benefit from the amnesty on the basis of their own individual tax status regularisation, but certainly not for belatedly remitting to the state tax sums which they had previously deducted from a third party and probably ploughed back into their businesses. Surely, they deserve to suffer some penalty for this.
It is now three years since the amnesty window was shut against unrepentant tax defaulters. It would be fair to state that while the government has been singing VAIDS' success story in terms of accruals from fresh assets and income declarations, Nigerians also expect news on busted celebrity tax dodgers and high-profile racketeers. We cannot pretend that they do not exist. Or is Mrs. Ahmed's Project Lighthouse not throwing its beam in the right places?
Again, only judicious application of whatever is recovered from VAIDS can serve to encourage future voluntary and timely compliance with tax payment. Corruption and lopsided development would need to be hauled overboard for there to be sustained tax remittance culture in Nigeria.
Honestly, with talks of the suspected non-remittance of multibillion naira value-added tax (VAT) by the Nigerian Ports Authority (NPA), other agencies like NNPC, NDDC, FIRS and even some oil and gas multinationals have become suspects. This has also created a lot of scepticism on the effectiveness of the Treasury Single Account (TSA) policy of the federal government.
As for the NNPC, there is the urgent need to apply measures that are even beyond the nature and scope of VAIDS to attempt a recovery or, at least, a halt of the suspected revenue haemorrhage in the state oil and gas behemoth.
By: Ibelema Jumbo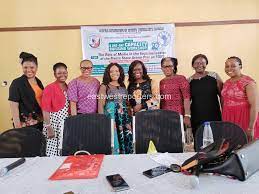 Nigerians were told (thanks to The Tide newspaper of 17/9/2021 – page 4) that the cry of a mother of quadruplets for help was answered by the Rivers State Chapter of the Nigeria Association of Women Journalists (NAWOJ). We live in an environment where cries of agony by those in distress often die in the wind, while a few people live in obscene opulence, unmindful of the plight of the masses. Therefore, NAWOJ deserves to be praised for coming to ameliorate the plight of a mother of quadruplets.
NAWOJ was not alone in that rescue operation, because we were told that a non-governmental organisation, Susan Brown Foundation, also participated in giving help to the distraught mother. Although the woman had already lost one of the quadruplets, it was still an ordeal having to cater for the three new babies remaining. Worse still, prior to the delivery of the quadruplets, the woman was homeless, her old batcher residence having been demolished shortly before she gave birth to the quadruplets. Besides, she had three children before.
Nature and destiny can be quite humorous in the manner of dispensing of gifts and penalties to humans. Quadruplets would mean a woman having four babies in one single pregnancy, even when she did not ask for such blessing. On the other hand, there are several women and married couples longing for babies for several years, without having any. There are also distraught mothers who sell or throw away the babies they do not want.
Definitely the association of women journalists must play some vital roles towards the ennoblement, rather than abuse, of the status of women generally. Apart from being endowed with a more highly developed intuitive perceptive ability, women are known to give impetus, encouragement and support to the menfolk. Even when such upbuilding support comes by way of nagging and tantrums, still, women do educate, guide and inspire men towards greater endeavours.
Women are more likely to win greater sympathy and understanding of an obtuse audience, in situations which demand setting noble standards. For women in journalism, in particular, they are in a better position to take on the task of women, such as the one who had quadruplets, whose batcher residence was demolished and who had no tangible source of income. Obviously, Mrs Patience Essien Isaac is not alone in the categories of Nigerians whose conditions are pathetic. There are many more who cannot cry out to NAWOJ.
Let this appeal be made to NAWOJ to launch a project or programme of looking into and bringing to the limelight the plight of Nigerian women like Mrs Isaac. Not waiting until they cry out for help but carry out detailed investigative or research journalism to dig out the relevant facts and conditions. Like the Susan Brown Foundation, NAWOJ can also institute a Foundation that would focus on the peculiar plight of destitute women, single mothers, abused and abandoned women. Then appeal can be made to Nigerians of goodwill to support such NAWOJ Foundation.
It would not be enough to bring to the limelight the plight and abuses that women face in Nigeria, but such project would also take on the task of family planning. Family planning should not be a responsibility for women alone, because men too should go for vasectomy, especially after having three children. There is quite a lot that women journalists can do as an association, besides focus on political and other mundane issues.
For example, the enigma of quadruplets can be researched into in order to enlighten the public on what lies behind such phenomena. According to some beliefs, there is a growing and several valid evidence that a large number of souls in the beyond are longing to be born as human babies, for the purpose of gratifying several goals. The majority of such souls longing to be born are usually those burdened with heavy guilts which they seek to atone for on Earth. It is in rare cases that noble souls would long to be born on Earth at this time, largely because the globe is passing through hard and troubled times.
There are also increasing cases of abuses of sex and the dignity of womanhood at the present time, of which women themselves are not helping matters. Just as nice dresses do not make nice women, so also does bodily appearance not make a genuine woman. A woman can become unwomanly through many forms of abuses and negligences which may look harmless on the surface. It is wrong for a woman to engage in masculine activities and lifestyle, but many women do so under the guise of gender equality.
The kind or quality of souls attracted to couples is determined by the quality of the woman who provides the bridge for incarnating souls. Without elements of refinement a woman would hardly attract and retain a noble soul as a baby.
NAWOJ Foundation can embark on the task of women education with the collaboration of other interested bodies. As home makers, women should learn what it takes to build a stable and happy home. What men detest most in women include a domineering and belligerent attitude, especially when coupled with nagging tantrums. Many women have these flaws in great abundance. A care-free attitude in homekeeping also shows in the manner of dressing, causing men's attention to divert to somewhere else.
The home is an ideal environment for everybody, of which a woman plays a vital role. The body needs recreation, rest, nourishment and harmony. For those women who would behave and talk like regimental sergeant-major, they soon grow wrinkles on their faces which cosmetics would hardly remove. While congratulating NAWOJ for giving help to a mother of quadruplets, there are more tasks it can veer into in order to make the society more sensitive to the plight of the less privileged.
Dr Amirize is a retired lecturer from the Rivers State University, Port Harcourt.
50th Edition Of Catalogue: A Reflection
This is our 50th Edition on this weekly column christened catalogue on The Tide News paper.
Catalogue was created to look at trending issues of National importance, subject them to critical rationality and seek solutions. In Biblical Numerology, the number 50 is a symbol of freedom, release and a period of atonement and forgiveness of debts, release of those in slavery. We have had Fifty weeks of consistent and regular critical profiling of trends. For catalogue, 50th Edition means the beginning of a new cycle of critical realism and pursuit of new strategies in analyzing socio-economic realities of our time.
It is our belief that everything taken from the Nigerian people in form of denial by the powers that be will be redeemed.
These include the rule of law, security of life and property, peace, true federalism, free elections, fiscal federalism, freedom from hunger and denial of common prosperity.
Catalogue in the last 50 Editions has pursued the vision and mission of articulating advocacies for a better Nigeria. We have looked at the failure of institutions in Nigeria and have critically associated it with a social malaise called the Nigeria Factor.
We observed that "the excuse for failure called the Nigeria Factor is anathema to development. The positive philosophy in Nigeria is called the Nigerian Spirit."
The above quote in that edition sums up the Nigerian dilemma, where the Nigerian spirit to strive, thrive and succeed is shrouded by a negative spirit of excuse for failure.
Anything that works elsewhere can't work here because of the albatross that assaults the national psyche; "The Nigeria factor" which includes corruption, laziness, incompetence, ethno religious factors, lack of innovativeness etc.
Another edition of catalogue in the period under review dealt with the poor Reward System in Nigeria.
Catalogue had observed that Nigerians Eat the Bread of sorrow daily in all their efforts to survive.
Bread of sorrow is the angst and disappointment we experience in any of our struggle as a people or individuals when we gain nothing in the process.
In the book of Psalm 127 verse 2, David wrote: "it is vain to rise up early, to sit up late to eat the Bread of Sorrow. He said the Lord blesses His people even when they are asleep. Bread of Sorrow is the anxiety and vain pursuit to profit from the good things of life in the absence of divine direction.
The experience of Nigerians is that of misadventure and futility in all sectors of the economy.
We observed that many Nigerians Eat the Bread of Sorrow in their every day pursuits in a dislocated and unsustainable economy where the take home of workers cannot take them home and the efforts of the labourer end in meager earnings.
Unfortunately, we concluded in a quote "The reward system is one in which bad governance has led every employee in the labour sector to the table served with the Bread of Sorrow."
The situation is like the proverbial "working like an Elephant and eating like an Ant.
Catalogue has also looked into the predicament of young people in Nigeria. We wrote: "The younger generations of Nigerians in particular are hooked unto drugs and substance abuse. Expert say, young people between the ages of 19 and 22 years have been initiated into the unholy communion."
The Tide News investigation revealed that no fewer than 14.3 Million Nigerians between the ages of 16 and 64 are involved in one substance abuse or the other, including psychotropic substances like cocaine.
Unemployment and other socio-economic factors are responsible for this development.
There is therefore the need for sustainable social rehabilitation programmes in the country.
States should Follow the example of Rivers State in this sector.
Recall that Rivers State Government reconstructed and fully equipped the Iriebe Rehabilitation center.
A major pre-occupation of Catalogue has been the call for devolution of powers in most of the previous editions. The devolution of power to the Federating States has been resisted by very strong forces in the polity.
We are excited that in this 50th Edition of our column, which is a coincidence in our pursuit of a new cycle, that Governor Wike has set a new agenda for Fiscal Federalism.
The recent moves to domicile the collection of Value Added Tax (VAT) in Rivers State is a bold step in this revolution to ensure that states benefit fully from their God-given resources.
It is however sad that some people who have been clamouring for Resource control have now exposed their deceitful fangs to bite off the new vision. We now know the true heroes of our state. Happily, Lagos State has joined the fray.
It is therefore a non-partisan struggle.Why should some states be exploited for the benefits of others?
Why should some states display the trait of the proverbial chichidodo, a bird that enjoys eating maggots with relish but hates excrements as captured by Ayi Kwei Amah's "The Beautyful Ones Are Not Born"? Kano State and other states display this hypocrisy, as they have placed ban on the sale and production of alcohol in their states but enjoy VAT from the products from other states. Every state should enjoy the revenue from the value they have given to their resources.
The courts may stop VAT for now but the revolution to change the narrative has begun.
Catalogue is mourning the death of the amiable, forthright, hardworking Acting Editor (Daily) of The Tide group, Lady Juliet Njiowhor. According to Albert Pike. "What we have done for ourselves alone dies with us; what we have done for others and the world remains and is immortal". Madam Julie as we addressed her supported the hoisting of the column Catalogue on The Tide News paper, strategic page 9, every Wednesday. Without her cooperation Catalogue wouldn't have been created. May her humble soul rest in peace. Amen
By: Bon Woke
L.G.As And Environmental Sustainability
It is the business of Government at all levels to ensure a safe and sustainable environment. Every tier of government has a role to play in environmental sustainability. The State Government especially Rivers State has taken much of the responsibility on environmental control and sanitation management. The local councils have since then become docile in addressing environmental challenges especially in the area of sanitation and flood. The issue of flooding is not expected to be the business of state and Federal Government alone. The Local Government councils have a lot of roles to play in control measures and mitigation.
Unfortunately, this is not the case. Communities in the Local Government areas are ravaged by flood because there is little or no form of environmental control measures in place. This is why when flood alerts are given by NIMET, the local government areas simply surrender to the impending doom of flash flood which causes collateral damages to lives and property of their citizens. Sadly, this is the situation, yet councils collect land rents, and other built environment rates.
Houses are built to block water rights of ways. Residents dump refuse in drains or gutters. It is the responsibility of Local Council Administration to put proper governance in place to control the poor behaviour of their population towards the environment.
Councils sit back and expect the state government to do everything. What then are the functions of local government administration? The core function of local Government Administration which include pre-primary, primary, and adult education, Primary Health care delivery, Town planning, Roads, Transport and Waste Management have suffered setbacks because of lethargy on the part of the functionaries.
Some of the councils can't even pay salary. Most of the councils only engage in eye service such as painting of their secretariat and at best buying official vehicles for councilors. Many Local councils don't have befitting markets in their localities and where such markets exist, they are kept in unsanitary conditions.
Some markets are seriously flooded and lack access. Internal roads or streets are either non-existing or in poor state of decay. The new local government administration inaugurated in June by Governor Nyesom Wike have monumental challenges to change the narrative.
The scenario where councils wait for the state Government to come and construct essential infrastructures should be a thing of the past. Urban and semi-urban centres like Bori, Ahoada, Omoku, Elele, Choba, Igwuruta, Ngo, Buguma,Okrika to mention but a few need serious attention. Local Government Councils should be responsive and responsible to their infrastructural challenges. The sad state of Affairs in the small towns and semi urban communities in the local government areas of the state is the failure of the relevant council institutions.
Houses are built haphazardly without planning. The outcome is that the communities outside the state capital are developing into big slums. Land speculators in these communities especially in areas close to the Greater Port Harcourt axis are taking advantage of lack of proper urban control regulations by local councils. They build without respect to best practices in Town Planning and development.
In Ahoada, Omagwa, Elele, Bori, make shift structures are hoisted indiscriminately along the Internal Roads without sanctions to erring landlords who block drains with these ugly prefabs. It is the responsibility of Local Government Town Planning Offices to ensure sanity in these areas of their jurisdiction.
Local Councils which have failed in constructing internal roads for towns and villages should not fail in their responsibility to ensure that such rural infrastructures like internal roads are maintained and rehabilitated from time to time. At least this is the best they can do at the moment where the state Government is taking up some of their responsibilities.
The Works Departments of Local Councils lack visibility in infrastructural maintenance and constructions in various communities.
The lethargy and poor performance by Local Government operatives in Rivers State is partly responsible for the one city status of the state. Municipal Administrations have the responsibility of putting in place proper logistics that can grow the rural communities into semi urban centres and cities.
The councils enjoy allocation of funds from the Federal Government Account every month. Joint Allocation Account as defined by law is not problematic in Rivers State at present.
Funding is not a major issue for the docile nature of councils on development. Prudent management of resources is vital. Dr. Chidi Julius Llyod, Chairman, Emohua Local Government had opened up on this reality when he said his Administration would put its development agenda on priority scale beyond the payment of salaries.
He demonstrated this by the commencement of a rural and road construction in Odegu community recently. Council Bosses must strive to go beyond soap box rhetoric. The Governor of Rivers State, Nyesom Wike has made it clear that Local Government Administrations should be a partner in the development of the state.
A scenario where the infrastructural inauguration in LGA's, must be by only the moving train of Mr. Project, is unfair. Local Government Councils can complement the efforts of the state government in project execution.
The expectation is that Local Government councils should be able to leverage on this relief and be focused on construction of drains, rural sanitation, paving of streets and general maintenance.
By: Bon Woke