Bayelsa Unveils LG Staff Salary Review Committee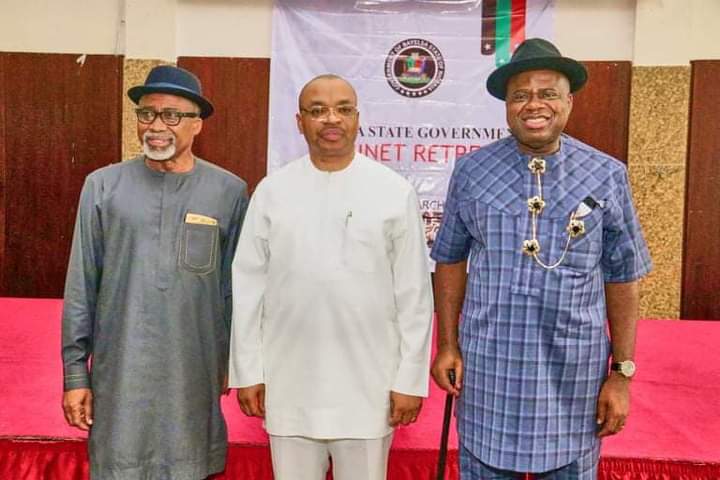 The Bayelsa State Government has inaugurated a 31-member committee to review the grade levels and steps of Local Government and primary school workers in the state in line with extant public service rules.
Governor Douye Diri made this known during a ceremony yesterday in Yenagoa.
He said that the review would enhance the performance of local councils in the state.
Represented by his deputy, Mr Lawrence Ewhrudjakpo, Diri said that it was necessitated by irregularities that were observed during the last staff promotion exercise in the various councils.
He expressed hope that the review would help to free up funds to enable government implement the 30 per cent minimum wage increase for the council workers.
Diri added that it would enable funds to be recouped from salaries of workers who manipulated the system to enrich themselves with over payments through fictitious grade levels and steps.
The governor also mandated the committee to review the salary grades of health personnel at the local government level.
He restated his administration's resolve not to tamper with council funds but give them more financial and technical support to enable them impact positively on the lives of rural dwellers.
Diri said, "as you are all aware, promotions have been implemented. But there are complaints of underpayments, over payments and over promotions.
"We want peace and industrial harmony within the local government system, but we do not want the system to be shortchanged.
"As a government that is people-centred and staff welfare-oriented, we look for ways to ensure that the local government system functions effectively.
"The state government will support the local government councils with an additional N252 million, bringing the total amount of money the state government gives as support to councils to about N400million monthly.
"We are not doing what is happening in other states where the state runs joint account and give the local governments handouts. What we are doing in this state is that, we are supporting the local councils.
"Your terms of reference include to place workers in appropriate grade levels and steps; using the financial nominal roll to prepare a payroll for the workers for May, 2021.
"Identify workers whose grade levels or steps have been overstated or understated and consequently overpaid or underpaid in March and April, 2021 payrolls for possible adjustment or recovery,'' he said.
The committee which is expected to submit its report in one month is headed by the Technical Adviser to the Governor on Accounts and Treasury, Mr Timipre Seipulou.
Its three sub-committees have former Head of Service, Mr Luka Obiri; Mr Hamilton Ekeke and the state Chairman, Trade Union Congress, Mr Laye Julius, as Chairmen, respectivesly.
Seipulou assured that the committee would work hard to justify the confidence reposed in them.
IPAC Wants State Of Emergency In C' River
The Inter-Party Advisory Council (IPAC) has called for the declaration of a state of emergency in Cross River State over alleged heightened crimes and looming anarchy.
A statement signed by the Chairman of Young Progressives Party (YPP) in the state who doubles as the IPAC chairman, Anthony Bissong Attah said the call had become imperative following recent happenings in the state.
On Monday morning, a large number of ex-militants barricaded Governor Ben Ayade's office in Calabar over alleged non-implementation of an earlier agreement and neglect.
The militants had caused chaos in the vicinity until Alfred Mboto, an aide to Governor Ayade offered them a gift of N500,000 for fuel and appealed that the Governor will have a session with them.
There have also been renewed kidnapping, armed robbery and gangsterism in parts of the state despite the state government's efforts.
Following the incident, the IPAC chairman, said the tension had been exacerbated by the invasion of the Governor's office by ex-militants.
"Recall that the entire state civil service has been shut down for the past two weeks with attendant unprecedented street protests.
"Alarmed by heightening national insecurity, we are compelled to demand that a state of emergency be declared in Cross River State to forestall a total breakdown of law and order in our once most peaceful state in Nigeria."
Attah also stressed that it is not until the Cross River State situation becomes like that of states in the North-East, North-West and South-East before the Federal Government would act, stressing that the lives of the people are at risk.
Reacting swiftly, Alfred Mboto frowned at the call, describing it as wicked and very bad from IPAC and YPP.
He said in all the states in Nigeria, Cross River is still the safest, adding that in the crime index, the state is at the lowest rung.
"Security situation in Cross River is still the best up till tomorrow. Those calling for a state of emergency should peep into some of the South-East or North-East states and make comparisons. Such comment is wicked and very bad."
IYC Alleges Marginalisation Of Ijaw Communities
Ijaw communities in three local government areas in Edo State, on Monday, alleged abandonment by successive governments in the state.
A statement signed by the Secretary, Western Zone of Ijaw Youth Council (IYC), Omaghomi Olu-Derimon, lamented that the Ijaw communities in Ikpoba-Okha, Ovia North-East and Ovia South-West Local Government Areas of the state had been left to provide social amenities for themselves.
He said the communities were without good roads, potable water and healthcare facilities including dilapidated schools where their children are made to learn.
He lamented that some of the schools in the villages were built in the First and Second Republics and had since been abandoned by successive governments.
He appealed to Governor Godwin Obaseki to, as a matter of urgency, see to the correction of the situation in order for the people to have a sense of belonging.
He said, "This age-long seeming abandonment and marginalisation have forced us to ask ourselves if we are really still part of the state.
"We have been facing this neglect ever since; it is not just Obaseki's administration.
"The riverine areas of Edo are mostly occupied by the Ijaw and it is the most underdeveloped area of the state.
"Owing to the neglect of the area by past administrations, the most of these communities lack government presence in terms of primary health care, potable water, schools, water hyacinth control and good roads.
"With over 200 major and satellite communities, we have contributed to the socio-economic development of the state, yet there is nothing to show for it.
"Just recently, the government of Edo State listed some roads for construction and rehabilitation, but none of our communities were captured.
"Our means of livelihood is threatened because of water hyacinth and nothing is being done about it, meanwhile a lot of development is taking place in the city," he stated.
Wife Battery Offenders Risk Jail Term In A'Ibom
The wife of Akwa Ibom State Governor, Mrs. Martha Udom Emmanuel, has threatened to champion the arrest, prosecution and imprisonment of any man caught beating his wife anywhere in the state.
Mrs. Emmanuel handed down the warning recently at the inauguration of the ONNA Chapter of Eket Senatorial District Women Forum and empowerment scheme sponsored by her pet project, the Family Empowerment and Youth Reorientation Path-initiative (FEYReP) in collaboration with the forum.
Speaking to the women on issues about gender-based violence, the governor's wife said that violence against women in the state would not be tackled with kid gloves.
She said, "We are against violence against women in Akwa Ibom. If you do it and I have evidence against you, you will go to prison".
"There are many women who have been beaten to death by their husbands. If you die, who will take care of your children?
Although the governor's wife acknowledged that some women would, at one time or the other, provoke their husbands to anger, she maintained that such provocation should not be an excuse for wife battering.
Speaking further, Mrs Emmanuel, who noted that innocent and vulnerable children are many times violated sexually by neighbours or relatives, cautioned mothers not to unnecessarily hand over their female children to the care of untrusted relatives or neighbors.
She also warned that any woman found to be covering up for a husband who sexually molested a child would be arrested, prosecuted and imprisoned.
According to the First Lady, any woman who would be comfortable with her husband who sexually molested a child must be a wicked person and a witch.
She explained that no fewer than seven fathers are currently awaiting trial for alleged rape and defilement of their daughters in Akwa Ibom State.
"As I speak, we have about seven fathers in police cell awaiting trial for defiling their daughters. If you know you husband is that kind of a person, please protect your daughters.
"Some women are fond of covering up for their husbands when they have sexually molested their children. If you are caught, you will go to jail", she added.