LG Councils've No Excuse Not To Provide Democratic Dividends, Wike Warns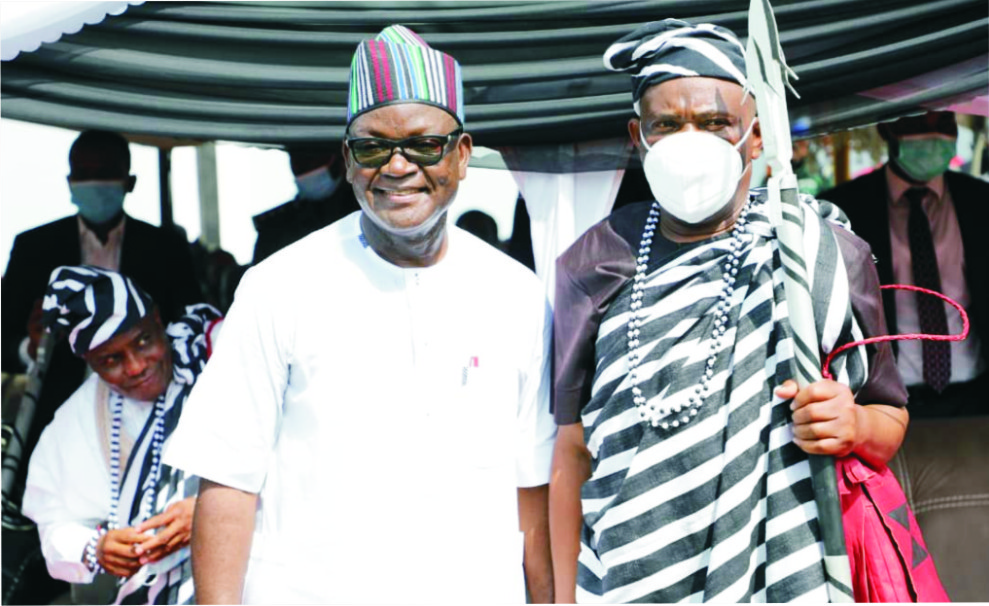 The Rivers State Governor, Chief Nyesom Wike says his administration has vigorously addressed security challenges in the state to enable all council chairmen deliver dividends of democracy to people at the grassroots.
He reiterated that since the inception of his administration, the state government has not touched any money that belongs to the local government councils.
The governor said this at the Peoples Democratic Party (PDP) Local Government Election grand finale rally in Obio/Akpor Local Government Council held at Oginigba Primary School Field, yesterday.
"The state government has provided the enabling environment for every local chairman in the state to perform. Since the inception of this administration, the state government has not touched One Kobo that belongs to the local government council. They have always had their money as the statutory allocation comes. The council chairmen have their money to perform. So, whoever does not perform is left for him or her.
"As a policy of state we have also decided to address vigorously the security cllenges hain the state, that is to enable them (council chairmen) perform their duties of delivering democratic dividends to our people."
Represented by the Chief of Staff, Government House, Engr Emeka Woke, the governor explained that before his assumption of office, the local government councils under the previous administration owed past councillors, elected council chairmen and their political appointees huge sums of money.
According to him, the state government expeditiously set up a committee to verify the actual amount of money owed past political appointees and ensured that council caretaker administration paid the debts.
To this end, the governor said no council chairman can claim he or shewas owing past political appointees.
Wike thanked the people of Obio/Akpor for the support they have continued to give to his administration right from its inception.
The governor said those who have continued to accuse him of executing projects mainly in Port Harcourt City and Obio/Akpor councils are merely playing politics with the truth.
According to him, every free-minded Rivers indigene and Nigerian can attest to the fact the state government have ensured even spread of projects in all the 23 councils of the state.
"Those of them who say they do not see what we are doing, you don't expect them to acknowledge what we have done. These are people who have had opportunity to govern the state for eight years and six years down the line, they can't come and say this is what we did for the people of Rivers State in spite of the huge resources that accrued to them during their time. But, in order to cover their shame and lack of accountability, they will always criticize what we have done."
Wike urged voters in Obio/Akpor to come out en masse and vote for PDP chairmanship candidate, Barrister George Ariolu, and 17 councillorship candidates in Saturday's Local Government Election.
In his remarks, Rivers State PDP Chairman, Amb Desmond Akawor, said Obio/Akpor will always be a fertile ground for the PDP because of the numerous developmental projects of the Wike's administration in the council.
The PDP chairman accused the immediate past administration in the state of wasting the state resources on monorail and other meaningless projects.
"Somebody came from Ubima, gave us a monorail that never worked, and promised us a narrow gauge we are not sure of, desecrated traditional institution in Rivers State, locked up the courts, and we have another man who came from Rumuepirikom, opened the courts, built eight flyovers and changed the landscape of Rivers State."
He charged PDP members to ensure the party emerges victorious in Saturday's election and remain fully mobilised as ahead of the 2023 general election.
Destroy All Illegal Refinery Sites In Rivers, Wike Orders LGA Chairmen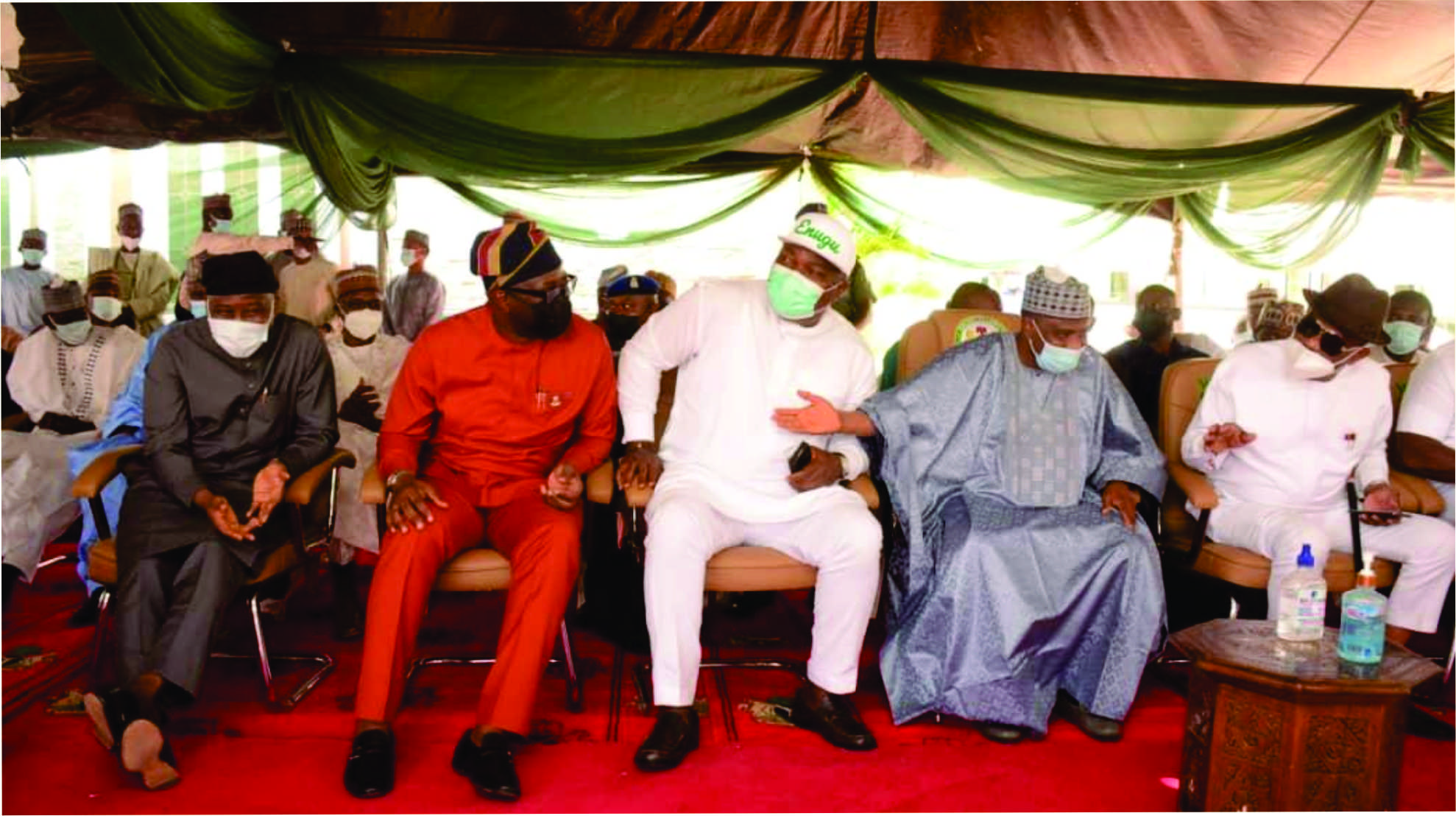 Rivers State Governor, Chief Nyesom Wike has ordered all the 23 local government chairmen to hire bulldozers and destroy every identified illegal crude oil bunkering and artisanal refinery sites in Rivers State.
The governor has also asked the Rivers State Commissioner of Police, Mr Eboka Friday, to provide adequate security for the local government area chairmen as they embark on the mass destruction of illegal refinery sites across the state.
Wike gave the order, last Wednesday, during a meeting with the 23 local government chairmen, the state commissioner of police and the commandant of the Nigeria Security and Civil Defence Corps (NSCDC) at the Government House, Port Harcourt.
It would be recalled that Wike had on Friday, January 14, 2022 issued a 48-hour ultimatum to the 23 local government chairmen to provide him a comprehensive list of all illegal refinery sites and their operators within their respective jurisdictions.
Wike said with the receipt of the list of identified illegal refinery sites, the state government would provide financial support to the LG chairmen to hire bulldozers and swamp buggies for the purpose of destroying all the sites.
"I will not relent in this fight. And all of you should hire bulldozers. All those areas where the illegal refinery sites are in the bush, in the creek, clear them. Government will give you some money to go and hire bulldozers to go and clear the sites so that they will know we are serious."
He urged the commissioner of police to give the LG chairmen adequate security personnel to go and destroy all illegal refinery sites.
According to the governor, the government would not allow those engaged in illegitimate business to operate in Rivers State.
"One thing I want to say and which is very clear, and like everybody knows, I am not against anybody making money. But, we cannot allow people to make money, while others are dying."
The governor acknowledged that since the state government intensified the fight against illegal refinery operators, who are primarily responsible for the discharge of impure carbon particles resulting from the incomplete combustion of hydrocarbons into the atmosphere, the air quality in parts of Rivers State has improved remarkably.
Wike said he was mindful that as the state government intensifies the war against illegal refinery activities, the cartel behind the illicit business would make effort to compromise unscrupulous security agents in the state.
The governor, however, warned that he would personally visit the Inspector General of Police, the Commandant General of the Nigeria Security and Civil Defence Corps (NSCDC) and the Chief of Army Staff in Abuja, to report any of their personnel implicated in illegal crude oil bunkering and artisanal refinery activities in Rivers State.
"You know in Nigeria, we don't believe that anything can happen. We don't take government seriously, but in our own case, they have no choice, they'll take us seriously. "
The governor, who regretted the failure of the Federal Government to take any action to end the soot crisis in the oil producing states, said his administration cannot fold its arms and watch some deviant persons destroy the environment and endanger the health of the citizens.
Customs Declares War On Sea Criminals, Commissions 18 Boats In Rivers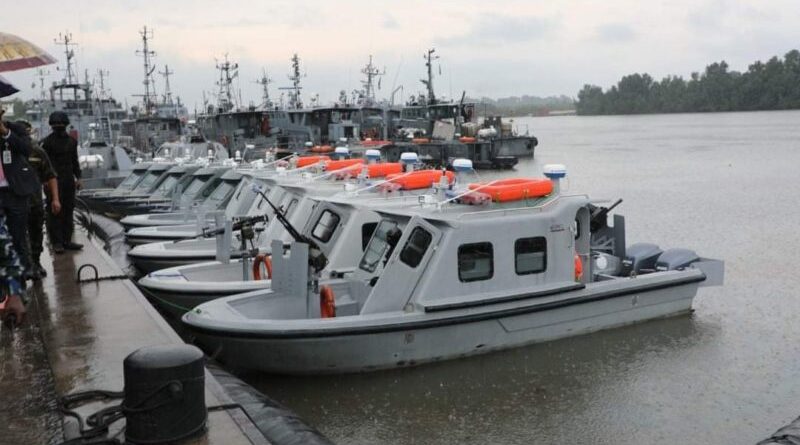 The Nigeria Customs Service (NCS) has renewed offensives against hoodlums operating on the Southern waters (Eastern and Western Marine Commands) with the acquisition of 18 creeks patrol boats.
Comptroller General of Customs, Col Hameed Ali (rtd), who spoke at the occasion of the commissioning of the boats constructed and built by SEWA West Africa in Port Harcourt, Rivers State, said the boats, which comprise nine gunboats and nine logistics boats, were serious signals to criminals.
Ali stated that the boats, which have high functionalities, are an addition to the service's Marine arsenal at a time smugglers are running away from the heat on land.
He expressed: "I feel highly elated to be with you and most importantly, to commission the 18 creek patrol boats.
"The addition of these boats to the service Marine arsenal at a time when more smugglers are running away from the heat on land to water is simply the right thing to do.
"This event, no doubt, marks the beginning of a renewed offensive against those who chose creeks and waterways as safe haven for their illegal trade.
"The 18 creeks patrol boats, consisting of nine logistic support boats and nine gunboats whose parts are armoured, should send clear signals to the criminals that the game is up. Unlike before, we now have boats with flat bottoms that can access the creeks even when the water has receded."
The comptroller-general stated that NCS tapped into the ingenuity of a Nigerian company, SEWA to design, construct and build the edifices in-line with Executive Order on Local Content of 2017.
He noted: "As you can see, these boats are not only built with our weather and circumstances in mind, they can compete with similar ones built anywhere in the world.
"The relationship between NCS and SEWA represents excellent examples of what Nigerians can achieve when we come together.
"I, therefore, commend SEWA for delivering on their promise and have no hesitation to recommend them to individuals or organizations that need what they are capable of producing.
"As we commission these boats, which will be deployed for the Southern waters, (the Eastern and Western Marine Commands), I urge our marine operatives to use them judiciously in the interest of the nation.
"Let me state here that even with the best of working tools, NCS efforts will not yield maximum output, If Nigerians for which we work, do not give us needed cooperation."
Speaking at Onne seaport, where he inspected the newly acquired scanning machine, the NCS boss said the scanner would facilitate trade and reduce the issue of importation of contraband goods.
Ali added that acquisition of the scanning machine would reduce cost and time spent on inspection of containers.
He, however, lauded other security agencies for the existing synergy in complementing the fight against insecurity and bunkering on the waterways and creeks.
Interpol Nabs 11 Nigerian Cyber Scam Kingpins
Interpol, in collaboration with Nigeria Police Force, has arrested 11 members of a Nigerian cybercrime gang, potentially responsible for targeting as many as 50,000 victims in various scams in recent years.
At least, six of the suspects belong to "SilverTerrier," a syndicate accused of employing a range of malware variants in tens of thousands of financial scams dating back to, at least, 2014.
Palo Alto Networks' threat intelligence arm, Unit 42, which helped in the investigation, said the six Silver Terrier members have "successfully avoided prosecution for the past half a decade.
This, it said, was due to the complexities of mapping global victims beyond the flow of stolen funds back to the source of malicious network activity.
Unit 42, reports cyberscoop.com, also noted that rather than targeting "easily identifiable money mules or flashy Instagram influencers," the operation focused instead on the "technical backbone of BEC operations".
It focused on individuals who have the skills and knowledge to build and deploy the malware and domain infrastructure used in the schemes.
The announcement, last Wednesday, comes two months after three members of the same group were arrested in Operation Falcon.
The arrest of the three followed a year-long Interpol-led investigation into the prolific business email compromise (BEC) scams the group's members are alleged to have pulled off over the years.
Authorities called this latest roundup Operation Falcon II.
The arrests occurred between December 13 and 22, but it's not clear exactly where.
Read the full Interpol statement: "The Nigerian Police Force (NPF) has arrested 11 alleged members of a prolific cybercrime network as part of a national police operation coordinated with Interpol.
"Arrested by officers of the NPF Cybercrime Police Unit and Interpol's National Central Bureau (NCB) in Nigeria, many of the suspects are thought to be members of 'SilverTerrier', a network known for Business Email Compromise (BEC) scams which have harmed thousands of companies globally.
"The ten-day Operation Falcon II (13-22 December) saw 10 NFP officers deployed from the Abuja headquarters to Lagos and Asaba to arrest target suspects identified ahead of time with intelligence provided by Interpol.
"Field operations were preceded by an intelligence exchange and analysis phase, where Nigeria used Interpol's secure global police communications network, I-24/7, to work with police forces across the world also investigating BEC scams linked to Nigeria.
"The Interpol General Secretariat supported field operations 24/7, forensically extracting and analysing data contained in the laptops and mobile phones seized by NPF during the arrests.
"This preliminary analysis indicates that the suspects' collective involvement in BEC criminal schemes may be associated with more than 50,000 targets.
"One of the arrested suspects was in possession of more than 800,000 potential victim domain credentials on his laptop.
"Another suspect had been monitoring conversations between 16 companies and their clients and diverting funds to 'SilverTerrier' whenever company transactions were about to be made.
"Another individual was suspected of taking part in BEC crime across a wide range of West African countries, including Gambia, Ghana and Nigeria.
"By alerting Nigeria to this serious cybercrime threat, Interpol enabled me to give the order to hunt down these globally active criminals nationwide, flushing them out no matter where they tried to hide in my country," Head of NCB Abuja and INTERPOL Vice President for Africa,Assistant Inspector General of Police Garba Baba Umar, said.
"The outstanding results of Operation Falcon II have served to disrupt this dangerous cyber gang and protect Nigerian citizens from further attack.
"I encourage fellow African countries to also work with Interpol in ridding our continent of cybercrime to make the cyber world a safer place," Umar added.
"With BEC fraud having both a cyber and a financial element, Operation Falcon II saw financial 'pathfinder countries' belonging to Interpol's Global Financial Crime Taskforce (IGFCTF) – including Nigeria – work together on cross-border financial investigations linked to the operation.
"The IGFCTF is now coordinating further action against 'SilverTerrier' bank accounts and sharing intelligence on the domain credentials of potential victims with member countries to prevent further fraud.
"Operation Falcon II sends a clear message that cybercrime will have serious repercussions for those involved in business email compromise fraud, particularly as we continue our onslaught against the threat actors, identifying and analysing every cyber trace they leave," said Interpol's Director of Cybercrime, Craig Jones.
"INTERPOL is closing ranks on gangs like 'SilverTerrier'; as investigations continue to unfold, we are building a very clear picture of how such groups function and corrupt for financial gain. Thanks to Operation Falcon II we know where and whom to target next," Jonesadded.
"Led by Interpol's Cybercrime Directorate in Singapore, Operation Falcon II was a cooperative effort involving IGFCTF, Nigerian law enforcement agencies, a range of Interpol expert teams and vital private partners Palo Alto Networks Unit 42 and Group-IB's APAC Cyber Investigations Team.
"Through Interpol's Gateway initiative, Palo Alto Networks Unit 42 and Group-IB have contributed to investigations by sharing information on 'SilverTerrier' threat actors, and analysing data to situate the group's structure within the broader organized crime syndicate. They also provided key technical expertise consultancy to support the Interpol teams.
"Gateway boosts law enforcement and private industry partnerships to generate threat data from multiple sources and enable police authorities to prevent and investigate attacks in a timely manner.
"The operation was developed as part of efforts to support joint operations in Africa with funding by the Foreign, Commonwealth and Development Office (UK). Interpol extends its thanks for this support.
"At a time of increased threat, members of the public, businesses and organizations are reminded to protect themselves from online scams by following the advice featured in Interpol's #JustOneClick, #WashYourCyberHands, #OnlineCrimeIsRealCrime and #BECareful campaigns.
"BEC remains "one of the most financially damaging online crimes," according to the FBI.
"In 2020 the FBI received more than 19,000 BEC and email account compromise complaints, costing victims as much as $1.86billion.
"BEC refers to a scam where a company employee authorized to make payments on behalf of the company is tricked into authorizing phony payments or money transfers into accounts controlled by the attacker, via spoofed or legitimate email, or over the phone".