High Mortality Rate: FG Set To Unveil Nat'l Emergency Medical Service
The Federal Government, yesterday, said it was poised to launch what it called "National Emergency Medical Service and Ambulance System" to provide prompt and efficient emergency medical service to the people.
The Minister of Health, Dr Osagie Ehanire, speaking at a media parley on reproductive, maternal, newborn, child, adolescent and elderly health plus nutrition multi-stakeholder partnership coordination platform, in Abuja, noted that, "Elimination of delays in access to healthcare can indeed reduce the high mortality rates."
Ehanire, while noting that, "It is estimated that an efficient emergency medical treatment service can reduce mortality by nearly 50 per cent by reducing delays in physical and financial access especially at night," said, "The Federal Government is poised to launch the National Emergency Medical Service and Ambulance System to provide prompt and efficient emergency medical service to the people."
According to him, "It will involve prompt response to medical distress calls of all types with first responders, transfer to facilities, assured first aid at the point of care at no immediate user cost.
"There is need to strengthen engagement with media institutions and improve strategic communication tools, working with various media platforms to drive social and behaviour change communication and influence attitudes towards reproductive, maternal, newborn, child, adolescent and elderly health plus nutrition", he said, adding that, "The media also plays a role in social cohesion and in reshaping norms, to become the change agent for positive health-seeking behaviour."
Regretting that, "Despite its enormous potential, there is, unfortunately, inadequate utilization of media platforms for dissemination of health-related information to the public by the health sector," Ehanire said, "Public engagement of the media by the Federal Ministry of Health happens on a case-by-case basis, as there is no blueprint to define the process, resulting in missed opportunities to achieve national goals and targets relating to public enlightenment of individuals, service providers, decision-makers and influencers, with regard to health and wellbeing."
Ehanire, whose message was contained in his presentation, titled, "Effective Partnership with Media Sector in Improving Health and Well-being of Women, Children, Adolescent and the Elderly", said, "Going forward and building on the success of the reproductive, maternal, newborn, child, adolescent, Health plus Nutrition Multi-Stakeholder Partnership Coordination Platform, the Ministry of Health began activating the Coordination Platform Annual Operation Plan 2021.
"Sustainable mechanisms have been instituted for improved collaboration with the media in reconstructing societal views on health issues affecting women, children, adolescents and the elderly, such as finalizing revision of the Integrated National Reproductive, Maternal, Newborn, Child, Adolescent and Elderly Health plus Nutrition Social and Behaviour Change Strategy.
"Roll-out of a revised strategy, using existing government, private and traditional media structures of television, radio, print, social, and local media platforms will empower the people with information on household practices to make informed choices and take timely actions to ensure their health and wellbeing.
"Developed the maiden Media Engagement Strategy for Health Promotion, aiming to set out mechanisms, arrangements and prescribe ways to harness available tools for publicity, information sharing and public engagement, in order to empower Nigerians to make informed choices for healthier living.
"Developed the draft Health-in-Media Coalition Charter: an ancillary document of the Media Engagement Strategy for Health Promotion. The charter articulates arrangements that guide partnership between Federal Ministry of Health, media outlets and regulatory agencies 'to improve health and wellbeing of Nigerians with focus on the vulnerable population.
"It outlines roles and responsibilities of each arm of the coalition; a management and coordination structure, including itemization of steps for grievance resolution and periodic reviews," he said.
He said, "the current Covid-19 pandemic has accelerated media literacy of adults and young people; meaning that access to understanding and creating communication with both traditional and new media platforms such as text messaging, social networking and mobile phone is commonplace.
"Statistics indicate that in January, 2020, the percentage of users of the various media platforms in Nigeria were as follows: 169.2million (83%) mobile connections users, 85.49million (42%) internet users, and 27.00million (13%) social media users.
"In today's technology driven world, access to latest news is at the touch of a button on television or radio, even while commuting to the workplace or school. We freely exchange information with friends, relatives, business partners and clients around the world.
"Effective communication through mass media, can therefore be used to heighten awareness of reproductive, maternal, newborn, child, adolescent and elderly health plus nutrition as topics for public discussion, and to influence legislation and resource allocation for issues like awareness of where to access reproductive, maternal, newborn, child, adolescent and elderly health and nutrition health services, to develop appropriate, safe care-seeking behaviour, change cultural practices such as female genital mutilation and promote hygiene and health practices that improve uptake of health services," he said.
Ehanire said, "The Ministry of Health will be able to build on the success of the media engagement obtained today to institutionalize traditional and social media platforms to share information and for community participation, and risk communication.
"When finalized, the Health-in-Media Coalition Charter will be presented to chief executives of media institutions for endorsement at the national level as well as adaptation at subnational level.
"I conclude by reminding all that population health management is a collective responsibility, requiring partnership with the media sector to foster effective use of media platforms to increase health literacy and promote safe, care-seeking behaviour on issues surrounding the health and wellbeing of women, children, adolescents and the elderly," he said.
The event, he explained, was aimed "to set the foundation for effective engagement of the media, towards improving the health and wellbeing of women, children, adolescents and the elderly; especially during this era of the Covid-19 pandemic and in view of concerns over various health conditions, infectious or chronic, that may be preventable and easily treatable.
"In practice, all three tiers of government have responsibilities for health, as if it were on the concurrent legislative list, although it is constitutionally on what is generally called the 'residual' list," he said.
Emirates Resumes Flights To Nigeria, June 23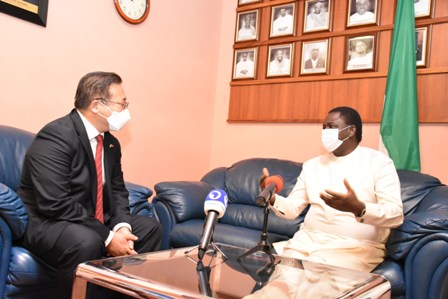 The UAE carrier, Emirates Airlines, would start carrying passengers from South Africa, Nigeria and India from June 23, the UAE Embassy said as it announced revised rules on Covid-19.
"We look forward to facilitating travel from these countries and supporting various travellers' categories," the airline said in a separate statement, yesterday.
"Residence visa holders from India and travellers from South Africa should've taken two doses of a vaccine approved by UAE authorities and carry RT-PCR tests reports from labs approved by the federal governments of these countries.
"But for Nigerians vaccination is not made mandatory but all other conditions apply.
"In addition to the above, Indians have to take a rapid PCR test four hours prior to their travel.
"While there are four vaccines in the UAE for use on eligible individuals against the Covid-19 infection – Sinopharm, Pfizer-BioNTech, Sputnik V and Oxford-AstraZeneca, it is unclear if the UAE has approved vaccines administered on Indian, South African and Nigerian citizens in their countries," it stated.
"All travellers are also required to present a negative Covid-19 test result taken within 48 hours before departure.
"UAE citizens are exempted.
"Only QR coded PCR test result certificates are accepted.
"All passengers must take a rapid PCR test four hours prior to flight departure.
"All passengers must undergo a PCR test on arrival at Dubai Airport.
"Passengers should undergo institutional quarantine until they receive their PCR test result, which is expected within 24 hours.
"Passengers should produce a negative PCR test certificate with a QR Code from labs approved by the Nigerian government.
"All passengers must undergo a PCR test on arrival to Dubai Airport.
"Transit passengers should comply with entry protocols of final destinations.
"Entry will now be permitted to residents who have received two doses of UAE-approved vaccines," the state said.
The revised procedures for travellers coming from the Republic of India, South Africa and Nigeria were issued by the Supreme Committee of Crisis and Disaster Management in Dubai.
They are effective from June 23, the Dubai Media Office said.
It said the updates are part of the committee's keenness to protect passengers and ease hassles for them without compromising on Covid-19 preventive measures, said the Chairman of the Supreme Committee, Sheikh Mansoor Al-Maktoum.
The Media Office announcement said the updated travel protocols are part of a normal process of revising and optimising preventive measures based on the latest local, regional and international developments.
Bagudu Vows To Lead Rescue Operation Over Yauri Abduction
Governor Atiku Bagudu of Kebbi State last Saturday vowed to lead the rescue operation of teachers and students abducted from the Federal Government College (FGC), Birnin Yauri, in Ngaski Local Government Area of the State.
Bagudu, who is also Chairman, Progressives Governors' Forum, spoke when local hunters visited him.
Reports had that the Chairman, Nigeria Governors' Forum (NGF) and Ekiti State Governor, Dr Kayode Fayemi, and his Jigawa State counterpart, Alhaji Badaru Abubakar, also paid a solidarity and sympathy visit on Gov. Bagudu.
Bagudu assured that some other governors and  stakeholders will join him in the ongoing search operations for the abducted students and staff of the school.
According to him, he will discuss with his colleagues and security agencies in this direction, so as not to jeorpardise the ongoing commendable operations to rescue the abducted students and staff.
He said: "But, we will go out there and like I promised, the day we will move out, I will not be in the office because we will join you in the field."
The Kebbi State Governor said that this would be done barring all consequences in a bid to rescue the abductees.
Bagudu argued: "It is not weapons that win wars, but it is the will that bad people cannot triumph and we will show that, we have enough will power .
"President Muhammadu Buhari and the security agencies have been doing the best they could with limited resources.
"But, we also need to mobilize, kit ourselves and take on these bandits. Our various scriptures as Muslims and Christians allow us to put our lives at risk in defence of our honour, property and our faiths.
"In what the bandits are doing, they have challenged all of us, so, we can't let them."
Bagudu asked the hunters to go back and fully mobilise, pending when he gets the necessary clearance from the security agencies, adding, "we will meet in the field."
The governor maintained that governors were not sworn in only to sit down in the office and work.
He stated that they are aware that one day they would be required to lead in the field, even though they are not military or police personnel.
He said that if hundreds of thousands of people can be mobilised during campaigns, same should be done now to join the search party.
He said: "What happened in Birnin Yauri should be the last straw. We should follow these bandits wherever they are and take them on."
Bagudu also described the abduction as very callous, even as he lauded the security agencies, management of the school, 'Yan Sakai and vigilantes for their heroic efforts since the bandits struck at the college.
Govs, Others Task Security Agencies On S'East
South-East governors and leaders have requested security agencies in the zone to respect the rights and privileges of all those living in the zone.
They made the call on Saturday in Enugu after a meeting attended by political leaders, socio-cultural organisations, clerics and the traditional leaders.
The Chairman, South-East Governors' Forum, Governor David Umahi of Ebonyi State, who addressed reporters after the meeting, condemned the killing of civilians in the zone by security agencies.
Umahi urged them to discharge their duties within the law and in accordance with their rules of engagement.
The Ebonyi governor reaffirmed the commitment of the region to the corporate existence of the country.
Umahi, however, said that such union must be based on love, mutual respect and equality of rights irrespective of one's religion, ethnic group, political inclination and creed.
The governor said the various secessionist groups from the region were not speaking for the people of the area.
He said the leaders from the zone had set up a committee to engage the agitators to allow elders of the region to address their fears.
"We have come out publicly on many occasions to speak against such agitations," he said.
Umahi said the meeting was in fulfilment of the June 11 agreement they had with a federal government delegation led by the Minister of Defense, Bashir Magashi, a retired major-general.
"Consequent upon that, we scheduled our own meeting today to discuss and articulate our positions.
"This is to enable us not only engage the presidential team but also engage our people over all burning issues," he said.
The governor said leaders from the region had noted with concern threats against the Igbo people by some groups in other regions.
"The meeting pleaded with leaders of other regions to note such threats to our people, address it and protect our people," he said.
He said that governors from the South-East had assured people from other ethnic nationalities of their safety in the region in spite of the prevailing circumstances.
The leaders condemned the killing of security personnel and burning of government infrastructure in the region.
He called on National Assembly members from the region to support the creation of state police in the ongoing efforts to amend the constitution.
The governor said the meeting endorsed the South-East joint security unit called EbubeAgu, and requested the personnel to work with statutory security agencies.
Those present at the meeting included Okezie Ikpeazu of Abia and Ifeanyi Ugwuanyi of Enugu.
Anambra and Imo states were represented by the deputy governors, Nkem Okeke and Placid Njoku respectively.
Others were the Senate Minority Leader, Enyinnaya Abaribe; Minister of Labour and Productivity, Chris Ngige; Minister of State for Mines and Steel Development, Uche Ogah, and President General of Ohaneze Ndigbo, George Obiozo.