Igali Excited Over Oceania Wrestling Outing
President of the Nigeria Wrestling Federation, Hon. Daniel Igali, has stated that he is happy with Nigeria's outing at the just concluded Oceania Africa wrestling Olympic Qualifying tournament in Tunisia, after qualifying four more athletes in addition to the one on ground to make a total of five wrestlers for Nigeria's Olympic sojourn.
Igali, speaking in a chat with Tidesports source,  stressed that though five slots were what the Federation achieved eventually, they wanted more and revealed that it was a miss, losing Blessing Onyebuchi, to injury a few days to the Oceania Africa Olympic qualifiers.
He added that they did not quite meet up with the target expected for the men, who had only Ekerekeme Agiomor qualifying out of the five men that made the trip, unlike the women who qualified three out of four.
'We'll Sponsor, Support Sports In Khana'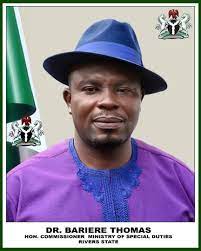 The Chairman-elect of Khana Local Government Area of Rivers State, Hon. Thomas Bariere, has promised to support and sponsor sporting events in the area.
According to him, sports is one of the things that unite people, adding that engaging the youth in sporting activities will help reduce youth restiveness
Hon. Bariere stated this, Saturday in an interview with newsmen in Khana Local Government Area headquarters, Bori.
He explained that he will not fail to deliver on the promises he has made during  electioneering campaign.
"Khana Local Government council will support and sponsor a football team that can play in the Nigeria Professional Football League (NPFL) in future.
We are going to deliver on the promises we have made during our electioneering Champaign" Hon.  Bariere said.
The former commissioner for special duties also used the medium to thank the people of the LGA for coming out in numbers to vote for People Democratic Party (PDP).
By: Kiadum Edookor
Super Six Play-Off: Iyaye To Watch Rivers Angels, Delta Queens, 'Morrow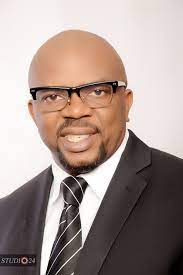 The Rivers State Commissioner for Sports, Hon. Boma Iyaye, has promised to grace the   ongoing NWFL Super Six tournament at the Dipo Dina International Stadium, Ijebu-Ode        with his presence Tomorrow to motivate the  Port Harcourt side,  Rivers Angels FC    to  victory.
This was disclosed on Monday, by the General Manager of the Rivers United FC,  Chief Okey Kpalukwu, who visited the Rivers Angels Camp  with Bright Ogunde to represent the  Commissioner for Sports.
Speaking on behalf of the Commissioner, Kpalukwu  assured the girls of adequate support throughout the Super Six tournament.
According to him, Iyaye  urged the team to remember what they stand to benefit as  players, if they win the competition.
"If you win the trophy, you will be going to the continent as flag bearers and this opportunity will be beneficial to all involved," Kpalukwu said.
"Individually you'll be getting offers and as a club, we'll have more funds as well.
"It's basically a win win situation for the parties involved so ensure you don't let this opportunity pass you by," he added.
Kpalukwu also informed the team that the Commissioner will be joining the team on Thursday and also reminded them of what awaits them should they win the Super-six tournament.
"On behalf of the Commissioner who has asked me to represent him here today, I want to remind you of the importance of this game," he continued.
"For us to be here today, it should tell you that the Governor is very much interested in this.
"His Excellency has already made some promises to the team so it's left for you to work towards it.
"Win the Super six and come back home to see how you'll be welcomed and your lives will change forever.
"The Honorable Commissioner said I should tell you that he will be joining you girls on Thursday," Kpalukwu summed.
By
'We Need More Tournaments, Sponsorship For Golf'
Nigeria's number one professional golf player, Andrew Oche, yesterday called for regular tournaments and more corporate sponsorship for the game to develop in the country.
Oche made the call in an interview with newsmen in Lagos, on the effect of Covid-19 lockdown on golf.
"To be honest with you, coming out of lockdown is coming with its up and down, things are beginning to normalise and stabilise now.
"We are still obviously trying to get our feedback in terms of playing tournament in Nigeria, post lockdown, I think we have only played one or two professional tournaments in Nigeria.
"I personally have played on two European events, and couple of events at the Safari in Kenya, that qualified me for two European tours,'' he said.
When asked how golfers are faring given the absence of regular tournaments in the country, Oche, the winner of the 2020 Kitante Open, said that some of the golfers are currently playing in Cote d' Ivoire.
"Back home it can be better, a lot of our guys are here in Cote d' Ivoire, that's to tell you how much people are willing to compete, we have about 10 Nigerians playing the Ivorian Open.
"We hope that we can continue to keep the flag of the country flying, and we hope that we can have more tournaments to play at home,'' he said.
He stressed the need for private and corporate organisations to support golf by organising regular competitions to help players sharpen their competitive skills.
"We cannot over emphasise the need for sponsorship for this game to thrive, we have the First Bank Open that has being running for decades, imagine if we have more.
"The future of professional golfers depends on a lot of commitment from stakeholders, players and potential sponsors,'' the number one ranked player said.