Commissioner Urges Leaders To Support Youths Through Sports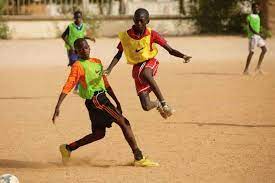 The Commissioner for Investment in Niger State, has urged Nigerian leaders to support youths through sports development initiatives in order to ensure a brighter and peaceful future for them.
Jibril told newsmen yesterday in Abuja that every leader in Nigeria needs to engage youths in profitable initiatives which would guarantee them a better future.
Tidesports reports that the commissioner gave this advice on the sidelines of the maiden edition of the "Playing for Peace and Empowerment Initiative (Youth Empowerment Sports)".
The programme was held in Abuja at the weekend.
"Leaders from all sectors, states, organisations and institutions are to look for various means of engaging our youths.
"We have talented youths across the country who we can support in many areas.
"When we engage our youths in profitable programmes, we will reduce the rate of unemployment and criminal acts in the country," Jibril said.
The commissioner said one of the impacts of such empowerment programmes was that it would  attract direct foreign investments in Nigeria.
"We should be looking at how we can extract our players to play outside the country so that we can get foreign direct investment.
"I'm working directly with my state governor, Sani Bello, to see how we can turn sports into a means of investment and to be a foreign income revenue for the country," he said.
Jibril congratulated the organiser of the event, Stanley Ugochukwu, for the great efforts put together.
"I'm happy with what he is doing and I will support him in my little way,
"We pray for a better Nigeria and that can only be achieved if we engage and support our youths in good works," he said.
Coach of the national under-15 football team, Usman Ilerika, while also speaking with newsmen in the same vein, urged rich Nigerians, lovers of football, and philanthropists to assist the youths.
He said this was necessary for the youths to achieve their dreams in football so that they can be useful to the nation.
"You will have a good sleep when you meet the needs of youths in your neighbourhood and in the country," he said.
The coach said he saw the passion in Ugochukwu 22 years ago when he coached him.
"He was one of the Youth Corps members in the Community Development Service (CDS) which I coached during his NYSC scheme.
"Passion is the number one thing required to make impact in the life of people and achieve success.
"I'm always happy to see them have success in football. A lot of youths have benefitted from what we taught them," he said.
Tidesports also gathered that the event which was held at the Area 3 football pitch was tagged "Seguir Caminando Empowerment Sports and Awards Ceremony".
It was in commemoration of Tuesday's United Nations International Day of Sports for Development.
Finidi George Begins  Tenure On A Winning Note
Super Eagles legend Finidi George began his tenure as the coach of Enyimba Football Club of Aba on a winning note.
The former Nigerian international was appointed as the coach of Nigeria's most successful club, Enyimna FC last month, and he could not have hoped for a better start.
Finidi had revealed in his press conference that he was at the club to win, and that was what he did in his first match in charge.
The former Real Betis winger led his boys to a 1-0 win over ASC Diambars in the first leg of their second round qualifying match of the CAF Confederations Cup in Senegal.
It was not an easy victory, though, as Enyimba had their goalkeeper to thank for making vital saves to keep the away side in the game.
Substitute Cyril Olisema's late penalty ensures the Peoples Elephants go into the second leg in Aba with a slight advantage.
It was Enyimba's first game in the competition after they were drawn in the first qualifying round. Finidi will now hope his side can finish the job at home and seal a place in the playoff round.
'I Remain One Of Africa's Best Strikers'
Former Super Eagles striker, Yakubu Aiyegbeni believes he ranks among the best strikers out of Africa.
Tidesports source reports that Aiyegbeni sits fifth on the list of all-time African goalscorers in the Premier League with 95 goals, just behind Togolese striker, Emmanuel Adebayor's 97 for Arsenal, Manchester City, Tottenham and Crystal Palace.
The Nigerian featured for Portsmouth, Middlesbrough, Everton and Blackburn Rovers over a nine-year period, and believes his record stacks up favourably considering his club's comparatively lower standings.
"I'll still remain one of the top strikers from Africa, no matter if those guys score more than 100 goals," he said. "Don't forget they played for some of the biggest clubs in England.
"To score 15, 17 goals in Portsmouth, Middleborough, Everton and Blackburn is big as well. If you can get 15 goals in a season as a striker in England, it's a great season for you.
"For me, it's an honour to score that many goals. I got injured and didn't play for one year. If I had, I would have scored more than 100. I had chances to do it, but the time was right for me to leave, so I went to China."
As for current players, Manchester City's Algeria international, Riyad Mahrez (67), sixth on the list, and Arsenal's Gabonese striker, Pierre-Emerick Aubameyang (66), seventh, still have some way to go to trouble the top five.
Whyte Ogbonda Satisfied With Team's Performance
Manager of Osun Babes Whyte Ogbonda has commended his players' performance at the on going 2021 edition of the Flying Officers Cup Tour name ng and tasked them to be more determined when they face Royal Queens in their next encounter.
Ogbonda made the commendation during a telephone chat with Tidesports at the weekend.
The Ogbonda led side played a goalless draw against Bayelsa Queens on Fridau to book a place in the quarters finale of the major Women Football preseason Championship in Africa.
According to the former Ibom Angels manager, rhe game against Bayelsa Queens was a great test and it really helped them(Osun Babes FC), as they continue to build a team for the new season.
"Truly, our preparation was not ideal before now, but I told my players before the match that it is very important that we go past the first round and qualify for the next round.
'It was very tough out there and you could see that we needed to work together more because at times we were pushed beyond limits.
'We are happy to be in the next round of this tournament and with more hard work, I believe we will get better as a team."
Osun Babes will play in the quarter-finals against Royal Queens Today at the Area 10 Sports Complex, Abuja.