50th Anniversary: 'Dick Tiger's Mausoleum Undergoing Renovation'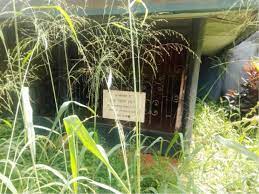 The family of the great African boxer, Late Richard Ihetu, famously known as Dick Tiger, on Thursday said they were upgrading his tomb to a mausoleum to meet international tourism standards.
Dick Tiger, who held the World Middleweight and World Light Heavyweight Championship titles in the late 1960s, died on December 14, 1971 at age 41 from liver cancer.
Dick Tiger, who hailed from Amaigbo, Nwangele Local Government Area of Imo, fought in 81 professional boxing matches, winning 61 with 26 knockouts, drew three, but lost 17.
Mr Richard Ihetu Jnr., the first son of the boxer, told The Tide source in Aba yesterday that the arrangement would coincide with the late boxer's 50th death anniversary.
"Concerning the tomb, something is on the pipeline for my father's 50th death anniversary.
"I am upgrading his tomb to a mausoleum and after the renovation some of his boxing photographs would be used to decorate the mausoleum.
"During December and Easter periods, although it is not yet developed into an international tourist centre, people out of curiosity, always come there to ask for Dick Tiger's tomb.
"Some persons land in Amaigbo and the next thing they do is to ask to see the tomb of Dick Tiger.
"I am already working on it and soon the place will be a centre that people will appreciate. I am financing it personally because I hate bureaucracy," he said.
Ihetu Jnr said his father, although an Imo son, loved, invested and lived in Aba with his family for most of his life.
He, however, expressed regret that though his father brought honour to Aba, Aba, the city he lived in and Abia, the state, had not honoured him and his memory.
"This place is like his taproot because he learnt everything he knew here.
"From Aba, they picked him to Calabar and from Calabar to Lagos and other places and everything he had as property are in Aba.
"What he did is after every assignment, he would return to meet his family here because of the love Aba people had for him, I don't think he ever thought of even leaving this city," he said.
Ihetu Jnr said Aba had some great men like his father, Nnanna Kalu, Ugorji Eke, the Ekennas and the Anyaehies in the sixties, but expressed regret that poor infrastructure pushed many notable residents away.
He said the boxing competition, which Michael Okpala (Power Mike) instituted in the honour of his father, stopped because of lack of funding, but said willing sponsors could revive it.
Ihetu Jnr said that in spite of the honour his father brought to Nigeria, his countrymen appeared not to remember him, but appreciate foreigners.
NDLEA Arrests Doctor, Ex-Soldier For Dealing In Drugged Cookies, Cocaine
The operatives of the National Drug Law Enforcement Agency (NDLEA) have arrested a medical doctor, Jane Chioma Ofoma, in Auchi, Edo, for selling drugged cookies and biscuits.
Its Director, Media and Advocacy, Mr Femi Babafemi, said in a statement yesterday in Abuja, that Chioma sold the drugged cookies and biscuits through an online catering service, Omachi's kitchen.
Babafemi said the arrest followed intelligence and surveillance where narcotic officers of the Edo Command of the agency on Saturday June 19, stormed her operational base at 1 Winners Way, Auchi.
This, he said, led to her arrest and at least 94 pieces of cookies produced with cannabis sativa were recovered from the suspect.
According to him, Chioma, 26, who is a graduate of medicine from the University of Nigeria, Nsukka, recently completed her housemanship at the University of Benin Teaching Hospital.
"She has confessed to baking the cookies with skunk in her statement while under interrogation," he said.
In the same vein, Babafemi said a 30-year-old Emmanuel Ehiramhen, of No. 10 Egan Street Ekpoma, has been arrested by officers of the Edo Command of the agency for dealing in crack cocaine.
Meanwhile, NDLEA operatives in Kwara have arrested a 52-year-old ex-Soldier, Ibrahim Musa, with 12.167 kilograms of Arizona (cannabis sativa), 4 grams of Cocaine and 25 grams of flunitrazepam.
Babafemi said the suspect was apprehended on Thursday June 17, at Oke-Odo, Tanke area of Ilorin, when he arrived from Lagos to supply his customers.
He said Musa worked in the maintenance department at Abati Army Barracks, Lagos from where he was deployed to 117 Battalion in Chibok, Borno, before he deserted the Army.
He added that the suspect had arrived Ilorin with his wife, Basirat Musa, in his Honda Accord car with registration number JJ 707 BL Lagos with the seized exhibit.
He was, however, arrested at the point of delivery by operatives of the Kwara Command of the agency.
"Under interrogation, Ibrahim revealed that while at Chibok he got the connection of a supplier of Arizona (Cannabis) and other drugs in Lagos who he immediately contacted when he deserted the Army in October 2020.
"He said he decided to go into the illicit drug business to enable him fend for his two wives and three children.
"The suspect revealed that the latest journey was his second trip to Ilorin to deliver the drugs and decided to travel with one of his wives who was not aware of his mission to Ilorin," he said.
Babafemi quoted the Chairman, NDLEA, retired Brig. Gen. Buba Marwa as commending the Edo and Kwara Commands of the agency for their vigilance and commitment to the goal of ridding Nigeria of the menace of illicit drug trafficking and abuse.
He charged the Commanders, officers and men of the two Commands and their counterparts across the country not to relent in the discharge of their responsibilities.
He assured them of his commitment towards making their welfare a priority.
13 Vehicles Burnt In Tanker Explosion On Lagos-Ibadan Expressway
The Federal Road Safety Corps (FRSC) says six tankers, five trucks and two cars were destroyed in a tanker explosion at Ogere on the Lagos-Ibadan Expressway yesterday.
Earlier, FRSC Sector Commander in Ogun, Mr Ahmed Umar, confirmed the incident to The Tide source, saying that it occurred at about 6.20 a.m.
Umar had said the explosion occurred in front of Romona trailer park on the expressway.
Giving update, he said, "the fire is serious, six tankers, five trucks and two cars are burnt in the explosion.''
Umar said that one person had so far been rescued and taken to a private hospital in Ogere.
Meanwhile, the Ogun State Traffic Compliance and Enforcement Corps (TRACE), has advised motorists plying the road to use alternative routes.
TRACE spokesman, Mr Babatunde Akinbiyi explained that the tanker which was laden with fuel suddenly burst into flames affecting other vehicles.
"Vehicles moving inbound Lagos should go through Saapade-Ode/Remo-Iperu-Sagamu to relink Lagos-Ibadan Expressway.
"In addition, vehicles moving inbound Ibadan should also go through Sagamu-Iperu-Ode/Remo-Saapade to relink Lagos-Ibadan Expressway,'' Akinbiyi said.
The incident was the fifth of such tragedies involving fuel tankers in the Lagos and Ogun State axis since the beginning of the year.
A similar fuel tanker-related fire was recorded on Jan. 7 on the Apapa-Oshodi Expressway.
On March 21, a fuel tanker was the cause of fire on Otedola Bridge, also on the Lagos-Ibadan Expressway in which many vehicles were burnt.
On March 25, a diesel-laden tanker went up in flames at the Ikotun area of Lagos, leading to the incineration of other vehicles and shops.
On June 17, fire from the kitchen of a Chinese restaurant at the Ogun State Property Investments Corporation (OPIC) Plaza in Lagos trailed a leaking gas truck which was on motion in the area.
This resulted in a fire snowball which engulfed many other vehicles and property.
Twenty-five cars were destroyed in the OPIC Plaza inferno, while 13 persons, mostly workers in the restaurant, sustained burn injuries.
S' East Leaders Denounce Secessionist Groups …Seek Protection Of Igbos
Leaders of the South East geo-political zone have urged leaders of other geo-political zones in the country to protect Igbos living in their regions, even as they condemned in totality the activities of violent secessionist groups in the zone and elsewhere. 
The lgbo leaders comprising the governors of the five states, members of the National Assembly, Ministers, Speakers of the State Houses of Assembly, the Clergy and Traditional Rulers, made their feelings known on Saturday, in a communique issued when they rose from a closed-door meeting at the Government House, Enugu. 
Explaining that they made the request in view of what they described as "threats by some groups against our people", the South East leaders promised to protect everyone, including Igbos and people from other regions, residing in the zone.
On the impression that South East leaders are silent over agitations for secession by some youths of the region, they stated that "is not correct", stressing that "South East Governors, Ohaneze President, National Assembly members, notable leaders had come out publicly many times in the past to speak against such agitations".
Proclaiming firmly that "we do not support them, they do not speak for South East",  the communiqué read by the Governor of Ebonyi State and Chairman of South East Governors' Forum, Engr. David Umahi, made it clear that the leaders of the zone reiterated their "commitment to one united Nigeria under a platform of justice, equality of rights, fairness, love and respect for one another".
The communiqué revealed that South East leaders, in order not to mismanage the unfortunate situation, "have set up a committee to engage such youths to stop and allow elders speak to address such fears". 
It added that South East leaders also condemned the killing of security agents, burning of strategic infrastructure and killing of civilians in South East and in other regions, and requested the security agencies to discharge their duties within the rules of engagement and the law
They, however, explained that the meeting was held "for articulation of our positions and further meet with the Presidential team", sequel to the earlier meeting with the Presidential delegation, led by the Minister of Defence, Retired Maj. Gen. Bashir Magashi, on June 11, 2021.
The communiqué disclosed that the meeting consequently "set up committees under Ohaneze Ndigbo to articulate and address our positions on all burning issues to further meet among ourselves and thereafter meet with the Presidential team".
On the safety of the Igbo indigenes in other parts of the country and the newly established regional security outfit, the communiqué added that the "meeting directed our Governors and Ohaneze Ndigbo to liaise with indigenes from the northern part of Nigeria and indigenes of other regions to assure the nation, Nigeria, and their people of their safety in South East.
"The meeting endorsed our South East joint security outfit – Ebubeagu and asked them to work with security agencies and to respect the rights and privileges of all those living in the South East and our visitors".
By: Canice Amadi, Enugu