Glaucoma: Three People Who Must Undergo Annual Checks
An Opthalmologist at the Rivers State University Teaching Hospital (RSUTH), Dr Komolafe Rhoda, has identified three sets of people who must compulsorily ensure that they undergo eye checks annually in order to prevent glaucoma.
They are: people who have a history of blindness in their family, people who have someone with glaucoma in their house, and those whose family has a history of eye pressure.
"Just as we have high blood pressure, we also have high eye pressure. So, if someone in your family has checked and found to have high eye pressure, go and check your own and see if you have glaucoma", she said.
Rhoda, who was speaking on the heels of the 2021 World Glaucoma Day, stated that the reason is that glaucoma is regarded as a "silent thief" that steals sight because most times people with glaucoma do not have any sign that they have it.
"The thing with glaucoma is that we call it the silent thief because majority of people with glaucoma have no complain, no sign, no symptoms. They are seeing very well, so they don't come to the clinic for check-up", she stated.
She used the opportunity to people to go for eye check-up regularly, whether they have immediate eye challenge or not.
"We just want to drive home the point that the public should go and check their eyes whether they have complains or not.
"The older you are, especially if you're above 45, you must check your eyes yearly. If you're hypertensive, or diabetic, you must go and check your eyes", Komolafe said.
It would be recalled that as part of events marking this year's World Glaucoma Day, the Rotary Club of Port Harcourt, Atlantic City, District 9141, in conjunction with the RSUTH, carried out a total of 21 free cataract surgeries in the State.
By: Sogbeba Dokubo
Renew Fight Against HIV/AIDS, EDOSACA Boss Charges Stakeholders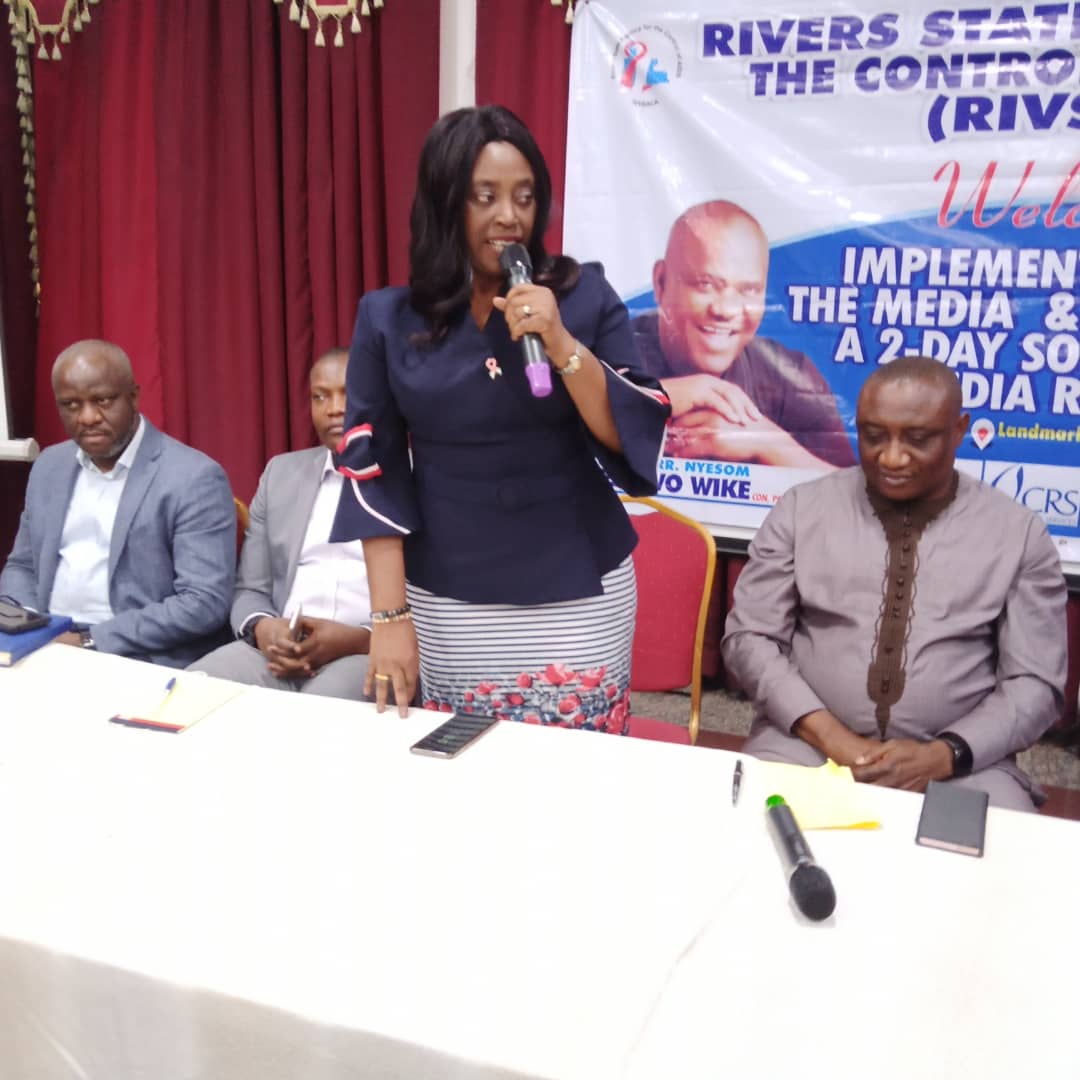 Amidst seeming less attention given to the prevention of the spread of HIV/AIDS following the emergence of Covid-19, the Executive Director of the Edo State Agency for the Control of AIDS (EDOSACA), Mrs. Flora Edemode Oyakhilome, has called on stakeholders to show more commitment, if the 2030 target of eliminating the epidemic can be achieved.
The EDOSACA boss, who made the call while fielding questions from journalists immediately after the just concluded two-day South-South HIV media roundtable held in Port Harcourt, said the 38th International AIDS Candlelights Memorial was implemented in Edo State.
According to her, the commemoration should serve as a reminder for both those infected and affected, as well as the vulnerable in our society of those who have died as a result of the pandemic.
She stated that the theme for this year's commemoration, "One Big Fight for Health and Rights of People Living with HIV", is apt. 
"With just  nine years to go in the UNAIDS ambitious targets of eliminating HIV/AIDS by the year 2030 through the 95:95:95 strategy aimed at achieving zero new infection by 2030, the well chosen theme for this year's memorial, which is  'One Big Fight for Health and Rights of People Living with HIV', is nothing but a renewed call for girding our loins and redoubling our efforts towards the achievement of this target, especially with globally increasing rates of societal and workplace stigma and discrimination, and domestic gender-based violence, as well other acts of rights denial against People Living with HIV/AIDS (PLWHIV). 
"The right time is  now or never for all soldiers and gatekeepers in the global war against this most lingered pandemic to join efforts, time and resources towards greater outcomes and dividends from this year's theme, which encapsulates in one dose the non-pharmaceutical panecea against HIV/AIDS", she said.  
Towards this renewed fight, the EDOSACA boss urged stakeholders to turn a new leaf.
"As the event is marked today, all should go into sober reflection over the plight of those infected and affected by HIV/AIDS, as well as the vulnerable one not yet infected and work towards the  mitigation of their sufferings and plan for greater improvement in their living standards through economic and academic empowerment, capacity  building, skills aqusition and skills improvement, nutritional support, access to quality health services, free prevention of Mother-To-Child Transmission (PMTCT) services, free legal aids, etc., especially for Adolescents and Young People (AYP), widows and orphans," he said.
By: Sogbeba Dokubo
Health Benefits Of Eating Apples (2)
The Antioxidants in Apples May Play a Role in Cancer Prevention. While there's no one surefire way to prevent cancer, apples could help play a role. "Apples may reduce the risk of certain cancers, which researchers speculate is related to the antioxidants found in apples," says Anzlovar. Research suggests that apples have a very high level of antioxidants, and in laboratory studies, these antioxidants have been shown to limit cancer cell growth.
A review published in October 2016 in Public Health Nutrition found that eating apples regularly is associated with a reduced risk of certain cancers, including colorectal, oral cavity, esophageal, and breast cancers.
The fiber in apples may provide cancer-preventing perks. A study published in March 2016 in the journal Pediatrics found that women who ate more high-fiber foods during adolescence and young adulthood (especially lots of fruits and vegetables) had a lower breast cancer risk later in life.
And another study, published in January 2019 in the journal The Lancet, found that a diet high in dietary fiber could protect against colorectal cancer and breast cancer, as well as type 2 diabetes and cardiovascular disease.
6. Apples Can Support Healthy Weight Loss
A diet rich in fruit (and vegetables) can help you maintain a healthy weight — or shed pounds — according to the Centre for Disease Control and Prevention.
Because apples are filled with dietary fiber, they are high on this list. "Fiber slows digestion and the rise of blood sugar, keeping you satiated and less likely to overeat," says Levinson.
According to that study in The Lancet, people who ate the most fiber had a significantly lower body weight. Research shows that overweight women who ate three apples a day lost 1.22 kg (2.7 pounds) after 12 weeks.
At only 95 calories for a medium-sized apple, this fruit is one you'll want to keep on hand when sweet cravings strike.
Apples May Help Prevent Alzheimer's Disease
Time to start eating more apples and other flavonoid-rich foods like berries and tea. Research published in August 2020 in The American Journal of Clinical Nutrition found that adults aged 50 and older, who included only a small amount of flavonoid-rich foods like berries, apples, and tea in their diet were a whopping 2 to 4 times more likely to develop Alzheimer's disease and related types of dementia over 20 years compared with people who ate more flavonoid-rich foods.
On top of that, a review published in January 2020 in the journal, Biomolecules, found that quercetin, a flavonoid found in apples, protects neurons from oxidative damage and contains other anti-Alzheimer's disease properties, too.
By: Kevin Nengia
We Are Supporting States To Intensify Cholera Outbreak Response – NCDC
The Nigeria Centre for Disease Control (NCDC) says it has activated a multi-sectoral National Cholera Emergency Operations Centre (EOC), following an increase in cholera cases across the country.
The NCDC Director-General, Dr Chikwe Ihekweazu, said this in a statement made available to The Tide in Abuja. 
According to a document made available to The Tide states that since the beginning of the 2021, 10,833 suspected cholera cases have been reported with 112 confirmed cases and 289 deaths.
In the last one month, an increasing number of cholera cases has been reported across the states.
The most affected states are Plateau, Bauchi, Gombe, Kano, Zamfara, Bayelsa and Kaduna.
Given the risk of large outbreaks across states,  Ihekweazu said that the agency had activated an EOC.
"The EOC is co-led with the Federal Ministries of Environment and Water Resources, given the link between cholera and water, sanitation and hygiene.
"The National EOC has been supporting states to ensure a coordinated, rapid and effective response to the ongoing outbreak.
"This includes the deployment of National Rapid Response Teams (RRT) to support the response at state level, provision of medical and laboratory supplies, scale up of risk communications amongst other activities," he explained.