Cleric Blames Insurgency, Youth Restiveness On Weak Foundation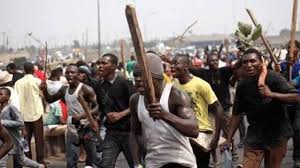 A renowned cleric and minister-in-charge of Omega Power Ministries (OPM) Worldwide, Bori, in Khana Local Government Area of Rivers State, Pastor Victor Thompson, has attributed insurgency and youth restiveness in the country to lack of proper foundation and early childhood education.
Speaking with The Tide recently in Bori, Thompson said, if the amnesty package must be successful, its implementation must be able to include and embrace the early childhood education in its programme.
The servant of God, who described children in the country as "survival in wilderness", stated that lack of basic amenities, including rights to basic education causes youths to carry guns and ammunition.
According to him, "when the child grows up without direction and a path to follow, he has no choice than to find answers to its situations".
He added that corporate organisations and communities, which neglect the basics in child development do so at their peril.
"The cause of insurgency and militancy is lack of proper early childhood education, when a child has no access to basic things of life. "A holistic approach needs to be put in place to promote early child education, if the nation's education sector must be salvaged".
Thompson further said that the challenge before the government at all levels was to build permanent structure in the 319 wards of Rivers State, adding that the structure would provide platform for adult and literacy programme for parents.
The gospel preacher said it was necessary for corporate bodies, like the multinational oil and gas companies operating in Rivers State in particular and Nigeria in general, to partner with government at all levels to develop human capacity for Nigeria.
Cleric Tasks Govts, Churches On Capacity Building
The Rivers District Superintendent of Assemblies of God, Nigeria, Rev. Daddy Ibulubo has appealed to Government at levels and churches to give priority to human capacity development.
Speaking at a Capacity Building Conference in Port Harcourt, yesterday for church leaders of various categories, Dr. Ibulubo said the development of capacity and potentials was critical to the development of society.
The church leader said investing in the development of human capacity should be seen as an investment that would yield multiple, short and long term benefits for the society.
While stating that no amount spent on capacity development is waste, Dr. Ibulubo who is chairman, Board of Governors of Pentecostal Theological Seminary Eleme said building the city without first building the people would translate to a waste of resources and exercise in futility overtime.
According to Dr. Ibulubo, the Capacity Building which is a pet programme of the Rivers District Presbytery is bi-annual, noting that the conference was designed to drive holistic development of Church workers and make them be at their best in their service to God and humanity.
He said the leadership of the Rivers District was passionate and committed to achieving Kingdom project, even as it would ensure no stone was left unturned in sustaining the programme, the financial challenges notwithstanding.
Dr Ibulubo who is also the African Director of Africa-Israeli Alliance Initiative and the Special Adviser on Pastors Children to the State Chairman of Pentecostal Fellowship of Nigeria (PFN), urged people to identify and develop their potentials so they could be relevant in society.
Decrying apathy to building of capacities, the Clergy said "occupying till Jesus comes" is a function of developing identified abilities to the benefit of the larger society.
He commended the workforce of the District for their sacrificial contributions to the sustainability of the programme.
The Tide reports that the Rivers District's Capacity Building Conference started eleven years ago as an annual programme for pastors, their wives, Deacons, Deaconesses, Heads and officers of the various departments in churches, sections and District levels.
About 850 church workers are expected to attend the three days programme which is ongoing at the No. 17 Andoni branch of Assemblies of God, Nigeria and will be rounded off tomorrow with a long service award ceremony for deserving Deacons and Deaconesses.
By: Igbiki Benibo
Expert Calls For Inter-Religious Agency To Fight Extremism
As a way of curbing the menace of religious extremism and violence in the nation, a Professor of History of Religion, Prof Afisa Jaja, has stressed the need to establish an agency for inter religious dialogue.
In an exclusive chat with The Tide, Prof. Jaja who is a senior lecturer in Ignatius Ajuru University of Education said if the agency is established, it will promote dialogue, unity among the different religious groups in the country.
He suggested that the agency should be formed in such a way that the major religious groups will lead rotationally.
The professor averred that without dialogue and understanding, the current religious extremism in the North and lack of tolerance among the religious groups in the country will worsen over time.
Jaja was of the view that Boko Haram constitutes religious extremism because Islam abhors violence and killings.
Blaming politicians for fuelling the rising religious intolerance, Jaja stated that some political leaders have exploited the situation to brainwash their followers as a way of fighting perceived opposition.
"As far I am concerned, Islam and Christianity have one thing in common. They preach love and they believe in one God, and so for me, they should tolerate each other", he said.
He maintained that no religion can claim superiority over another, hence, the need to see each other as brother.
By: Kevin Nengia
NLC Marks World Decent Work Day
As the world marks World Day for Decent Work, the State Council of the Nigerian Labour Congress has opted to commemorate this year's event.
The World Decent Work Day is a day set aside for global mobilisation to ensure that all employers of labour prioritise decent work in the world with the aim of achieving fulfilment, satisfaction and its multiplier effect on economic growth and sustainability.
This year's event is the 10th in the series of activities including negotiations and constructive engagement with government and employers of labour, demonstrations, mass protest and other measure that will generate deliberate actions towards achieving decent standard of living, social protection, social dialogue and social justice and most importantly security of job.
Chairperson of Nigeria Labour Congres (NLC), Beatrice Itubo disclosed this while briefing newsmen in commemoration of of the day with the theme, "Just Job"
Itubo called on the state government to prioritise governance through improved human capital development by creating a conducive working condition
She further implored employers of labour in the organised private sector to begin to explore measures towards providing decent working condition to workers in their work place.
The labour leader said the leadership in its commitment shall continue to tackle the act of exploitation and slavery in the work place by deploying tools as provided enabling laws to engage companies and organisations perpetrating anti-labour practices.