DPR Warns Businessmen Against Indulging In Illegal Refineries
The Department of Petroleum Resources (DPR) has called on businessmen to invest in the oil and gas industry, instead of indulging in illegal refineries.
Director/Chief Executive Officer (CEO) of DPR, Sarki Auwalu, made the call at the weekend, when he visited the Niger Delta Petroleum Resources (NDPR) located in Ogbele community in Ahoada East Local Government Area of Rivers State.
Auwalu, who was satisfied with the operations going on at the facility, said there was need for businessmen to invest their wealth in the oil and gas industry to grow the nation's economy.
The DPR boss disclosed that the country has seven private refineries and the national production capacity is a collection of the seven private refineries and government refinery.
He noted that the local content base at the NDPR facility has shown that the nation has a strong economic hub, if properly harnessed.
Auwalu said: "If they have the capacity of producing, refunding and marketing of petroleum products, this facility owned and managed by Niger Delta Petroleum Resources has confirmed that our local content base, is a strong economic hub if properly harnessed.
"Currently, the capacity is 11,000 barrels per day and it has the tendency to increase. If any company can produce this capacity, then, the entire national supply will be secured.
"Locally, in the country, we have about seven private refineries, this facility produces 11,000 barrels; we have one with 10,000 barrel capacity set for commissioning; there is another one with 5,000 in operation; we also have one of 650,000 barrel yet to be commissioned too.
There is another 200,000 barrels private refinery with over 20 processed licences.
"So, our national production capacity is a collection of these private production and contribution from the government refinery.
"The private sector should invest in this initiative because our observation today, confirmed that this refinery is a masterpiece that has increased production of crude and other essentials towards increased product circulation starting from 1,000 barrels to 11,000 barrels.
"I urge them to start small and grow gradually just like what we have seen today, in Niger Delta Petroleum Resources with practically less than one percent foreign input. Indeed, enormous employment and capacity would been harnessed locally.
"DPR is a business enablers and opportunity providers in the oil and gas sector. And, we also ensure that the business is sustained. That is why we are calling on Nigerians to come and invest in the oil and gas sector.
"Rather than indulge in illegal refineries, invest with support of the DPR and you will have no reason to be afraid of business failure".
Oil Producing Communities Marginalised, Ex-IGP Alleges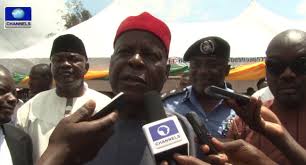 Former Inspector General of Police (IGP) and former Chairman, Police Service Commission (PSC), Mike Okiro, has alleged that his ethnic nationality, Egbema, among others, was being marginalised and relegated in the scheme of things.
Okiro, who is the national leader of Ogbakor Egbema Alinso, appealed to the Federal Government to create a local government to include all the oil producing communities of Egbema in Rivers and Imo states.
He said the LGA, which could be included in Imo or Rivers State, would help to allow the oil producing people of Egbema to have a voice and representation on national issues.
Okiro said, "Egbema needs to be united. Unfortunately, Egbema is divided into two, Egbema in Rivers and Egbema in Imo State. These two sets of people are the same. The same language; the same culture. Egbema has 16 towns, 13 are in Imo State, while three are in Rivers State.
"We were all originally in Rivers under the Old Ahoada Division before they created part of it into Oguta division. Oguta was a district council, but later became a division. We are one".
He noted that the ethnic group was minority in two different LGAs in Imo and Rivers states, calling for the creation of local government council for the 16 communities of Egbema.
Okiro said, "In Rivers State, we are under Ogba/Egbema/Ndoni LGA; and in Imo State, we are under Egbema/Ohaji LGA. In the two states, Egbema is in the minority.
"We want a local government. Egbema is big enough to be a local government. Imo State will not allow Egbema people to go because we have oil. The 13% they are enjoying comes from Egbema.
"I want Egbema to be a local government, whether in Rivers State or Imo State. It does not matter, so far as it is in Nigeria, so that they can talk and represent themselves", he argued.
Also, former Chairman of ONELGA, Wokocha Raymond, said, "Egbema is a very important segment in Nigeria. We have contributed a lot to Nigeria's economy. Yet, we have nothing to show for it.
"Despite the number of oil wells we have, we have not produced a representative in NDDC. We have been denied even appointment into state cabinet".
Meanwhile, President of Ogbako Egbema, Ify Igwebuike, said Egbema people need to be united and speak with one voice.
FG To End Electricity Fuel Subsidies Mid-2021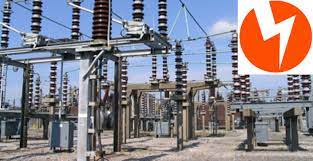 The Federal Government has expressed commitment to end both electricity and fuel subsidies by mid-2021.
This was revealed by the International Monetary Fund, IMF in a report after the conclusion of its Article IV consultation with Nigeria.
According to the Washington-based Fund, the federal government had promised to see to the end of tariff shortfalls that led to their re-emergence.
"They expressed strong commitment to prevent fuel subsidies from resurfacing and to fully eliminate electricity tariff shortfalls by mid-2021.
"They believe that lifeline tariffs and other relief measures are adequate to protect poorer households from increases in electricity prices and highlighted the benefits from higher and more predictable availability."
Although the Nigerian government had in March 2020 removed petrol subsidy, it however resurfaced following rise in price of crude oil at the international market.
The Nigerian Electricity Regulatory Commission, NERC had also severally attempted to increase electectricity tariffs to reduce nagging shortfalls challenges in the electricity sector, however, its efforts had met with backlashes from labour unions.
On September 8, 2020, the Federal Government said its removal of petrol subsidy and the increase in electricity tariff were in agreement with reforms requested by the International Monetary Fund and the World Bank as it seeks financial assistance of $3.4bn from IMF.
The President, World Bank Group, Mr David Malpass, had met with the Minister of Finance, Budget and National Planning and the Governor of the Central Bank of Nigeria, Mr Godwin Emefiele, on April 8 where the need to eradicate energy subsidies among other issues were discussed.
"The recent introduction and implementation of an automatic fuel price formula will ensure fuel subsidies, which we have eliminated, do not re-emerge," the Federal Government told the IMF in the letter of intent dated April 21, 2020.
The World Bank in October also hinted that the Nigerian government had 'taken important steps to reform its subsidy regime'.
"The gasoline (petrol) price is set monthly by the Petroleum Products Pricing Regulatory Agency from market-based costs. When international petroleum product prices start to recover, the PPPRA will allow price increases accordingly," it said in its Africa's Pulse report, adding that the Nigerian government had established a market-based pricing mechanism with no price ceilings.
However, total end of the respective subsidies are currently stalling due to ongoing discussion with labour unions across the country.
The federal government said it would announce way forward after concluding consultations.
Suspected Oil Thieves Accuse Naval Officer Of Sponsorship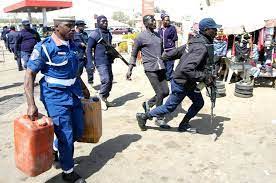 The Nigeria Security and Civil Defence Corps (NSCDC), Rivers State Command,last Friday paraded eight men suspected to be illegal oil bunckerers, in Port Harcourt, the Rivers State capital
The suspects, however,accused a Naval personnel, one Mohammed Miike as the alleged sponsor of their activities.
One of the suspects who was paraded by NSCDC, said the Naval officer Miike, called his friend Adamu Sani who contracted them.
He said the Naval officer allegedly gave them the Navy Attire they adorned for the illegal operation and gave them work at an oil vessel when luck ran out on them and they got arrested by officials of Nigeria Navy Ship (NNS) Pathfinder Rumulomeni.
The eight suspects who were in Navy attire while being paraded have since been handed over to Nigeria Security and Civil Defense Corps (NSCDC) by the NNS pathfinder.
Attempts to get the Navy authorities to speak on the matter were not successful.
By: Tonye Nria-Dappa