Tackling Depression Among Youths
Why did I choose to talk about depression? Well, that's because, I noticed that half of our teens are depressed. But before we go into that, what is depression?
Depression is a common and serious medical illness that negatively affect how you act. There are different types of depression but the most common one is "Clinical Depression". What is clinical depression? Clinical depression is a mental health disorder characterised by persistently depressed mood or loss of interest in activities. According to my research, it is very common in Nigeria, with more than 1.5 million cases per year.
Depression is a common illness worldwide, with more than 264 million people affected. Depression is different from usual mood fluctuations and short lived emotional responses to challenge in everyday life. It can cause the affected person to suffer greatly at work, at school and in the family. Depression is a leading cause of disability worldwide and is a major contributor to the overall global burden of disease. More women are affected than men. At its worst, depression can lead to suicide. Close to 800, 000 people die due to suicide every year. Suicide is the second leading cause of death among 15 – 29 years old.
The symptoms of depression range from mild to severe. At its mildest, you may simply feel persistently low in spirit, while severe depression can make you feel suicidal, that life is no longer worth living. They range from lasting feelings of unhappiness and hopelessness, to losing interest in things you used to enjoy and feeling very tearful. Many people with depression also have symptoms of anxiety. Most people go through periods of feeling down, but when you're depressed you feel persistently sad for weeks or months, rather than just few days.
Some people think depression is trivial and not a genuine health condition. They're wrong – it is a real illness with real symptoms. Depression is not a sign of weakness or something you can ''snap out of'' by "pulling yourself together". But do not be scared, there are treatments for it.
There are physical symptoms of depression such as, feeling sad or having a depressed mood. Loss of interest or pleasure in activities you once enjoyed. Changes in appetite – weight loss, trouble sleeping or sleeping too much, loss of energy or increased fatigue, feeling worthless or guilty, thoughts of suicide, etc.
Over to teen depression. Many teens are suffering from this. Some may know and some may not. There are multiple reasons why a teenager might become depressed. For example, teen can develop feelings of worthlessness and inadequacy over their grades. School performances, social status with peers, or family life each can have a major effect on how a teen feels. Sometimes, teen depression may result from environmental stress. A family history of depression, life stresses such as losing a parent, divorce, or discrimination, and other physical or psychological problems can all contribute to the illness. Children, who have been abused, neglected, have experienced other traumas, or suffer from chronic illness are also at a higher risk for depression. Depression in teens/children often occurs along with other mental problem such as anxiety and bipolar or disruptive behaviour disorder.
Teen depression is much more than feeling temporarily sad or down in the dumps. It is a serious and debilitating mood disorder that can change the way you think, feel and function in your daily life, causing problems at home, school, and in your social life. Yes, the teenage years can be really tough and it's perfectly normal to feel sad or irritable every now and then. But if these feelings don't go away or become so intense that you feel overwhelmingly hopeless and helpless, you may be suffering from depression. This is another reason why parents should make out time for their kids. Try to show them that they are not alone in this. Because, once in a while, life throws stuffs at them and of course they'll need someone to tell it to, someone to advise them. Having someone to tell it to, helps ease it off their chest. If you as a parent is very free with them, if you can communicate very well and if you have a good parental relationship, then I don't think there will be any need for that child to be depressed. Over thinking turns someone depressed too. So, please try to make time and build a strong parental relationship between you and your child/children. Depression kills.
Other symptoms of teen depression are, having frequent unexplained headaches, or physical pains and problems. Anything and everything makes you cry. You're extremely sensitive to criticism. You've turned to alcohol or drugs to just try to change the way you feel. You're having trouble concentrating, thinking straight or remembering things. Your grades may be plummeting because of it and most of all, you're thinking about death or suicide. If you ever feel this way, please talk to someone right away
As a parent too, I advice you try to observe your child properly. Some children are not used to opening up and trust me, some of them have things eating them up. They are just quiet because they feel that if they explain, you won't understand. Some are quiet because, they don't understand themselves either. So please help our teens.
While it isn't always easy to differentiate from normal teenage growing pains, teen depression is a serious health problem that goes beyond moodiness. As a parent, your love, guidance, and support can go a long way toward helping your teens avoid and overcome depression and get their life back on track. Make time for your kids, make them happy, Make them your best friend. That's all there is to it.
My advice to all the depressed kids out there is to try as hard as you can to get away from it. You're not in this alone and you can overcome it. Hang out with positive people. Do not stay alone. Try thinking less. Find your happiness and tell someone about your feelings or better still, write it down to just clear your head and mind. Say No to depression. Say No to suicidal thoughts.
Akwu is a student in Port Harcourt.
Dean Tasks New Law Students Exco On Service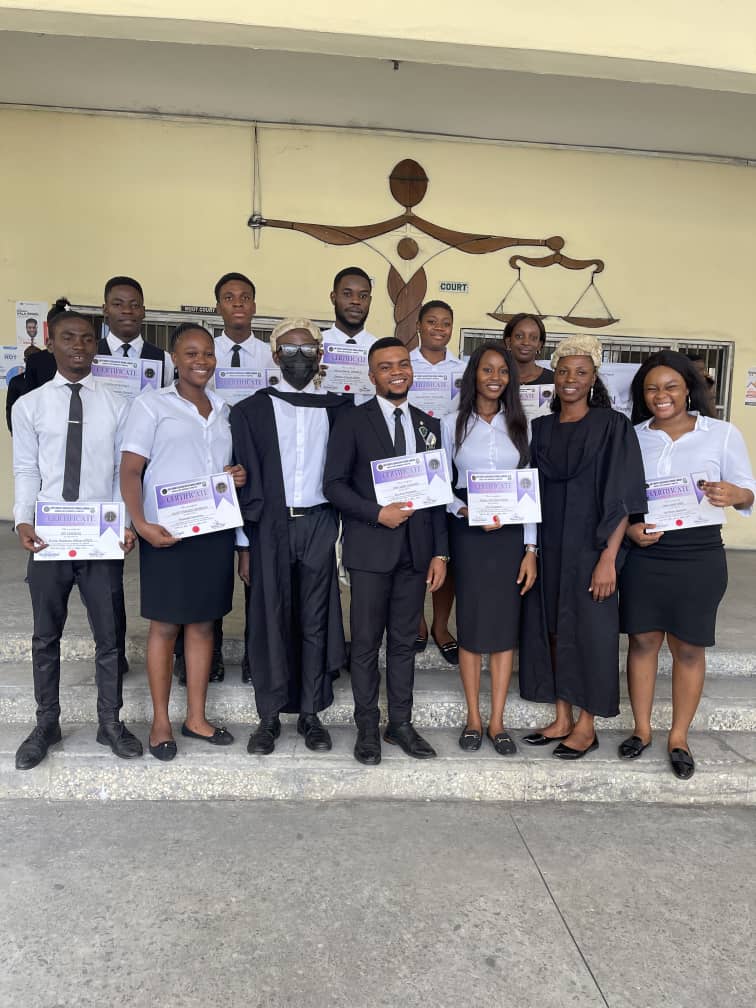 The Dean of the Faculty of Law of the Rivers State University, Prof. Ovunda Vincent Okene, has urged the new executive members of the Law Students Association of Nigeria (LAWSAN), RSU Chapter, to live up to expectation and give academic and social welfare of members top priority, as well as discharge their duties with a sense of responsibility, to justify their choice.
Okene, who gave the charge during the inauguration ceremony of the new executive at the university campus in Port Harcourt on Wednesday, said the faculty has existed for over 40 years, describing it as the pride of the university and even one of the best in West Africa, having the best learning facility, and challenged the new executive to add value to the faculty.
The university teacher also stressed the need for the law students to imbibe the spirit of cleanliness and dress code compliance, for which the faculty is known, contending that it is incumbent upon them to comport themselves on campus in such a way that portrays the Law profession as a noble profession.
In his response, the new President of the Law Students Association of Nigeria (LAWSAN), Rivers State University Chapter, Mr Ken-Saro Chukwu assured that the new executive would put the association first in all it does, saying, the new normal has begun.
While thanking God, the Dean, the Eleco and the members for the opportunity to serve and for ensuring a hitch-free election, Chukwu said the members of the association should "expect value and utility in everything we do".
Other members of the executive include Victoria Isikinma, Vice President; Juliet Francis, Financial Secretary; Nimi Amachree, Secretary General; Kendrick Iyalla, Director of Socials; and Princess Amadi, Auditor General.
Others are Treasure Sam-George, Treasurer; Eze Chinedu, Public Relations Officer; Nsinem Bob Essiet, Assistant Secretary General; and Henry Howells, Provost.
The occasion was also graced by the Associate Dean, Faculty of Law/Head of Department of Jurisprudence and International Law, Prof. C.C. Wigwe, Head of Department, Business Law, Dr. Nwuzi, Head of Department, Private and Property Law, Dr. Felix Amadi, and Prof. S.I. Orji, among other dignitaries.
Don't Say Something You Regret Out Of Anger
There once was a little boy who had a very bad temper. His father decided to hand him a bag of nails and said that every time the boy lost his temper, he had to hammer a nail into the fence.
On the first day, the boy hammered 37 nails into that fence.
The boy gradually began to control his temper over the next few weeks, and the number of nails he was hammering into the fence slowly decreased. He discovered it was easier to control his temper than to hammer those nails into the fence.
Finally, the day came when the boy didn't lose his temper at all. He told his father the news and the father suggested that the boy should now pull out a nail every day he kept his temper under control.
The days passed and the young boy was finally able to tell his father that all the nails were gone. The father took his son by the hand and led him to the fence.
'You have done well, my son, but look at the holes in the fence. The fence will never be the same. When you say things in anger, they leave a scar just like this one. You can put a knife in a man and draw it out. It won't matter how many times you say I'm sorry, the wound is still there.'"
Culledfrom thoughtcatalogue.com
Celebrating Day Of The African Child
On June 16th, 1976, thousands of black students from Soweto, South Africa, took to the streets to protest the disparity in the education system that preferred quality education for the whites over the black population in Africa. Today, millions of children in Africa do not receive proper education and the onus just doesn't fall on the world leaders but on every privileged member of the society to acknowledge that they deserve quality education to eradicate poverty in the country.
In commemoration of the Day of the African Child  (DAC) 2021, the AUC Department of Political Affairs, Peace and Security and Save the Children International, join Africans throughout the continent in celebrating this special day.
 This presents a unique opportunity to reflect on the advances made towards realizing children rights as well as remaining challenges.
Today, under the theme: "30 years after the adoption of the Charter: Accelerate implementation of Agenda 2040 for an Africa fit for children", we recommit to scale up the promotion of the rights and welfare of children of Africa.
Despite important strides made by AU Member States in realizing children rights, grave violations continue to be committed against children in conflict settings. A study conducted by Save the Children in 2020 revealed that the number of children living in conflict zones is highest in Africa.
Among the six major violations committed against children is the attack on education, which continue to have devastating impact on students and teachers, with particularly debilitating long-term consequences for girls and women. In addition, female students and educators suffer horrific acts of violence within their schools and universities.
To remedy attacks on education, the Safe Schools Declaration is a key policy tool towards ensuring safe education for All. The COVID-19 pandemic and the consistent attacks on schools have had terrible impact on children across Africa, but it's been worse for girls whose risk for gender-based violence or child marriage has been exacerbated. Hence, it is the responsibility of all stakeholders to ensure access to education and all children continue to learn while schools are closed through inclusive distance learning, that every child is supported to return to school when it's safe to do so, and no child is left behind.
Governments and partners should also invest more in education to build back better education systems for all children.
The AUC Department of Political Affairs, Peace and Security will continue to offer commendable support for the safe school's agenda as evidenced by AU Organs' commitment to implement the Safe Schools Guidelines.
In addition, the AUC PAPS Department will soon launch the Africa Platform for Children Affected by Armed Conflict (AP-CAAC) to drive action within at all levels.
The advocacy efforts made towards the implementation of the Safe Schools Declaration and Guidelines at the national level has created the momentum. The upcoming Fourth International Conference on Safe Schools to be held in Abuja on October 25-27, 2021, with the AU as a co-host with Norway, Argentina, Spain, and Global Coalition for Protection of Education from Attack, is another opportunity to concretize action in support of safeguarding the future of African Children.
International Day of the African Child was set aside to raise awareness of the importance of education for children in Africa. The day not only honours the participants of the Soweto Uprising in 1976 but also raises awareness of the imperative need for improvement of the education of African children. International Day of the African Child is celebrated on the 16th of June every year to highlight the economic strifes suffered by these children and the adverse effects it has on their right to good education in the country.