Valentine's Day: What Message For Young People?
All over the world, St Valentine's Day,14th February is annual celebration of love, friendship, admiration and compassion. People on this day send messages of love and affection to partners, family, friends and others in society.
This year will not be different, in spite of the crisis occassioned by the COVID-19 pandemic. It will be a wonderful opportunity to show appreciation for people we love, including our children and young people.
However, to some people, Valentine's Day has no meaning. To others it is an holiday of love for only adults. Which way you see it, Valentine's Day can be a wonderful opportunity to teach our children and young people about love.
Interestingly, connecting love with kindness will not only help young people to become more thoughtful people but it will also help them understand  that they should  always expect kindness for the people that love them as well.
In a world today, where negativity reigns with hard times, it is more important than ever to help young people see the beauty of love of all kinds. This will  motivate these young ones to be open-minded and loving people.
This can also show them how important it is to understand the past and struggles that people face today in order   to move into a more loving and connected future.
In Nigeria, Valentine's Day has been added to the list of special days that primary and secondary schools now celebrate. Some schools celebrate the day by wearing red T-shirts and bringing in gifts for other children and teachers. Other schools exchange gifts, organise picnics or hold parties.
Some use the day to visit the Motherless  and Children Homes. Many impose red and white dress code on pupils and students. Also, Non-Governmental Organisations (NGOs) do their lot by organising seminars and talk shows to educate the young ones about love.
According to Mrs Mary Anika, Proprietress of Carina International School, Port Harcourt, ''we did celebrate Valentine's Day in other years, but this year will be an exception  because of the COVD-19 crisis. We don't want to bother parents further, due to the times. We usually celebrate with swimming in the school, we bring in horses for children to ride, exchange of gifts among children and more. We also talk to the children about love, how they can show love the proper way and also sex education".
This year, 2021 Valentine's Day falls on Sunday .As parents and adults, we can do a lot by finding ways to give the gift of love to our children, other children around us and also those in need.
As parents, transmitting values to our children  through our behaviour is very important. It is never too early to help children express love and friendship. By watching you give gifts of kindness, compassion and respect to the people you love, this will touch their hearts and do same as they grow up.
Let us, as adults, use this Valentine's Day to demonstrate love to our children and young people. A simple note that says, "I love you" can remind your child in years to come about your love even when you are not together. Send recharge cards to young people as a show of love.
This is a great opportunity to help young people feel love and make them responsible adults in future.
By: Ibinabo Ogolo
Dean Tasks New Law Students Exco On Service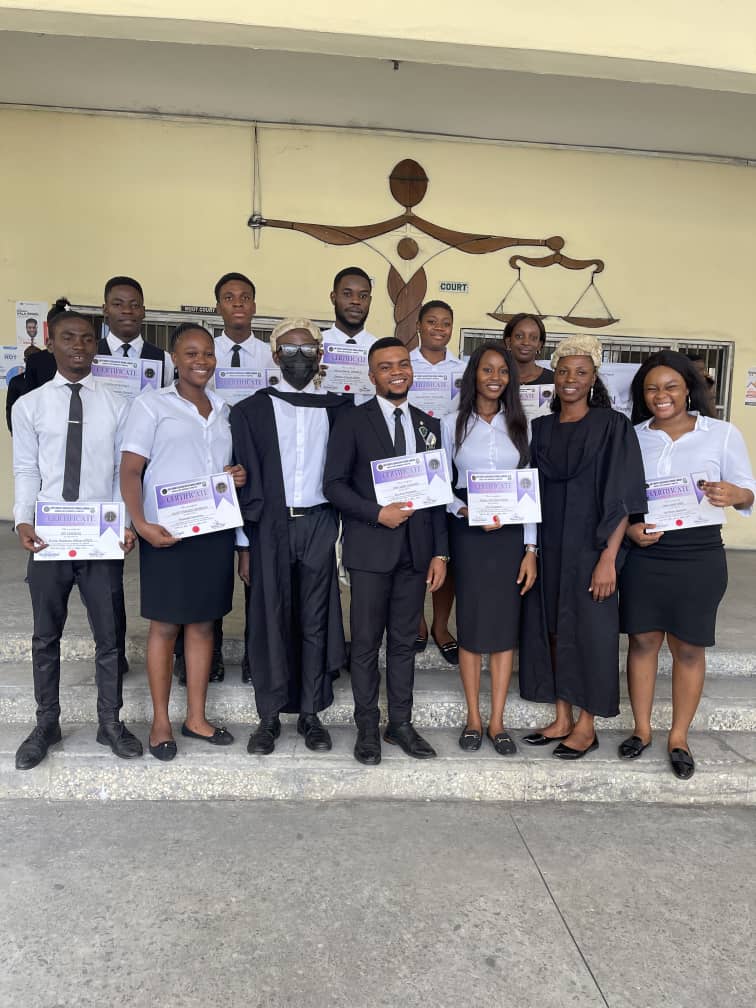 The Dean of the Faculty of Law of the Rivers State University, Prof. Ovunda Vincent Okene, has urged the new executive members of the Law Students Association of Nigeria (LAWSAN), RSU Chapter, to live up to expectation and give academic and social welfare of members top priority, as well as discharge their duties with a sense of responsibility, to justify their choice.
Okene, who gave the charge during the inauguration ceremony of the new executive at the university campus in Port Harcourt on Wednesday, said the faculty has existed for over 40 years, describing it as the pride of the university and even one of the best in West Africa, having the best learning facility, and challenged the new executive to add value to the faculty.
The university teacher also stressed the need for the law students to imbibe the spirit of cleanliness and dress code compliance, for which the faculty is known, contending that it is incumbent upon them to comport themselves on campus in such a way that portrays the Law profession as a noble profession.
In his response, the new President of the Law Students Association of Nigeria (LAWSAN), Rivers State University Chapter, Mr Ken-Saro Chukwu assured that the new executive would put the association first in all it does, saying, the new normal has begun.
While thanking God, the Dean, the Eleco and the members for the opportunity to serve and for ensuring a hitch-free election, Chukwu said the members of the association should "expect value and utility in everything we do".
Other members of the executive include Victoria Isikinma, Vice President; Juliet Francis, Financial Secretary; Nimi Amachree, Secretary General; Kendrick Iyalla, Director of Socials; and Princess Amadi, Auditor General.
Others are Treasure Sam-George, Treasurer; Eze Chinedu, Public Relations Officer; Nsinem Bob Essiet, Assistant Secretary General; and Henry Howells, Provost.
The occasion was also graced by the Associate Dean, Faculty of Law/Head of Department of Jurisprudence and International Law, Prof. C.C. Wigwe, Head of Department, Business Law, Dr. Nwuzi, Head of Department, Private and Property Law, Dr. Felix Amadi, and Prof. S.I. Orji, among other dignitaries.
Don't Say Something You Regret Out Of Anger
There once was a little boy who had a very bad temper. His father decided to hand him a bag of nails and said that every time the boy lost his temper, he had to hammer a nail into the fence.
On the first day, the boy hammered 37 nails into that fence.
The boy gradually began to control his temper over the next few weeks, and the number of nails he was hammering into the fence slowly decreased. He discovered it was easier to control his temper than to hammer those nails into the fence.
Finally, the day came when the boy didn't lose his temper at all. He told his father the news and the father suggested that the boy should now pull out a nail every day he kept his temper under control.
The days passed and the young boy was finally able to tell his father that all the nails were gone. The father took his son by the hand and led him to the fence.
'You have done well, my son, but look at the holes in the fence. The fence will never be the same. When you say things in anger, they leave a scar just like this one. You can put a knife in a man and draw it out. It won't matter how many times you say I'm sorry, the wound is still there.'"
Culledfrom thoughtcatalogue.com
Celebrating Day Of The African Child
On June 16th, 1976, thousands of black students from Soweto, South Africa, took to the streets to protest the disparity in the education system that preferred quality education for the whites over the black population in Africa. Today, millions of children in Africa do not receive proper education and the onus just doesn't fall on the world leaders but on every privileged member of the society to acknowledge that they deserve quality education to eradicate poverty in the country.
In commemoration of the Day of the African Child  (DAC) 2021, the AUC Department of Political Affairs, Peace and Security and Save the Children International, join Africans throughout the continent in celebrating this special day.
 This presents a unique opportunity to reflect on the advances made towards realizing children rights as well as remaining challenges.
Today, under the theme: "30 years after the adoption of the Charter: Accelerate implementation of Agenda 2040 for an Africa fit for children", we recommit to scale up the promotion of the rights and welfare of children of Africa.
Despite important strides made by AU Member States in realizing children rights, grave violations continue to be committed against children in conflict settings. A study conducted by Save the Children in 2020 revealed that the number of children living in conflict zones is highest in Africa.
Among the six major violations committed against children is the attack on education, which continue to have devastating impact on students and teachers, with particularly debilitating long-term consequences for girls and women. In addition, female students and educators suffer horrific acts of violence within their schools and universities.
To remedy attacks on education, the Safe Schools Declaration is a key policy tool towards ensuring safe education for All. The COVID-19 pandemic and the consistent attacks on schools have had terrible impact on children across Africa, but it's been worse for girls whose risk for gender-based violence or child marriage has been exacerbated. Hence, it is the responsibility of all stakeholders to ensure access to education and all children continue to learn while schools are closed through inclusive distance learning, that every child is supported to return to school when it's safe to do so, and no child is left behind.
Governments and partners should also invest more in education to build back better education systems for all children.
The AUC Department of Political Affairs, Peace and Security will continue to offer commendable support for the safe school's agenda as evidenced by AU Organs' commitment to implement the Safe Schools Guidelines.
In addition, the AUC PAPS Department will soon launch the Africa Platform for Children Affected by Armed Conflict (AP-CAAC) to drive action within at all levels.
The advocacy efforts made towards the implementation of the Safe Schools Declaration and Guidelines at the national level has created the momentum. The upcoming Fourth International Conference on Safe Schools to be held in Abuja on October 25-27, 2021, with the AU as a co-host with Norway, Argentina, Spain, and Global Coalition for Protection of Education from Attack, is another opportunity to concretize action in support of safeguarding the future of African Children.
International Day of the African Child was set aside to raise awareness of the importance of education for children in Africa. The day not only honours the participants of the Soweto Uprising in 1976 but also raises awareness of the imperative need for improvement of the education of African children. International Day of the African Child is celebrated on the 16th of June every year to highlight the economic strifes suffered by these children and the adverse effects it has on their right to good education in the country.