NCS Empowers 119 Inmates In Gombe
The Nigerian Correctional Service (NCS), Gombe State Command, says about 119 inmates in two custodial centres in the state have undergone vocational skills training.
The state controller of NCS, Mohammed Sharu, said yesterday in an interview with The Tide source that the nine-month training was part of efforts to reform inmates.
Sharu said the command only trained those that were convicted from two years upward so that "they will not go back to criminality when they return to the society."
According to him, Gombe State has embarked on several skills acquisition trainings for inmates in block making, carpentry, plumbing, soap making, bag making, aluminum pot making, tailoring and electrical installation.
"In Billiri Maximum Security Custodial Centre, there are 89 inmates that will graduate soon, while in Gombe facility, 30 have graduated and have been discharged.
"We are now making efforts with the state and the local governments to assist them with starter packs for them to practice the skills acquired," said Sharu.
The correctional boss stated that the emphasis on vocational skills programme was in accordance with the mandate of the service to reform the minds of inmates as well as empower them, and also discourage them from drug use.
He said it was worrisome that most of the inmates in the five facilities in the state were youths between the ages of 21 and 30, and that 90 per cent of them were drug addicts.
"Most youths when they bring them to our centres, they are not in their senses. Some will spend two days and don't know where they are and after three days they realise they are in our facilities.
"Based on our interviews with them, over 90 per cent are on drugs; any form of drug they see they take and this is of serious concern to us and it is painful," he said.
In order to address the challenge of drug addiction, Sharu said his command was partnering the National Drug Law Enforcement Agency (NDLEA) to rehabilitate inmates through counseling.
He added that his command was paying a lot of attention to the reformation of minds to ensure that what sent them to their facilities was addressed before they finished serving their sentences.
"The new correctional act is laying more emphasis on reformation, rehabilitation and reintegration of inmates; that is the act is now paying attention to the reformatory acts of imprisonment than the punitive aspect," he said.
He commended the Federal Government for supporting the centres in the effort to ensure that youths are given the needed skills and training to become better citizens.
While stressing that the Gombe State government recently visited the Gombe Custodial Centre to assess the skills acquisition centre, Saru called for the support of the government towards the expansion of the centre.
The correctional boss advised youths to "forget about drugs if you want to make impact in life; drugs will lead you to crime and I am telling you there is no gain in crime."
Our correspondent reports that as at Tuesday, there are 1, 260 inmates in the five custodial centres in Gombe, Tula, Billiri, Cham and Bajoga facilities with 697 inmates awaiting trials.
Emirates Resumes Flights To Nigeria, June 23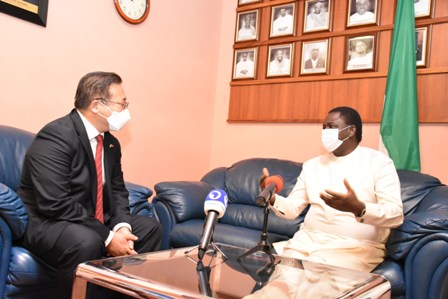 The UAE carrier, Emirates Airlines, would start carrying passengers from South Africa, Nigeria and India from June 23, the UAE Embassy said as it announced revised rules on Covid-19.
"We look forward to facilitating travel from these countries and supporting various travellers' categories," the airline said in a separate statement, yesterday.
"Residence visa holders from India and travellers from South Africa should've taken two doses of a vaccine approved by UAE authorities and carry RT-PCR tests reports from labs approved by the federal governments of these countries.
"But for Nigerians vaccination is not made mandatory but all other conditions apply.
"In addition to the above, Indians have to take a rapid PCR test four hours prior to their travel.
"While there are four vaccines in the UAE for use on eligible individuals against the Covid-19 infection – Sinopharm, Pfizer-BioNTech, Sputnik V and Oxford-AstraZeneca, it is unclear if the UAE has approved vaccines administered on Indian, South African and Nigerian citizens in their countries," it stated.
"All travellers are also required to present a negative Covid-19 test result taken within 48 hours before departure.
"UAE citizens are exempted.
"Only QR coded PCR test result certificates are accepted.
"All passengers must take a rapid PCR test four hours prior to flight departure.
"All passengers must undergo a PCR test on arrival at Dubai Airport.
"Passengers should undergo institutional quarantine until they receive their PCR test result, which is expected within 24 hours.
"Passengers should produce a negative PCR test certificate with a QR Code from labs approved by the Nigerian government.
"All passengers must undergo a PCR test on arrival to Dubai Airport.
"Transit passengers should comply with entry protocols of final destinations.
"Entry will now be permitted to residents who have received two doses of UAE-approved vaccines," the state said.
The revised procedures for travellers coming from the Republic of India, South Africa and Nigeria were issued by the Supreme Committee of Crisis and Disaster Management in Dubai.
They are effective from June 23, the Dubai Media Office said.
It said the updates are part of the committee's keenness to protect passengers and ease hassles for them without compromising on Covid-19 preventive measures, said the Chairman of the Supreme Committee, Sheikh Mansoor Al-Maktoum.
The Media Office announcement said the updated travel protocols are part of a normal process of revising and optimising preventive measures based on the latest local, regional and international developments.
Bagudu Vows To Lead Rescue Operation Over Yauri Abduction
Governor Atiku Bagudu of Kebbi State last Saturday vowed to lead the rescue operation of teachers and students abducted from the Federal Government College (FGC), Birnin Yauri, in Ngaski Local Government Area of the State.
Bagudu, who is also Chairman, Progressives Governors' Forum, spoke when local hunters visited him.
Reports had that the Chairman, Nigeria Governors' Forum (NGF) and Ekiti State Governor, Dr Kayode Fayemi, and his Jigawa State counterpart, Alhaji Badaru Abubakar, also paid a solidarity and sympathy visit on Gov. Bagudu.
Bagudu assured that some other governors and  stakeholders will join him in the ongoing search operations for the abducted students and staff of the school.
According to him, he will discuss with his colleagues and security agencies in this direction, so as not to jeorpardise the ongoing commendable operations to rescue the abducted students and staff.
He said: "But, we will go out there and like I promised, the day we will move out, I will not be in the office because we will join you in the field."
The Kebbi State Governor said that this would be done barring all consequences in a bid to rescue the abductees.
Bagudu argued: "It is not weapons that win wars, but it is the will that bad people cannot triumph and we will show that, we have enough will power .
"President Muhammadu Buhari and the security agencies have been doing the best they could with limited resources.
"But, we also need to mobilize, kit ourselves and take on these bandits. Our various scriptures as Muslims and Christians allow us to put our lives at risk in defence of our honour, property and our faiths.
"In what the bandits are doing, they have challenged all of us, so, we can't let them."
Bagudu asked the hunters to go back and fully mobilise, pending when he gets the necessary clearance from the security agencies, adding, "we will meet in the field."
The governor maintained that governors were not sworn in only to sit down in the office and work.
He stated that they are aware that one day they would be required to lead in the field, even though they are not military or police personnel.
He said that if hundreds of thousands of people can be mobilised during campaigns, same should be done now to join the search party.
He said: "What happened in Birnin Yauri should be the last straw. We should follow these bandits wherever they are and take them on."
Bagudu also described the abduction as very callous, even as he lauded the security agencies, management of the school, 'Yan Sakai and vigilantes for their heroic efforts since the bandits struck at the college.
Govs, Others Task Security Agencies On S'East
South-East governors and leaders have requested security agencies in the zone to respect the rights and privileges of all those living in the zone.
They made the call on Saturday in Enugu after a meeting attended by political leaders, socio-cultural organisations, clerics and the traditional leaders.
The Chairman, South-East Governors' Forum, Governor David Umahi of Ebonyi State, who addressed reporters after the meeting, condemned the killing of civilians in the zone by security agencies.
Umahi urged them to discharge their duties within the law and in accordance with their rules of engagement.
The Ebonyi governor reaffirmed the commitment of the region to the corporate existence of the country.
Umahi, however, said that such union must be based on love, mutual respect and equality of rights irrespective of one's religion, ethnic group, political inclination and creed.
The governor said the various secessionist groups from the region were not speaking for the people of the area.
He said the leaders from the zone had set up a committee to engage the agitators to allow elders of the region to address their fears.
"We have come out publicly on many occasions to speak against such agitations," he said.
Umahi said the meeting was in fulfilment of the June 11 agreement they had with a federal government delegation led by the Minister of Defense, Bashir Magashi, a retired major-general.
"Consequent upon that, we scheduled our own meeting today to discuss and articulate our positions.
"This is to enable us not only engage the presidential team but also engage our people over all burning issues," he said.
The governor said leaders from the region had noted with concern threats against the Igbo people by some groups in other regions.
"The meeting pleaded with leaders of other regions to note such threats to our people, address it and protect our people," he said.
He said that governors from the South-East had assured people from other ethnic nationalities of their safety in the region in spite of the prevailing circumstances.
The leaders condemned the killing of security personnel and burning of government infrastructure in the region.
He called on National Assembly members from the region to support the creation of state police in the ongoing efforts to amend the constitution.
The governor said the meeting endorsed the South-East joint security unit called EbubeAgu, and requested the personnel to work with statutory security agencies.
Those present at the meeting included Okezie Ikpeazu of Abia and Ifeanyi Ugwuanyi of Enugu.
Anambra and Imo states were represented by the deputy governors, Nkem Okeke and Placid Njoku respectively.
Others were the Senate Minority Leader, Enyinnaya Abaribe; Minister of Labour and Productivity, Chris Ngige; Minister of State for Mines and Steel Development, Uche Ogah, and President General of Ohaneze Ndigbo, George Obiozo.