Transcorp Acquires 45% OML 17 From Shell, Total, Eni
Heirs Holdings (HH), an affiliate of Transnational Corporation of Nigeria Plc (Transcorp) has acquired 45 per cent participating interest in Nigerian oil licence OML 17 from Shell Petroleum, Total and ENI.
The OML 17 comprises oil fields in Etche, Ikwerre, Obio/Akpor and Oyigbo local government areas of Rivers State.
This is contained in a statement signed by Mr Chike Anikwe, Acting Group Company Secretary, Transcorp made available on Friday in Lagos.
According to the statement, the transaction is one of the largest oil and gas financings in Africa in more than a decade, with a financing component of $1.1billion, provided by a consortium of global and regional banks and investors.
It said that the transaction was through TNOG Oil and Gas Limited (a related company of Heirs Holdings and Transcorp), which will have sole oparatorshio of the asset from Shell Petroleum Development Nigeria Plc, Total E&P Nigeria Limited and ENI.
Mr Tony Elumelu, Chairman of Heirs Holdings, said in the statement: "We have a very clear vision: creating Africa's first integrated energy multinational, a global quality business, uniquely focused on Africa and Africa's energy needs.
"The acquisition of such a high quality asset, with significant potential for further growth, is a strong statement of our confidence in Nigeria, the Nigerian oil and gas sector and a tribute to the extremely high-quality management team that we have assembled.
"As a Nigerian, and more particularly an indigene of the Niger Delta region, I understand well our responsibilities that come with stewardship of the asset, our engagement with communities and the strategic importance of the oil and gas sector in Nigeria.
"We see significant benefits from integrating our production, with our ability to power Nigeria, through Transcorp, and deliver value across the energy value chain," he said.
Elumelu further said: "I would like to thank Shell, Total and ENI, for the professionalism of the process, the Federal Government of Nigeria, the Ministry of Petroleum Resources, and the NNPC for the confidence they have placed in us," he noted.
Speaking on the investment, Mr Owen Omogiafo, the President and Group Chief Executive Officer, of Transcorp, said that the transaction was an evidence of the company's strategy to power Africa.
"This deal further demonstrates Transcorp's integrated energy strategy and our determination to power Africa."
Heirs Holdings was advised by Standard Chartered Plc, as Global Coordinator, and United Capital Plc, with a syndicate of lending institutions, including Afreximbank, ABSA, Africa Finance Corporation, Union Bank of Nigeria, Hybrid Capital, and global asset management firm, Amundi.
The deal also involves Schlumberger as a technical partner, as well as the trading arm of Shell as an offtaker.
According to the statement, OML 17 has a current production capacity of 27,000 barrels of oil equivalent per day and, according to our estimates, 2P reserves of 1.2 billion barrels of oil equivalent, with an additional 1 billion barrels of oil equivalent resources of further exploration potential.
NDLEA Intercepts 100,000 Bottles Of Codeine Syrup At Onne Port
The National Drug Law Enforcement Agency, (NDLEA), has intercepted and seized no fewer than 100,000 bottles of codeine syrup with a total weight of 15,325 kgs at the Onne seaport, Port Harcourt, Rivers state.
NDLEA Director, Media and Advocacy, Mr Femi Babafemi disclosed this in a statement issued at the weekend in Abuja.
Babafemi said that the 100mg illicit cough syrup with codeine packed in 500 cartons and concealed in a container marked MRKU 1565305, bearing made in India imported face masks, was discovered on Thursday, 10th June.
The syrup was found in a warehouse at the Onne port complex during a joint examination by officers of the Nigeria Customs Service, (NCS) State Security Service and the National Agency for Food and Drug Administration and Control, (NAFDAC), among others, he added.
He said that the seizure followed intelligence received by the NDLEA, as a result of which the container was detained and moved to the Customs' government warehouse within the port complex.
The NDLEA spokesman added that no importer or agent had, however, come forward to claim the container, but that efforts were ongoing to track the owner for further investigation and prosecution.
Babafemi quoted the Chairman, (NDLEA) retired Brig. Gen. Buba Marwa as hailing the synergy between various government agencies at the Onne port.
He charged them not to rest on their oars as they continued working hard daily, to keep Nigeria safe.
In particular, he commended the Commander, officers and men of the Port Command in the Rivers capital, and their Abuja airport Command counterparts, for their vigilance and commitment to the task of ridding Nigeria of illicit drugs.
"The damage 100,000 bottles of codeine could have done to our youths, if they had slipped through the port to our villages, towns and cities, is unimaginable. 146.95 kgs of khat could have done the same damage if allowed to go unto our streets.
"We'll continue to motivate our officers and men so that they can give their best in the discharge of their responsibilities across the country," he said
"We will ultimately, with the support of all our stakeholders and partners, win the battle against illicit drug trafficking and abuse", he said.
21st Century Business: Company Harps On Digital, Smart Office Technology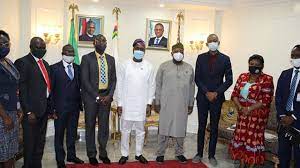 The General Manager, Sales and Marketing, Xerox H.S. Nigeria Limited, Mr Femi Abidoye, has stressed the need for digital printing press as well as Smart Office operations in order to adjust properly in the 21st century office documentation system.
Abidoye, said this during the company's business exhibition titled " Digital Printing Press, Smart Office Technology Products And Electronic Document  Management System 'EDMS' held in Port Harcourt recently.
He noted that the company has made the issue of work from home a reality.
According to him, the Covid-19 pandemic had actually challenged the people on the need to consider work from home a better business option, which he said the company was handy to provide solution.
The Xerox's General Manager, Sales and Marketing, further said that his company has been in the forefront of sermonising against analogue system to the digital system.
By: King Onunwor
Finima Seeks Host Community Rights From NLNG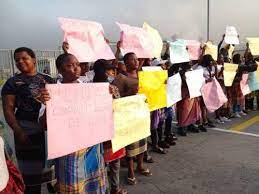 Finima community has decried neglect and poor corporate social responsibility by the Nigerian Liquified Natural Gas(NLNG), insisting that the gas multinational has failed to recognise them as host community.
The protest staged by the community was peaceful until some youths alleged to be from Bonny  attacked the protesters, unleashing violence and vandalising properties worth millions of naira in the area.
As at the time of writing the report, nine persons were wounded in the attack and were hospitalised.
Speaking on why the community held the protest, an elder of Finima Community, Mr Dagogo Lambeth Brown said for over 30 years the community was relocated for the LNG plant in  the early 90s, the community had been sided in terms of hosting rights.
Brown stated that despite having signed an MOU (Memorandum Of Understanding) with the community, NLNG has reneged on what he called legacy issues. Some of the legacy issues include resettlement of indigenes from their ancestral land now used as site for NLNG, environmental, health, education and employment.
He said, "as at today there is nothing to show for hosting LNG on our land…even we have internally displaced persons in Finima."
Woman Leader in the community, Mrs.Victoria Brown recalled that the community gave land to the federal government to build the multinational gas firm but today the firm has failed to honour and rexognise their host.
Another community woman leader, Mrs Kabaka Brown said many youths are not employed as part of the MOU.
" We have master and doctoral degree holders who have no jobs. The jobs they give us is cleaners and security men," she said.
On his part, Youth Leader and former Chairman of FinimaYouth , Ala Hart decried that NLNG has made billions from it soil while the community suffers.
Mr. Hart explained that the major issues of contention forms part of the Community Content Guidelines, which NLNG do not implement.
He noted that the Community Content Guidelines is part of the Nigerian Content Development Monitoring Board established by law.
The guidelines covers employment, environment, health and general welfare of host communities which the gas giant does not implement.
Reacting to the development, the NLNG General Manager, External Relations and Sustainable Development, Eyono Fatayi- Williams  said the multinational gas firm had always considered all stakeholders in the community  as partners.
" NLNG remains full committed to sustainable development in the kingdom, hinged on active community participation to drive initiatives and projects that positively impact the lives of the community," he added.
By: Kevin Nengia