We've Silenced APC, Wike Affirms …As Ekweremadu Commissions Abonnema Ring Road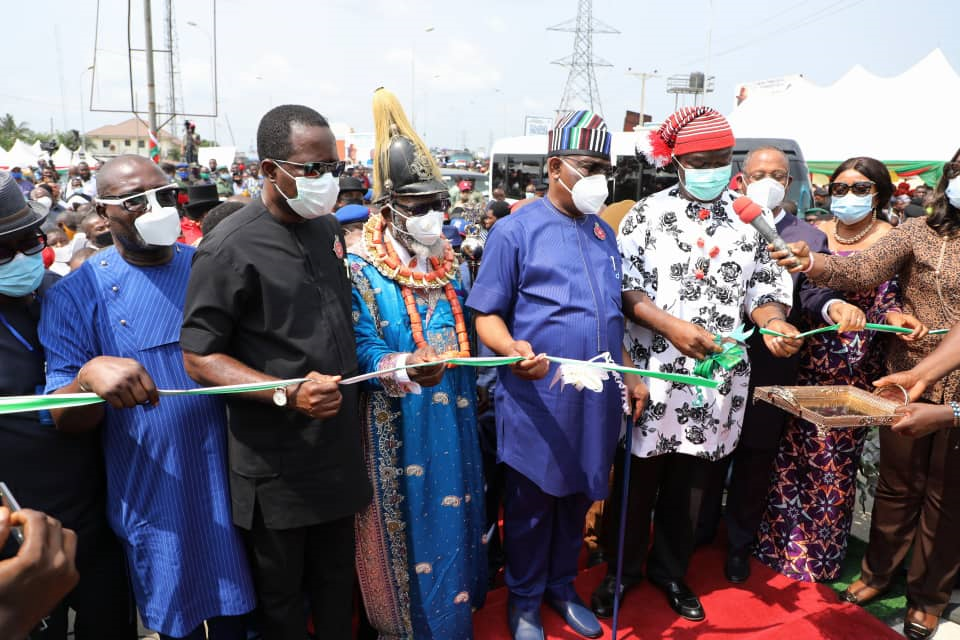 The Rivers State Governor, Chief Nyesom Wike says the non-stop inauguration of completed projects in the state has silenced critics, and members of the opposition party, the All Progressives Congress (APC).
Wike stated this at the inauguration of Abonnema Ring Road in Akuku-Toru Local Government Area of the state by the former Deputy Senate President, Senator Ike Ekweremadu, yesterday.
The governor said instead of the opposition to address how they can encourage their APC governors to roll out projects for inauguration as done by PDP governors, they were hiding under the guise of speaking for local contracting firms.
He described allegations that his administration has refused to empower local contracting firms to handle projects' construction as sheer falsehood.
Wike said some of the projects that have been inaugurated this week such as the Sime-Nonwa-Kira Road was handled by Rivers construction firm, Lubrik Construction Company, while the Abonnema Ring Road was done by O.K. Isokariari Construction Company.
According to him, his administration was mindful of empowering Rivers people, encouraging and trusting them to handle some critical projects because he believes in their capacity.
"Members of the All Progressives Congress (APC) have said I should mention those whom, locally, we have empowered. O.K. Isokariari Company is a Rivers company. They did Phase One of Okochiri Road. They have also done this Abonnema Ring Road.
"Lubrik Construction Company Ltd is a local company too. As we go on, we will begin to mention them. Our own is not to develop others without developing our own people. I am happy with the contractor. We will continue to engage you so that you will employ Rivers sons and daughters.
"You see how we have silenced them in the state. We commissioned projects until the 24th of December, 2020. We have started this year since 4th January, 2021. Let them tell their people to roll out their projects and call people."
The governor said the PDP was different from APC because it always keeps its promises to the people, delivers good governance and quality projects that satisfy the yearnings of the people.
"For us, as a party and government, whatever promises we make, we must fulfil them. We are not a party that promises and fail or gives excuses.
"We are a party that when we make a promise, we must fulfil the promise because we owe it to the people. That is why I have told our people, we have no choice, that the only hope this country has today is the Peoples Democratic Party (PDP)."
Wike said it was not the length of the ring road that matters but its importance to the people.
He stated that the ring road now serves as an alternative route in and out of Abonnema and Obonoma towns.
He announced that the adjoining mangrove would be dredged to provide land to the people of Abonnema and Obonoma that they can use for future development.
"Having done this, the next thing for us to do is sand-filling so that they can have land to build on. I know how important land is to them.
"I, therefore, direct the Special Adviser on Special Projects to meet with the Secretary to the State Government (SSG) to make sure we award a contract of sand-filling of Abonnema-Obonoma areas."
While commissioning the project, the former Deputy Senate President, Senator Ike Ekweremadu, said by executing projects in the hinterland other than the city, the Wike administration has demonstrated equity and justice to Rivers people.
He noted that the lessons to be learnt from the series of projects' inauguration in Rivers State by governors and other political leaders, should be for them to get inspired and replicate such development in their various states and at the national level.
"I believe it when I said that we should not be ashamed to say we are learning from our colleague on what to do. If we need help, we must seek help from whoever we can get help from, and that's the only way we can develop."
Ekweremadu also enjoined the Federal Government to explore the possibility of getting assistance from foreign countries that have such capacity in order to protect the sovereignty of the country, its people and democracy.
"Today, we are challenged as a country in terms of security. Out of sheer national pride, we have not been able to accept help and assistance from those who know better, who can help us to secure this country.
"This is an opportunity for me to call on our leaders, just like I am saying that other states should learn from Rivers State, we in Nigeria must also accept assistance from other countries in order to secure our borders, secure our democracy, secure our place and secure the citizens of this country. That is the only way to go. We must learn from those who have done better than us."
In his remarks, the Commissioner for Works, Hon Elloka Tasie-Amadi said prior to the construction of the phase two of the ring road, there was only one entry route into Abonnema.
He explained that the phase two of the project, which was initiated by Governor Wike administration, now serves as alternate route for the people.
Buhari Can't Abdicate Role On Security To Govs, Wike Insists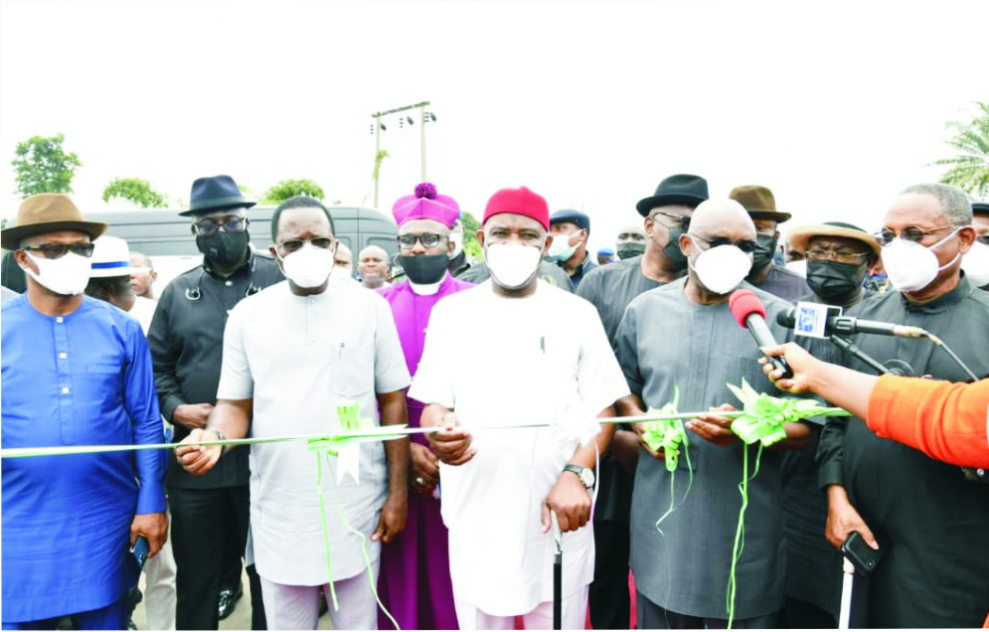 The Rivers State Governor, Chief Nyesom Wike says it is unconstitutional for President Muhammadu Buhari to shift the power of securing lives and property of Nigerians to the state governors.
According to Wike, Mr President is the Commander-In-Chief of the Armed Forces, and cannot declare that governors are in charge of security in their respective states.
Wike, while speaking at the commissioning of the 21-kilometre Odufor-Akpoku-Umuoye Road in Etche Local Government Area of the state, yesterday, said such position suggests that the APC-led Federal Government has lost grip of strategy of how to tackle the troubling security issues, and make the country safe for Nigerians.
"Mr President, you're the Commander-In-Chief of the Armed Forces of the Federal Republic of Nigeria. You appoint Inspector General of Police (IG), you appoint the Chief of Army Staff, Chief of Naval Staff, the Commissioner of Police (CP), Director of Department of State Service (DSS) and other heads of security. Which one do we appoint? How can people appointed by Mr. President be under me?"
He further said, "It is not only to borrow money for Nigeria that you're in charge. You must, also, be in charge in other things including security. Who signed order 10? Is it the governors? It is not when things are going bad concerning security and you say you're not in charge, and it becomes governors' responsibility."
Wike admonished the APC-led Federal Government to own up that it can no longer fulfil promises made to Nigerians, and also lead the country out of its present predicament.
According to Wike, when there is a failure, what makes leadership respectable is that such leader was able to accept its weakness publicly.
The governor pointed out that it was time Nigerians begin to compare the performances of PDP and APC governors in office.
He said, Mr. President was short of calling names of those governors who run to Aso Rock when they are supposed to stay in their states to see the needs of their states and people.
"Mr. President should have come out openly and said, my APC governors, stop worrying me. Go back to your states, and do your work. On that, I support him.
"Thank God, Mr. President knows that I am not one of those that go to visit him over one problem or the other. I, as the governor of Rivers State under PDP, you'll never find me there", he added.
In his remarks, the former Senate President, Senator David Mark, who performed the commissioning of the 21-kilometre Odufor-Akpoku-Umuoye Road, noted the excitement expressed on the faces of the locals who are directly impacted by the project.
He noted that even those in opposition in the state have become so weak to have anything more to say against Wike, who was not only performing, but has remained as a strong pillar of the PDP.
"I told him I'll be here because he loves his people. Politics and democracy is not about enriching one or two persons within a community. The Odufor-Akpoku-Umuoye Road is project that will outlive everybody in this place. The legacy you're leaving behind, Rivers people will not forget you. They will defend you, they'll protect you and they will stand by you always.
"That is why you can walk tall. That is why you can jump into your car and go anywhere because you've shown them love. You've brought democracy to the people. PDP as a party is happy to have you. You're one of the pillars of our great party."
Providing the description of the project, Rivers State Commissioner for Works, Elloka Tasie-Amadi said Odufor-Akpoku-Umuoye Road connects part of Etche land to Omerelu, Apani and Omademe communities in neighbouring Ikwerre Local Government Area, and onwards to Imo State.
"This is the very first time a road is being constructed here along this axis. Prior to this time, this was merely an earth Road with gullies all over; it was something best suited for only the toughest 4 by 4 off road vehicles. Today, through the instrumentality of the governor of Rivers State, we now have a 10.3m wide 21km long road. 7.3m of this is the carriageway, which is flanked on either side by a 1.5m wide shoulder.
"9.3km of drainage is constructed for water discharge and 32 road signs installed to aid drivers, commuters and enhance safety in the area. With this road will come all the socio-economic benefits associated with good transportation access", he added.
Buhari Flags Off NLNG Train 7 Construction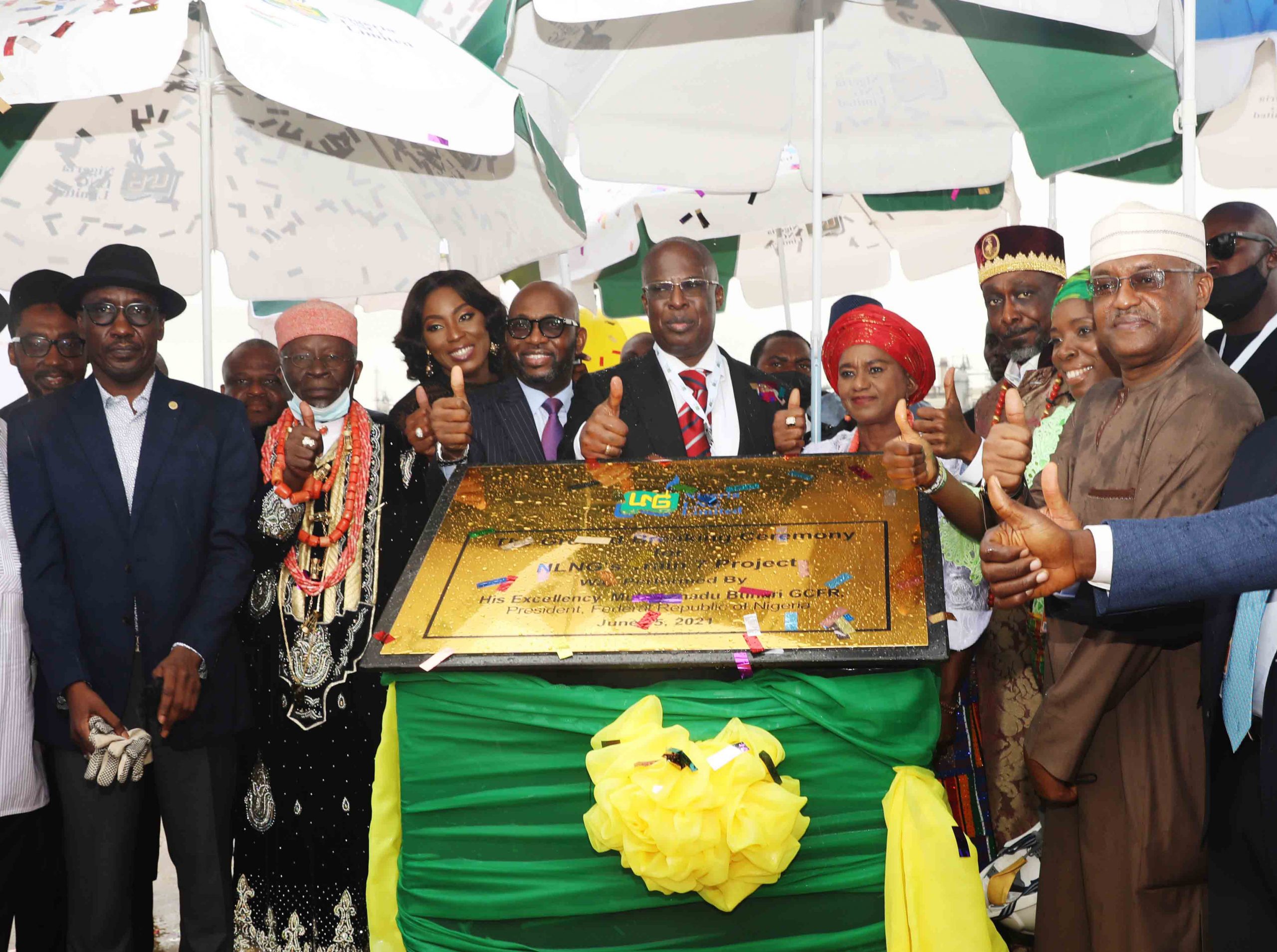 President Muhammadu Buhari, yesterday, charged that the Nigeria Liquefied Natural Gas (NLNG) Train 7 be delivered on time so that the Train 8 project can commence.
The President gave the charge at the virtual groundbreaking ceremony of the project in Bonny Island, Rivers State, yesterday.
The project is expected to increase NLNG's current six-train plant capacity by about 35% from an extant 22 Million Tonnes Per Annum (MTPA) to 30 MTPA.
The foundation stone was laid on behalf of the President, who flagged the project virtually, by the Minister of State for Petroleum Resources, Chief Timipre Sylva, supported by the Rivers State Governor, Chief Nyesom Wike, represented by Deputy Governor, Dr. Ipalibo Harry Banigo; the Amanyanabo of Grand Bonny Kingdom, King Edward Asimini William Dappa Pepple III, Perekule XI; Group Managing Director of Nigerian National Petroleum Corporation (NNPC), Mr. Mele Kyari; the Chairman, NLNG Board of Directors, Dr. Edmund Daukoru, NLNG's Managing Director/CEO, Engr. Tony Attah; and NLNG's Deputy Managing Director, Engr. Sadeeq Mai-Bornu, amongst others.
Other dignitaries who graced the event are the Executive Secretary of Nigerian Content Development and Monitoring Board (NCDMB), Engr. Simbi Wabote; NLNG board of directors; NNPC board of directors; distinguished senators; members of the company's Senior Management Team and other special guests.
Buhari urged the Board of Directors, management and staff of NLNG, the host communities, the Rivers State Government and other agencies of the Federal Government to continue to collaborate to ensure completion and eventual commissioning of the Train 7 project "safely and on time.
"As we flag off the Train 7 project, today, I look forward to the development and execution of more gas projects by the International Oil Companies (IOCs) and indigenous operators, and more trains from Nigeria LNG to harness the over 600trillion cubic feet of proven gas reserves we are endowed with.
"Let me use this opportunity to commend the shareholders of NLNG, the Federal Ministry of Petroleum, NNPC and the NCDMB and other stakeholders for very exemplary collaboration which has culminated in this great opportunity for Train 7.
"I want to thank the foreign investors for the confidence reposed in Nigeria, and assure all Nigerians and potential investors in the oil and gas sector that the Federal Government will continue to create the enabling environment in order to develop the sector and bring the full benefits of gas closer to our people," he said.
Going down memory lane, Buhari recounted that the story of Nigeria LNG was one he had been "passionately associated with during the formative years of the project."
He said, "As Minister of Petroleum Resources, I kicked off our first foray in LNG Business in 1978. At the time, it was already apparent that Nigeria was mainly a gas-rich country with a little oil!
"It, therefore, gives me great joy to see the organization transform from just a project in the early 90s to a very successful company with over 20 years of responsible operations and a steady supply of Liquefied Natural Gas (LNG), Liquefied Petroleum Gas (LPG) and Natural Gas Liquids (NGL) into the global market.
"This is proof that Nigeria has a great capacity to deliver value to the world by harnessing our natural resources".
The President, therefore, congratulated NLNG and its shareholders – NNPC, Shell, Total, and Eni for proving that a Nigerian company can operate a world-class business safely, profitably, and responsibly.
Praising the consortium for clearly setting the stage upon which Nigeria's vast gas resources would continue to grow well into the future, Buhari added that the focus of his administration is to boost the development of Nigeria's abundant gas resources, strengthen the gas value chain, develop the much-needed infrastructure and enhance safe operations in the sector as outlined in the National Gas Policy of 2017.
"Through the Decade of Gas initiative, which I recently launched, we will transform Nigeria into a major gas and industrialized nation with gas playing the key role as a revenue earner, fuel for industries, and necessary feed for petrochemicals and fertilizer plants," he said.
The President also expressed delight that the NLNG as the pioneer LNG company in Nigeria, has conscientiously proven the viability of the gas sector over the years, currently contributing about one percent to Nigeria's GDP.
"NLNG has generated $114billion in revenues over the years, paid $9billion in taxes; $18billion in dividends to the Federal Government and $15billion in feed gas purchase.
"These are commendable accomplishments by the company's 100 per cent Nigerian Management Team.
"With this level of performance, I can only hope that the company continues to grow to start with this Train 7 project but also positioning Nigeria to thrive through the energy transition," he said.
In his address, the Minister of State for Petroleum Resources, Chief Timipre Sylva, described NLNG as a "blessing to the nation", noting that it has positively complemented crude oil exploration by monetizing flared gas and yielding huge revenue to the nation and investors.
Sylva added that since NLNG became operational in 1999, the nation has recorded a drastic reduction in operational flare status from 65 per cent to 12 per cent.
"I boldly say that the groundbreaking of Train 7 is a guarantee to every stakeholder of more dividends in terms of further reduction in gas flaring, more revenue to the nation and shareholders, more job opportunities, especially at the construction phase and more social investments for the society," he said.
The Executive Governor of Rivers State, Chief Nyesom Wike, applauded the shareholders, NLNG's Board of Directors, and the company's management for keeping the Train 7 dream alive.
He said the state government considered the project as a key economic enabler and committed to supporting both the project and the company.
In his welcome remarks, the Group Managing Director of NNPC, Mr. Mele Kyari, commended the Federal Government for supporting the project and called for stakeholders' support for the project. He added that support for NLNG will lead to immense benefits to Nigerians.
Also speaking, the Managing Director and Chief Executive Officer of NLNG, Anthony Attah, said Train 7 will increase NLNG's overall capacity to 30million tonnes per annum (mtpa) from the current 22million mtpa, while further adding immense value to the nation and the people.
Attah noted that the project would stimulate the inflow of about $10billion FDI into Nigeria, create 12,000 direct jobs in Bonny Island and additional 40,000 indirect construction jobs.
He said the project would also further the development of local capacity and businesses through the 100 per cent in-country execution of construction works, fabrications and major procurement.
''Nigeria has ridden on the back of oil for over 50 years, but with this Train 7 project Nigeria is now set and I believe it is now time to fly on the wings of gas,'' he said.
The company took the Final Investment Decision (FID) for the project in December, 2019.
It proceeded to sign the Engineering, Procurement, and Construction (EPC) Contracts with the SCD JV Consortium, comprising affiliates of Saipem, Chiyoda, and Daewoo, on May 13, 2020.
Train 7 Project is in fulfilment of NLNG's vision of "being a global company, helping to build a better Nigeria."
The project, upon completion, will support the Federal Government's drive to generate more revenue from Nigeria's proven gas reserves and further reduce gas flaring in the country's upstream oil and gas industry.
The project is scheduled to span approximately five years.
NLNG is an incorporated Joint-Venture owned by four Shareholders, namely, the Federal Government of Nigeria, represented by Nigerian National Petroleum Corporation (49%), Shell Gas B.V. (25.6%), Total Gaz Electricite Holdings France (15%), and Eni International N.A. N.V. S.àr.l (10.4%).
It would be recalled that Buhari's flag-off of the project came amid uneasy calm trailing last Thursday's protest by the people of host Finima community.
The Finima picketing of NLNG in a peaceful protest was dislodged by suspected violent Bonny youths, resulting in injuries and burning of property belonging to Finima people.
The leaders of Finima community had, during the protest, vowed to fight on for recognition as lead host community and not to be treated as appendage of the larger Bonny Island.
The Spokesman for Finima and ex-Mobil staff, Dagogo Lambert Brown, told newsmen following the fracas, that led to nine injuries and property destruction that the alleged attempt by men from Bonny to intimidate them with violence would rather make Finima more determined.
"We are not fighting kingship issues or kingdom matters. We are not fighting Bonny people. We do not understand why they would come and attack their brothers who were conveying their justified grievances to the NLNG", Brown stated
Finima elders also called on Federal Government, the Nigeria National Petroleum Corporation (NNPC) and the NLNG to intervene before things get out of hand, vowing they would not surrender their right to their ancestral home acquired to mount the gas trains and other sensitive facilities on the island if they won't enjoy host benefits.
We've Spent N9bn To Upgrade RSUTH, Wike Confirms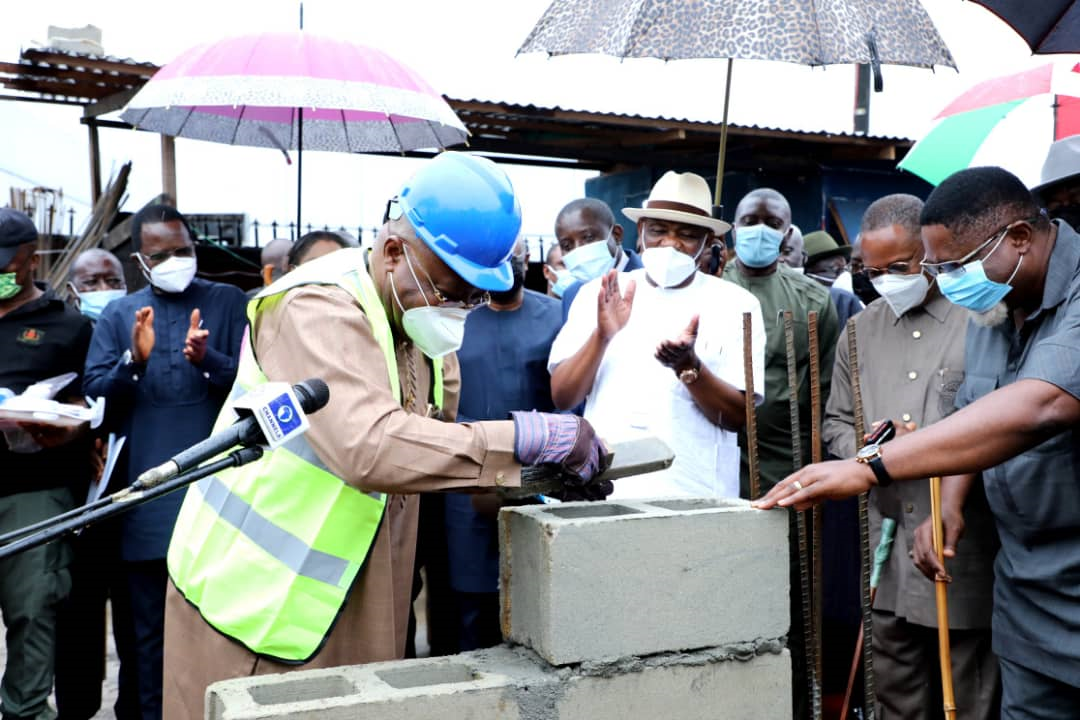 The Rivers State Governor, Chief Nyesom Wike, says his administration has spent N9billion in upgrading structures and installation of new equipment at the Rivers State University Teaching Hospital (RSUTH).
He said the fact that 40 per cent of the 2021 budget of the state is dedicated to provision of quality healthcare delivery was a further demonstration of the priority placed on the sector.
Wike made the explanation at the foundation laying ceremony for the construction of a Renal Centre at RSUTH, last Friday.
The governor said he made promise to Rivers people that the best would be provided to them in all sectors of the society within his capability because of the mandate they gave to him.
"As we came on here, I just looked around and I see the changes in this teaching hospital. I can say that we have put not less than N9billion in this teaching hospital.
"If you look at the budget, the health sector alone, what it's taking from the Rivers State Government is not less than 40 percent of the 2021 budget."
Speaking further, Wike said the state government cannot afford to implement free medical service programme in the present economic circumstance.
While dismissing the request for a subvention for RSUTH, Wike, however, commended the chief medical director and his team for their commitment to turnaround the fortunes of RSUTH.
"I have never seen anywhere that health services can be totally free. They're telling me that people who come here can't pay. I have never declared that this state is going to take over the health fees of anybody."
Also speaking, the former Minister of Transport, Dr. Abiye Sekibo, who performed the flag-off, noted that Wike's achievements in the health sector in particular, surpass what former governors of the state had done.
Sekibo said that the governor has given equal attention to every section of the health sector by providing complete health infrastructure that was positioning the state as a medical tourism destination in Nigeria.
Earlier, the Rivers State Commissioner for Health, Prof Princewill Chike, lauded Governor Nyesom Wike for his interest in the health of Rivers people.
He noted that the renal centre, when completed, would become another landmark development project in the health sector that would handle and manage all kidney-related ailments.
In his remarks, the Chief Medical Director of the Rivers State University Teaching Hospital, Dr. Friday Aaron, commended Wike for approving the renal centre.
Aaron explained that chronic kidney disease was a major burden globally with estimated 14 million cases in Nigeria.
According to him, over 240,000 of these cases require renal replacement therapy in the form of dialysis and renal transplant.
The CMD said the building that would house the centre was expected to be completed in six months and consists of two floors.
The ground floor, according to him, would house the haemodialysis unit with eight haemodialysis machines.
He further explained that the first floor of the centre would house the surgical component where most of the sophisticated equipment for kidney transplant would be installed.
Aaron said Wike has released the funds required to build, equip the centre as well as for the training of personnel locally and internationally.