#EndSARS, SWAT Campaign May Lead To War, Afenifere Warns …CUPP, PDP Caution FG Over Use Of Opposition Thugs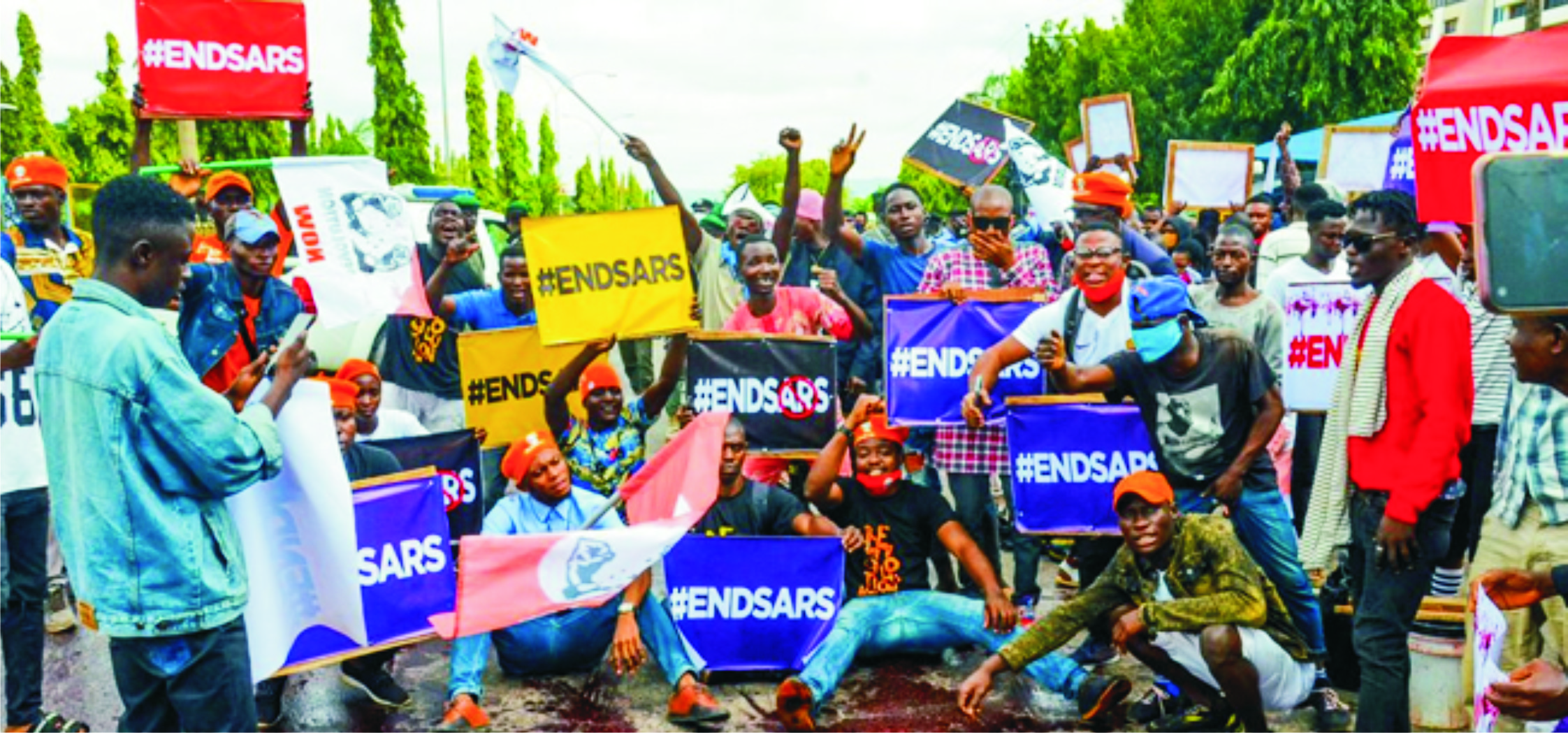 The Yoruba socio-political organisation, Afenifere, yesterday, warned of an implosion in Nigeria which the government may not be able to handle.
Afenifere's spokesman, Yinka Odumakin, issued the warning while condemning the ban on street protests in Abuja by the Federal Capital Territory Authority.
Speaking with newsmen, Odumakin warned that such actions may lead to a serious crisis in Nigeria.
According to Odumakin, "If they are very sensible they should know that such postures can't resolve this matter now.
"Such postures had brought this issue this far, the matter now is not about SARS but about the highhandedness of government, SARS is just the expression.
"Recall that a few weeks ago, labour was supposed to protest but they bought them off and they sold out thinking that was the end of it but anything can ignite it.
"This is an injury-time for the Nigerian ruling class, they have pushed Nigerians to the edge of the precipice and this thing can explode anytime.
"I have always told people that the fight between chickens can cause serious war in Nigeria, so this is not just about SARS they are only using this as an avenue to express their anger over the governance of Nigeria. And this same thing they are doing, sending thugs after protesters while placing bans on demonstration. They should learn from the Arab springs, just one man set himself ablaze and it became something else."
On the protests ending in a revolution, Odumakin said: "Well, depending on how they handle it, if they continue with this posture it will get out of hand.
"All these actions those in authority are taking may escalate the crisis and they won't be able to handle it. The ruling class is so fragile now because people are not happy with them."
However, the Coalition of United Political Parties (CUPP), has rejected the ban on protest and use of armed thugs to attack protesters in the ongoing nationwide protests to end the Special Anti-Robbery Squad (SARS) and the newly set up Special Weapons and Tactics (SWAT)
CUPP described the move as provocative, primitive, barbaric, autocratic, and illegal, and an act capable of igniting more confusion.
They described the move as a clear sign that the government was not ready to end brutality against citizens.
The opposition warned the All Progressives Congress (APC), government to respect the constitutional rights of patriotic young Nigerians to protest and not hide under the cover of Covid-19 regulations that they never obeyed to attack protesters.
The coalition further advised the Chief of Army Staff, Lt-Gen Tukur Buratai, not to drag the Nigeria Army into politics or deploy soldiers against innocent civilians.
The political parties urged Buratai to show force against Boko Haram and bandits that have taken over parts of the country, including the village of President Muhammadu Buhari and not innocent protesters.
CUPP called on the government to focus on ending brutality of security forces and insecurity and the alleged corruption-ridden administration.
"Your clampdown and use of armed thugs on protesters will backfire, learn from the mistakes that consumed brutal regimes of Keita of Mali, Gaddafi of Libya, Mubarak of Egypt, Idi Amin of Uganda etc, who deployed armed forces against Innocent Protesters," CUPP's statement signed by its Spokesman, Imo Ugochinyere, said.
"That statement from the Nigerian Army threatening peaceful Nigerians is a joke taken too far. The protests are wholly a civil action and do not in any way concern the Army.
"Or is a day like this why the President has refused to sack the Service Chiefs? Nigerians are in shock and the entire world is amazed that we could degenerate so quickly to such pre-civilization era.
Meanwhile, the opposition Peoples Democratic Party (PDP) leadership, and the PDP Senators' Caucus have thrown their weight behind the #EndSARS protest, saying that government should adequately compensate victims of police brutality as a way out.
The National Chairman of PDP, Prince Uche Secondus, stated this after over one-hour closed-door meeting with the PDP Senators' Caucus, yesterday in Abuja.
World Bank Report Exposes Buhari's Lies, PDP Affirms
The Peoples Democratic Party (PDP) said the report by World Bank that 7 million Nigerians have been pushed into poverty in the last year, has clinically belied the integrity posturing of President Muhammadu Buhari and the All Progressives Congress (APC).
The opposition party said the World Bank report came in the face of the recent claims by President Buhari that his administration has lifted over 10 million Nigerians out of poverty in the last two years.
The PDP asserted that the report by the World Bank has further vindicated its position that President Buhari runs an uncoordinated and clueless administration that thrives on lies, false performance claims, deceit, and perfidious propaganda.
The statement added that, "Nigerians can now clearly see why the APC and President Buhari's handlers are always in a frenzy to attack our party and other well-meaning Nigerians whenever we point to the poor handling of the economy and on the need for President Buhari to always be factual on pertinent issues of governance in our country.
"Unfortunately, it indeed appears that Mr. President enjoys living in denial while watching millions of Nigerians go down in abject poverty, excruciating hunger, and starvation as our country now ranks 98th out of 107 in Global Hunger Index under his watch.
"Otherwise, why would Mr. President claim that his administration has lifted over 10.5 million Nigerians out of poverty while official figures even from the National Bureau of Statistics (NBS) show worsening poverty rate with 142.2% growth in food inflation and over 82.9 million Nigerians being unable to afford their daily meals due to the failure of the administration to take practical steps to grow and protect the food sector?
"Under President Buhari, Nigerians are now subjected to the worst form of poverty and hardship, with collapsed purchasing power, occasioned by a voodoo economy management that has wrecked our productive sectors and pummeled our naira from the about N167 to a US dollar in 2015 to the current over N500 per dollar.
"It is unfortunate that Mr. President will choose to always bandy fictitious figures and false performance claims, when he has, in a space of six years, destroyed our national productivity and reduced our country to a beggarly nation, a laughing stock and object of pity among the comity of nations.
"The PDP invites Nigerians to note President Buhari and APC's similar false performance claims in other critical sectors, including power, transportation, road infrastructure, health, education, agriculture, security, aviation among others, where the Buhari administration has been bandying fictitious figures with no tangible project to point at.
"Our party counsels President Buhari, his handlers as well as their party, the APC, to note that Nigerians have seen through their deceitful clams.
"The PDP, once again, urges Mr. President to end his false performance claims and get more competent hands to manage the economy before every Nigerian is turned into a street beggar."
Amnesty Kicks As FG Pushes Social Media Regulation
Amnesty International has strongly opposed the call by the Nigerian Government to regulate the use of social media and online broadcasters.
It would be recalled that the Minister of Information and Culture, Lai Mohammed, had urged the House of Representatives to include regulation of Twitter in the National Broadcasting Commission Act.
The minister made the call at the public hearing on a bill to amend the NBC Act organised by the House Committee on Information.
"I will want to add, that specifically, internet broadcasting and all online media should be included in this because we have responsibility to monitor content— including Twitter," he said.
Reacting, Amnesty International, in a tweet via its Twitter account, yesterday, kicked against the motion.
It noted that when social media is regulated, authorities can arbitrarily have powers to shut down the internet and limit access to social media.
It further noted that criticizing the government will be made punishable with penalties of up to three years in prison.
"When social media is regulated, authorities can arbitrarily have powers to shut down the Internet and limit access to social media.
"Criticizing the government will be made punishable with penalties of up to three years in prison.
"Regulating social media in Nigeria could be easily abused to punish critics of government policies and actions, and anyone who asks difficult questions could find themselves liable for 'diminishing public confidence in the government.'
"Seeking a law to prohibit abusive, threatening and insulting behaviour is open to very wide interpretation. This section would pose a threat to critical opinion, satire, public dialogue and political commentary," the statement added.
Corruption Increases Cost Of Business, TCN Boss Tells Staff
The Acting Managing Director/CEO of the Transmission Company of Nigeria (TCN), Engr. Sule Abdulaziz, has urged staff of the company to join the fight against corruption, warning that corruption increases the cost of doing business.
Abdulaziz, who stated this during the inauguration of the Anti-Corruption and Transparency Monitoring Unit (ACTU), in TCN, yesterday, in Abuja, said corruption needs to be properly checked.
According to him, "Corruption as we know it, today, broadly covers all forms of abuse of office for private gain.
"In any form, corruption increases cost of doing business, undermines revenue-generating capacity, weakens fiscal regimes, discourages foreign investments, breeds distrust between government/organizations and their customers, as well as puts credibility at stake.
"Corruption equally increases the cost of governance, celebrates mediocrity, discourages creativity and creates an atmosphere of uncertainty and insecurity.
"In Nigeria today, we all know that corruption has continued to negatively impact our society in several ways. Corruption needs to be properly checkmated, and where this is effectively done, accountability is entrenched and goals more readily achieved with resultant growth of the company, organization, and the society as a whole.
"No matter how we look at corruption, it is not ethical and we must all rise to the challenge of fighting it by saying no to any form of corrupt practice", he stated.
The TCN boss assured the members of the anti-corruption unit that the management would give them all the needed support to succeed, charging them to put in place right processes to curb corruption in the company.
"The committee must note however that achieving success in discharging this responsibility must be based on deliberate and planned effort to fight as well as prevent corruption. Every one of you must therefore believe in the struggle, with keen interest in its success", he added.
In his remarks, Independent Corrupt Practices and Other Related Offenses Commission (ICPC) Chairman, Prof Bolaji Owasanoye, explained the ACTU was an in-house mechanism set up by the Federal Government to prevent corruption within Ministries, Departments and Agencies (MDAs).
Owasanoye, who was represented at the event by a director in the ICPC, Demola Bakare said, "In view of the important role this organization plays in the power sector, it is expected that the staff of the organization would display high level of professionalism and integrity in the discharge of their duties.
"The ACTU would assist management in promoting this principle if it is allowed to effectively discharge its duties".
He, however, stressed that ACTU is not a parallel authority to management, noting that "rather they are to work closely with management to build a reputable organization".
Speaking after the unit's inauguration, the Committee Chairman, Isa Lawal Mohammed, thanked the TCN management for trusting the members with the task, assuring that they would do their best to ensure that goals for setting up the unit are achieved.
Other members of the committee include, O. C. Ochije; Dahiri Gabdo; Ndidi Mbab; Abdullahi Balarabe; Adetola E.O; Bashir Hassan, Mohammed Adama; Abba Godfrey; and Okoro Raymond.