Landmark Achievements By Mr Projects
The Governor Nyesom Wike-led administration has recorded so many landmark projects and dividends of democracy in its five years of existence. It has delivered so much dividends of democracy to its teeming admirers and the entire good people of the Rivers State. As it is generally said, one good turn deserves another and if somebody does what is good – you encourage him by giving him a pat on the back. And by showing gratitude so that the person will continue in the good work, to do more.
Governor Nyesom Wike government has scored so many first in the giant strides he has achieved so far for the state. Especially in terms of infrastructural developments across the state and its environs particularly in the areas of roads, healthcare delivery system, education, security, trade and commerce as well as tourism etc.
In the areas of roads rehabilitation and roads construction Mr. Projects stands tall especially in transforming . the already congested state headquarters, the garden city to a more modern city. The state government is simultaneously constructing about five flyovers, one at Garrison junction another at Rumuokoro intersection, yet another from first to second Artillery junction at Rumuogba and the Rumuola flyover which was a single carriage way. But is now being expanded to dual carriage way to accommodate more vehicular traffic on the PH – Aba Express Road axis also the GRA intersection flyover is ongoing.
All these is intended to ease congestion and vehicular traffic flow in the metropolis as well as causing the smooth and free movement of cars, buses, trucks and passengers / pedestrians.
Also recently, the state government rehabilitated some roads in the state and its environs. And awarded the construction of Woji – Aleto – Alesa Refinery road to help open up these communities that make up that area. As well as serve as a link road for vehicular traffic coming from the refinery through Woji to Trans – Amadi axis and back. This will go a long way in making vehicular traffic flow and movement easier in the area.
The unprecedented success scored in the area of security and peace is a major case in point. Of a truth, there is peace and harmonious co­existence in the state and its various communities. Incidences of criminality like cult clashes and killings or militancy has been reduced to its barest minimum. Crime in general including kidnapping, armed robbery, rape, 419 etc. has been relegated to the background. No wonder businesses and commercial activities can thrive and projects can carryon unperturbed because of peace and security in the state.
In addition, the government deserves a pat on the back for its cordial relationship with the police and all the various security agencies in the state for working in tandem with them. Also there is mutual co-operation and understanding between the state government and security operatives to stem the tide of insecurity in the state.
Meanwhile, in the area of tourism, night life in Port Harcourt and its environs is gradually picking up, if not for the Covid 19 pandemic scourge. The Port Harcourt Pleasure Park built by this administration with various fun sport facilities and Amusement Park, including a cinema is a must for families, youths, children and a tourists destination. Especially for tourists and visitors to the garden city for the first time. This is coupled with the various shopping malls and event centres in the different parts of the city. For those who would like to shop and unwind at the various relaxation spots. In relation to that are the colourful eateries and restaurants at different parts of the city with mouth watering delicacies and cuisines, all these for their enjoying pleasure.
Moreover, in the area of trade and commerce the state government constructed an ultra – modern vegetable and fruit garden market in the city near Kaduna Street which was earlier gutted by fire. This beautiful edifice has added elegance to the skyline and landscape of the garden city. It has made shopping – buying and selling more convenient and comfortable whether it is sunny or when raining. Also it has improved the sanitation and cleanliness of the market and the environment. Likewise there has been increase in shopping malls and shopping centres in the state. More investors are being attracted to the state because of government business friendly policies.
Similarly, in the aspect of education serious rehabilitation and renovation work has been carried out on so many primary and post – primary schools in Port Harcourt city and the various local government areas. There is better funding for the Rivers State University with more projects awarded to enhance learning and the overall development of the institution. The Ignatus Ajuru University, Rumuolumeni is also being given adequate attention in terms infrastructure and staff development.
The renamed Elechi Amadi Polytechnic is witnessing phenomenal infrastructural growth in terms of physical development as well as getting most of its courses accredited by the NBTE – National Board for Technical Education. Likewise the Ken Saro Wiwa Polytechnic, Bori is being funded and repositioned for the challenges of the time.
Additionally, healthcare delivery system has improved in the state especially at the tertiary level with the addition of a teaching hospital to the Rivers state University Medical School. A new State of the art, five star magnificent hospital, with cutting edge technology facilities has been established. To train doctors, nurses and other health care professionals both at the undergraduate and post-graduate levels including carrying out research and development.
Also to act as a referral centre for many advanced cases of diseases and sicknesses that requires specialist attention and care not only in the state but even from outside the state.
Furthermore, in the area of primary health care and secondary health care, there has been massive improvement in facilities and equipment, including availability of drugs not only in Port Harcourt but in the various local government areas. Most of their structures have been rehabilitated and renovated to give them a face lift and to make them conducive for health care delivery.
Indeed, Mr. Projects scored many highs, in the state's handling and management of the coronavirus pandemic. He established isolation centres and insisted that the Covid 19 protocol must be observed by persons coming into the state by land, sea or air. He placed a ban on all borders sea, land and air which is best international practice to protect Rivers State and its citizens. The government also imposed curfew on Port Harcourt and its environs by restricting movement and placing a ban on markets and other public or social gatherings. These restrictions and bans and adherence to best practices helped curtailed and reduced the rate of Covid 19 cases and its spread in the state.
In addition, Mr. Project's humane disposition came to play with the distribution of food stuffs and other palliatives to the citizens and good people of Rivers State.
Kudos and salute to a quintessential gentleman, an administrator cum politician par excellence. A worthy and distinguished son of Rivers State and Nigeria. His Excellency, Mr Projects you are nature's gift to the state and nation. Keep on with the good work as posterity beckons.
Ayooso, a journalist, resides in Port Harcourt.
The Effect Of Gas Flaring On Climate Change
Climate in simplicity of terms is the average whether at a particular place, incorporating the features such as temperature, precipitation, humidity and windiness.
The phenomenon Climate Change is a cyclic modification that occurs in the Earth's climate due to the changes in the atmosphere and also the interactions between the atmosphere and other chemical, biological, geologic and geographical structure within the earth planet.Scientists have been able to study climate change by looking at tree cores, atmospheric composition, sediment cores, ice cores and through observation.
The atmosphere is a fluid that is constantly in motion. Both its physical properties, rate and direction are influenced by the variety of factors such as, solar radiation, ocean currents, geographic position of the continent and atmospheric chemistry. All these factors change through time. Some factors change in short periods of time while others change over very long timescale. As stated earlier, many factors can be responsible for climate change, one of such factors is the focal point of this article.
This article addresses the concept of climate change within the set of Gas Flaring, how this human activity constitutes to the trend in the earth system as well as possible solutions in view.
Gas flaring is an activity of man which has become an enormous contributor to climate change. It is loosely defined as the burning of natural gas.
When natural gas is produced as a byproduct of oil extraction, two options are available which are flaring or venting. Venting is a controlled release of unburned natural gasses into the atmosphere. During venting operations, methane, carbon dioxide, volatile organic compounds and gas impurities are released. Conversely, flaring is the controlled burning of natural gasses into the atmosphere during production process.
Gas flaring is a major operation carried out by oil and gas production companies and has become a major contributor to the mayhem of global warming.
Gas flaring is a high-temperature oxidant process used to burn combustible components, mostly hydrocarbons of waste gases from industrial operations. Emission data shows that Natural gas, propane, ethylene, propylene, butadiene and butane constitute 95% of the waste gases flared.
During combustion reaction, several intermediate products are formed and eventually, most of them are converted to CO2and water. Some quantities of stable intermediate products such as carbon monoxide, hydrogen and hydrocarbons then escape as emission.
Gases flared in refineries, petroleum production, and chemical industries, are composed of low molecular weight with High Heating Value.
Flaring contributes significantly to the greenhouse gas (GHG) emissions with negative impacts on the climate. These greenhouse gases prevents a significant amount of heat from the sun to escape into space rather these gases absorb some of the heat and cause a re-radiation. This radiation eventually increases the atmospheric temperature that causes a warming in the Earth's surface. It is recorded that 1 ton of flare released into the atmosphere is equivalent to 3 tons of greenhouse gas emission. This warming, 'Global Warming' then results in a variation in the climate, otherwise known as Climate Change.
According to Engr. OsonduOpara, a Front-end Engineer at the National Liquefied Natural Gas Nigeria (NLNG), gas flaring cannot be completely eradicated or eliminated because combustion must take place when pressure builds else the result will be an explosion. It is rather feasible to mitigate the emission of the hydrocarbons released into the atmosphere. In the same vein, Engr. Dr. EmekaOkafor, a lecturer from the Department of Petroleum and Gas Engineering in the University of Port Harcourt, also asserts that 'gas must be flared'.
Apparently, gas flaring is an unavoidable human activity carried out by Petroleum and Gas Production Companies. If this is the case, it is a phenomenon that has come to stay until technological measures which creates an alternative to flaring emerge. Of course, venting is still not a preferable option because it still does emit greenhouse gases into the atmosphere and environment.
We hope that the COP26, will come up with better measures to curb this menace of Gas Flaring and its impact on to global warming resulting to Climate Change.
Sources:
Engr. OSonduOpara; Osondu.Opara @nlng.com
Engr. Dr. Emeka Okafor: emeka.okafor @uniport.com
Aberetogha is an Editor with Zenger. news and resides in Bonny, Rivers State.
By: Augusta Lolo Aberetogha
HIV/AIDS: As 2030 Draws Near…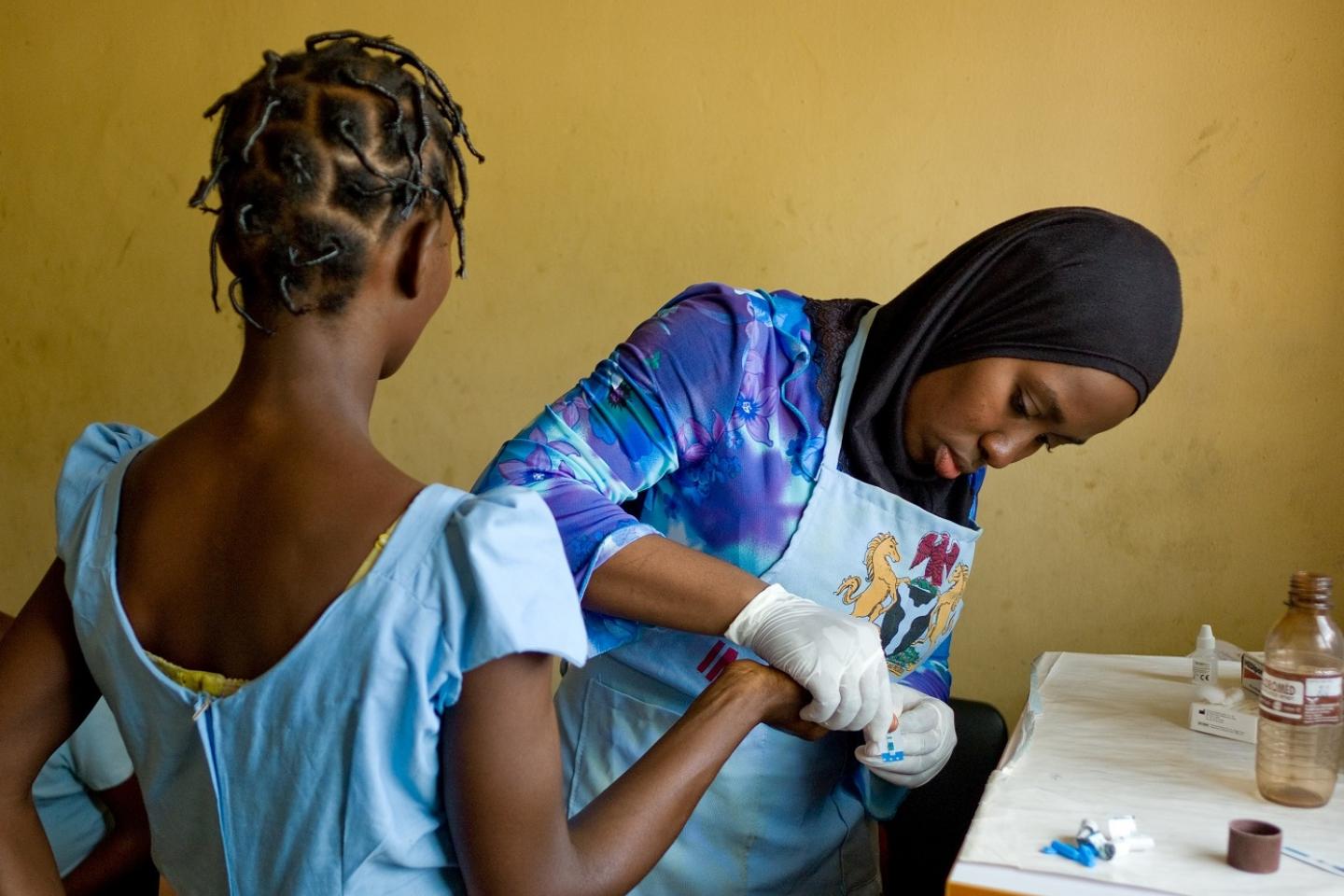 Years ago, the immediate past National Coordinator of the Network of People Living With HIV/AIDS In Nigeria (NEPWHAN), Victor Omoshehin, expressed fear over the ability of Nigeria to meet the United Nations' "Vision 2030" of eliminating HIV in the country.
His fear stemmed first from the fact that Nigeria relies more on international donor agencies in terms of finance for HIV/AIDS-related programmes, and also the seeming inability of the Federal and State Governments to take up the responsibility of fully financing HIV/AIDS programmes. 
There was also the gradual withdrawal of their finances by such international donor agencies that were of the belief that, given the length of period they had spearheaded HIV/AIDS preventive programmes in the country, government at various levels should have been in position to own-up the processes.
Omoshehin summed up his fear thus: "If the Government of Change will not increase the domestic funding for HIV, then Nigeria cannot own up to the responsibility of achieving the Vision 90:90:90 by 2030 and we cannot end AIDS by 2030".
During a visit to Nigeria from 7th to 10th of February, 2016, the then Executive Director of the United Nations Programme on AIDS (UNAIDS), Michel Sidibé, met with Nigeria's Vice-President, Yemi Osinbajo, and urged the Federal Government to increase its support for the Maternal, Neonatal and Child Health Week, with the aim that all pregnant women are tested for HIV by the end of 2016, and all women who test HIV-positive have immediate access to antiretroviral therapy.
The Vice President told Sidibé, during the meeting, that Nigeria was making huge budget allocations for social investment programmes, in part, to increase access to health care and help end the AIDS epidemic. 
How much this amounts to, and to what extent such budget was truly executed on the purpose it is meant for was not clearly stated. This was in the face of widespread allegations of non-accountability of funds allocated to the fight against the HIV/AIDS epidemic.
One question that readily comes to mind at this juncture is if anything else has been done towards changing the narrative for the better, especially in the light of the emergence of the Covid-19 pandemic which many believe has distracted attention from HIV.  
In a recent interview with newsmen, the Director-general of the National Agency for the Control of AIDS (NACA), Mr. Gambo Gumel Aliyu, stated that the focus on Covid-19 has not affected the mandate of NACA in its quest to check the HIV/AIDS trend in Nigeria.  
According to him, "NACA has been up and doing in the fight against HIV/AIDS by implementing our mandate. We have done extremely well during the pandemic and have recorded huge results we had never recorded before. We are passionate and optimistic to achieve our mission to the letter".    
While noting that HIV/AIDS in Nigeria is largely funded by international donor agencies, Aliyu explained that "Nigeria is contributing less than 10 per cent at the moment, and this contribution is what we are increasing on an incremental basis every year.    
"We have this agreement with them (donor agencies) that, every year, we shall take an additional 50,000 people living with HIV/AIDS from the total number they are treating to add to our number," he said. 
On June 8, 2021, the United Nations' General Assembly held a high-level meeting on AIDS in which United Nations member-states adopted a set of new and ambitious targets with a pledge to end all inequalities faced by communities and people affected by HIV towards ending AIDS.
Towards this end, they agreed to reduce the annual number of new HIV infections to under 370, 000 and AIDS-related deaths to 250, 000, eliminate new HIV infections among children, end paediatric AIDS and eliminate all forms of HIV-related discrimination by 2025. They also committed to providing life-saving HIV treatment to 34 million people by 2025.
It is believed that if the international community reaches the targets, 3.6 million new HIV-infections and 1.7 million AIDS-related deaths will be prevented by 2030. To achieve this, the political declaration calls on countries to provide 95% of all people at risk of acquiring HIV within all epidemiologically relevant groups, age groups and geographic settings with access to people-centered and effective HIV combination prevention options. 
It also calls on countries to ensure that 95% of people living with HIV know their HIV status, 95% of people who know their status to be on HIV treatment, and 95% of people on HIV treatment to be virally suppressed. 
This target, 95:95:95, is an improvement from the previous ambitious target of 90:90:90, but has the same goal of either eliminating HIV, or reducing its spread to the barest minimum.
The question is what does this mean for Nigeria, knowing that towards the previous target of 90:90:90 the country's efforts at meeting the target took a nosedive at some point in terms of funding, especially after international donor agencies started reducing their funding, leading to gradual pulling out.
Already, several HIV/AIDS programmes aimed at checking its trend have either gone moribund, or ignored because donor agencies no longer sponsor them. This is in the face of rampant allegations of deep-rooted fraud by way of diversion of monies meant for HIV/AIDS interventionist activities amounting to billions of Naira.
Meanwhile, the NACA DG last October stated that Nigeria needed the sum of $2.4 billion to control the spread of HIV in the country for the next three years. He explained that the amount is an estimation needed "to reach where we have targeted to be".
According to him, the amount will enable Nigeria "to achieve the 95-95-95 initiative of the United Nations, where 95 per cent of people living with HIV know their HIV status; 95 per cent of people who know their status are on treatment; while 95 per cent of people are on treatment with suppressed viral loads, and we are on track". 
He noted that "United States Government alone is investing, this year, over $400,000,000, global fund is investing over a $100,000,000 this year and the government of Nigeria is contributing its part". 
Explaining Nigeria's contributions further, Aliyu said "over the last one year, the Nigerian government invested about a $100,000,000, and 50, 000,000 persons are needed to be tested annually, but now the figure has been reduced because, when we did the estimation, we never knew we would identify such a huge number over the last 20 months. 
"So, with that projection, we may need to reduce the number and test below 50,000,000 persons to reach the range of 1,800,000 to 1,900,000; because, right now, we have 1,500,000. 
"Remember the annual incremental number is 50,000 to 60,000 every year. In the last two years, we identified 350,000, which is more than five times the number we identified every year", he said.
With this, the NACA boss says the Agency is on its way to attaining its target to end HIV/AIDS by 2030.
"It is very feasible", he said, adding that "We are not mincing words. In 18 months we have identified an additional 350,000 on treatment. In another 18 months, if we identify another 350,000 persons, we are done: we have reached the control level. 
"Once you reach the level, that is the first step. You have to reach the control level first, that is the condition. We have to control HIV first before we can end it. So, the control level is supposed to happen in 2025, but here in Nigeria we are very hopeful that this control level target will happen in 2022", he said.
By: Sogbeba Dokubo
Planting Trees To Save The Earth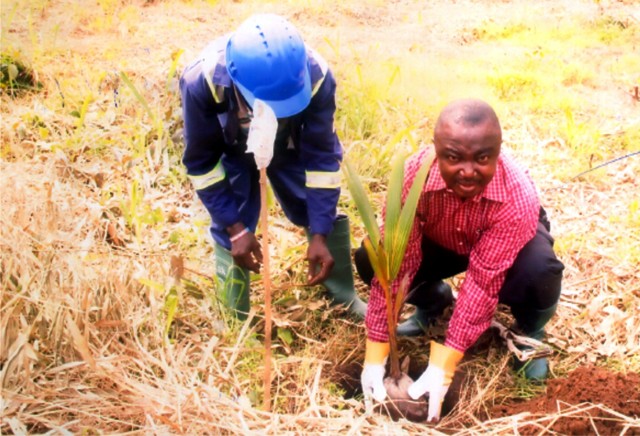 As an annual event, World Earth Day is celebrated to demonstrate support for environmental protection from degradation and experts say if the Earth has to be restored, humans must begin to plant as many trees as possible.
Until quite recently, it was common for people to plant trees as symbols of events; for instance, planting of orange or coconut trees in the name of a child, after its birth.
Marking the 2021 Earth Day celebration recently, the Dean, Faculty of Social Sciences, University of Port Harcourt, Professor Prince Mmom, said efforts at saving the trees is a race for the survival of the human race. With the theme: "Save The Trees, Save Humanity" organised by the Junior Chamber International (JCI), the varsity don said the Earth's trees and forests are critical components of the world's biodiversity as many forests are more biodiverse than others.
He pointed out that forests cover 31 per cent of the global land area and added that the total forest area is 4.06 billion hectares, which is approximately 50 x 100m per person.
Mmom explained that since 1990, it is estimated that 420 million hectares of forests have been lost through conversion to other land uses even though the rate of deforestation has decreased over the past three decades. According to him, between 2015 and 2020, the rate of deforestation was estimated at 10 million hectares per year, down from 16 million in the '90s and he said inhabitants on Earth risked losing basic life support systems rapidly on a daily basis.
The don maintained that the Global Tree Search database reports the existence of 60,082 tree species but that more than 1400 trees were assessed as critically endangered and in urgent need of conservation action. As at December 2019, he said, a total of 20,334 tree species had been included in the IUCN Red list of threatened species of which 8056 were assessed as globally threatened and, therefore, became vulnerable.
Emphasising the values of trees, he said from the existence of man on Earth, trees have furnished human beings with two of life's essentials such as food and oxygen. As human beings evolved, he insisted that trees have provided additional necessities such as shelter, medicine and tools. His words: "Today, their value continues to increase and more benefits of trees are being discovered as their role expands to satisfy the needs created by our modern lifestyles".
Mmom averred that trees are form an important part of every community as it concerns aesthetics and as he puts it: "we gather under the cool shade they provide during outdoor activities with family and friends". He said that spiritually, they are beautiful and majestic, pleasant, relaxed, comfortable-feeling, inspirational, provide mental health and emphasised that many people plant trees as living memories of life-changing events.
The former Director, Centre for Disaster Risk Management, pointed out that trees are source of raw materials for industrial uses which generate income and eco-tourism potentials and added that they provide livelihoods that are essential for sustainable food production and medicines.
"Trees and forests are homes for the earth's terrestrial bio-diversity", he opined and said that the values of trees cannot be overemphasised as they contribute to their environment by providing oxygen and improving air quality.
He stated that Earth's function of conserving water, preserving soil cannot be overlooked as shade from trees slows water evaporation and added that as trees transpire, they increase atmospheric moisture.
"They support wildlife, conserve soil and prevent erosion and nutrient loss; they are storehouses of large amounts of carbon, absorb carbon dioxide (Co2), removing and storing the carbon while releasing oxygen back into the air", he explained.
In continental United States, the professor pointed out that non-federal forests store an estimated 38.6 billion metric tons of carbon which makes the climate to ameliorate. He regretted that rapid decimation of trees and forests is a threat to the survival of humanity even as he advised that human beings must take bold steps to reverse the trend for the benefit of present and future generations. As he puts it: "We must reduce the rate of deforestation.  We must plant more trees, cut one, plant ten and plant at least 100 trees a year".
 Non-Governmental Organisations (NGOs) are doing more to create awareness on the need for people to plant more trees since one of the reasons is to secure the Earth especially with the soot all over the environment as a result of illegal refining of petroleum products.
Recently in Port Harcourt, Journalists for Sustainable Development in Nigeria (JSDN) flagged- off ceremony of the 2021 Tree Planting Campaign exercise with the theme: "Tree Planting Awareness Campaign: Combating Climate Change Through Sustainable Tree Planting Exercise".
At the event, the Executive Director of JSDN, Pastor Parry Benson, appealed to those who felled trees in the name of harvest without replacement to stop as that was responsible for the depletion of the ozone layer, which is currently causing a serious threat to the health of humans on Earth.
He appealed to the Rivers State Government and other relevant authorities to set up taskforce that will be responsible for prohibition of felling of trees in order to tackle reckless cutting down of trees.
The Chairperson, Nigeria Association of Women Journalists (NAWOJ), Rivers State chapter, Susan Serekara-Nwikhana, during this year's flag-off of the 2021 tree planting exercise, urged people to plant trees in their surroundings if they wish to live longer on Earth.
An environmental engineer, Monday Amos, said, the Earth is for man and therefore human beings have to explore and exploit the earth and its resources to survive. He said that the result of exploitation on the Earth currently is the climate change, pollution and extinction of biodiversity that are due to the activities of man.
The activities of man on Earth, he said, are affecting humanity and this has given rise to how to solve the threat posed by the activities.
"But the Earth cannot remain the way it was created. As long as man dwells on Earth, activities carried out for man's survival cannot be ignored. When people occupy a particular space definitely there will be a change in that environment", he maintained. 
In the olden days as well as present day, man needed certain things to survive on Earth. Humans need firewood which is got from trees for cooking. Charcoal got from fire is used for ironing when used with charcoal iron. The smoke from burning firewood changes the atmosphere.  
So, because of these, experts say there is the need to explore sustainably instead of getting to the point of exploitation. Exploitation may take the Earth beyond its caring capacity to the extent that cannot replenish itself. The issue of climate change is due to extreme exploitation of the Earth, changes in activities in Earth – changes in period of rainfall, a little from the exact period as well as dry season and harmattan not taking place when they should.
Carbon dioxide is produced from activities of man, such as burning of petroleum products, gas and firewood. This, in the long-run, can affect the human system. In the Niger Delta area, according to experts, refining of petroleum products by throwing a lot of Co2 into the air and gas flaring heat up the system.  Economic activities by man contribute in damaging the Earth, environment and the eco-system. Yes, the activities are necessary for life to be sustained but the resources got from the Earth must be explored to achieve economic growth. 
So, sustainable development advocates that humans can achieve and explore the resources of the environment to achieve the economic growth without damaging the environment. This is the reason for advocating for renewable energies by many countries of the world to put a stop to the exploitation of the Earth.
For us to restore the Earth as much as we can, humans must plant trees to stop deforestation.  When trees grow, they form shade that stops Co2 in the atmosphere from eating the Earth.
Agricultural practises such as farming, hunting and fishing help man to survive in life but they have to be done sustainably. If humans have to restore the Earth, the locally operated refineries must be put to a stop because of black soot. Black soot is the implication of human activity on Earth. Since World Earth Day is an international activity; it is high time international best practices were put in place in refining. 
A chemical engineer, Titus Nbah, said modular refineries must be established in the Niger Delta region since locally operated refineries part of the problems affecting the Earth. Gas can be injected into the soil using the available technologies instead of flaring.  
He said Nigeria should domesticate some of the enabling laws which have been signed. Pupils should be educated from the kindergarten on laws guiding the rules on restoring the Earth. Since the essence of World Earth Day is to re-echo man's commitment to the environment, the end product should be change of behaviour and policies that will restore the Earth.
By: Eunice Choko-Kayode