Edo Governorship Poll: PDP'll Win Convincingly, Wike Declares …Urges Edo Electorate To Be Vigilant, Defend Votes …Leave Obaseki Alone, Face APC's Political Woes, PDP Tells Tinubu …As Obaseki, Ize-Iyamu Sign Peace Pact
The Peoples Democratic Party (PDP) National Campaign Council Chairman, Chief Nyesom Wike, has declared that the Edo Stae governorship election would be won convincingly by Governor Godwin Obaseki.
The PDP National Campaign chairman, who is also the Governor of Rivers State, made the assertion at the Grand Finale of the Edo PDP Campaign held at the Samuel Ogbemudia Stadium in Benin City, yesterday.
Wike said the convincing evidence on ground has shown the general acceptance of the party by the electorate.
He stated that with the achievements of the last four years, it would be impossible for Obaseki not to be declared the winner.
The governor, however, urged Edo people not to take things for granted but turn out in large numbers to vote the candidate of PDP.
"By the grace of God, the election has been won by Governor Obaseki. That does not mean that you'll go and sleep. Everybody that wants to fight godfatherism should come out to vote.
"Use Edo election to end godfatherism. Make sure you vote and be vigilant too.
"I agree with the Independent National Electoral Commission (INEC) that the election will be free and fair. Even the Inspector General of Police has promised that nobody will rig the election. But do not leave the polling units after casting your votes.
"Repeat the Rivers State model. Let every woman wear Jeans on Election Day, cast and defend your votes.
"Follow the votes to the collation centres. Do not go until INEC has announced Godwin Obaseki as the winner," he said.
Also speaking, the National Chairman of the Peoples Democratic Party (PDP), Prince Uche Secondus described the Edo election as a special one.
He said the election would determine the status of elective democracy in Nigeria that was devoid of rigging.
"Let there be more restrictions for election riggers, just like United States has done. I call on other democratic countries of the world to rise to protect Nigeria's democracy.
"We all know that Obaseki is a performing governor. He has impacted the lives of Edo people. Let their will prevail. Edo people should resist all forms of godfatherism," he stated.
In his speech, the Chairman of PDP Governors' Forum, and Governor of Sokoto State, Alhaji Aminu Waziri Tambuwal urged Edo people not to sell their votes.
"I hear somebody said he will come to Edo with bullion vans. Stand firm and do not sell your votes.
"I appeal to INEC to conduct free and fair election. There should not be intimidation of the electorate.
"Stay at your polling units. Ensure your votes are counted. Vote for continuity," he stated.
On his part, the Chairman of South-South Governors' Forum and Governor of Delta State, Dr Ifeanyi Okowa said nobody can cheat PDP of its votes because it was a majority party in Edo State.
"We are not afraid. Nobody will change the results or cheat us on Saturday.
"You have done extensive campaign, from ward to ward. Pick your PVC on Saturday, go to your polling units and cast your votes for PDP," he said.
The former Vice Presidential Candidate of the PDP, Mr Peter Obi, also spoke in the same vein, and urged Edo electorate not to vote the APC candidate for the sake of Nigeria.
According to him, "we want Nigeria to be good and people like Obaseki are trusted".
The mega rally was also attended by the Governor of Bayelsa State, Senator Douye Diri, and his Akwa Ibom State counterpart, Mr Emmanuel Udom.
Also in attendance were the Adamawa State Governor, Ahmadu Umaru Fintiri, his Abia State counterpart, Dr Okezie Ikpeazu, the Oyo State Governor, Engr Seyi Makinde, and the Cross River State Governor, Prof Benedict Ayade.
Other dignitaries that accompanied the Rivers State governor on the trip were the former Governor of Rivers State, Sir Celestine Omehia; the former Deputy Speaker of the House of Representatives, Rt. Hon. Austin Opara; and the former Minister of Transport, Dr Abiye Sekibo.
Meanwhile, The Peoples Democratic Party (PDP) has said it was amused by the conduct of All Progressives Congress (APC), National Leader, Asiwaju Bola Tinubu, who in a video, tasked Edo voters to reject Governor Godwin Obaseki in the September 19, governorship election in the state.
Tinubu, in the said video, also described Obaseki as a dictator.
In its official reaction, yesterday, the party, in a statement signed by its National Publicity Secretary, Kola Ologbondiyan, said it was pathetic that "Asiwaju is claiming to be the leader of all democrats in Nigeria, which obviously he is not, while at the same time violating the fundamental of democracy, which is allowing a people to freely chose their leaders without confrontations with lies, coercion, mudslinging, slanders and beguiling as exhibited in his amateur video."
The statement further read: "It smacks of unpardonable hypocrisy that an individual who claims to be a democrat will at the same time chose to sit in the comfort of his residence to insult the people of Edo State over their manifest choice of Governor Godwin Obaseki as their preferred leader, for another term of four years, due to his sterling democratic qualities and performance in office.
"Asiwaju cannot be claiming to be a democrat while campaigning for an individual that has already been rejected by the people of Edo State, having been exposed by none other than the former national chairman of his party, Comrade Adams Oshiomhole, as a thief, fake pastor, acid bather, a person of questionable character who is only fit for 'night meetings' and should not be trusted with the position of the governor of Edo State.
"We know that Asiwaju is desperate to re-launch himself into relevance but can someone who wants the nation to believe that he is a democrat be campaigning alongside self-confessed liar, who has been rejected by his kinsmen and suspended as national chairman of his party, all in the quest to install a stooge in office?
"Asiwaju must be reminded that Edo State is not part of his fiefdom and that the needless sanctimonious pomposity which he displayed in the broadcast will never sway the people.
"This is because Edo State is home to very eminent and exceedingly intelligent personalities including highly revered royal fathers, religious and community leaders, astute public administrators, outstanding politicians and captains of industry, who are not ready to alter their resolve for Governor Obaseki.
"If anything, Asiwaju's broadcast has again exposed an imperialist agenda against the Edo people, a development that has further strengthened the resolve of the people of Edo State to permanently put an end to political godfatherism, which Asiwaju represents in the Nigerian political firmament.
"Furthermore, without conceding to Asiwaju's jejune argument, we ask, what contribution to democracy did he found in President Muhammadu Buhari when he presented him, then as Gen Muhammadu Buhari (rtd), to Nigerians ahead of the 2015 presidential election?
"Moreover, Nigerians are gradually seeing through Asiwaju's claims of having fought for democracy as mere myth. The true heroes of democracy include the founding fathers of our party and the regular people of Nigeria, who unlike most self-acclaimed leaders of democrats, never sneaked out of the shores of our country but stood firm to the very end.
"Our party had severally cautioned Asiwaju Tinubu to steer clear of our candidates and desist from infantile attention-seeking in a political dispensation that has moved beyond unnecessary ego trips.
"The people of Edo State had since made up their minds to re-elect Governor Obaseki and APC leaders such as Asiwaju, in their vanity should come to terms with that."
Similarly, The National Peace Committee (NPC) headed by former Head of State, Gen Abdulsalmi Abubakar (rtd), its Convener, Bishop Hassan Kukah, yesterday, made the contesting political parties to sign a peace accord where they were charged to ensure they work for peace, and also accept the outcome of the results with special emphasis on the two major contenders which are the Peoples Democratic Party (PDP) and its candidate, Governor Godwin Obaseki; and his All Progressives Congress (APC) counterpart, Pastor Osagie Ize-Iyamu.
Abdulsalami said that the peace pact means that the actors have embraced peace, adding that with the assurances from the Independent National Electoral Commission (INEC) of maintaining neutrality and the Inspector General of Police Muhammed Adamu, assuring of adequate security, Edo people should come out and vote on the Election Day even as he lauded the Oba of Benin, Oba Ewuare II for his efforts at bringing the warring parties together when the tension was at its peak.
He said, "The gubernatorial election in Edo State is just a few days away and giving peace during and after the election is a priority and it must be done. We as a people should aspire to see Nigeria where people feel safe to come out of their homes to cast their votes without any fear.
"As you are all aware, the election cannot hold in the absence of a peaceful atmosphere. All contesting parties need to adopt a code of conduct that will remove confrontation among yourselves because by agreeing to sign this covenant of peace, all of you are committing yourselves to ensure an enduring peace in Nigeria and Edo State before, during and after the election and agreeing to look beyond short term political gains, sectoral interests or narrow party advantage and accepting nothing but for the development of Edo State.
"As we go into the elections, we have been given all assurances by the INEC chairman and he has repeated it here this morning, he told us that they are ready with all the necessary materials and they will conduct a free and fair election haven got this, the rest is left for you the voters to what is right by desisting from selling your votes thereby selling your rights, freedom and conscience.
"Similarly the Inspector General of Police, who was here yesterday and who is ably represented by the DIG has assured that the police are here to ensure that there is peace and tranquillity and citizens who want to vote will do so freely.
"I urge all of us to use the process of election in Edo as a test of future elections as reiterated by President Muhammadu Buhari let every Nigerian be respected and be given an opportunity cast his or her vote without intimidation or coercion and once that vote is casted let us applaud that vote.
"I ask all the stakeholders and key people here present to commit to the spirit of this accord while also remembering that the violators of this accord are putting their integrity on line because you are signing this as ladies and gentlemen who are to be taken for your words we therefore call on everyone to work to ensuring a peaceful election process to ensure that peace reign in Edo state during and after the election".
On his part, Bishop Hassan Matthew Kukah said that the peace meeting was a rare one as the committee usually works during presidential elections.
"This is one of the very rare occasions where the peace committee has to roll out its drum to accompany gubernatorial candidates, usually, we do our work at the level of presidential election".
On his part, Chairman of INEC, Prof Mahmud Yakubu, reassured of the readiness of the commission to conduct a credible election, adding that the NPC has demonstrated that so much can be achieved in nation building by the force of moral rather than statutory authority.
"INEC working with civil society organisations and other stakeholders will continue to support the work of the peace committee. We welcome this initiative. Our preparation for deployment of personnel and materials, new innovations in result management, the safety of personnel, security of materials and above all the credibility of the election have all been negatively impacted by violence and malpractices.
"I wish to assure you of INEC's commitment to credible election, the votes will count, the people of Edo State will determine who will become their next governor, their choice will be upheld".
On his part, the Police IG, who was represented by Deputy Inspector General of Police in charge of Research and Planning, Adeleye Oyebade, said that "the police would work with sister security agencies to ensure a peaceful exercise."
In remarks, the Oba of Benin, who was represented by the Esogban of Benin, Chief David Edebiri while applauding the initiators, said election in Edo has never been this tense.
He said: "I want to tell you that elections in Edo State have never produced such a bloody outcome. The first election I participated in was in Benin in 1952. Since then I have participated in every national, sub-national, local government election that took place in Nigeria.
"We appeal to our sons who are all in the field to know that only one winner will emerge. This election is particularly good because the two main contestants are people from reputable families in Benin. They are from families that have been ruling and have been associated with the good administration of this place.
"The Omo N'Oba is very happy that the committee is here to help to bring peace to this kingdom of Benin and the rest of Edo".
In his reaction, Governor Godwin Obaseki urged the committee to also look out for non-state actors who he said have influence over voters even as he said he as a candidate and chief security officer of the state would abide by the peace pact.
Alleged Insecurity In Rivers, Exaggerated, Envoy Affirms …$10bn NLNG Train 7, Proof Rivers Is Safe, Wike Insists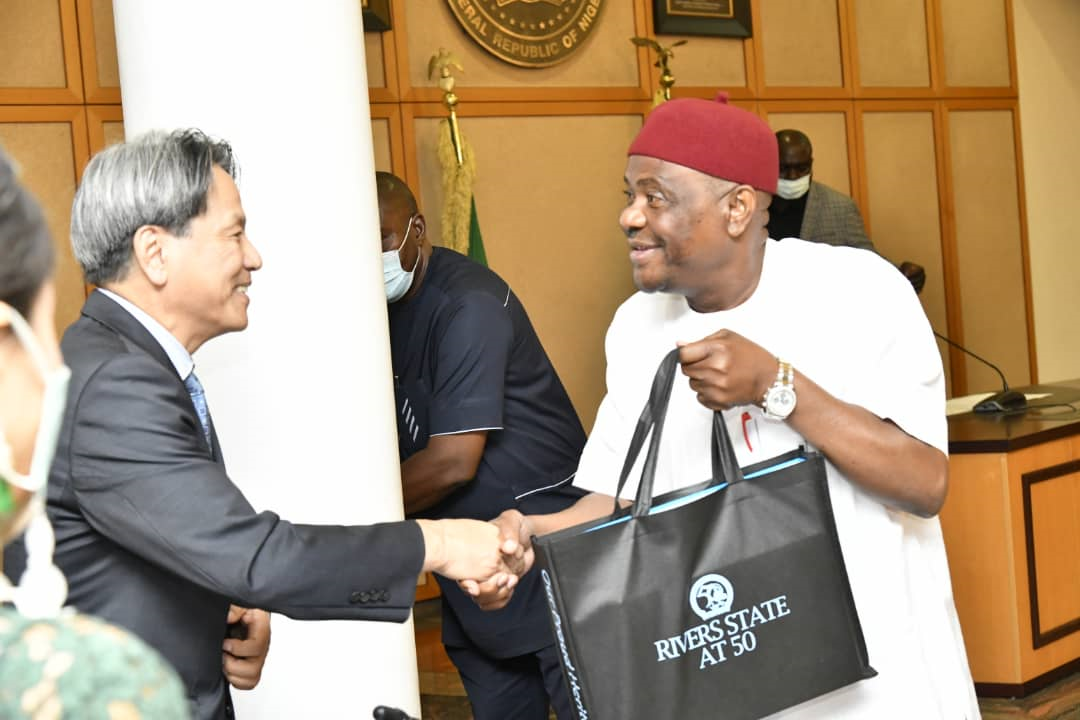 The Ambassador of the Republic of Korea to Nigeria, Kim Young-Chae, says the purported insecurity in Rivers State and some other parts of the country, was being exaggerated by the media.
Young-Chae, has meanwhile hinted that political stability of Nigeria remains key determinant factor for Korean companies willing to invest in Nigeria.
The Korean envoy stated this during a courtesy call to Rivers State Governor, Chief Nyesom Wike at the Government House, Port Harcourt, last Saturday evening.
Young-Chae explained that contrary to negative media reports, he felt safe visiting Rivers, Bayelsa, Adamawa, Ogun, and other states in the country.
"I visited Bayelsa State. The other day, I visited Adamawa and Ogun states, and it seems to me that the security situation is in a way exaggerated. In most places, I feel safe. But the media coverage is often exaggerated and making matters worse.
"The biggest concern for Korean companies is political stability. So, political stability is key for Korean companies to decide investment in Nigeria. We want to see continuous political stability in Nigeria, and that is what I have seen here (Rivers)."
The ambassador, who was accompanied by his wife and officials of Korean Embassy in Nigeria, commended Wike's able leadership over the years.
"We have seen enormous progress in Rivers State in terms of infrastructure. I salute your able leadership", he said.
Young-Chae said Korea was seeking more economic cooperation with Rivers State and the rest of the country in the areas of construction, oil, gas, agriculture, fishery and even cosmetics, medicine, and pharmaceutical products.
He declared his readiness to help Nigerian companies penetrate into Korean and East Asian markets, which combined Gross Domestic Product (GDP) now surpasses that of Europe and North America, respectively.
He commended the Peoples Democratic Party (PDP) Chairman in Rivers State, Amb Desmond Akawor for being a worthy ambassador of Nigeria to the Republic of Korea.
In his response, Rivers State Governor, Chief Nyesom Wike commended the Korean ambassador for his pragmatic and objective analysis of the security situation in Rivers State.
"Let me sincerely thank you for saying clearly that the issue of insecurity is being exaggerated. People pay the media to carry negative publicity against states. Nobody will deny the fact of the problem we are facing in the country today, and also the world in general."
The governor disclosed that prior to the take-off of the $10billion NLNG Train 7 project, he held meetings with the managing directors of Daewoo and Saipem, and they were quite satisfied with the level of security in the state.
"Rivers State is one of the safest states in this country today. Get the security statistics from the police, from the State Security Services, from the military, they will tell you so. When people say Rivers State is one of the most unsafe states, you then ask them: where did you get your statistics from?"
He further added, "You and I know if there is insecurity today, NLNG Train 7 cannot take place, because that is one of the biggest investments in this country today, $10billion investment. Nobody can make that kind of investment in a state where there is so much insecurity."
Speaking on the issue of unemployment, the governor explained that if the national economy is not stable, it will invariably affect the sub-nationals.
"If the national economy is booming, then, there is the tendency that the component units of the economy will also boom. So, people who do not have ideas of the economy will come up to say that there is so much unemployment in the state."
Wike expressed the willingness of the Rivers State Government to partner with the Republic of Korea in agriculture, technical education and medicine.
The governor observed that most countries were now depending less on oil as a major source of revenue.
He added that for Rivers State to survive, the government was focusing on agriculture by establishing a cassava processing company.
He remarked that the state government was willing to provide all necessary documentation, land, and give all the necessary waivers and incentives to Korean investors wishing to invest in agricultural sector in Rivers State.
"We will make sure that we give you the concession for those private investors, even tax rebate as it may be", the governor added.
Nigeria Going Through Worst Unemployment Crisis -World Bank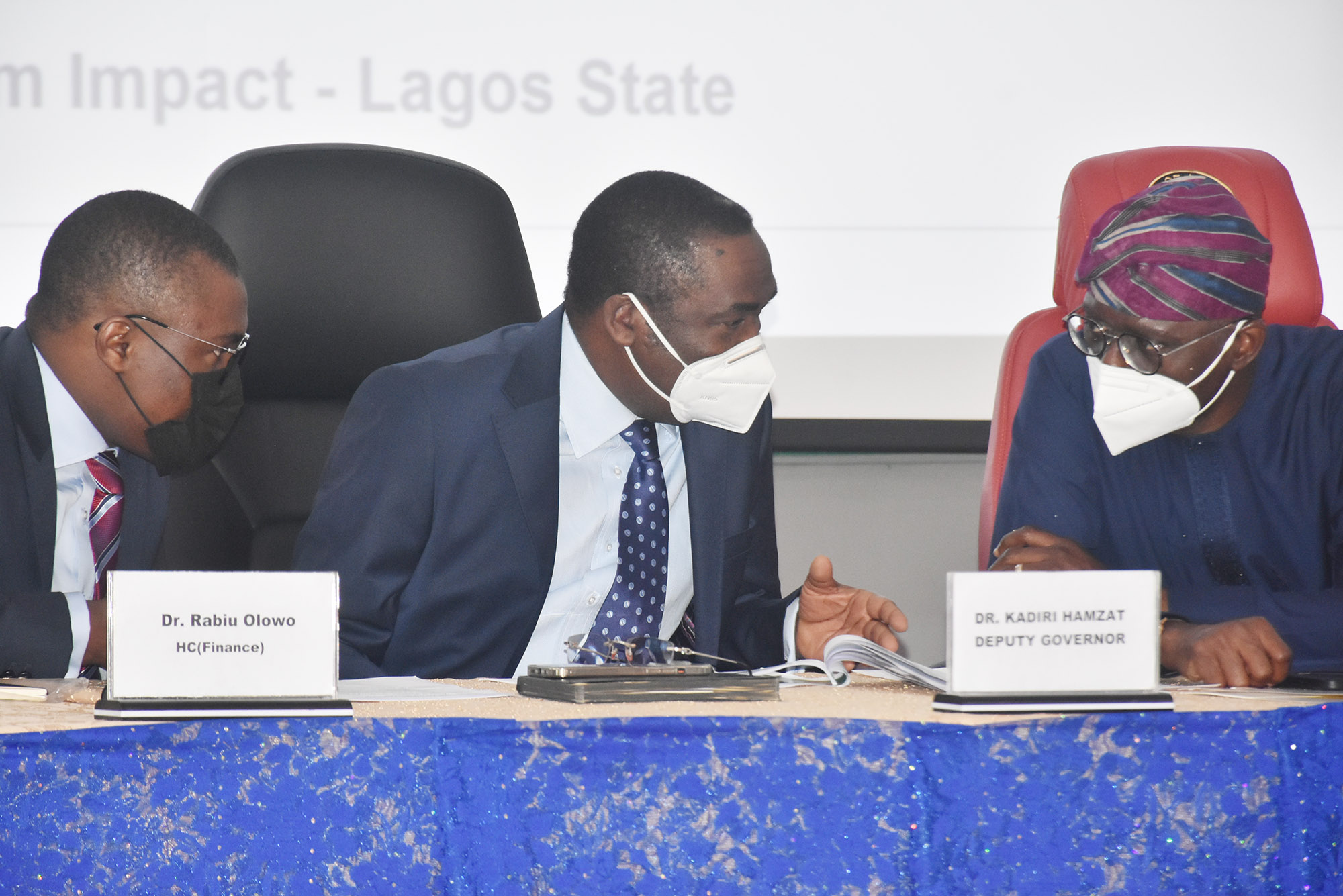 Nigeria is currently going through one of its worst unemployment crises in recent times, a new report by the World Bank has stated.
The multilateral institution also noted that the socio-economic challenges facing Nigerians in the last 10 years have led to an astronomical increase in the number of citizens seeking asylum and refugee status in other countries.
This is as the World Bank, in a separate report, has estimated that about 4,000 Nigerian children were made orphans by the Covid-19 pandemic between March, 2020 and July, 2021.
The report, which expressed concern about the country's rising unemployment situation, was published by the Washington-based institution with support from the Korea World Bank Partnership Facility (KWPF) and the Rapid Social Response (RSR) trust funds.
In the report titled, 'Of Roads Less Travelled: Assessing the Potential for Migration to Provide Overseas Jobs for Nigeria's Youth', the World Bank further estimated that there were 2.1million Internally Displaced Persons (IDPs) in Nigeria in 2020 alone.
World Bank, however, blamed a combination of rising unemployment, booming demographics, and unfulfilled aspirations as resulting in increasing pressure on young Nigerians to migrate in search of gainful employment overseas.
In addition, the Washington-based institution disclosed that the number of international migrants from Nigeria has increased threefold since 1990, growing from 446,806 in 1990 to 1,438,331 in 2019.
It explained that despite this trend, the share of international migrants as a proportion to Nigeria's population has remained largely constant, increasingly slightly from 0.5 per cent in 1990 to 0.7 per cent in 2019.
According to the bank, recent rise in irregular migration notwithstanding, the share of international migrants in Nigeria's population was much lower compared to the shares in Sub-Saharan Africa and globally.
The data showed that the number has risen by over 1,380 per cent in the years between 2010 and 2019, indicating that in comparison, the number of persons coming into Nigeria from outside has been relatively stagnant in the decade under consideration
"An important trend that is observed in the data is the rise in the number of refugees and asylum seekers from Nigeria. The share of refugees and asylum seekers from Nigeria has increased drastically in the last decade, growing from 27,557 in 2010 to 408,078 in 2019," it stated.
It noted that although the country was reaping dividends from the success of its citizens in the Diaspora, which was put at five per cent of its Gross Domestic Product (GDP) in 2019, when it comes to the discourse on international migration, the narrative has not been palatable.
"Nigeria is facing one of the most acute jobless crises in recent times. Between 2014 and 2020, Nigeria's working age population grew from 102million to 122million, growing at an average rate of approximately 3 per cent per year.
"Similarly, Nigeria's active labour force population, that is, those willing and able to work among the working age population, grew from 73million in 2014 to 90million in 2018, adding 17.5million new entrants to Nigeria's active labour force.
"Since 2018, however, the active labour force population has dramatically decreased to around 70million—lower than the level in 2014— while the number of Nigerians who are in the working-age population but not active in the labour force has increased from 29million to 52million between 2014 and 2020.
"The expanding working-age population combined with scarce domestic employment opportunities is creating high rates of unemployment, particularly for Nigeria's youth," the World Bank report noted.
However, between 2010 and 2020, the international financial institution estimated that the unemployment rate rose five-fold, from 6.4 per cent in 2010 to 33.3 per cent in 2020, with the rates being particularly acute since the 2015/2016 economic recession and further worsened as Covid-19 led to the worst recession in four decades in 2020.
Increasingly, it noted that educated Nigerians were struggling to find employment opportunities in the country while unemployment rates increased substantially for Nigerians across all education levels over the years, becoming progressively challenging for educated Nigerians to find employment opportunities.
"Combined with significant demographic changes and increased aspirations of the youth, Nigeria's unemployment crisis is creating migratory pressure in the economy.
"Unemployment is considered to be a key driver of migration. Consequently, multiple surveys show that the number of Nigerians, who are looking to migrate internationally, is high and increasing," it pointed out.
In the last few years, the bank stated that the number of persons eager to migrate has increased from 36 per cent in 2014, to 52 per cent in 2018, noting that the desire to migrate remains higher among unemployed (38 per cent), youth (39 per cent), secondary education graduates (39 per cent), urban residents (41 per cent) and post-secondary graduates (45 per cent) in Nigeria.
It maintained that since there has not been an expansion of legal migration routes for youth increasingly eager to find opportunities in the overseas labour market, young Nigerians are opting for irregular migration routes to realise their hopes for a better life.
"What is worrying, however, is the increase in the number of forced and irregular migrants from Nigeria," it disclosed.
It stressed that to ensure mutual cooperation, the European Trust Fund for Africa (EUTF), which was established in 2015, with the aim to promote areas of mutual development interest between Europe and Africa, has since provided more than €4billion in aid to African countries to address various development-related challenges and priorities in Africa.
Since its inception, the EUTF, the bank stated, has provided more than €770million for migration-related projects in Nigeria, with most of the funds invested in border control measures, awareness campaigns to stop trafficking, and the creation of jobs domestically, including for returned Nigerian migrants.
While predicting that by 2100, Europe's working age population between the ages of 20 and 64 would decline by 30 per cent owing to low birth-rates and increased longevity, it further projected that at same time, the working age-population in Nigeria could increase by 140 per cent.
"By expanding legal pathways for migration and implementing supporting measures to reap dividends from current migrants in the Diaspora, Nigeria can further benefit from international migration.
"Nigeria's institutions are well-placed to promote managed migration approaches that help create opportunities for prospective Nigerian jobseekers to find employment internationally and can be supported to help design schemes that increase the returns to human capital investments for Nigerian youth," the report concluded.
In a related development, the multilateral institution has estimated that 4,000 Nigerian children were made orphans by the Covid-19 between March, 2020 and July, 2021.
The report by the bank's experts at the Imperial College of London, revealed that over 4,100 Nigerian children lost one or both primary caregivers within the aforementioned period, while 4,300 lost one or both primary and secondary caregivers.
The report posted on the bank's blog was jointly authored by World Bank's Lead Economist, Laura Rawlings and a senior technical advisor, Centre for Disease Control (CDC) Covid-19 International Task Force, Susan Hillis, and titled, "For every two Covid-19 deaths, one child loses a caregiver. We must do more to address the orphan crisis."
The report stated: "The Covid crisis will leave many unwanted legacies. The world has been closely tracking the Covid-19 death toll, with official mortality counts now reaching over four million people, largely concentrated among adults. The children left behind have been practically invisible.
"Our estimates of the toll on children left behind, just released, are that for every two people, who die of Covid, one child is left orphaned, facing the death of a parent or grandparent caregiver, who had been living in their home.
"By the end of June 2021, because of Covid-19, our estimates show that nearly two million children under 18 years had lost a mother, father, and/or grandparent caregiver, who lived in their household."
According to the experts, countries with primary caregiver death rates of at least one per 1,000 children include Peru (10.2 per 1,000 children), South Africa (5.1), Mexico (3.5), Brazil (2.4), Colombia (2.3), Iran (1.7), the USA (1.5), Argentina (1.1), and Russia (1.0).
They also noted that at the current rate, one child was being orphaned every 12 seconds due to a Covid-19-associated death, adding that the toll was growing.
The authors noted that the Covid-19 related deaths had a wide range of effects on the children from economic, developmental to psychological impacts, which would reverberate across generations.
According to them, children orphaned by Covid face a constellation of risks, which often arrive with rapid and broad consequences.
"The threats of poverty, malnutrition, displacement and separation from siblings or other family members, school dropout, depression, violence and child marriage can emerge suddenly from the Pandora's box of Covid-19," they said.
Nigeria had as of July 20, 2021, recorded about 2,128 Covid-19 deaths, suggesting that for every one death in the country, an average of two children become orphans.
FG Extends NIN-SIM Verification Deadline To Oct 31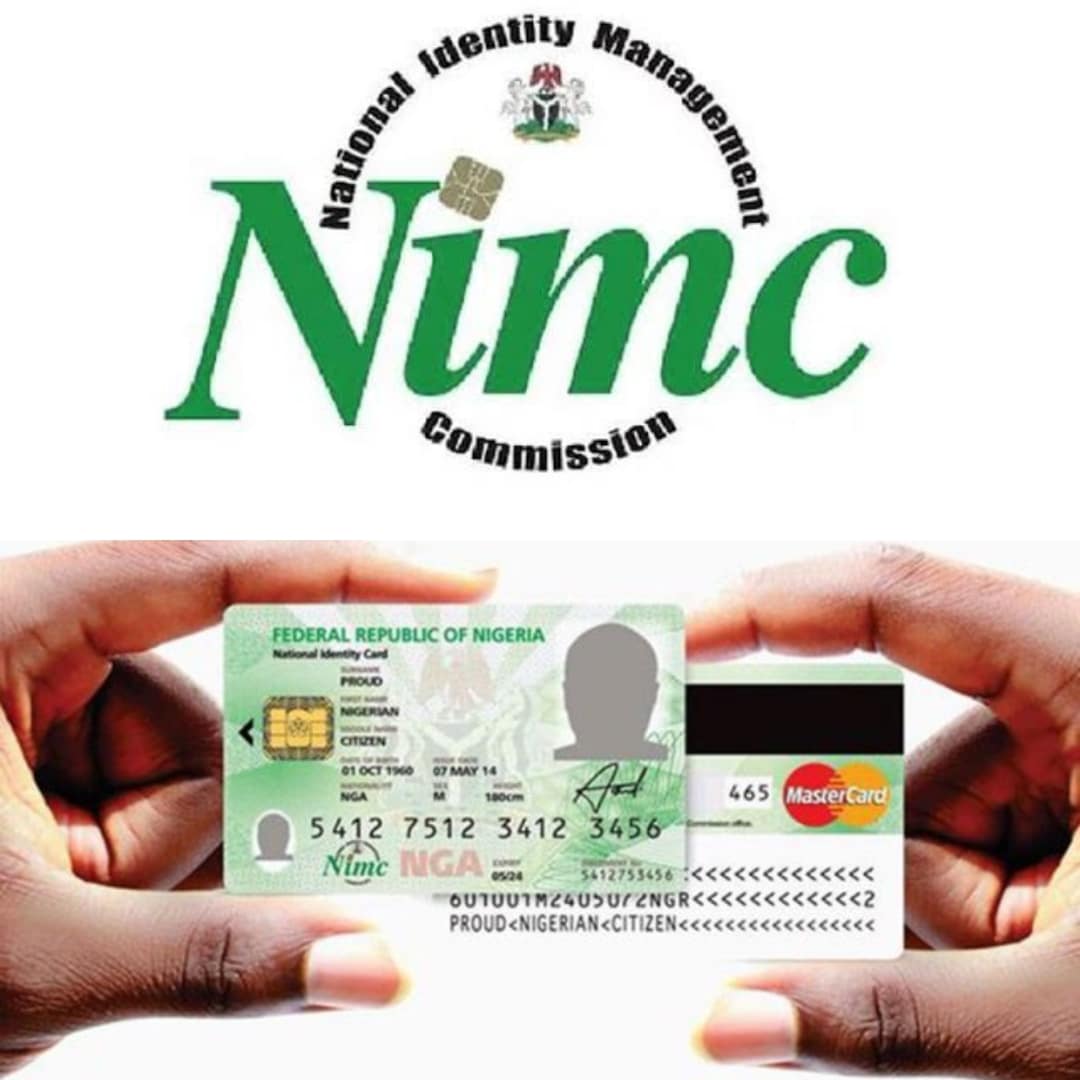 The Federal Government has approved the extension of the deadline for National Identity Number (NIN)-Subscriber Identity Module (SIM) data verification to October 31, 2021.
The decision to extend the deadline was made following a request by stakeholders to accommodate registration in hard-to-reach remote areas, foreigners and diplomatic missions, Diaspora and address low enrolments in schools and hospitals, as evidenced by enrolment statistics.
The decision also followed a review of the progress of the exercise which indicated significant progress, hence the need to consolidate the gains of the enrolment and NIN-SIM verification process across the country.
As at July 24, 2021, there are over 5,500 enrolment systems within and outside the country, and this would significantly ease the NIN enrolment process and subsequent linkage of NIN to SIM.
A statement signed by the Head, Corporate Communications, National Identity Management Commission, Kayode Adegoke, reads, "The administration of President Muhammadu Buhari has approved the extension as part of efforts to make it easier for its citizens within and outside the country, and legal residents to obtain the NIN and it is important to take advantage of the extension.
"The NIN-SIM linkage also makes it easier for the security agencies to carry out their statutory duties and the relevant parastatals under the Ministry of Communications and Digital Economy are supporting them as required.
"There are now a total of 59.8million unique NIN enrolments, with average of 3 to 4 SIMs per NIN. With the great number of enrolment centres within and outside the country, and many more coming up, every citizen, legal resident, and Nigerian citizens living in Diaspora should be able to obtain their NINs.
"The Honourable Minister of Communications and Digital Economy, Dr Isa Ali Ibrahim Pantami, on behalf of the Federal Government, commends the Kano State Government and other states that have made NINs a key requirement for school enrolments and access to other important services.
"The Federal Government is also excited at the news that the use of NIN in the process of the Joint Admissions and Matriculation Board (JAMB) exam significantly reduced the challenge of exam malpractice.
"The minister, on behalf of the Federal Government, appreciates Nigerians for their patience and compliance with the Federal Government's directive on the NIN-SIM registration exercise.
"Similarly, the Executive Vice Chairman of the Nigerian Communications Commission (NCC), Prof. Umar Garba Danbatta, and the Director-General/CEO of the National Identity Management Commission (NIMC), Engr. Aliyu Azeez, urge citizens and legal residents to make sure they use the opportunity to complete the process of enrolment and verification before the October 31 deadline."