Rivers State Governor, Wike Rescues Former NDDC's MD …Calls On Inspector General Of Police To Investigate Her Attempted Abduction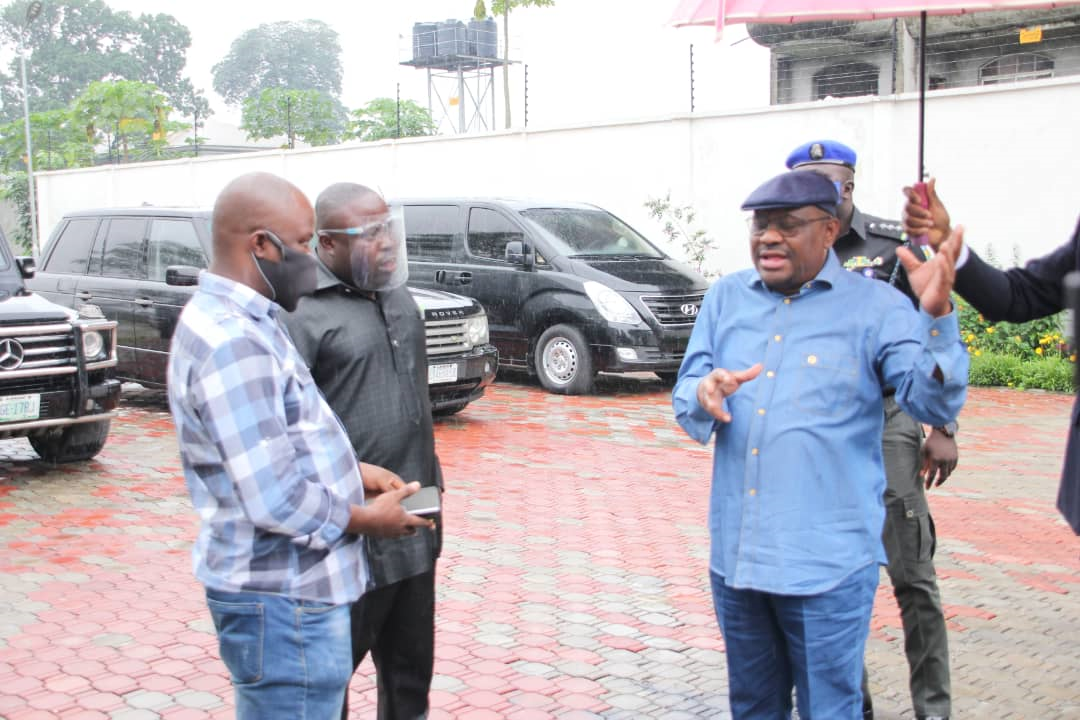 Rivers State Governor, Nyesom Ezenwo Wike, on Thursday, rescued the Immediate Past Acting Managing Director of the Niger Delta Development Commission(NDDC), Dr. Joi Nunieh from an attempted abduction.
He has therefore called on the Inspector General of Police to investigate the circumstances that led to over 50 armed policemen storming the Port Harcourt residence of Dr. Nunieh at 4am on Thursday, July 16, 2020.
Governor Wike was on ground to frustrate the attempted abduction , berated those self styled armed policemen who claimed to be members  of the Inspector General Monitoring Unit.
The governor said under a civilised society,  the proper thing to do is to invite her  to answer to any allegation.
But to storm her residence at such an unholy hour , the governor said, suggests some sinister motive that should not be tolerated.
"What has happened today is a disgrace. Who knows what would have happened to her if
they had gained access to her main room. I went there personally to see things for myself and rescued her.
"She is supposed to testify before the  House of Representatives Committee and here we are having armed men wanting to abduct her.
"We came out to protect our daughter and we will do so to every Rivers citizen. That is the oath of office I swore to.  It doesn't matter the political affiliation. We will not allow anybody to destroy Rivers state.
"It is so unfortunate and I cry for this country concerning the ways things are going. They didn't have a warrant of arrest, but would storm somebody's house, in fact, the State Commissioner of Police is not aware.
" So,  tell me how something will happen in a state and the Commissioner of Police is not aware. They said it's the Inspector General Monitoring Unit.  So, we have such a Unit taking over the responsibility of crime fighting in a state and the Commissioner of Police is not aware.  I can also assume too that the Inspector General of Police is not aware. He should investigate it, " he said.
The governor also called on governors of states that make up the NDDC to ensure that their citizens do not have a hand in the planned abduction of the former Managing Director of NDDC.
"If there is any allegation of crime against  her,  I will not back her, but you can't kill her for no established crime. I don't know who's responsible, but whoever is behind it should not take Rivers state for granted because we will fight back.
"From what has happened now, I want to say that Rivers State is fully out. Anybody who is responsible for this attempted abduction of our daughter, should know that enough is enough.
"They can't treat her as a common criminal. I am sure that  President Muhammadu Buhari is not aware of this.
"All the Niger Delta States should find out if any of their citizens have a hand in the unfortunate incident and call on such people to leave our daughter alone. She is  no longer the Managing Director of NDDC.
"The way things are going now, it seems
people want to destroy Rivers State and it is unacceptable.
"Using the police to carry out abduction of citizens should not be encouraged. A similar incident had happened in this state before when they wanted to use the same style to abduct a serving Judge.
Dr.  Joi Nunieh who thanked Governor Wike for coming to her rescue,  said the armed policemen came about 4am, broke into her premises but were stopped by the security door leading to her main room.
"Those who told me the Commissioner of Police was downstairs, lied because it was his deputy that actually came.  I opened the door, and they wanted to grab me,  I now pushed back the door and locked it and went upstairs.
"So,  my Governor came,  asked them for the warrant of arrest and why they did not  invite me to the police station instead of attempting to abduct  a woman like a criminal.
"The governor took me away in his car and I am taking  refuge  in Government House. I want to thank His Excellency for keeping to
his word that nothing should happen to a daughter of Rivers State.
"I was supposed to be going to Abuja today to make my submission before the Committee of the House of Representatives. I am sure the motive was to stop me," she said.
We're Not Taking Mandate Of Rivers People For Granted, Wike Insists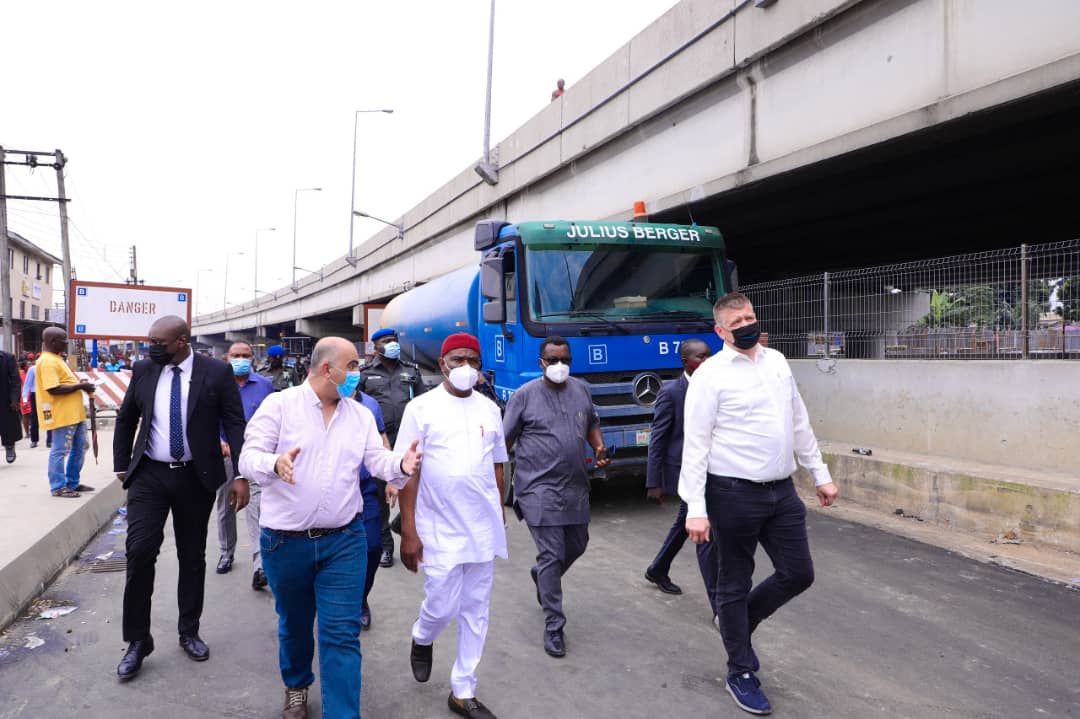 The Rivers State Governor, Chief Nyesom Wike has reiterated commitment of his administration to work tirelessly in advancing the state and improve the quality of living of Rivers people.
Speaking to journalists during an unscheduled inspection of four ongoing flyover projects in Port Harcourt and Obio/Akpor local government areas of the state, Wike said more democratic dividends are in the offing for the people of the state.
The governor explained that his administration will continue to honour the social contract reached with Rivers' people since 2015 to provide them good governance and quality infrastructure.
"For us, we owe them that duty to make sure that the mandate they've given to us will not be taken for granted. That is why all the members of our team are working, trying to make sure that we satisfy the yearnings of our people."
The governor asserted that with commitment and passion, there is nothing any sincere government cannot accomplish in terms of providing basic infrastructure that can bring about the necessary transformation of the life of the people.
"It is very easy. The funds are there. When people ask us where do we get funds, we laugh. it is a matter of management, being prudent with the little you have. It is not as if we have a lot of money. The little we have, we have to manage it in a way that we can say, this is what we did with funds available to us."
The governor frowned at the operations of illegal parks and other illegal trading activities around the ongoing flyover projects.
According to him, such despicable activities do not speak well of the state that is investing huge resources to enhance the status of the state capital and improve commerce.
"We have taken a decision that we are going to barricade off, and stop operations of all the unnecessary motor parks that are springing up. We want to make sure that people know that they cannot just wake up in the morning and decide to take government space and use as your private park."
Speaking further, Wike stated that henceforth, any business place within whose precinct refuses are found, will be sealed up in the state. The decision, he said, is informed by the carefree attitude displayed by members of the public towards issues of sanitation.
According to him, if owners of business premises do not litter their premises and discourage others, the state will be cleaner.
Wike said, his administration has the political will to implement the new order because, in the long run, it will result in a change of behaviour and increase the attention members of the public pay to issues of sanitation.
"Those at Aba Road axis of the Rumuola area will be the first victims. Thereafter, others will follow, so that people will know that government is very serious.
"So, all those who litter refuse, and operate motor parks will have themselves to blame. This is not the time people will tell you that the economy is hard. If the economy is hard, does it mean that you'll sell your goods and litter the places with the refuse.
"Why do you have to litter the area, thinking that government will come and clean them up for you. No, nobody will do that any longer."
The flyover projects inspected by the governor included the Rumuola, GRA Junction, Orochiri/Wurukwo and Oru-Abali flyovers.
Jonathan's Appointment As ISCP-Africa Chair Excites PDP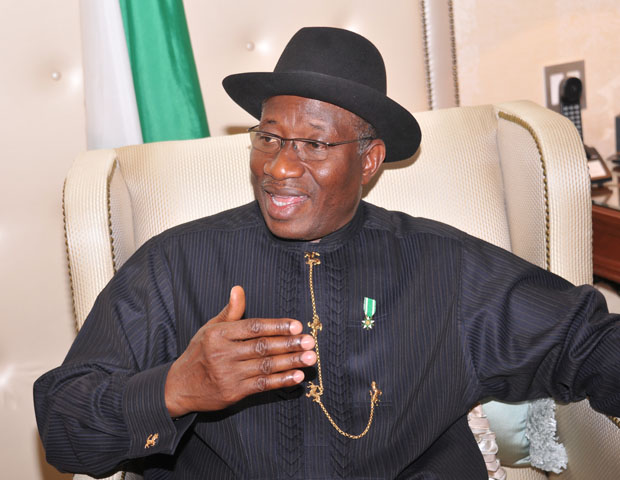 The Peoples Democratic Party (PDP), yesterday, congratulated former President, Dr. Goodluck Jonathan, on his appointment as chairman of the International Summit Council for Peace, ISCP-Africa.
On Jonathan's appointment as ISCP-Africa, an association of incumbent and former heads of state and their deputies, established in 2019 by the Universal Peace Federation UPF, an organization in general consultative status with the United Nations (UN), the party said in a congratulatory message, "is in recognition of his leadership qualities as a democrat as well as his resounding success in peacekeeping efforts across the world."
The statement by the spokesman of the PDP, Kola Ologbondiyan, read, "Our party is assured that former President Jonathan, will deploy his wealth of experience strengthened by the democratic tenets and principles of our great party, in his new mandate of providing direction for the essentials of peace, security, and development in Africa.
"The party also congratulates President Jonathan on his appointment as the Chancellor of Cavendish University, Uganda (CUU).
"The PDP is elated that former President Jonathan is so honoured to hold the position previously held by late President Kenneth Kaunda of Zambia as well as late President Benjamin Mkapa of the Republic of Tanzania, because of his commitment to education and human capital development, in line with the ideals of the PDP.
"Our party congratulate Dr. Jonathan and urged him to use the positions to further the advancement of peace and development in Africa and the world at large."
PVC: 14,130 Persons Register Online In Rivers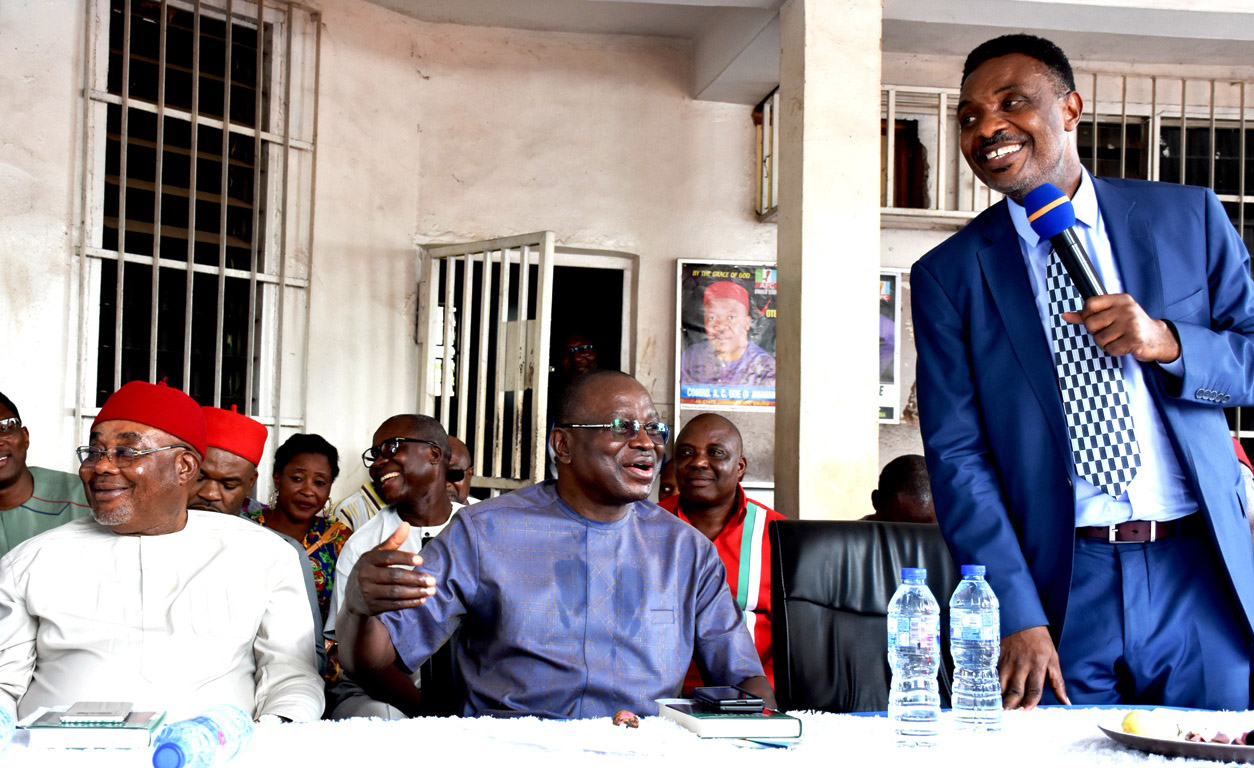 Over 14,130 persons have registered online ahead of the physical registration of voters by the Independent National Electoral Commission (INEC).
The figures were contained in a document released by INEC in Rivers State, yesterday.
The INEC in the state reiterated that the physical registration of voters will commence on July 26, 2021.
The commission said the physical exercise will involve capturing of finger prints and photographs of those who had started the process online, while those who were yet to begin the process will also be registered.
Statistics released by the commission indicated that a total of 752,011 persons have been registered online across the 36 states of the federation as last Monday, with Osun State taking the lead with 232,808 registrants.