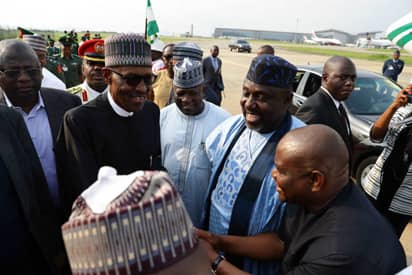 Several comments, interpretations, narratives and theories have greeted the recent letter written by Governor Nyesom Ezenwo Wike of Rivers State to President Muhammadu Buhari, expressing the sincere appreciation of the Rivers State Government and people to Mr. President, for approving the sum of N78.9 billion to the state, as refund of monies expended by the State on federal  projects in the state.
Most of these responses have either been mischievous, absurd, totally misleading and some even trying to conjure and configure fabulist narratives, celebrating the mystique and magical influence of the power of money on the human psyche.
But the most remarkable of these is the one written by Femi Adesina, the Special Adviser to President Buhari on Media and Publicity, titled: WIKE VINDICATES BUHARISTS.
To be sure, Femi Adesina's opinion on any topic immediately attracts considerable attention and commands tremendous weight, not just for the fact that he has been a seasoned journalist  over the years, but indeed in recognition of his status as the Special Adviser to Mr. President Buhari on Media and Publicity; which makes him one of the recognized spokespersons of our President, whose views unequivocally represents the opinion of the Presidency in all matters.
It is therefore, in due cognizance of this latter responsibility and authority of his  portfolio, that one must appreciate and commend Femi Adesina for his  endorsement of Governor Nyesom Wike's decision to thank President Buhari for approving the refund of N78.9 billion to Rivers State, and also the quite remarkable request for the President to oblige Rivers State with a State visit.
Of course, Femi Adesina's admiration of Governor Nyesom Wike and his bold Thank You letter are embedded copiously in his article, though couched in the unerring profiling of the Rivers Governor in some lyrical passages and in some truculent, pro-Buhari obsessiveness in others.
The  point needs to be made unambiguously, that the Rivers State Government, by way of emphasizing what Governor Wike rightly stated in the letter, appreciates the magnanimity of President Buhari,with profound gratitude and deep sincerity.
It was Aesop, the legendary Greek fabulist and writer of fables, who said that "Gratitude is the sign of noble souls."  There is certainly no doubt that one man who stands tall and proud, courageous and fearless with great nobility in today's political space, is definitely Governor Nyesom Ezenwo Wike.
For instance, what Femi Adesina describes as "crying wolf" and "pontificating" is nothing more than  the ability to say and do things which other people are too frightened or lily livered to say or do; what we refer to in Nigeria as "dying in silence. "
What Mr. Adesina surely knows is that one virtue that Governor Wike possesses is courage.  He has never hesitated to call anybody out including the President, his own party members and even multi-nationals operating in Rivers State, whenever the need arises and Adesina himself, has already agreed, by confessing to responding to some of these wolf cries in his write up, that these calls were necessary at the time they were made.
If Governor Wike's courage to speak up when others are silent and cowering in fear, leads to the approval of the refund of the N78.9 billion which the Federal Government owes Rivers State, then the expression of gratitude that recognizes and appreciates such appropriate magnanimity is the highest form of nobility.
Like Mr. Femi Adesina rightly pointed out in his essay, the Federal Executive Council (FEC), chaired by President Buhari, approved the REFUND of N148 billion to five states in the country for repair of Federal roads, for which Rivers State got  N78.9 billion. But that is not even half the story.
For the avoidance of doubt and to set the records straight, it will be germane at this juncture to tell the true story of the refund and set the records straight, as presented by the Minister of Information and Culture, Alhaji Lai Mohammed, once and for all.
Giving a background to the reimbursement, Lai Mohammed had explained that the decision was sequel to a huge bill sent to the federal government by the entire 36 states of the federation in 2016, seeking a refund of funds they expended on the repair of some federal roads in their respective states.
He said: "You will recall that in 2016, 36 states of the federation sent a very huge bill to the federal government, asking for compensation for money that they have expended on federal roads. This prompted Mr. President to set up a committee to go and verify the claims of these 36 states, whether indeed, these projects were actually constructed. Were they completed in line with the federal government standards?
"At the end of that exercise by an inter-ministerial committee, chaired by the Minister of Works and Housing which also had ministers of education, transportation (and immediate past Governor of Rivers State,  Chibuike Rotimi Amaechi), minister of finance, minister of state for works, Director-General of the Bureau of Public Procurement (BPP) and permanent secretary, cabinet office as members, the committee recommended that the federal government should refund N550,364,297.31 billion to 31 of the 36 states, after they were convinced that, yes, indeed, the projects were completed and they were federal government roads.
"But the claims of five other states – Cross River, Rivers, Ondo, Bayelsa and Osun – failed on the grounds that they did not do proper documentation and the committee felt they needed proper documentation. So, the committee went back with new terms of reference to ensure that the claims of the five states were in order. That is why the BPP is on the committee.
"So, at the end of the exercise, the committee now reported that the five states – Cross River with 20 roads and one bridge will get a refund of N18,394,737,608.85; Ondo with six roads to get a refund of N7,822,147,577.08, and Osun with two roads and one bridge to get a refund of N2,468,938,876.78.
"Others are Bayelsa with five roads and one bridge to get a refund of N38,040,564,783.40 and Rivers with three roads and three flyover bridges is to get a refund of N78,953,067,518.29."
From the above therefore, three important points stand out for particular interest and reference, viz:
1. The money is neither a generous loan gift or a desperate bailout package as people like Femi Adesina are shaping the narrative to sound, but a REFUND of monies already spent by  Rivers State on Federal projects.
2. Rivers State was initially denied the refund until proper documentation was provided; a situation which many Rivers watchers will recall, prompted the Minister of Works, Babatunde Raji Fashola, to visit Rivers State in March this year.
3. Rivers State  got the approval for the amount of refund simply because Rivers State did the most comprehensive, qualitative and enduring projects.
For record purposes, let us state clearly that President Buhari has the authority to visit any state he wants to in Nigeria, whether he is Invited or not. He is the father of the nation and Rivers State enjoys a candid, honest and robust relationship with the present Federal Government, especially the presidency.
On August 19, 2017, Governor Wike was among the dignitaries that welcomed President Buhari after 103 days in London where he received medical treatment for an undisclosed illness.
While naysayers were busy misinterpreting the gesture, Governor Wike explained that no sane person would not be happy that his sick President was back home.
Recall alsonthat Governor Wike was the first PDP Governor to congratulate President Buhari after his second term election victory was upheld by the Supreme Court in September last year. Indeed, the warm, cordial, respectful relationship between President Buhari and Governor Wike, captured in several widely circulated photographs, of the President's visit to Rivers State to commission the international wing of the Port Harcourt international airport speaks volumes.
We need not also remind Mr. Adesina that as far back as February 2017, when Governor Wike was not even up to two years in Office, he had already been christened "Mr. Projects" by none other than the Vice President himself, Professor Yemi Osinbajo, who not only affirmed that Rivers State was an important state to Nigeria and the Federal Government, but has since endeared himself to Rivers State and Governor Wike.
This brings us nicely to the part of the letter where Governor Wike unequivocally appeals to President Buhari to honour Rivers State with a Presidential state visit and we ask Mr. Femi Adesina: 'what is wrong with the Rivers State Governor inviting the President for a state visit. Is he not the Father of the nation again. Is Governor Wike not one of his children?
Considering the fact that the approval for the refund was also made for monies expended by Rivers State for Federal Projects, isn't it equally apt that Governor Nyesom Wike should invite Mr. President to come and at least see the work for which the refund was made? Indeed, it will also provide Mr. President the grand opportunity to see first hand, the amazing and fantastic infrastructural wonders which Governor  Wike is delivering in Rivers State. This is absolutely the right thing to do by a grateful recepient.
Governor Wike has aptly pointed out that the decision to thank Mr. President and the appeal to invite him for a state visit was not a personal one, but a collective decision taken by the State Executive Council, to assure Mr. President that all is well with Rivers State and Rivers people are quite happy with him for approving the refund.
Like Femi Adesina correctly noted in his article, the N78.9 billion cannot be the reason for Governor Wike's thank you letter and invitation to Mr. President. According to him: "I don't think so. Rivers is by no means a poor state. The amount is handsome, no doubt, but the state is oil rich, and can hold her own when it comes to finances. I don't agree less with Adesina because Governor Wike does not speak from both sides of his mouth and does not play to the gallery. His moral upbringing makes him to speak the truth at all times not minding whose ox is gored.
Finally, it is important to commend Mr. Adesina for  articulating and justifying the decision of Governor
Wike to thank Mr. President and invite him to Rivers State. There is absolutely no doubt, as he so succinctly pointed out, that millions of Buharists  would have actually advised the President not to approve the  refund  to Rivers State, and while many of them are still wailing and bellyaching at the President's magnanimity, the icing on the refund cake is the chagrin and consternation, which even Adesina admits, has greeted Governor Nyesom Wike's letter in their camp.
While Rivers people will not complain that the money was actually reduced from the original amount and that it even took so long for President Buhari's fairness and justice to touch Rivers State, while he has been fair and just to other states, we are all still very happy and grateful that this approval for refund has been made, finally.
Attempts by people like Adesina to make political capital out of the genuine stance of a statesman will not be bought by well-meaning Nigerians.
What makes Adesina's grandstanding more worrisome is that he will never comment or let the world know how much the South-West States received as refund for federal projects executed in that part of the country.
Governor  Wike's letter of appreciation and appeal for a presidential state visit is thus a clear indication that what the people thought was lost has now been recovered. All is well that ends well and Rivers people are happy.
For the avoidance of doubt, the letter to Mr. President was delivered to Aso Rock, three weeks before it was published.
Governor Wike is not like Adesina who knows how to speak from both sides of his mouth. In 2008, he said this about the Chief of Staff to the President: "Gambari enslaved himself to please his paymasters. Now 13 years after, the shackles are still tied around his neck, threatening to asphyxiate him. What an eternal lesson for fawning bootlicking grovellers to learn. Old sins indeed have long shadows."
Now that Gambari is Chief of Staff to the President, people have been asking if Adesina still sees Gambari's sins' shadows or he(Adesina) has turned to a bootlicking groveller?
There is no doubt that he is currently savouring the office of Special Adviser to the President on Media and Publicity as a compensation, having used his positions as former Editor-In-Chief of The Sun Newspapers and President of the Nigerian Guild of Editors to feather his own nest.
Adesina should be told that no amount of political mischief will turn Governor Wike from a hero to a villain in this matter.
The Wike that I know  cannot be swayed by pecuniary  interests. He will always stand for the truth and defend the interests of Rivers people.
Nsirim is the Commissioner for Information and Communications, Rivers State.
By Paulinus Nsirim
How Fake News Hurts Newsroom Relationship
It used to be so easy. A reporter brings a story and the excited editor goes through it and simply publishes it, confident that the claims are correct.
Very often, impressed editors offered some morale boosting rewards – a bottle of wine, lunch, dinner or cash. And even more. Trust was mutual.
Not anymore. With the prevalence of fake news, most editors, also known as gatekeepers, no longer trust the frontline soldiers and would use every available binocular to search for the truth.
Analysts have said that it is difficult to blame the editors for being more careful, considering the many cases of gaffes, brazen lies, fake news and wrong information the conventional media embarrass themselves with, on daily basis.
Few weeks ago, an influential media house published a story quoting the World Health Organisation (WHO) as saying that 146 million Africans die of tobacco-related diseases every year. The editor so trusted the reporter and did not ask how many Africans would have been left after just two or three years of such harvest. The reporter had, on her own, added three zeroes to her copy.
Not long ago, a media house published a story quoting a state governor as pouring encomiums on his estranged predecessor at a birthday ceremony. Very harmless story. Easy pick for every editor. But trouble started immediately the story went out. It was fake. No such ceremony took place. The reporter just imagined it.
Last year, a report announced the opening of airports after the COVID-19 lockdown. Eager prospective passengers rushed to book tickets only to be turned back. What they read was false. Fake. The reporter just deceived everyone.
The craze for fake news has indeed taken over today's media space, with both the social and traditional media struggling to outdo each other in the spread of hoaxes.
The instances are just everywhere. Aside from the fake news, photos or videos are purposefully created and spread to confuse and misinform. Photos or videos are also manipulated to deceive, while old pictures are often shared as new.
In some cases, photos from other shores are shared in the Nigerian space, ostensibly to create the impression that they are local scenes.
Umaru Pate, a professor of Mass Communication and Vice Chancellor, Federal University, Kashere, says the trend is "dangerous, unethical, provocative and subversive to peace and societal serenity''.
"Fake news misinforms and misdirects society with severe consequences on individual and national systems. It heightens tension, builds fear and mistrust among people.''
Information Minister Lai Mohammed, has equally deplored the trend, declaring recently that fake news could "threaten and destroy'' the country. He has also launched a campaign against it.
The minister recently observed that every news manager was faced with the challenge of managing fake news, and expressed the fear that the purveyors could push the country into crises.
Dr Sylvester Usman, a university teacher, has echoed similar worry.
"Fake news will make media practice lose its appeal; it will challenge the credibility which is the base of journalism practice," he said.
He challenged editors to rise up against the bastardisation of journalism by the new media, and emphasised the resuscitation of investigative journalism to tackle national challenges and help government plan better.
But as the scourge rages on, analysts have continued to wonder why the tendency to lie appears more common in the information age.
Mr Emeka Madunagu, publisher and editor-in-chief of Metrostar, an online publication, says fake news prevail because journalists pursue traffic, rather than accuracy.
Madunagu, former editor, Saturday Punch, advised media managers to equip newsrooms with gadgets and technologies that could detect and remove fake news and images.
Prof. Pate believes that fake news is partly caused by the absence, or late arrival, of official information, which creates a vacuum filled by rumours and imaginations.
According to him, desperate politicians, ethnic jingoists, foreign interests and mischief makers have also taken advantage of the explosion in social media platforms – Facebook, Twitter, Youtube, Google, Nairaline and WhatsApp – to spew fake news and hate messages which inflict confusion into the society.
While urging media houses to focus more on investigative reporting, he cautioned against selective reporting and the promotion of prejudicial stereotypes about groups and individuals based on incomplete facts, mischief and ignorance.
Analysts have also called for more training to boost research capacities among media professionals so as to minimise shallow reporting and episodic attitudes in news coverage and programme production.
They have also cautioned the media against promoting statements of politicians, ethnic champions, religious zealots and other interested parties without critical inquiry about specific social conflicts.
"Such groups are usually prone to spreading fake news against perceived rivals," Alhaji Aminu Mohammed, one such analyst, says.
While urging media gatekeepers and news content managers to be more critical, the analysts have pointed out that publishing fake news could confer legitimacy, credibility and massive reach to such fakery and confuse the audience about truth and falsehood.
Worried by the effects of such misinformation, many Nigerians have always wondered if it is possible to quickly spot fake news to avoid being misled.
Mr Dapo Olorunyomi, publisher of Premiums Times, believes that the best way out is to establish a fact-check unit in every Newsroom.
Olorunyomi, whose outfit has established a channel "Dubawa", through which it trains media practitioners on fact-checking, emphasises the need to build wide contacts and use the internet to carry out a fact-check on every story to determine its integrity before publishing or airing same.
He also suggests the need for readers, listeners or viewers to check multiple sources, and try to establish trusted brands over time.
Madunagu has a more proactive approach to the menace.
"When a reporter comes with a sensitive story, I will calm him down and ask him to relax.
"When he relaxes, I will debrief him. In the course of doing that, I will try to see whether he brought himself into the story. There are times I did that and the reporter told me to kill the story. It means he was not so sure of the exciting claims he penned down," he said.
He said that the situation is serious and warned editors against rushing to publish any "beautiful scoop" filed by reporters who are out there on the field.
"Editors should not totally trust reporters. These days, I don't.
"Editors must have phone numbers of other Editors. These days, hunger is pervasive; for little money, people can tell lies. They can write anything. So, one must be very careful. When editors are handling sensitive stories, they must be very careful," he said.
Most editors agree with Madunagu and believe that Nigeria will be the better for it if editors in traditional mediums, who determine information the public is served, strive for reliable information which is crucial to her growth.
But even as the editors strive for accurate information, some have noted the challenges of ownership influence, social malpractices and corruption, media professionals acting as judges or advocates for hidden interests, and cases of senior editorial staff acting as consultants to politicians and religious groups.
The existence of cartels among reporters covering specific beats has also been noted as another factor responsible for the adulteration of what is reported. Very often, the cartels form "gangs'' that decide what information to publish with pecuniary interests threading through the discussions.
Analysts say that such "unholy fraternity'' has often led to the "burial'' of some hard truths that would have been useful in the nation's search for greatness.
Another challenge is the "copy-me'' syndrome, a practice where reporters receive reports of events they did not cover, from colleagues, and publish same, not minding if what they had been "copied'' is fake news.
Not a few reporters have lost their jobs to this scary practice, yet it still persists.
Unfortunately for editors in most media houses, the heat is usually extended to them with no one concerned about their pleas or claims to innocence.
Such sweeping sanctions, analysts say, have forced editors to suspect every story with some "dodging" sensitive reports they believe have the potential to create trouble.
Madunagu captured it more succinctly.
"These days, I use every binocular to check the veracity of every story. I won't want to take medicine for what should not be my headache."
Unfortunately for the reporters, most editors today have similar fears over their copies. Such fears rule most newsrooms today.
By: Ephraims Sheyin
Sheyin writes for the News Agency of Nigeria (NAN).
HIV/AIDS, Covid-19: Challenges And Way Forward
Since the declaration of the Coronavirus, also known as Covid-19 as a pandemic in January 2020 by the World Health Organisation (WHO), the ailment has taken the front burner of medical interventions the world over. This has greatly relegated attention to the HIV/AIDS epidemic which had hitherto been a thorn in the flesh of the world, to the background. Subsequently, experts in various fora have categorically stated that Covid-19 has come to stay, just as its compatriot, HIV/AIDS.
The result is that virtually all forms of attention, including resources, have been shifted from HIV/AIDS intervention to Covid-19 since the outbreak of the virus, despite the fact that HIV/AIDS is still claiming lives globally.
Sad still, current evidence suggest that People Living With HIV(PLWHIV) have higher risk of becoming seriously ill from Covid-19, especially those of them who are not on treatment, or virtually suppressed, and may be at an even greater risk, according to the Project Manager, Rivers State Agency for the Control of AIDS (RIVSACA), Dr Naaziga Francis, in an interview.
Covid-19 is having a serious impact on the most vulnerable communities, not just in Nigeria, but globally, especially the hard-to-reach rural communities, and this may threaten the progress of work done on HIV and other health related ailments.
Experts say there is a fall in HIV testing, as well as patients with tuberculosis (TB) suspected to have HIV who are supposed to be referred to the next step of diagnosis and treatment. Malaria diagnosis as well as antenatal care visit has also declined.
Buttressing this, the Director, Cross River State SACA, Isere Obten, said, " in terms of accessing HIV services, it is low, health workers are focusing on Covid-19, especially with the vaccine in place.
 "In terms of resources, it's been zero release (of funds) as most international donors are chanelling their funds to Covid-19″, he said.
Adding his voice, the Executive Director of Global Fund, Peter Sands, said, ''No country is immune to the spiraling economic costs of the (Covid 19) pandemic. Prolonged economic shocks leave deep scares, which have profound effects on people's health in years to come".
There's little doubt that from the foregoing, this calls for concerted efforts from stakeholders within the HIV space to check the current trend of lesser attention to the epidemic. 
Towards this end, the South-South Zonal Coordinator of the National Agency for the Control of AIDS (NACA), Dr. Uduak Daniel, during the just-concluded HIV Media Roundtable in Port- Harcourt, called on the media to be more strategic in reporting HIV issues. 
"It will require them to be involved in the field at both the state and local government levels to propagate the activities of HIV/AIDS-related issues in order to curtail the contact and spread of the disease," she said.
On his part, the Director, Public Enlightenment, Ministry of Information and Communications, Rivers State, Mr. Celestine Ogolo, who represented the State Commissioner for Information and Communications, Pastor Paulinus Nsirim, insisted that the media must continue with its role of agenda-setting in drawing attention to government on critical areas of need and reducing the high prevalence rate of HIV in the South-South zone. 
"The media must not allow Covid-19 take off the shine of the work in HIV/AIDS", he stated.
However, all of these efforts may come to naught if government at all levels does not take it upon itself to identify and support such efforts. This is why the Federal and State Governments, particularly, including donor agencies, as a matter of necessity, should make release of funds for effective HIV/AIDs response in Nigeria a priority.
For people living with HIV/AIDS, the authorities may need to ensure that they have, at least, a 30-day supply of ART in their homes. They could even have necessary drugs for up to six months to avoid exposure to COVID-19 during visits to health facilities.
The onus also lies on the implementing partners to continue with their interventions as part of their corporate social responsibility to society. 
While this is being done for HIV/AIDS, there's also the need to observe the protocols of regular washing of hands, wearing nose mask, and observance of social distancing as preventive measures to Covid-19. 
Society should, indeed, still know and be concerned that HIV/AIDS is still in existence and claiming lives, hence practices capable of spreading the virus should be avoided.
Igbiks is of the Rivers State Ministry of Information and Communications.
By: Martha Igbiks
NUJ: Gleanings Of PH National Confab
Port Harcourt, the Rivers State capital, recently served as the host city for the Third National Conference of the Nigeria Union of Journalists (NUJ).
Declaring the two-day event open at the Obi Wali International Conference Centre, Port Harcourt, Rivers State Governor, Chief Nyesom Wike, said he considered the theme of the Conference "The Media, Insecurity And National Unity" very apt in view of the perilous security challenges that have continued to plague the country unabated which he believed would address the issues of insecurity in Nigeria and positively impact on the nation's unity.
Represented by his Deputy, Dr Ipalibo Harry Banigo, the Governor said that the country was threatened as a result of self-destructive tendencies like ethnic chauvinism, religious intolerance, brazen disregard for the rule of law and nepotism and that it appeared the Federal Government of Nigeria was fanning these embers of disunity through its perceived actions and inactions.
"For instance, how could we explain a situation where almost all the heads of security agencies as well as critical national institutions are headed by people from a particular ethnic nationality and religious faith in a country which prides itself as a secular state and believes in federal character when it comes to the appropriation of positions?" Wike wondered.
He urged journalists, who are said to constitute the Fourth Estate of the Realm, to brainstorm and come up with a workable solution to save the country from imminent collapse.
NUJ President, Chief Chris Isiguzo, while speaking, called on journalists in Nigeria to avoid allowing politicians to dictate news angles for them. He also spoke on the theme: 'The Media, Insecurity And National Unity' at the event which held from June 7th – 8th, 2021.
Isiguzo added that it is unethical for journalists to allow politicians take over their responsibilities and dictate media content at the expense of public interest. He warned journalists to de-escalate news capable of causing fear and panic, especially now that the country is facing the challenge of insecurity.
In one of the other presentations at the conference, the Head of Mass Communication Department, Renaissance University, Enugu, Dr Maxwell Ngene, urged the Federal Government to ensure that the Freedom of Information Act is domesticated and implemented in all states of the federation as a matter of necessity, so as to instill accountability in government.
Speaking on 'Maintaining Peace in Turbulent Times: The Role Of The Media in Security and Unity of Nigeria', Ngene, advocated that codes of conduct in journalism practice should be encouraged as well as development of a regulatory framework that would enhance media's role in national unity and security, while adding that there should also be strict observance of high professional standards of ethics.
Also speaking on Media and National Security, Alhaji Muktar Sirajo stressed that there must be ethical re-orientation in media practice, genuine and inclusive fight against corruption, pervasive unemployment and poverty, and addressing the issues of ethno-religious, political and economic-based violence, with robust improvement in national security architecture to stem the tide of terrorism and insecurity in the country.
Alhaji Muktar urged media on its part to place national interest above any parochial interest in disseminating information to the public. He enjoined the mass media to avoid the temptation of over- escalating negative news, but rather focus more on escalating positive news in other to calm the tension arising from the insecurity challenge being faced in the country.
In another presentation on the same topic, Richard Akinnola, explained that press freedom is about freedom of expression, which in itself is a fundamental right in the world, without which genuine democracy cannot thrive. He encouraged journalists never to disclose their source of information no matter the cost, noting that they must maintain their sources of information in order not to betray the trust and confidentiality of their new source.
Also as part of the event, delegates undertook a tour of the new Flyover bridges to have a feel of some of the new edifices being put in place by His Excellency, Governor Nyesom Wike. The first visited was the Okoro-Nu-Odo Flyover with a length of 880 metre. The second visited was the Rumuogba 1&2 Flyover which we were told is the longest of all with 1.24km length. Others were the Rumuola, GRA Junction, Rebisi, and Oro-Abali flyovers. It was gathered that three of the flyovers were constructed at the same time and delivered less than one year.
It is worthy to note that the NUJ Vice President Zone D, Chief Wilson Bako, led the Team Flyover and the Rivers State Press Officer, Ministry of Works, Paul Bazia, sensitised the delegates on the Wike-led administration's projects recorded thus far.
It was also observed that delegates commended the numerous quality infrastructural projects executed by Governor Wike, while calling on other governors in the country to emulate his leadership prowess.
Meanwhile, everything that has a beginning has an end as the two-day event came up with a 17-Point communique drafted by the Drafting Committee members; namely Amos Dunia, Ifeyinwa Omowole and Emma Couson and signed by the National Secretaries, Shuaibu Usman Leman and Walin Shadalafiya, on June 8th, 2021, in the presence of key media houses and civil society organisations (CSOs).
The confab adopted the following resolutions as panacea to the myriad of security, political and ethno-religious crises currently facing the country.
Taking into cognisance that the primary responsibility of government is to protect lives and property of citizens, against the backdrop of prevailing situations that government is overwhelmed and unable to effectively carry out this onerous responsibility, the conference urges citizens to assist in community mobilisation as a way of addressing insecurity and notes that it will be disastrous to allow citizens to lose confidence in the ability of government to deal with the situation.
The conference also did retrospection on the role of journalists with regard to their core mandate of informing, educating and holding government and leaders accountable. Conference notes that the media has played an active role in their propagation and proliferation by promoting their different names and titles and serving as a vehicle for their messages.
*It also notes that more is required of practitioners as watchdogs of the society, particularly at this trying period in which a balanced reportage is more than ever before desired.
The Nigeria Union of Journalists takes note of the responsibility of the state to guarantee safety of lives and property, to protect the economy and economic resource areas, critical infrastructure, environment, including forest reserves and national assets.
The government should, in enforcing security policies, carry stakeholders at all levels of governance along and ensure good governance.
The Media should mediate with its distinct role of being between the governed and the rulers, particularly in situation of existential threats. The Union urges its members to prioritise mediation in the prevailing tension that pervades all geo-political zones and the threats to Nigeria's unity. 
*The Conference urges media practitioners to exercise caution in their reportage and analysis of unfolding events as well as play the role of a mediator between contending forces and actors. 
*The media should be a partner in de-escalating tension instead of being a party to the conflict.
*As for the controversy generated by the suspension of the micro-blogging platform – Twitter, the Union notes the widespread use of its resourcefulness in promoting dialogue, individual expression and commerce. The Union, therefore, solicits for caution on all sides.
In view of the challenges impacting on press freedom, freedom of expression, the Union will establish a Special Press Freedom Monitoring and Defence Committee.
The Conference, as part of innovation being injected into the NUJ, an 'NUJ HALL OF FAME' was launched. It is in view of this that the Conference resolves that the HALL OF FAME shall be instituted to accord due recognition to deserving public office holders, technocrats, journalists and other deserving members of the society, who have distinguished themselves in their chosen fields. In this wise, His Excellency, the Governor of Rivers State, Chief Nyesom Wike, became the first inductee of the HALL OF FAME.
*The Conference stresses the need for adherence to the rights of the people to freely express themselves and comment on the affairs of state and conduct of government as an intrinsic part of democracy that demands accountability of rulers and public officers to the citizenry.
*Conference notes that a factor we cannot ignore is the fact that Nigeria is a country that fought a civil war. Those who were active players in the war, from children that were born after the war to those who experienced the war, have not gotten a closure.
*Stakeholders call on the NUJ to lead the national voice for healing the actors of the Nigerian Civil War still alive, to engage and dialogue on issues that bind them as well as commit to ensuring that past events are put behind them and all find closure.
Conference also notes that #EndSARS was just a ventilation of bottled-up anger, dissatisfaction and discontent with the elites.
Conference notes that more than 60 years after Independence, it is still battling with 'State of Origin' in our National Data Collection System taking into cognisance that ethnicity and tribe played a negative role in the cause of the RWANDAN war. . Participants commend His Excellency, Governor Nyesom Wike of Rivers State for hosting the Conference and thank the people of the State for the warm reception.
By: Susan Serekara-Nwikhana