Rivers State Governor, Wike Threatens To Sanction Erring Project Contractor …To Review Contract Of 5000 Capacity Auditorium At NYSC Camp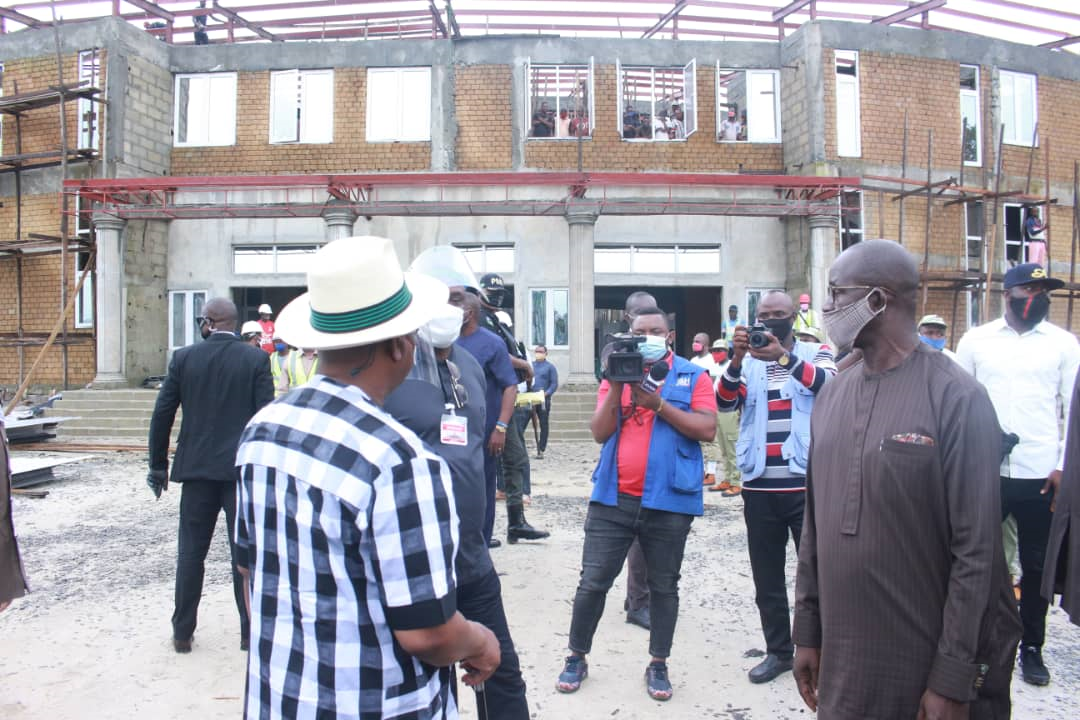 Rivers State Governor, Chief Nyesom Ezenwo Wike, has stated that contractors who fail to abide by the contractual agreement in handling projects in the state will be sanctioned.
Governor Wike said it is unacceptable for contractors, particularly those who have received full payment before the COVID-19 pandemic to use it as an excuse not to deliver their projects on time or compromise set standard.
The governor issued the warning shortly after inspecting projects located in Eleme and Tai local government areas of the state on Friday.
Governor Wike said while the structural work of the five thousand capacity auditorium at the  National Youth service Corps orientation camp in Nonwa is commendable, the contract will however  be reviewed.
According to the governor, the review has become necessary because the contractor refused to make the furnishing of the auditorium an integral part of the original design.
"I don't know how anybody would design a modern structure and begin to talk about terazzo floor. You can't also construct a building without talking about  furnishing. These things have to go hand in hand.
"I'll make sure that the right thing is done. We have paid 100% and what I have seen I'm not satisfied.
"Again, the contractor has no reason to use covid-19 as reason for the delay. Payment was made to him In November 2019, and covid-19 started in march 2020.
"We have to be very strict with contractors; those who do not want to fulfil their contractual agreement, government will take its stand and sanction them even if the supervising ministry or agency may not have done very well," he added.
Governor Wike also said the various projects at the NYSC orientation camp serve as support to federal agencies located in the state as they continue to render services to Rivers people.
"They are here to serve Rivers people. There is need to give them support. We have done the internal roads within the NYSC camp, and we have completely renovated the entire building structure for them," he emphasised.
The governor who also inspected the progress of work at the Community Secondary School in Eteo community in Eleme local government area said his administration has projects sited in every local government of the state and that he is committed to completing them.
Governor Wike said a directive has been given to the contractor handling the community school to add the construction of a library for reading activities and a chapel auditorium for regular religious worship.

Edo Guber Poll: Obaseki Has No Opponent, Wike Declares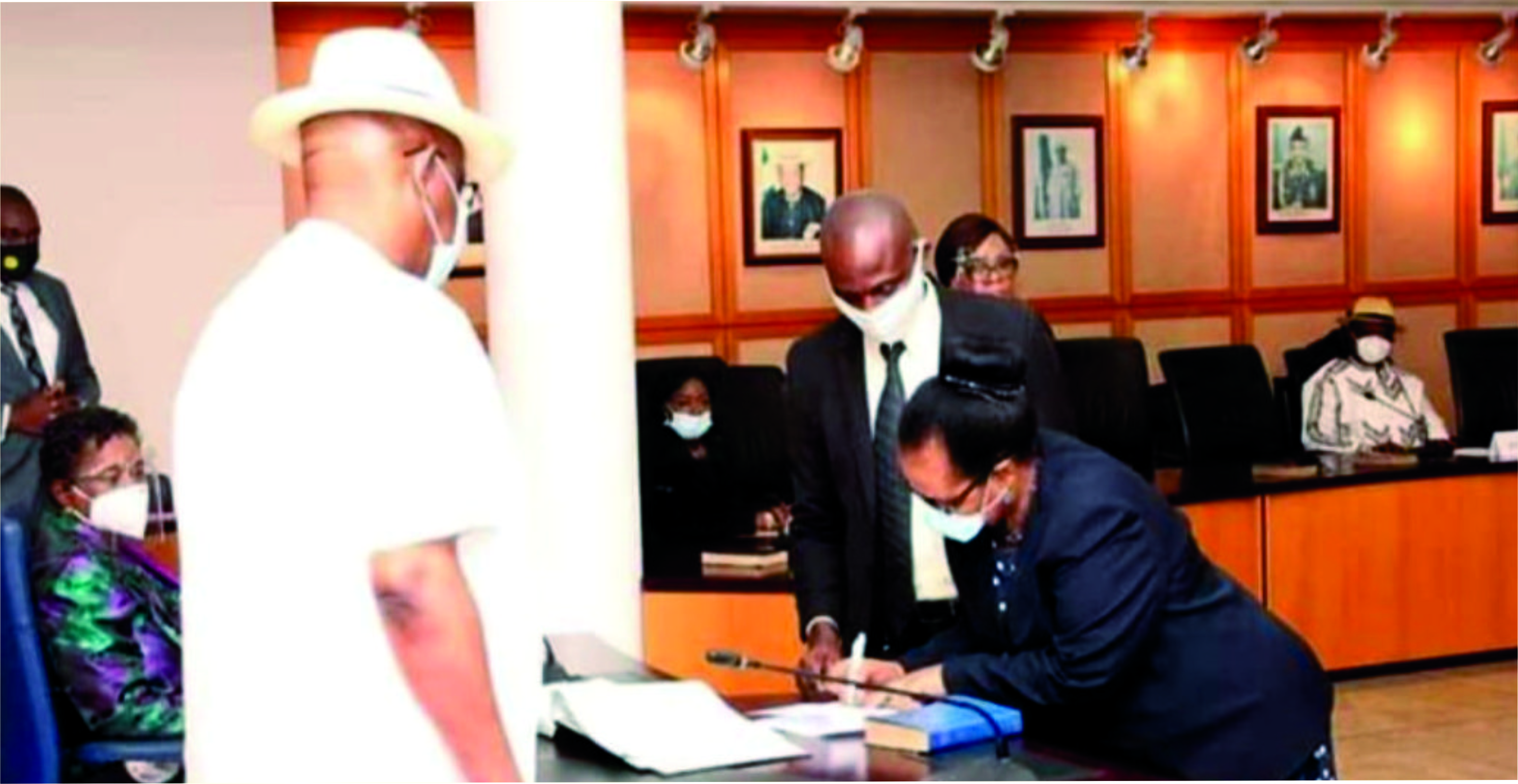 The Rivers State Governor, Chief Nyesom Wike, has restated his earlier position that the People's Democratic Party (PDP) flag bearer in the forthcoming governorship election in Edo State, Governor Godwin Obaseki, has no opponent.
Speaking as a guest on a live television programme, last Wednesday, Wike said that the people of Edo State already know the type of candidate the All Progressives Congress (APC) was presenting, going by what Comrade Adams Oshiomhole said of him four years ago.
"Adams Oshiomhole told Edo people that Osagie Ize-Iyamu was rusticated from school; that he poured acid on a fellow student which destroyed his manhood. That he is an armed robber that cannot be trusted with money.
"Such a character cannot be accepted by Edo people as governor during the election.
"I respect the Benin tradition and I know that Edo people are educated to know that Oshiomhole cannot play on their intelligence. If he is now retracting what he said of Ize-Iyamu, who is sure that he's saying the correct thing now.
"Adams Oshiomole's sudden u-turn is a great insult on Edo people. This is an opportunity for Edo people both at home and in the Diaspora to use their votes to tell Oshiomhole that they cannot take his lies anymore.
"From all indications, it is obvious that there is no strong opposition against Obaseki, and he will win convincingly", he said.
Wike, who is the chairman of the PDP National Campaign Council, stated that he and his team accepted the responsibility to lead the campaign because they were satisfied with results coming out already from Edo State.
Wike pointed out that the PDP has continued to take steps in strengthening the nation's democracy.
According to him, the party does so with the promotion of internal politics, and resolving conflict of interests of members to achieve common goals.
He noted the success recorded by the PDP in conducting free and fair party primaries in Edo State.
The governor explained that all the aspirants decided to work together to support the candidature of Governor Godwin Obaseki who is the party's flag-bearer.
"It was not easy to have a sole candidate for the party in Edo State. People thought there will be problems, given the fact that Obaseki was coming from another party. But party members who are grounded and believe in the party didn't see any sacrifice too much to make.
"Even in Ondo State, the former Deputy Governor, Agboola Ajayi, who decamped to PDP, contested keenly during the primaries and lost. If there are other pending issues in the South-West, be sure that the party will resolve them.
"That is exactly what Delta State Governor, Dr Ifeanyi Okowa, as the chairman of South-South States' Governors had done. He is making sure that we are all on the same page to ensure that all states in the South-South are controlled by PDP," Wike added.

We're Prepared For Schools' Resumption, RSG Assures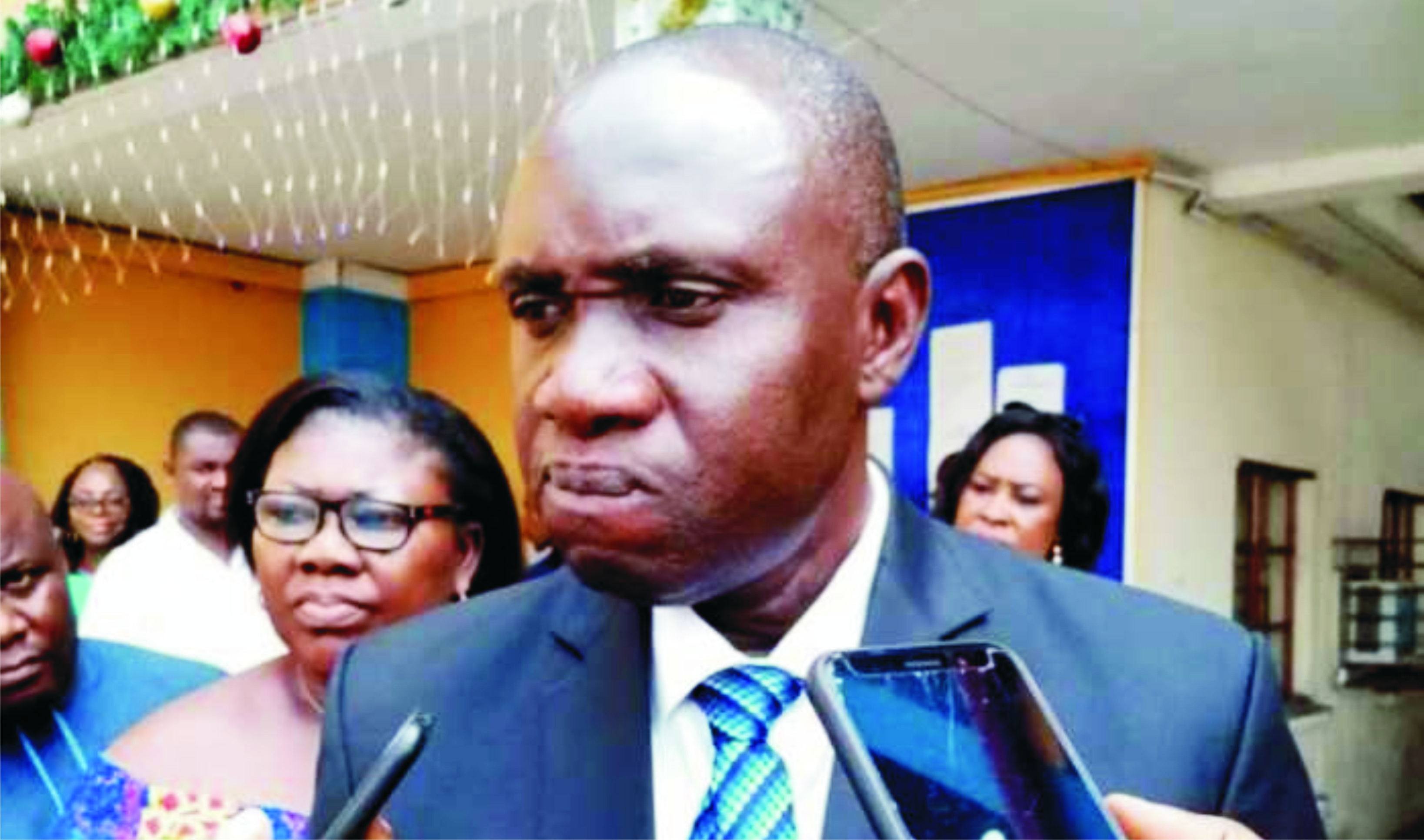 The Rivers State Government has assured parents, guardians and students in the state that it was fully prepared for the resumption of schools for exit classes in line with the Federal Government and Nigeria Centre for Disease Control (NCDC) COVID-19 guidelines.
The state Commissioner for Education, Prof Kaniye Ebeku, gave the assurance while meeting with staff of the ministry in Port Harcourt, last Wednesday, to brief them on the preparations for schools' resumption in the state.
It would be recalled that the Federal Government had, last Monday, announced that secondary school students in the exit classes would resume on Tuesday, August 4.
He enjoined the ministry staff to work assiduously to ensure successful reopening of schools, noting that all hands must be on deck to achieve successful resumption and safe operations of schools.
Ebeku said: "all necessary hygiene kits needed for the safe resumption of schools will be deployed to all public schools", disclosing that the ministry will also deploy its staff "to ensure strict compliance with the wearing of nose masks and other COVID-19 hygiene protocols within the school premises".
The commissioner said "there will be a team that will be going around enforcing the compulsory wearing of face masks at the entrance gates, around the schools and in the classrooms."
He disclosed that the ministry, with support from the state Ministry of Health, will make provision for a sick-bay or nursing stations with first-aid boxes in all schools to facilitate immediate response to emergency cases in schools, and added that the "ministry shall provide hand sanitizers, buckets with running water and infrared thermometers for temperature checks which will be placed at the entrance gates and at the front of each classroom."
Ebeku emphasised that all schools must ensure strict enforcement of COVID-19 guidelines, noting that a task force comprising officials of health and education ministries as well as security agencies would be constituted and deployed to monitor compliance and enforcement of extant Coronavirus protocols.
The commissioner explained that the state government was working ahead to ensure a seamless reopening of schools to allow students writing their external examinations to start revision classes.
However, the National Association of Parents of Private Schools Students (NAPPSS), Rivers State chapter has restated its readiness to support the state government's plan to reopen schools in the state.
The President of the association, Mr Ovie Chukwu, who stated this in Port Harcourt, said the association would support government guidelines with a monitoring team, which would regularly go round, especially private schools to ensure full compliance with government directives on safety of pupils/students and teachers in the state.
"We are making effort to raise a monitoring team to go round to various private schools to see that compliance is effected; and not only that, we will teach the children the guidelines for them to follow to ensure they are safe while in school", he said.
He commended the decision of government to reopen schools while maintaining strict compliance with Covid-19 safety procedures.
Meanwhile, worried by the spate at which hoodlums sabotage government efforts in the rural communities, the Rivers State Commissioner for Education, Prof Kaniye Ebeku, has challenged community leaders and all stakeholders to safeguard completed and ongoing government projects in their domains.
He gave the charge while condemning the wanton act of vandalism on school facilities at Western Ahoada County High School, Ahoada East Local Government Area of Rivers State.
Expressing concern on the level of theft in the school, Ebeku explained that what he saw during his assessment tour of ongoing schools' construction works in Ahoada East and Abua/Odual local government areas, was unfortunate and condemnable.
Ebeku, who maintained that the durability of government facilities was dependent on their protection from hoodlums by community members, disclosed that facilities installed in some schools have been burgled while others have been damaged by miscreants.
"Communities where government projects are sited must see the projects as their own. They must strive to protect the projects. I will sincerely urge communities where government projects are ongoing to partner with government and the contractors to see that these projects are protected", he advised.
On the ongoing review exercise by the ministry, the commissioner said it was to ensure that contractors meet the standards and specifications for the projects which the state Governor, Chief Nyesom Wike, was executing in the state.
He urged contractors to ensure timely completion of their projects, and expressed satisfaction with the quality of work and pace of delivery by some of the contractors.
Susan Serekara-Nwikhana, Kevin Nengia & Enoch Epelle

RSG Appeals For Calm Over Oil Spill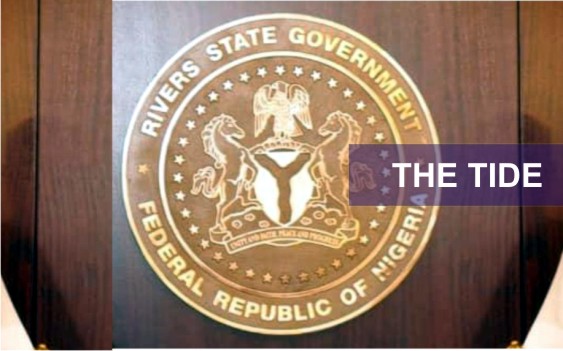 The Rivers State Government has called on the people of Omoku in Ogba/Egbema/Ndoni Local Government Area of the state, to remain calm, following an oil spill from a production facility in the Oil Mining Lease (OML-11) that occurred in the place.
The OML-11 is operated by a subsidiary of Eni, the Italian oil and gas giant, Nigerian Agip Oil Company (NAOC).
The state Commissioner for Environment, Dr Igbiks Tamuno, made the appeal during an on-the-spot assessment of the impacted site of oil spill on farmlands and rivers in Obrikom OML-11 in Omoku.
Tamuno said that a joint investigation (JIV) has commenced between the oil firm and experts to ascertain the real cause of the spill, saying that action would be taken by the state government.
He noted: "There is a lot of devastation occasioned by oil spillage through the facilities of Nigerian Agip Oil Company.
"Three days ago, we got wind of it, and we took steps. As we talk, a joint investigation is going on between the state government and Agip, without basing on presumption. We expect that we will get the reports and we will take action from there.
"I must once again thank leaders of Omoku community, the youths and everybody that behaved themselves, not taking the laws into their hands. We have come and what we have seen is enough to say that there is really devastation", Tamuno noted.
The spokesman of the affected Umueje community, Levi Uche, called on the government to take urgent action, as lives and sustenance of people were at risk.