A Statewide Broadcast By His Excellency Nyesom Ezenwo Wike, CON, GSSRS, POS, To Mark The First Year Of His Second Term In Office …My Dear Good People of Rivers State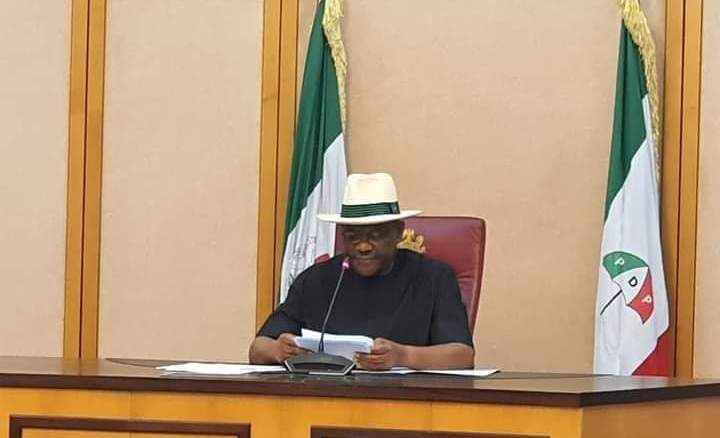 Today marks the 1st year anniversary of our 2nd term in office. Normally, we should be celebrating this important milestone with the commissioning of completed projects and correlated social activities.
2. But these are abnormal times and moments like this call for subdued feelings and thankful prayers to God for His abundant grace and mercy upon our State and on our lives.
3. As at today, we've painfully lost twelve persons, and probably more, to the death pangs of the coronavirus. For us, every life matters; and every life lost is a monumental tragedy, not only to the immediate families, but also, to all of humanity.
4. While we therefore pray for the peaceful repose of these innocent souls whose lives and dreams were cut short by this vicious enemy, our hearts and sympathies go to their families, dependants, friends and colleagues for the irreparable loss.
5. In the last six months, the coronavirus has wrought nothing but pain, sorrow and destruction on humankind.  And it is most unfortunate that the speed and vigour of our emergency response measures have not succeeded in stopping this virus from spreading in our State.
6. The reality therefore, is that we must all accept to live with this virus and its consequences until an effective vaccine is discovered.
7. We pray for the quick success for the global search for vaccines and therapeutics, but until then, the responsibility is still on every one of us to strictly and effectively comply with the established mitigating measures.
8. Regrettably, we have observed that the advisories, directives and regulations on social distancing and the compulsory wearing of face masks are being ignored at alarming proportions in the State, much to our collective discomfort and peril.
9. So many people are moving about on our streets and into other public places without face masks. We have sighted businesses, including banks and shopping centres attending to customers without face masks or maintaining physical distancing.
10. We have also seen people on our streets buying and selling without face masks or observing social distancing in clear disregard of the ban on clustered trading activities and unauthorized social gatherings.
11. These are all very irresponsible and risky behaviour in the face of the invisible and ravaging pandemic and the enormous threat it poses to public health and the safety of human lives.
12. Those who continue to exhibit or encourage such callous behaviour or trivialize the fatal power of this virus or still live in denial of its existence are either insane or the worst enemies of mankind.
13. Believe it or not, the transmission of this pandemic depends on our own individual behaviour, actions or inactions.
14. We must therefore all strive to help ourselves, our families, our communities and our State by complying religiously with the laid down regulations and advisories on social distancing and wearing of face masks.
15. Let me therefore, warn us again, that enough is enough. We shall bring the full weight of the law to bear on every recalcitrant person, business or institution, irrespective of status or station who decides to treat the existing orders and regulations for mitigating the spread of covid-19 in our State with contempt.
16. While we have reserved the recourse to total lockdown for obvious reasons, it appears we may be forced to reinstate this drastic measure, sooner than later, if members of the public continue to flout, disregard and or abuse the established regulations on social distancing and the compulsory wearing of face masks in the State.
17. Fellow Rivers people,
18. Let us continue to renew our faith in God's abundant grace and collectively adjust to the new reality with abiding hope in the brightness of our future despite what has befallen us at the moment.
19. Exactly one year ago, we signed the peoples' social contract, released our development blue-print for our second term in office, and reiterated our commitment and determination to work and serve our people as if we were on our first term.
20. One year into our second term, we are happy and proud to say that God has helped us to fulfil most of the promises that we made in our inaugural address.
21. The urban renewal programme in the capital city is progressing as the restoration works, including underground drains, sidewalks, green areas and street lights on most of the roads in both the old and new Government Reservation Areas are at very advanced stages of completion.
22. The construction of the multi-billion-naira three flyover projects at Rebisi, Okoro-nu-odo and Rumuogba is progressing simultaneously and expected to be delivered within schedule by Julius Berger Nigeria Limited.
23. Work on the construction of the 4th flyover bridge across GRA junction and accompanying dualization of Ezimgbu (Mummy B) road are also underway.
24. The dualization of Tombia Extension, GRA to link Ikwerre road is progressing satisfactorily and will be delivered on schedule.
25. The dualization of Kira – Sapkenwa – Bori – Kono, straddling three Local Government Areas in Ogoni heartland has reached 92 per cent completion.
26. Construction of Oyigbo (Mbano camp) to Iriebe, linking Oyigbo and Obio/Akpor Local Government Areas of the State, has been completed.
27. Also completed virtually, are Alesa- Agbonchia – Oyigbo road linking Eleme and Oyigbo Local Government Areas of the State; and the Rumuakunde and Isioudu communities' roads in Emohua Local Government Areas of the State.
28. Similarly, the 2nd phase of Isiokpo community internal roads in Ikwerre Local Government Areas has been completed.
29. Construction works on the 16.85 kilometers Rumuji – Ibaa – Isiokpo road in Emohua and Ikwerre Local Government Areas have reached 90 percent completion level, while the dualization of the 23 kilometers Omoku – Egbema road in Ogba/Egbema/Ndoni Local Government Area has progressed beyond 50 per cent.
30. Also, the 21.3 kilometers Odufor/Akpoku/Umuoye road in Etche Local Government Area has crossed 70 percent construction level, while the Aker-base road in Obio/Akpor Local Government, the Ula Ehuda-Odioku-Anwunugboko-Ubeta-Ihuechi-Odiereke road, the Odiokwu internal road network in Ahoada West Area as well as the Abonnema ring road in Akuku Toru Local Government Area, and the Umuma road in Omuma Local Government Area, and the Sime – Eteo – Nonwa road connecting Tai and Eleme Local Government Areas, have all progressed to between 80 and 85 percent completion.
31. By God's special grace we have almost delivered on our promise to complete the long-abandoned roads to the coastal communities of Opobo and Andoni in Opobo/Nkoro and Andoni Local Government Areas of the State with appreciable work already done on the Ogoni – Andoni – Opobo (Unity) road.
32. Indeed I feel highly elated and fulfilled to have led the Government that have actualized the age-long yearnings of the indigenes and residents of these local government areas to connect and access the rest of the State by tarred road.
33. Apart from roads, we also made significant progress in the last one year on the progressive delivery of healthcare and education infrastructure and services.
34. The mother and child hospital is virtually completed, fully furnished, equipped and only undergoing necessary testings and preparations for commissioning. Also completed is the comprehensive health centre at Odiokwu in Ahoada West Local Government Area.
35. We fully built, completely equipped and converted the former Braithwaite Memorial Hospital to the Rivers State university Teaching Hospital, which is reckoned as one the best in the country, leading to the accreditation of the programmes of that facility for the training of medical students by the Medical and Dental Council of Nigeria.
 36. Furthermore, the regional referral hospitals in Degema and Bori in Degema and Khana Local Government Areas respectively are presently being furnished and equipped, while structural work is continuing on the ones located in Omoku and Okehi in Ogba/Egbema/Ndoni and Etche Local Government areas.
37. All across the State, our strategic intervention in the restoration, upgrade and expansion of secondary schools across the State continues to deliver remarkable results and improvements in the quality of public education system.
38. We have released funds for the comprehensive restoration and upgrade of scores of dilapidated secondary schools across the State, including: Enitonna High School and Government Comprehensive High School, Borikiri in Port Harcourt Local Government Area, Obama High School, Degema and Model Secondary School, Tombia, all in Degema Local Government Area, as well as Community Secondary School, Omuanwa in Ikwerre Local Government Area, Kalabari National College, Buguma in Asari Toru Local Government Area, Community Secondary School, Kugbo in Abua/Odual Local Government Area, Community Secondary School, Obeakpu in Oyigbo Local Government Area, and Community Secondary Schoo, Eteo in Eleme Local Government Area, which is 85 per cent completed
39. The construction of students' hostels for the Real Madrid Football Academy is progressing very well and the academy will soon open its doors for simultaneous academic and football and related training and mentoring programmes.
40. And in line with our promise to refocus on agricultural development, we are at the verge of completing the Datco cassava processing plant, with guaranteed off-taker opportunities for over 3000 local cassava farmers, and inspiring capacity to stimulate the cassava revolution in the State and related industries and create thousands of direct and indirect jobs for our people.
 41. In the last one year of our second tenure, we have kept our promise, worked hard and achieved more with less resources, provided first-class socio-economic infrastructure and kept our State and businesses safe, secure.
42. As we continue on this progressive trajectory into the second year, we can only promise to recommit ourselves to work harder and deliver greater development to our people.
43. We know it is not going to be easy given the very poor state of the national economy and the spinoff effects on ours.
44. But, tough times like this call for unity of thought, unity of purpose and unity of actions; believing in ourselves and in our ability to overcome all the challenges that confront us as a State and as a people.
45. Yes, we can, if we resolve to downplay our individual differences and work together for the common good of our heritage, our lovely State, our communities and our people.
46. As a government, we welcome constructive and frank criticisms devoid of politics and mischievousness, because they serve to make us better performers.
47. At any rate, this is a time for governance, not for politics, and we welcome everyone onboard to enable us to create an environment that promotes balanced economic growth, thriving private investments and good jobs; to build a State of shared prosperity; a place of boundless opportunity for all residents; and a State we can truly call our native home, our pride, our heritage, while looking into the future with optimism.
48. For us, nothing matters more than Rivers State, our people, our interests, our treasures, our enormous resources and assets, our accomplishments and our greatness.
49. And so, as we look forward to the next twelve months, all I can say is that we are inspired by your continuous support and prayers to believe that our best days are ahead of us, and working together, we will surely do more to move Rivers State forward.
50. Finally, let us not forget that coronavirus is real. Let us all be responsible, stay safe and be alive to fulfil the promise of God in our lives.
51. Thank you and may God continue to bless us all and bless our dear Rivers State.

Flyover Bridges Will Be Ready Before Scheduled Deadline – Rivers State Governor, Wike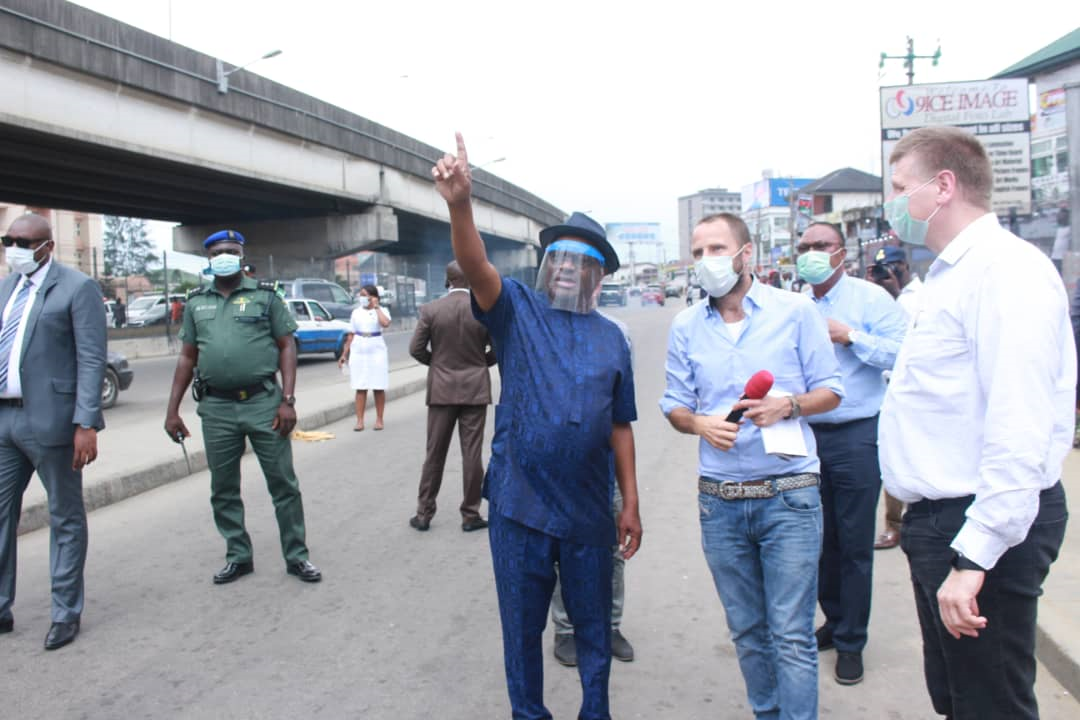 Rivers state governor, Chief Nyesom Ezenwo Wike says the three flyover bridges under construction in Port Harcourt the state capital will be completed one month ahead of the initial deadline of February 2021.
The new development is coming after  Julius Berger Nigeria PLC, the Construction firm handling the projects assured of delivering the Rebisi flyover (Garrision Junction) by October 2020.
Speaking to journalists after inspecting the flyover bridges, on Thursday, Governor Wike said his administration is mindful to every  promises made to Rivers people.
Such promises have included delivering critical infrastructure that will improve the economic status of the state and the life of the people.
"If you look at the Rebisi Flyover at Garrison junction, you'll see that they are working hard to finish with the concrete super structure by October so that motorists can ply the bridge. That's what I've always said, when you give work to good contractors,  you will be comfortable that those jobs will be delivered.
"From what I have seen, ahead of their schedule  of the work, it is important to know that Julius Berger is committed to make sure they handover the projects even before the time scheduled," he said.
Commenting on the Rumuola flyover that is billed for expansion,  Governor Wike said the chaotic traffic situation experienced there will be addressed with the planned expansion.
"Rumuola flyover was built under the military government. When there is maintenance work to do or a vehicle breaks down, it causes a lot of traffic jam, so the need to expand the flyover became necessary.
"The contract papers have been signed  and I believe they are preparing to go to site within the next few days.
"Generally,  we are happy to achieve such feat within the shortest possible time and with the of quality job done. We want the people to be confident that we will not take their mandate for granted and they will not regret reelecting us," he added.
Regional Manager, Julius Berger Nigeria PLC, Mr. Juergen Fischer said they have increased the pace of   work at their sites and with the concrete super structure laid, the Rebisi flyover will be delivered at the end of October 2020.
He explained that while the Rumuogba Flyover will completed one month later, the Rumuola flyover will be expanded to allow for service lanes,  a new roundabout,  and installed traffic light.

We Shall Revamp Famous Secondary Schools In The State Says Rivers State Governor, Wike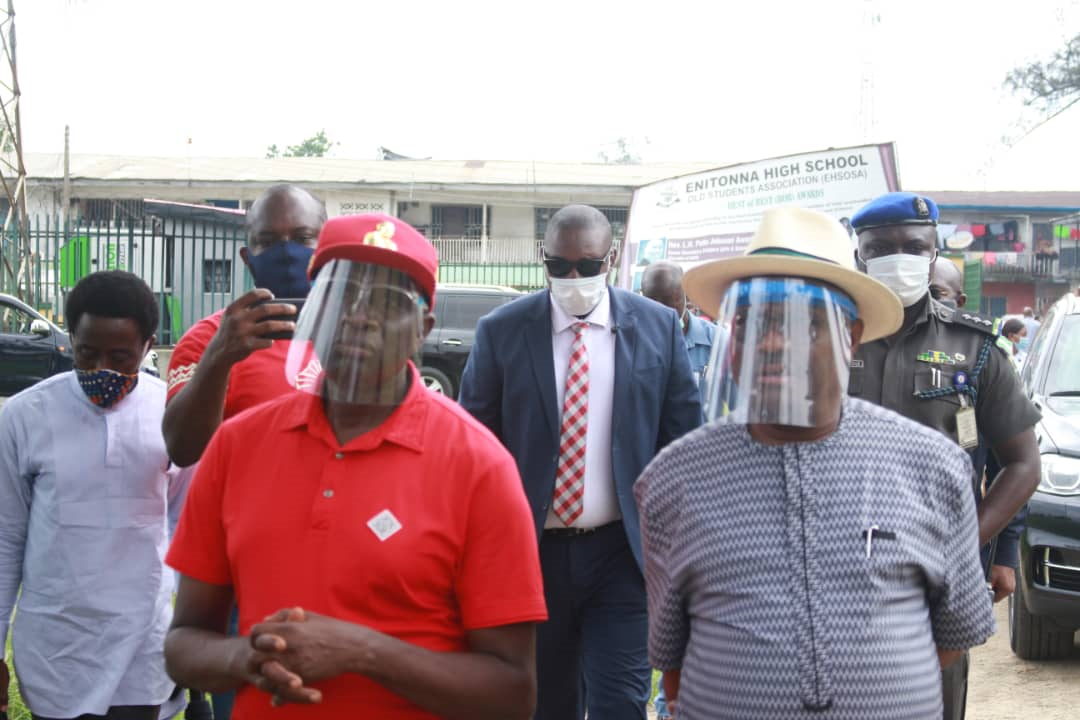 Rivers state governor, Chief Nyesom Ezenwo Wike has reiterated commitment to upgrading facilities in schools that have contributed in moulding prominent personalities and made the state famous, educationally.
Governor Wike gave the assurance after inspecting the progress of rehabilitation work at the Government Comprehensive Secondary School and the Enitonia High School located in Borikiri Town in the Port Harcourt local government area of the state.
The governor expressed sadness over wastage of funds by  the previous administration in building new schools far away from where large number of people reside and abandoned structures of the old school.
He said if proper attention had been  given to schools, which are located within densely populate areas they would have continued to produce renowned personalities as in the past to the benefit of the state.
"I feel so sad that these schools are in such bad state. They are schools that have made the state pride. I don't know why government will believe and continue to build new schools instead of putting the old schools in a position where they can be very conducive for students.
"You know those who have made names in the Port Harcourt; some of them attended these old schools. I have promised that we will do all we can to bring back the schools to what they used to be.
I've rescheduled another meeting with the old students of the Government Comprehensive Secondary School, led by their chairman, Noble Abbey, to see what other things we will add  to the would have continued to produce renowned personalities as in the past to the benefit of the state.
"I feel so sad that these schools are in such bad state. They are schools that have made the state pride. I don't know why government will believe and continue to build new schools instead of putting the old schools in a position where they can be very conducive for students.
"You know those who have made names in the Port Harcourt; some of them attended these old schools. I have promised that we will do all we can to bring back the schools to what they used to be.
I've rescheduled another meeting with the old students of the Government Comprehensive Secondary School, led by their chairman, Noble Abbey, to see what other things we will add  to the ongoing rehabilitation but the landscaping is a top priority to us, "he said.
"I won't allow the schools to die.  We must continue to retain the name.  We will also look at the schools that  missionaries have taken over like the Okrika Grammar Schools. We will invite the missionaries to discuss the modalities," he added.
The governor also inspected extent of work done at the Real Madrid Football Academy located at Elekahia Town and said no excuse will be accepted from the contractor from handing over the project in August.
He said the academy must commence formal training in sports  and academic activities in September when the new academic session begins.
Governor Wike commended the contractor for the pace of work  that has reach the plastering stage of the administrative, classrooms and hostel blocks.

Rivers State Governor, Wike Attributes Success Of Urban Renewal To Financial Prudence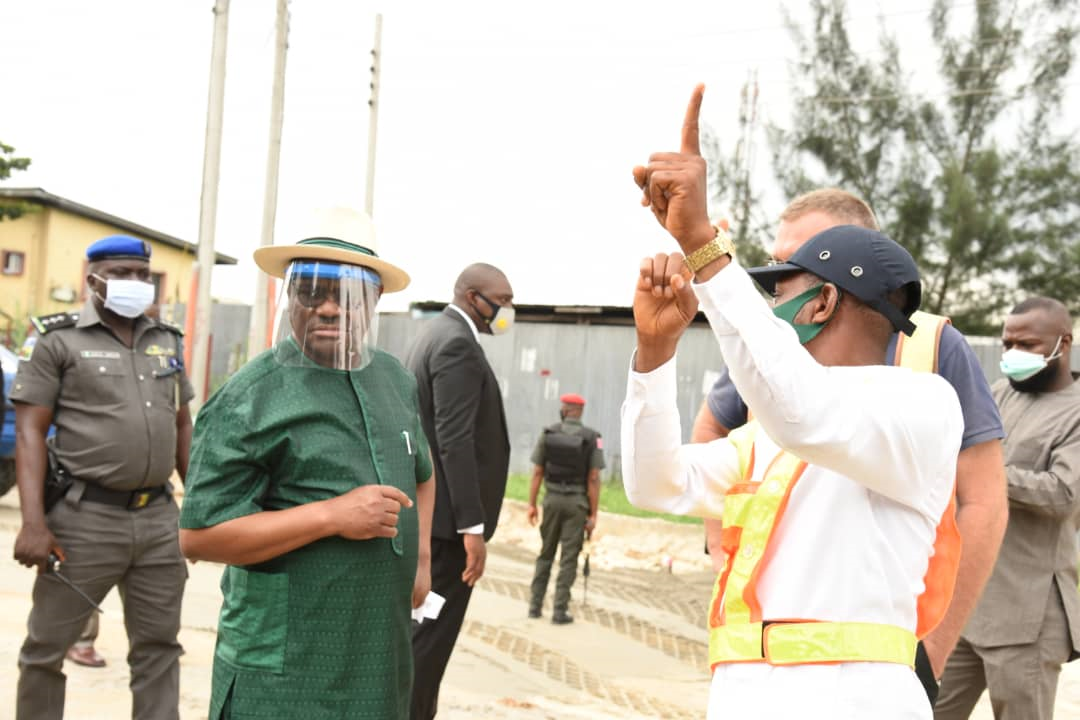 Rivers state Governor,  Chief Nyesom Ezenwo Wike says his urban renewal programme in the  state is successful because of financial prudence by his administration
The governor also said 10 hectares dredged land located opposite the NLNG head office will be developed to further enhance the aesthetics of Port Harcourt city under the  urban renewal programme.
Speaking with journalists after the inspection of on-going shore protection work at the sandfilled land,  governor Wike said it is amazing to have recovered such land that once served as a hideout for criminals.
He said though a decision has not been taken on what activity to approve on the land,  Julius Berger construction company has been asked to start the provision of infrastructure that can serve for residential or commercial purposes.
"Everybody knows that the place used to be mangrove area that served as criminals hideout opposite the new NLNG head office, but we were able to reclaim it.
"The work men are doing a good job there, it is not less than 10 hectare of land, and it is a very lucrative site for everybody who wants to carry out productive activity. We are also happy that we are now doing the shore protection.
"We have asked Julius Berger to  go there for the provision infrastructure so that tomorrow if it is for residential,  mixed development or commercial, we know that the infrastructure is already provided," he said.
Governor Wike who also inspected an abandoned six storey former Riv-Insurance building near the Isaac Boro Park flyover, said the property would be rehabilitated.
"We went to Aba Road to see a property that was abandoned for over twenty years. What we are doing now is to bring it back to what it is supposed to be.
"At the new GRA, we are making sure that the roads are completed as promised the people and they are handled by Julius Berger construction company. You can see that Port Harcourt has changed because of the various construction works.
"The urban renewal programme is a great success as far as we are concerned.  So many people are asking to know where we are getting the money when there is covid-19.  What's important to us  is management. When once you know how to manage resources,  you will not have problems. We are also impressed with the reaction of the people," he added.
The governor also said the last five years of his administration has been remarkably successful because of the help of God.
He recalled how the former governor of the state had mocked that there would not be money anywhere for him to pay salary and to provide infrastructure but he had surpassed it and the people are not disappointed too.
The governor also inspected the Elelenwon street and the Woji Road in the new GRA.