Too Much Salt Consumption, Bad For Kidney – Expert
A Nephrologist, specialist in kidney disease, Dr Manda David-West, says excessive salt consumption is one key cause of kidney disease.
Stating this in a recent exclusive interview, she said an in-take of too much salt is capable of damaging one's kidney, in addition to raising blood pressure.
"So much salt can raise up the Blood Pressure (BP), and once the BP is raised, if you're not on medication, it can damage the kidney over time", she said.
In order to prevent this, Dr David-West, who is a consultant Nephrologist at the University of Port Harcourt Teaching Hospital (UPTH), calls for limitation in salt in-take.
She further stated that to prevent kidney disease, there is the need to cut down on carbohydrate and callory intake, alongside checking food intake capable of increasing chances of developing diabetes mellitus.
Dr David-West continued that enough intake of fruits and vegetables, alongside exercises with a view to keep fit also prevents kidney diseases.
Contrary to widespread belief that food supplements are good for the body, Dr David-West said too much intake of food supplements is not good for the body.
According to her, besides taking fruits and vegetables, "they should exercise, try and keep fit, try and be active as much.
"Even (food) supplement have not been proven to be good to the kidney, especially when it is taken for a long time".
She further stated that herbal medication should also be avoided to prevent complications associated with kidney disease.
Sogbeba Dokubo

'WAD's Theme Confirms Wike's Commitment To Healthcare Dev'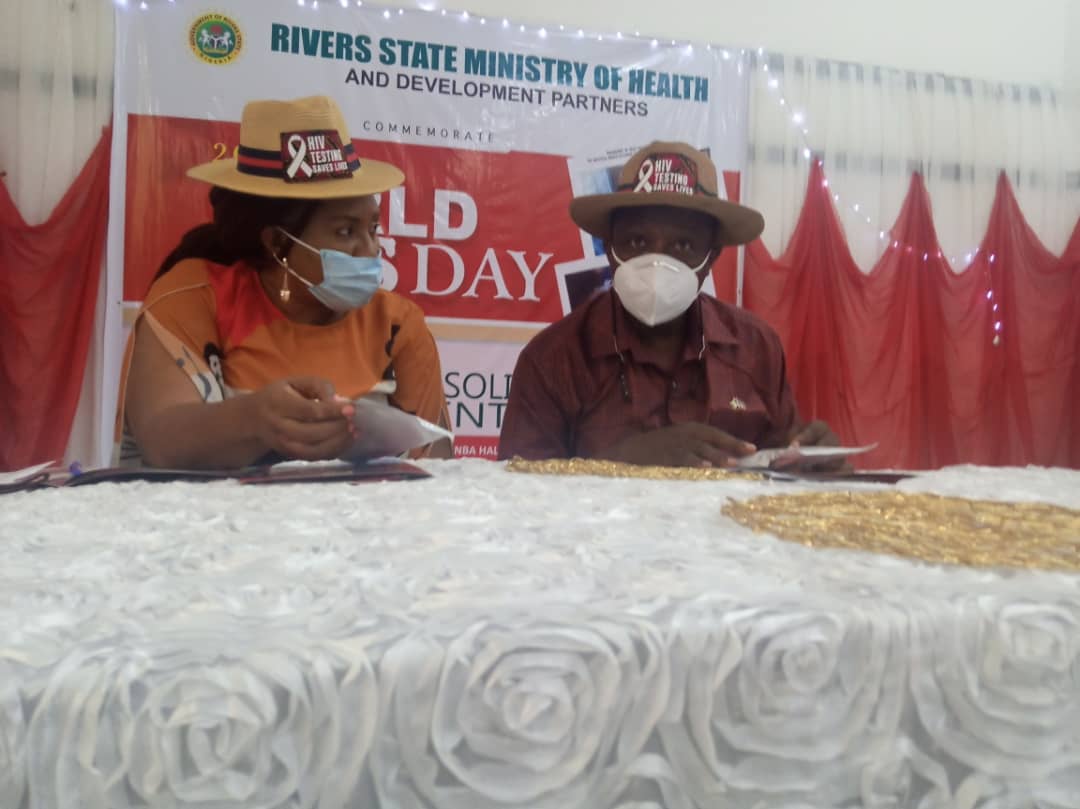 Rivers State Commissioner for Health,Prof Princewill Chike, has stated that the theme of the 2020 World AIDS Day (WAD) is in line with the commitment of the State Governor, Nyesom Wike, in terms of improving healthcare delivery in the State.
Noting the theme, "Global Solidarity, Resilient Services", by the World Health Organisation (WHO), the Commissioner said, "this year's theme actually underscores the commitment of this administration to improving the health service delivery to be resilient and sustainable through global partnerships and collaborations".
Consequently, he said, as the State marks the 2020 WAD, "it is partinent to underscore the huge effort by government to strengthen healthcare delivery frameworks for better services delivery".
The Governor, the Commissioner continued, "is committed to the NEW Vision of repositioning of the Primary Health Care centres, upgrading of the secondary health care facilities, and standardising care in the State-owned Teaching Hospital to meet international best practices.
"The establishment of the State-owned medical school at the Rivers State University, and the Mother and Child Hospital are age-long promises fulfilled for resilient and sustainable delivery of health care services to the people of Rivers State", he said.
Prof Chike used the opportunity to enumerate some significant progress made by the State Government in confronting HIV/AIDS in recent times.
According to him, this include "significant improvement in linkage and retention as a result of user-free waiver for Persons Living With HIV/AIDS (PLWH) receiving services in the State", adding that the State has also approved payment for Ante-Natal Care (ANC) for Positive Pregnant Women (PPW).
"As part of on-going programmes and highlights for the WAD commemoration, the State AIDS and Sexually Transmitted Infections (STIs) Control Programme, in conjunction with supporting partners, have already embarked on massive case-finding and linkage to care of identified positives in all Local Government Areas in an effort to pursue epidemic control", he said.
The State Health boss stated further that "multi-month dispensing of drugs was adopted, especially during the outbreak of COVID-19 to ensure increased access to treatment.
"These are clear indications of our commitment to improving access to health services for HIV and ultimately improving patient outcome. Patients are living happier lives, receiving quality care without stigma in convenience and ambience of confidentiality", he said.
While urging everyone to be advocates of HIV preventive behaviours in wherever they find themselves, the Commissioner concluded that "achieving an HIV-free generation is a task this administration is proud to pursue".
The WAD is commemorated globally on December 1 annually.
By: Sogbeba Dokubo

Foods To Check Ulcer Symptoms
Acid reflux is one of the symptoms of Ulcer. Ulcer can be gastric, duodenal, but whatever one that afflicts you, know that it is largely caused by the food you eat.
The list of foods that are found to be useful for alleviating acid reflux symptoms below might be of interest to you.
Acid reflux disease (gastroesophageal reflux disease or GERD) is such that acidic contents from the stomach flow up into the esophagus, cause discomfort (cannot tolerate it), inflammation, and even scarring.
Acid reflux symptoms experienced include a burning pain in your chest (heartburn), an irritation in your throat and / or acid taste in your mouth, a chronic cough, bad breath, belching, difficulty in swallowing, nausea, as well as laryngitis.
In coping with acid reflux symptoms many people may resort to antacids. However, antacids can create problems of their own — they interfere with digestion and the absorption of nutrients from your food, and hence should not be taken on the long term basis.
On the contrary, natural remedies can be very effective when it comes to treating acid reflux. And one form of natural remedy for acid reflux is food therapy — dealing with acid reflux naturally by incorporating more foods that help relief the condition in your diet.
In natural health and healing, we believe in holistic health and healing, as we realise that different parts of the human body are highly interlinked, often beyond man's understanding. We also believe that the body has the ability to heal itself of any disease, even supposedly incurable diseases.
In order to do so, the body needs the support of some basic dietary and lifestyle good health habits, such as a full body detox and a proper understanding and application of nutrition. No matter how remote or unrelated a health condition may seem, these fundamental health steps will greatly magnify the effects and benefits of any of our health-promoting efforts, including the use of specific natural health remedies.

FG Appoints National Task Team On COVID-19 Vaccine
The Minister of Health, Dr Osagie Ehanire, has appointed a National Task Team on COVID-19 vaccine, tasked with the responsibility to acquire and deploy vaccines in the country.
The information is in a statement signed by  the Director of Hospital Services in the ministry Dr Adebimpe Adebiyi, yesterday in Abuja.
She noted that minister of health is the Chairman of the Task Team, while the minister of State for Health, Olorunimbe Mamora, will serve as Alternate Chairman.
The Executive Director of the National Primary Health Care Development Agency will serve as Secretary and the permanent secretary in the ministry will serve as a member.
The ministers of Foreign Affairs, Finance, Budget and National Planning, Science and Technology will also serve as members.
Director Generals of Nigerian Institute of Medical Research, Nigeria Centre for Disease Control (NCDC) and National Agency for Food and Drug Administration and Control will be members.
Also, development partners such as World Health Organisation (WHO) and the UN Children's Fund (UNICEF) will be members, among others.
The minister said that COVID-19 was real and enjoined the public to observe all protocols as prescribed by government
Ehanire had earlier at the daily briefing of the Presidential Task Force (PTF) on COVID-19, spoken on the need for a task force on vaccine to come on board.
He said, "now that vaccines are known to be close at hand, the ministry is taking measures toward vaccine security, for which an 18-man National COVID-19 Vaccine Task Team with seven Terms of Reference (ToR) will be inaugurated.
"The ToR will include generating strategies for acquisition, deployment and options for licenced production by Biovaccine Nigeria Ltd.
"Our options with WHO/GAVI led Covax facility remains our first line of engagement," he added.