Woman Kills Lover In Imo, Another Kills Husband's Mistress
A woman killed her lover, while another killed a lady she accused of dating her husband. Both incidents occurred in Imo State.
Chinelo Joseph, the woman that allegedly killed her lover, Okenna Ekwebelem, in Okigwe, Imo State, was said to have been prevented by Ekwebelem from leaving after a visit to him.
Imo State Police Command, through the Police Public Relations Officer, Owerri, Superintendent Orlando Ikeoku, confirmed the incident.
Ikeokwu said that operatives of the divisional headquarters in Okigwe have arrested Chinelo Joseph, while investigation is ongoing.
According to him, police preliminary investigation revealed that both lovers have been in a relationship for sometime before the incident.
It was learned that Chinelo Joseph visited the deceased on the fateful day and after spending time she decided to leave.
However, the deceased refused to allow her leave, an action that led to an argument between them.
Insisting that she wanted to go, Chinelo was said to have got up to leave, when her lover allegedly blocked her part. Yet she refused to stay.
An altercation ensued and Ekwebelem beat Chinelo. In retaliation, she was said to have hit him on the chest with a metal, resulting to his death instantly.
The police spokesman, Ikeoku, said the corpse had been deposited in a morgue, adding that the matter would be charged to court.
Another kills sex worker for dating husband meanwhile, police operatives from the divisional police headquarters, Ohaji in Ohaji/Egbema council area of Imo State have arrested a woman that allegedly killed of a commercial sex worker.
Ibiyeomie Justifies Church Hqtrs In PH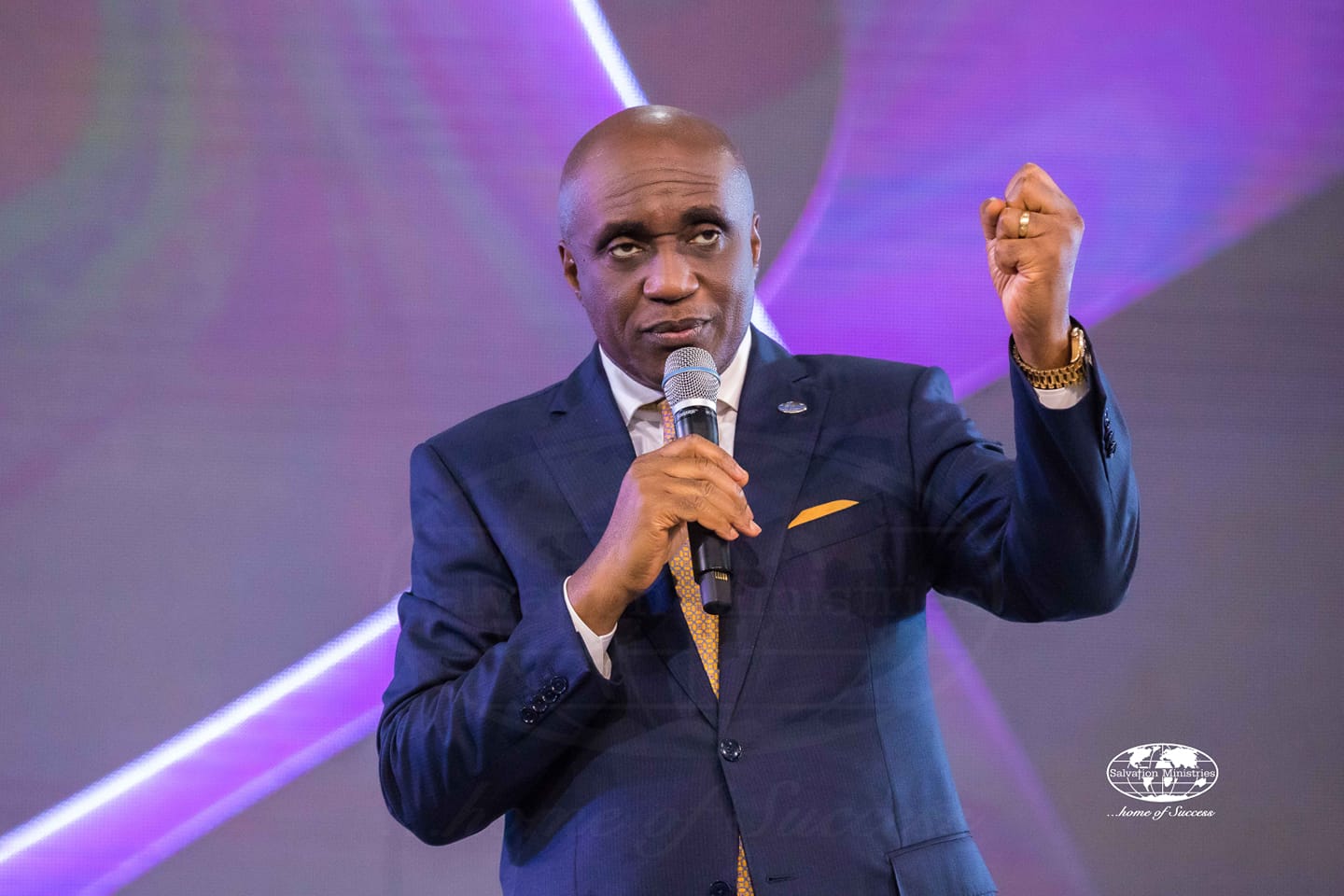 Pastor David Ibiyeomie of the Salvation Ministries in Port Harcourt has revealed the reason he established the headquarters of his church in Port Harcourt, the Rivers State capital.
Ibiyeomie spoke on the theme, "Supernatural Turnaround Through Hosanna Praise Part 1", in the first service, yesterday.
He said he settled for Port Harcourt because he found that his father in the Lord, Bishop David Oyedepo, was already dominating the Lagos area.
"When this ministry started, I said my father is in Lagos dominating but for here, I will dominate. Somebody said but this church has branches. I said mine is not a branch but the Headquarters.
"My father's Headquarters is dominating in Lagos, So, a branch cannot dominate mine which is Headquarters. When you don't take over as a child of God, it is an insult.
"Can you come to Port Harcourt and won't hear of Salvation Ministries? Even those who hate us know this. It is not of our own doings but God's doings.
Ibiyeomie also thanked God and the Hossana Praise for the heights the church has attained since he founded it.
"When this church started, we printed 20,000 copies of handbills and in that seminar, nobody came. 20,000 copies of handbills should at least bring 1,000 people but it was not so, no new member, no first timer.
"This church has been without signpost at a time, yet crowd enters here and you wonder where they are coming from. So, it is not your signpost but His publicity. If God does not advertise you, nobody will patronise you", he said.
'When this church started in Port Harcourt, Nigeria, where we were located was not a highway. People told us that why did we put a church in a hidden place. Before we came, people put churches in highways.
"It is not your location but God's publicity. People will come from Aba in Abia State, Calabar, Abuja, just to worship here.
"A man told me then that he flies in from Abuja every weekend to worship in the church. It is not how close your business is but God's publicity. You can be at the corner and people will still come when God is involved.
"Hosanna Praise compels multitude to follow you. Mathew 21:8-9 Great multitudes went before and after Him.
"People will be waiting for your products to arrive in the name of Jesus. John 12:32. When we lift God up in praise, he will draw men to Himself. If people are not coming to patronise you, is that a business.
"All you need to do is to give God high praise for you to get your high place. Don't ask your neighbour do you like my dance. Your concern is dancing to please God. If you do anything, you need God's help for it to be known".
Ibiyeomie, who was born in October, 1962, attended Bible school training at Bishop David Oyedepo's Word of Faith Bible Institute (WOFBI).
After completing the training, he started a house fellowship with his family in Victoria Island, Lagos.
He later moved to Port Harcourt, Rivers State, where he started Salvation Ministries (Glorious Chapel) on April 13, 1997, with a little over twenty members in attendance.
In July, 1997, the church relocated to a larger plot of land.
As of 2017, Salvation Ministries averages about 50,000 attendees every Sunday at its headquarters.
In February, 2011, Salvation Ministries started 14 satellite churches in one day, with all running five services each.
#TwitterBan: We're Closely Monitoring Repression In Nigeria, Commonwealth Warns
The Secretary-General of the Commonwealth, Rt Hon Patricia Scotland, has stated that the Commonwealth was "closely monitoring developments around suspension of Twitter, and allegations of repression of the rights to freedom of expression, access to information, media freedom, as well as disregard for the rule of law in Nigeria."
Scotland said, "All Commonwealth member countries, including Nigeria, have obligations and commitments to uphold freedom of expression as one of the core values and principles of the Commonwealth Charter. This underscores a commitment to the Universal Declaration of Human Rights and other relevant human rights covenants and international instruments."
The statement by the Commonwealth followed an urgent appeal by Socio-Economic Rights and Accountability Project (SERAP) urging Scotland to "apply the Commonwealth Charter to hold the Nigerian Government to account over the unlawful suspension of Twitter in Nigeria, and the resulting repression of freedom of expression, access to information and media freedom."
This development was disclosed, yesterday by SERAP Deputy Director, Kolawole Oluwadare.
In the urgent appeal, SERAP had stated that, "The Nigerian Government has repeatedly demonstrated that it is not committed to protecting human rights. The Commonwealth should take a clear stand to ensure accountability of institutions, freedom of expression, access to information, and media freedom in Nigeria."
Responding, Scotland, in a letter sent to SERAP, and made available to newsmen, yesterday, said, "I write to acknowledge with thanks, receipt of your letter dated June 5, 2021, highlighting concerns about the suspension of Twitter in Nigeria."
The letter by the Commonwealth dated July 22, 2021, and signed on behalf of Scotland by the Officer in Charge, Governance and Peace Directorate, Roger Koranteng, read in part, "The Commonwealth Secretary-General has been following the developments in Nigeria very closely and she is engaging the relevant stakeholders.
"Please, be assured that the secretariat will remain engaged with the authorities in Nigeria and encourage a speedy resolution of this matter.
"All Commonwealth member countries (including Nigeria) have committed themselves to upholding freedom of expression as one of the core values and principles of the Commonwealth Charter, which underscores a commitment to the Universal Declaration of Human Rights and other relevant human rights covenants and international instruments."
Oluwadare said, "We are very delighted that our letter and the concerns that it raises have caught the attention of the Commonwealth Secretary-General. Given her public record for justice and human rights, we have absolutely no doubt that she will prevail on the President Muhammadu Buhari administration to lift the unlawful suspension of Twitter, respect human rights, and obey the rule of law.
"But it should never have reached this level, as the government has absolutely no justification to suspend Twitter in Nigeria. The Buhari administration ought to have complied with the Commonwealth Charter and other similar human rights standards as a matter of routine."
SERAP's urgent appeal dated June 5, 2021, read in part, "Ms Scotland should urgently consider recommending the suspension of Nigeria from the Commonwealth to the Heads of Government, the Commonwealth Chair-in-office, and Queen Elizabeth II, as Head of the Commonwealth to push the government to take concrete measures to respect and promote the Commonwealth's values of human rights, transparency, accountability and the rule of law.
"Nigerians can only freely participate in the democratic processes and shape the society in which they live if these fundamental human rights are fully and effectively respected, protected and promoted.
"The suspension has the character of collective punishment and is antithetical to the Nigerian Constitution and the country's international obligations. Nigerian authorities would seem to be suppressing people's access to Twitter to exploit the shutdown to cover up allegations of corruption, abuses, and restrict freedom of expression and other fundamental rights.
"The Nigerian government has also called for the prosecution of those who violate its order suspending Twitter operations in Nigeria. This order for prosecution of Twitter users violates the legal rule that there should be no punishment without law.
"Respect for Commonwealth values is essential for citizens to trust Commonwealth institutions. The Commonwealth ought to take a strong stand for protection of human rights, transparency and the rule of law in Nigeria, principles which are fundamental to the Commonwealth's integrity, functioning and effectiveness of its institutions.
"The suspension of Twitter in Nigeria demonstrates the authorities' determination to suppress all forms of peaceful dissent by the Nigerian people. There are well-founded fears that the human rights situation in Nigeria will deteriorate even further if urgent action is not taken to address it.
"According to our information, the Nigerian government on Friday 4 June, 2021 unlawfully ordered all internet service providers to suspend Twitter in Nigeria. The suspension of Twitter operations in Nigeria followed the deletion of President Muhammadu Buhari's tweets, which according to Twitter 'violated the Twitter Rules.'
"The suspension of Twitter in Nigeria is taking place against the background of repression of the civic space and harassment of media houses, and journalists who are targeted simply for performing their professional duty."
"The suspension of Twitter has seriously undermined transparency and accountability in government. The lack of transparency undermines the rule of law and Nigerians' ability to participate in their own government.
"Lack of transparency and accountability, and the absence of the rule of law in Nigeria have contributed hugely to denying Nigerians their fundamental human rights. People have been targeted simply for using Twitter and peacefully exercising their fundamental human rights."
NDLEA Recovers N90bn Worth Of Drugs, Cash, Marwa Confirms
The Chairman of the National Drug Law Enforcement Agency, Brig-Gen Buba Marwa, has said that the agency recovered over N90billion worth of illicit drugs and cash from suspected drug traffickers from January to May, 2021.
Marwa also disclosed that over 5,000 persons had been arrested for drug-related offences while the agency had secured more than 500 convictions within the period.
He said it was important to awaken the consciousness of all Nigerians on the urgent need for them to support the NDLEA in its effort to save the country from the menace of abuse and trafficking of illicit substances to safeguard the future of Nigeria.
The former military administrator stated these in Ibadan, Oyo State, at the public presentation of a book, 'Victory in Defeat', written by Brig-Gen Larinde Laoye (rtd).
He said leaders at all levels "must attach some urgency to the need to rid our society of the drug menace.
"Our record at the NDLEA in the first five months of this year calls for sober reflection: over 5, 000 arrests; over 3,000 charged to court with more than 500 convictions, 2, 772 individuals were counselled and treated for drug-related problems.
"More than two million kilograms of assorted drugs were seized and over N90billion worth of drugs and cash recovered. These statistics are alarming and are red flags about the need to safeguard the future of the young generation," a statement by the Director, Media and Advocacy, of the agency, Femi Babafemi, titled, 'There's urgent need to rid Nigeria of drug scourge – Marwa,' quoted Marwa as saying.
The NDLEA chairman further called on all leaders and stakeholders across the country to see the urgent need to rid Nigeria of what he described as a "drug scourge.
"That is why we are advocating a new social order where drug test becomes the norm – for couples as part of the wedding rites; for students as a continuous process, starting from admission into tertiary institutions; and for government employees, as part of the employment process and periodic validation of their employment," he said.
Marwa added, "We came from all the corners of this vast country of ours – North, East and West – united in a common purpose to honour our brother and felicitate with an illustrious citizen. In our common fellowship here today, there is no room for ethnicity, religious bias, or political differences. We are here as one big family, as a microcosm of Nigeria.
"At a time we daily hear of discordant tunes in the political firmament of our dear country, here we are gathered as one people; if nothing else, this occasion is an attestation that our perceived irreconcilable differences are but mere optics that are artificial and transient. That is one big lesson we should take away from this occasion, today."
While speaking about the new book, Marwa said, "It is our wish that our younger generation should follow the illustrious path of Gen Laoye. But I want us all to be aware that the drug situation prevalent in our society today will make such an achievement difficult for a lot of young people.
"Brig-Gen Larinde Laoye (rtd) and I have a common frame of reference that inspires seamless reminiscence of our years at the Nigerian Military School (NMS), Zaria, where our paths first crossed, and later at the Nigerian Defence Academy (NDA), and during our military career in the Nigerian Army. I have crossed paths with many people, but memories about Brig-Gen Larinde Laoye are especially evergreen because he is an exceptional and unforgettable figure."