Incessant Accidents On Waterways Worry NIWA
The National Inland Waterways Authority (NIWA) has expressed worries over incessant accidents on waterways across the nation.
NIWA said it would not fold its arms and allow unlicensed boat drivers to continue to operate on waterways.
The Managing Director of NIWA, George Moghalu, disclosed this to newsmen during the sensitisation programme organised in Abeokuta, Ogun State.
"It is very important for the agency to perform its responsibility of saving people's lives on waterways.
"We are so worried over accidents that occur on our waterways and we acknowledge the fact that the lives of people are so essential to us at NIWA. That is why we are going to ensure we play in full terms our regulatory responsibility.
"Very soon, we will distribute life jackets in all water fronts. We have just finished signing the MoU that before you can board a boat, you have to wear the jacket.
"We are also not going to take it easy with unlicensed boat drivers who are operating on waterways.
"Whoever is caught will be sanctioned. We are not also going to allow leakable boats and vessels who are not permitted to operate on waterways.
"Those who are carrying passengers inappropriately will be stopped. We are talking about human lives and they mean a lot to us", Moghalu said.
Moghalu, however, said the authority needed more revenue as it was operating on limited resources.
Customs, Clearing Agents Trade Words Over 100% Examinations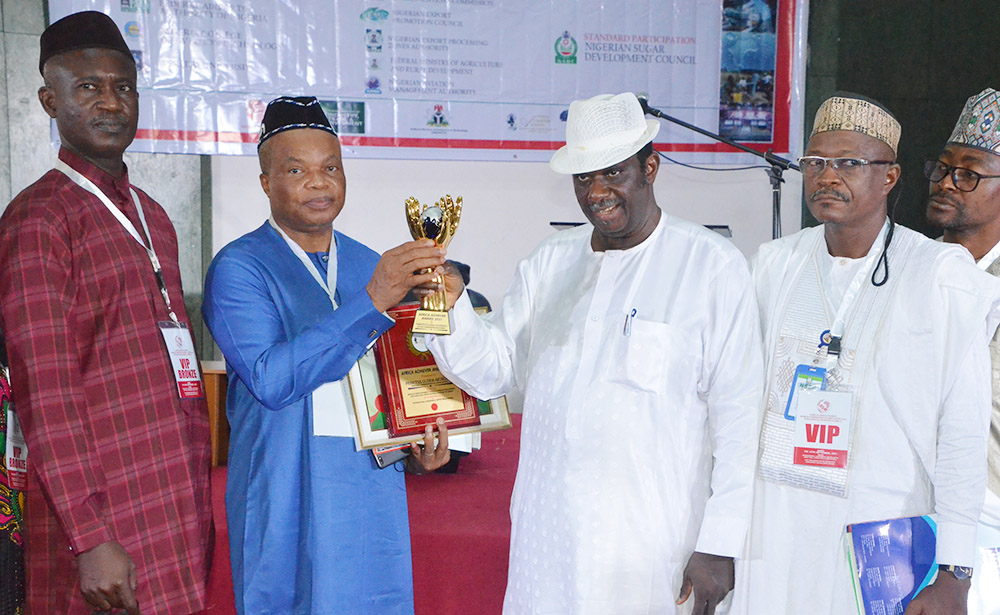 The Nigeria Customs Service (NCS) has reported members of the Association of Nigeria Licensed Customs Agents (ANLCA) to the House of Representatives Committee on Customs and Excise over obstruction of 100% physical examinations of containers and cargoes.
National President of ANLCA, Iju Tony Nwabunike made this known during the association's National Executive Council (NEC) meeting held in Lagos State, recently.
He said the NCS had reported the association to the House Committee on Customs accusing them of obstructing 100% physical examinations of imported goods.
According to him, "we received a letter on the above subject matter from the House of Representatives Committee on Customs and Excise, where the present management team of Nigeria Customs has alleged that members of our association particularly the executives have been obstructing their men from conducting 100% physical examinations on cargoes in the ports.
"I am hereby officially informing the NEC on this serious allegation and the need to engage the House Committee in order that we may put the record straight and debunk this spurious allegation .
"However, I need to inform and advise our professional colleagues that we should also endeavour to be more patriotic and increase our level of compliance.
"By doing this, we can have the moral right to challenge any illegalities or arm twisting and imposition of spurious demand notices".
On the indigenisation of customs brokerage, the ANLCA boss alleged that jobs meant for Nigerians have been taken over by foreigners and that there is no law protecting them.
He accused foreign firms such as Maerskline and MSC of floating clearing firms to usurp jobs meant for Nigerian Customs Brokers and Freight Forwarders .
"It is no longer news that foreigners have taken over this specialised aspect of the logistics chain under the guise of rendering door -to-door service and as we speak now, all project cargoes have been taken over by these foreigners and no government policy seems to be protecting our profession.
"Maerskline, a shipping line has registered a clearing outfit called Damco Logistics Limited. While Meritarrian Shipping Company (MSC) also has been licensed by the Board of Customs to practice customs brokerage with the name Medlog Logistics Services Limited.
"The younger freight forwarders/ customs brokers are gradually losing their jobs, while the older ones do not have anything doing lately", he said.
The ANLCA NEC meeting also deliberated on the African Continental Free Trade Area ( AfCFTA) urging the Federal Government to come out with open policy , especially on the government agency that will issue certificate of origin for Nigeria.
On the challenges faced by customs brokers and freight forwarders , the meeting lamented Nigeria's index rating in the logistics performance as being very low and called on the government to look into it.
By: Nkpemenyie Mcdominic, Lagos
NIMASA Urges Shipowners, Operators To Update Vessel Documentations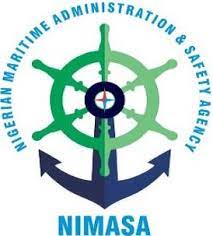 The Nigerian Maritime Administration and Safety Agency (NIMASA) has advised shipowners, operators and stakeholders to update their vessel documentations in accordance with the required laws.
The agency said all shipowners and operators are now required by law to update their vessel documentation, which  include all permits or exemptions, levies, record books and plan approvals.
Director General, NIMASA, Bashir Jamoh, stated this in an interview with newsmen, recently. 
Jamoh said, "this is also a pre-condition for further processing of any vessel or company requests with the agency.
"NIMASA will mete out sanctions to operators who fail to comply with the relevant requirements.
"The new move is pursuant to the agency's statutory mandate to implement all provisions applicable to marine environment protection and documentation as enshrined in the International Convention for the Prevention of Pollution from Ships (MARPOL), 1973; the Merchant Shipping Act, 2007; and the NIMASA Act 2007″.
The NIMASA boss added that the effective application of environmental protection regulations in the maritime domain was crucial to the country's quest for economic development.
"The agency's interest was in bringing relevant stakeholders on board to facilitate a sound and seamless certification and marine environment protection regime.
"We are deliberate, methodical, and strategic in the enforcement of the environmental protection requirements as they relate to our own laws and international regulations that we accede to.
"A well protected marine environment guarantees investors' confidence, which is a basic necessity for the maximisation and optimisation of our rich maritime endowments. This touches directly on the country's economic diversification and sustainable development drive", he said.
Pirates Attack Vessel, Injure Crew Members At GoG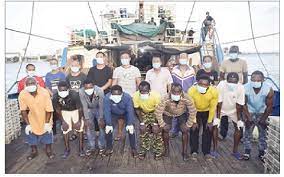 The International Maritime Bureau (IMB), Piracy Reporting Centre, says a recent pirate attack on an offshore vessel along the Gulf of Guinea (GoG) injured two crew members.
The attacks on the ship and crew members occurred in less than three months after the Nigerian Maritime Administration and Safety Agency (NIMASA) launched its much-touted Deep Blue project.
The Deep Blue project, which cost Nigeria a whopping USD195 million (about N80 billion), was touted by NIMASA and the Minister of Transportation, Rotimi Amaechi, as the answer to piracy in the Gulf of Guinea.
Both Amaechi and the Director General of NIMASA, Dr Bashir Jamoh, assured the maritime community that the project would end piracy in the Gulf of Guinea.
Director General, NIMASA Jamoh had described the project as "mission accomplished".
The project, also called the Integrated National Security and Waterways Protection Infrastructure, was launched by President Muhammadu Buhari on June 10, 2021.
A statement by the IMB says five persons in a speed boat armed with guns approached, fired upon and boarded the offshore supply ship, which was at anchorage.
"The alarm was raised and crew members secured themselves in the ship, but two crew were injured due to the firing and required hospitalisation," the report said.
The remaining crew was reported safe and local authorities were notified.
The IMB's latest global piracy report showed 68 incidents of piracy and armed robbery against ships in the first six months of 2021, the lowest total since 1994 and down from 98 incidents during the same period in 2020.
However, the Gulf of Guinea continues to be particularly dangerous for seafarers with 32% of all reported incidents taking place in the region. 
The region also accounted for all 50 kidnapped crew and the single crew fatality recorded by IMB during the first half of 2021.
"Whilst IMB welcomes reduced piracy and armed robbery activity in the Gulf of Guinea, the risk to seafarers still remains. By reporting all incidents to the Regional Authorities and IMB PRC, seafarers can maintain pressure against pirates", the statement added. 
IMB Director, Michael Howlett, said bringing together maritime response authorities through initiatives like Nigeria's Deep Blue Project and Gulf of Guinea Maritime Collaboration Forum would continue to strengthen knowledge sharing channels and reduce risk to seafarers in the region.