Suswam Wants Politicians, Leaders To Spend Time In Prison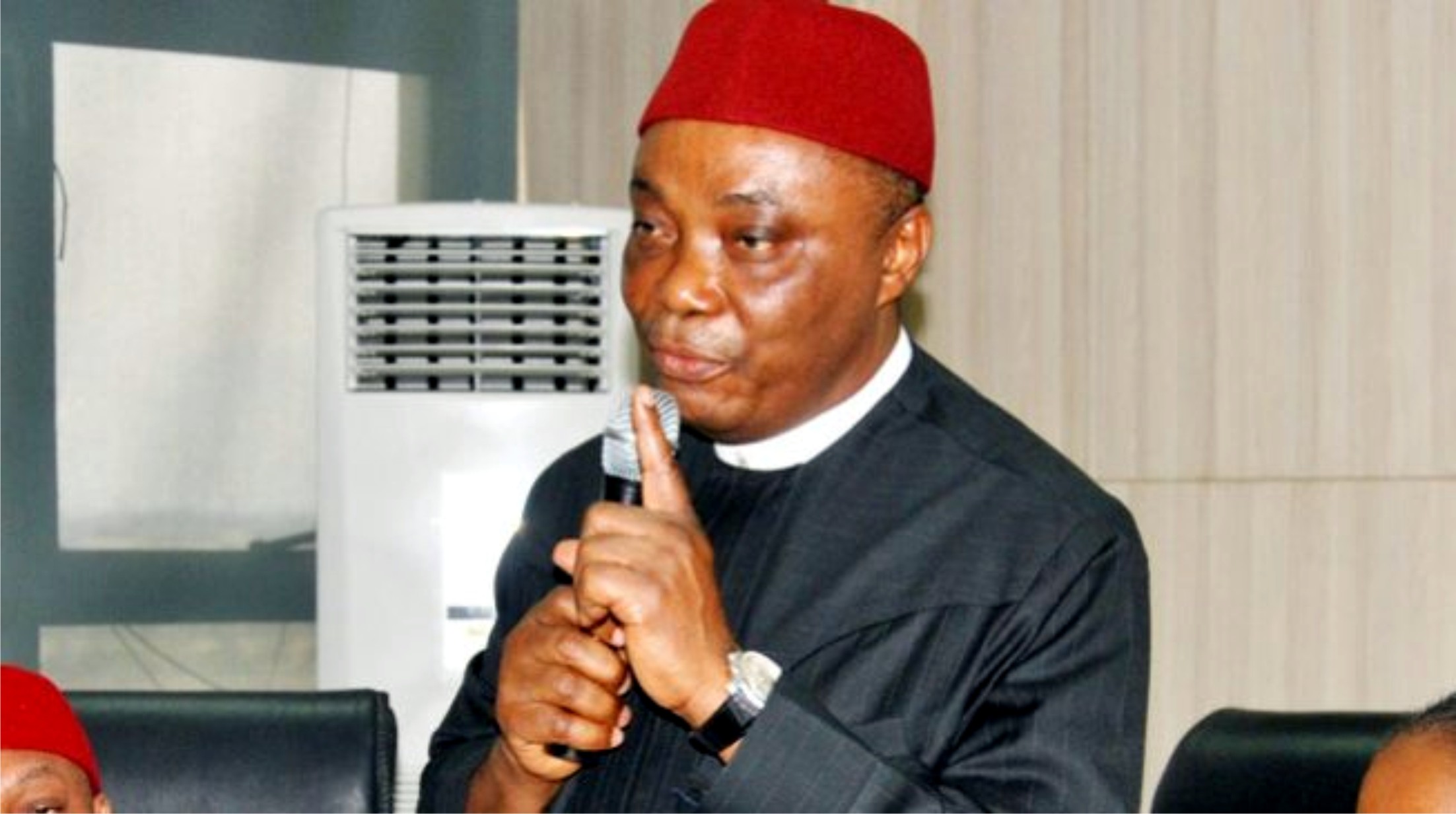 Senator Gabriel Suswam (Benue East) has suggested that some leaders and politicians should be allowed to spend a day or two in prison to be better leaders and politicians.
Suswam made this suggestion last Tuesday at the plenary while contributing to a motion moved by Sen. Uche Ekwunife (Anambra Central) on 'The need to upgrade, decongest and disinfect Correctional Centres nationwide.'
"I want to strongly support this motion based on my personal experience of what I saw, and when I left, I recommended that for people to be proper leaders in this country, at least each and every one of us must spend one or two days in prison, we would be better human beings.
"Mr President, they took me there in the night, and the following day, which was morning, the entire prison knew that I was there.
"Mr President it might interest you to know that most of the people who spend years in prison are for a misdemeanour that you can even dismiss.
"A young man spent 7years in jail for just a problem of N10, 000, various individuals were there on very minor offences that the police could afford to correct them and send them home.
"I made it a point of duty when I left that place, for the next month, I took close to twenty of those young people out of that place.
"It didn't take anything, it was just to pay that money and take them back to court.
"I selected about three lawyers, sent them to Kuje prison to go and attend to them, and about 20 of them were taken out.
"So, I think that I want to support the motion, because most of the people who are there do not need to be there, and they unduly congest the place".
Suswam decried the poor state of hygiene in the correctional Centres, pointing out that they were breeding grounds for various forms of unthinkable diseases and crimes.
According to him, "when it comes to the issue of disinfecting the place, Mr President, God forbid that this COVID-19 infects any of these correctional centres in the country, Mr President it would be a calamity.
"The environment in any of the prisons here, Mr President you would be shocked if you go there; we need to as a matter of urgency ask the authorities responsible to address the issue raised in this motion with the urgency it deserves.
"So, we can be seen as a country ready to correct people rather than sending people to go and die or become more hardened,"he said
The former governor pointed out that in some parts of the world wealthy individuals and companies build correctional centres and work in collaboration with the government.
He said "in developed climes, individuals or companies build prisons and maintain them to the highest standards and government takes care of what is needed to be taken care of.
"So, let us encourage individuals who are wealthy or companies that want to engage in that business to begin to build prisons, and maintain them and give them standards, so, we will not have the situation of congestion."
Sen. Suswam, a former governor of Benue is being prosecuted by the Economic and Financial Crimes Commission for alleged N3.1 billion fraud and spent 2 days in Kuje prison.

CROSIEC Deploys About 8,000 Personnel For LG Elections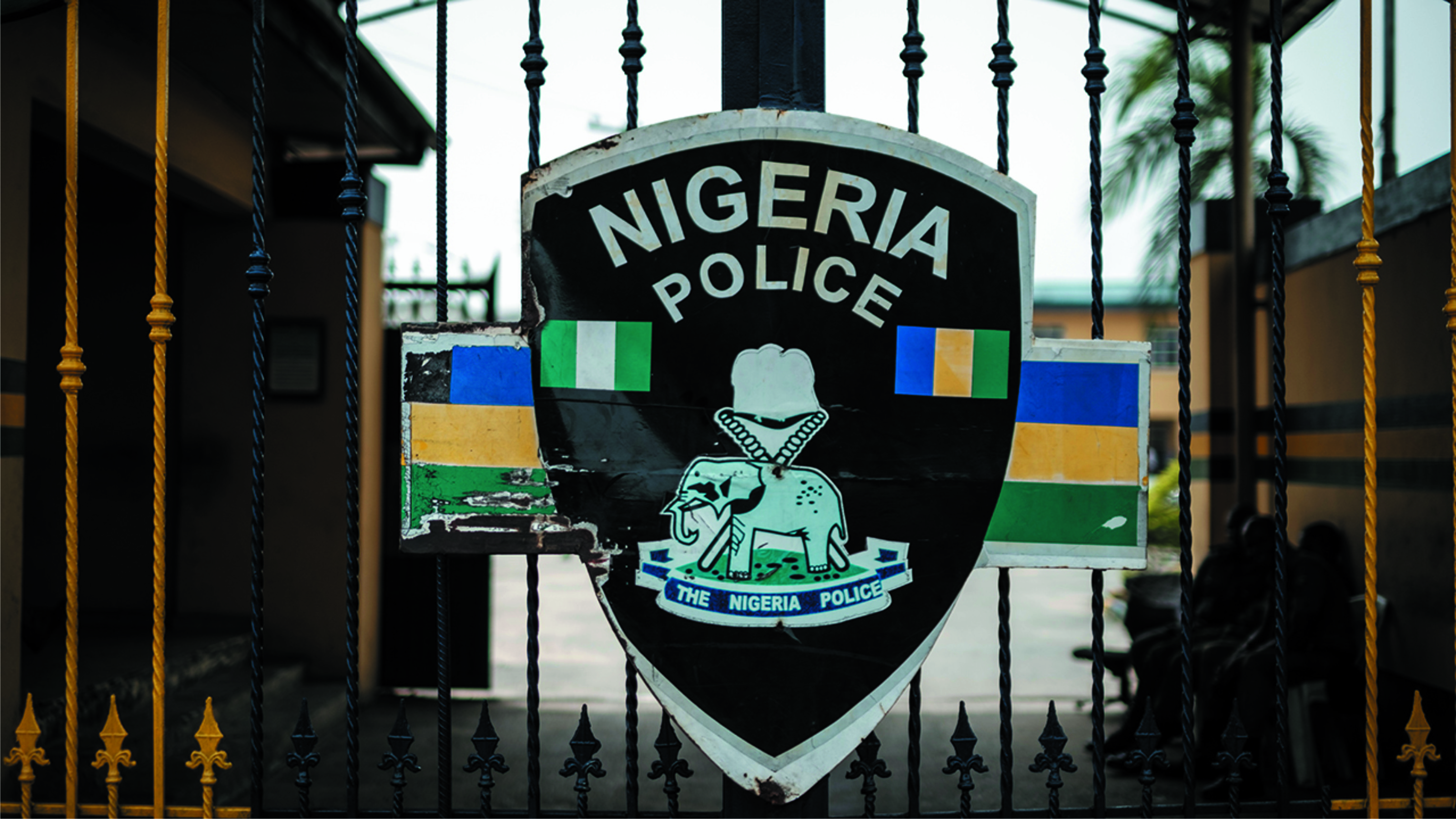 Ahead of the next Saturday's rescheduled Local Government elections in Cross River, about 8000 personnel are said to have been deployed across the state to ensure the smooth conduct of the elections.
The Chairman of the Cross River State Independent Electoral Commission, Dr. Mike Ushie, who disclosed this in Calabar while
speaking on preparations by the commission, said they are ready for the elections and one hundred percent compliant with post COVID-19
elections guidelines recently released by the Independent National Electoral Commission as well as the National Centre for Diseases
Control.
He said: "Eight thousand personnel have been mobilised to cover the two thousand, two hundred and twenty-six polling units in the state.
There will be three personnel per pooling unit, five at the accreditation centres, five at the local government and ward coalition centres.
"Accreditation and voting will take place simultaneously and  in line with INEC guidelines, there will be two levels of queuing  and voters
will vote in batches while maintaining social distance.
"We had to make sure that we are on course and lives are protected. Luckily INEC released the procedure for post COVID-19 elections and I
must say that we are in full compliance with it. INEC said we have to provide hand sanitizers, face masks and we have adopted all the
procedures one hundred percent.
" We have gone beyond INEC  and have gone ahead to procure hand sanitizers, hand washing containers, a good number of face masks  and
we are working seriously to ensure that the right thing is done", he said.
He added that the commission has given sufficient notice for the elections and confirmed that five political parties will be participating in Saturday's elections.
From FRIDAY NWAGBARA, Calabar.

Ambassador Desmond Akawor Inaugurated As New Rivers State PDP Chairman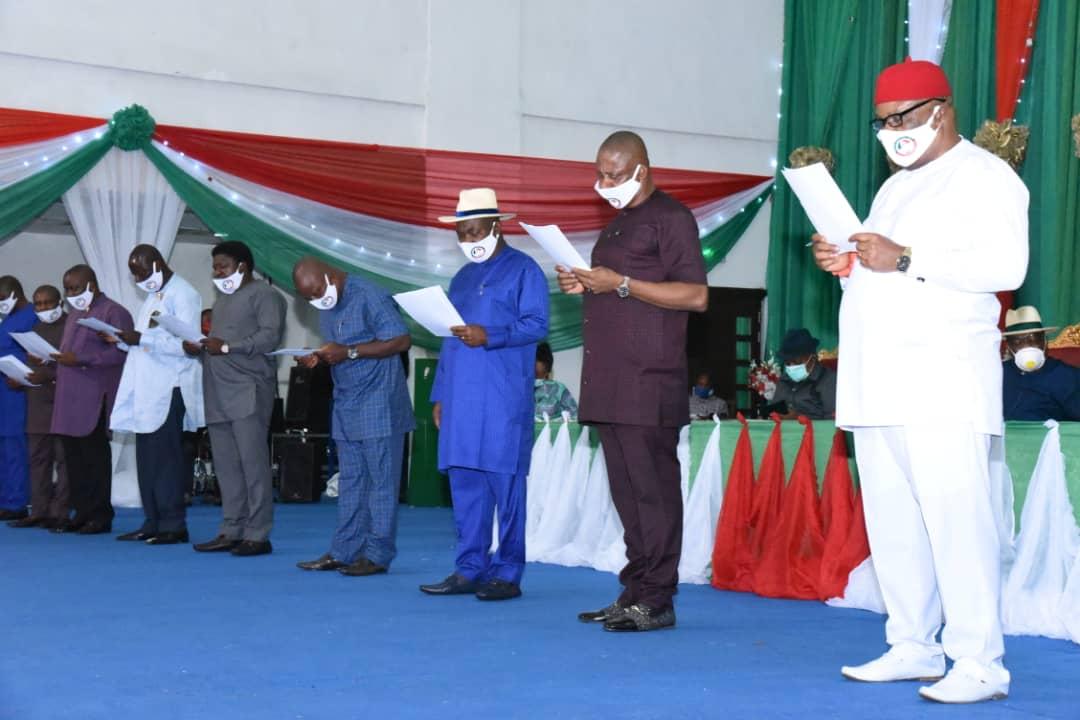 The new Rivers State Peoples Democratic Party (PDP) Executive Council has been inaugurated in Port Harcourt.
Speaker of the Rivers State House of Assembly,  Mr Ikuinyi Ibani administered the oath of office on the new executives led by Ambassador Desmond Akawor.
In a charge, Rivers State Governor, Nyesom Ezenwo Wike called on the new executives to work towards consolidating the gains of the immediate past Executive led by Bro Felix Obuah.
He commended immediate past Rivers State PDP Chairman,  Bro Felix Obuah for leading to victory .
He said: "We had challenges at the beginning, but that Executive was committed to service. Obuah has shown capacity to deliver.  It will not be easy for the new executives, but the new executives must start to prepare the party for the challenges ahead.
"Work hard to surpass the records of the past executives.  Working together is key, unity is key."
Speaking further, Governor Wike said that the Rivers State Government will never condone criminality or any attempt to violate the law.
He said: "But for the steps that , the number of cases would have been more. What makes a leader is the ability  to be firm. I value life more than property.
"Since 2015, we have not demolished any property.  But, someone who was SSG superintended over the demolition of several properties.  Now the person is talking about the draconian process.
"My joy is that majority of Rivers people love what we are doing."
Governor Wike added that from Information from the State Health Commissioner,  the State is likely to have more cases,  mostly oil workers.
National Chairman of PDP, Prince Uche Secondus congratulated the new Rivers State PDP Executive Committee,  advising them to work for the growth of the party.
Commenting on the fight against coronavirus,  Uche Secondus blasted the Federal Government for refusing to assist State Governments and provide direction for the country.
He said: "The Governors are working without help from the Federal Government.  But for God, the situation would have been worse.
"Governors are running from pillar to post. We must be grateful to Governor Wike for the initiative that he took. What the Governor has done has helped to drastically reduce the number of cases.
"Rivers State is lucky to have Governor Wike at this time of crisis ."
He said those who spread negative propaganda do so out of hatred.
New Rivers State PDP Chairman,  Ambassador Desmond Akawor thanked ththe leadership and members of the party for giving him the opportunity to serve.
He said God has used Governor Wike to rebuild a new Rivers State.  He saluted the resilience of PDP in weathering the storm.
Akawor assured that the new Executive will serve the party diligently.
Immediate Past PDP State Chairman,  Bro Felix Obuah said that the Executive Committee under his leadership led the party to victory  since 2015.
He said that the outgone Executives will continue to work for the party  to ensure future victory.

Bode George Urges FG To Relax Lagos Lockdown
A former Deputy National Chairman of the Peoples Democratic Party (PDP), Chief Olabode George has urged federal government to relax the lockdown it imposed on Lagos State as a result of COVID- 19 pandemic.
George, who made the call in a statement in Lagos, yesterday said the lockdown imposed since March 29 was adversely affecting livelihoods and bringing up security challenges.
He said though government intended to curb the spread of the virus with the lockdown, the directive had left many Nigerians hungry at home without palliatives.
The PDP chieftain noted that there must be a balance between curbing the spread of the virus and protecting livelihoods and asked the government to relax the lockdown while putting safety measures in place.
"Everywhere in Lagos is now locked down. The markets, banking halls, the local grocery shops, the supermarkets, the transportation services are all halted, frozen by the federal government directives since March 29.
"On the surface level, the federal government's position is to ensure safety, prevent communal spread of the virus and banish this scourge from our shores.
"Lagosians have been staying at home for about a month now. In a largely informal economy where most of our people depend on daily wages, the burden of lack of income is devastating.
"There is a natural growing anger in Lagos as the most vulnerable are ravaged with hunger," George said.