Don't Be Ethnic Jingoists, Wike Tells New Commissioners …Assigns Them Portfolios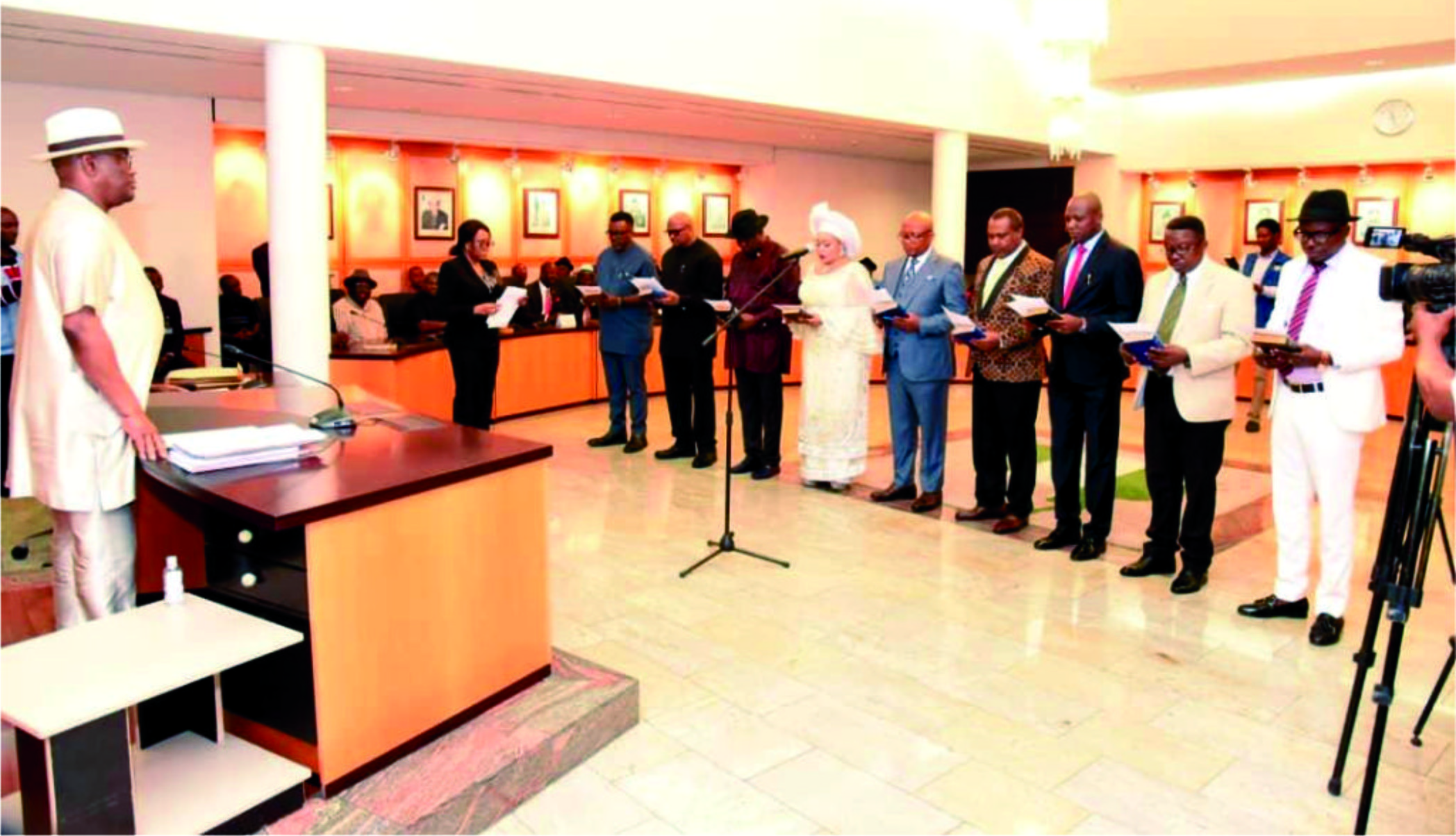 The Rivers State Governor, Chief Nyesom Wike has warned newly sworn-in commissioners to shun ethnic jingoism, saying that they were appointed to serve Rivers State and not their respective ethnic nationalities.
Performing the swearing-in of nine new commissioners at the Government House, Port Harcourt, yesterday, Wike advised commissioners who are interested in playing ethnic politics to tender their resignation.
The governor said: "Your appointment was not on the premise of ethnicity. If you play the ethnic card, please resign.
"Don't use my administration to be an ethnic superstar. You are appointed to serve Rivers people, not a particular ethnic group."
Wike said that the appointment as commissioner is not a compensation for electoral contributions, but a call to diligently serve Rivers State.
"It is regrettable that some people see appointment as patronage or compensation for electoral contributions. That is not true.
"You are appointed to serve the state. Those of you who are returning are no longer learning the processes. You know what I expect," he said.
He said the membership of the Rivers State Executive Council was basically to enhance the development of the state.
Wike said that his administration remains committed to work as if this is his first term.
He said: "Work with us to achieve. This is my second term and we are working as if it is our first term, because of my love for Rivers State.
"There are other governors that are no longer executing projects, because they are in their second term. They are politicking, while we are focused on the development of Rivers State.
"We are working because Rivers people gave us the mandate to work."
The governor urged the new commissioners to reach out to their people and stop the lies against the administration.
The nine new commissioners are, Barrister Eloka Tasie-Amadi, Hon Boma Iyaye, Hon Diamete Herbert-Miller, Tonye Oniyinde and Dr Tamunosisi Gogo-Jaja.
Others are, Dr Igbiks Tamuno, Hon Emeka Onowu, Prof Chile Princewill and Mr Ohia Prince.
The state governor later presided over the State Executive Council meeting.
Meanwhile, the Rivers State Executive Council meeting presided over by Governor Nyesom Wike, yesterday, assigned portfolios to nine new commissioners.
The Rivers State Commissioner for Information and Communications, Pastor Paulinus Nsirim made this known while briefing newsmen shortly after the meeting, in Government House, Port Harcourt.
He named the new commissioners and their portfolios as, Barrister Eloka Tasie-Amadi (chieftaincy affairs); Hon Boma Iyaye (sports); Hon Diamete Herbert-Miller (Ministry of Power); Tonye Oniyinde (culture and tourism); Dr Tamunosisi Gogo-Jaja (water resources); Dr Igbiks Tamuno (Ministry of Environment); Hon Emeka Onowu (Special Duties, Governor's Office); Prof Chike Princewill (Ministry of Health); and Mr Ohia Prince (Ministry of Youth Development).
PDP Inaugurates 15 Convention Sub-Committees –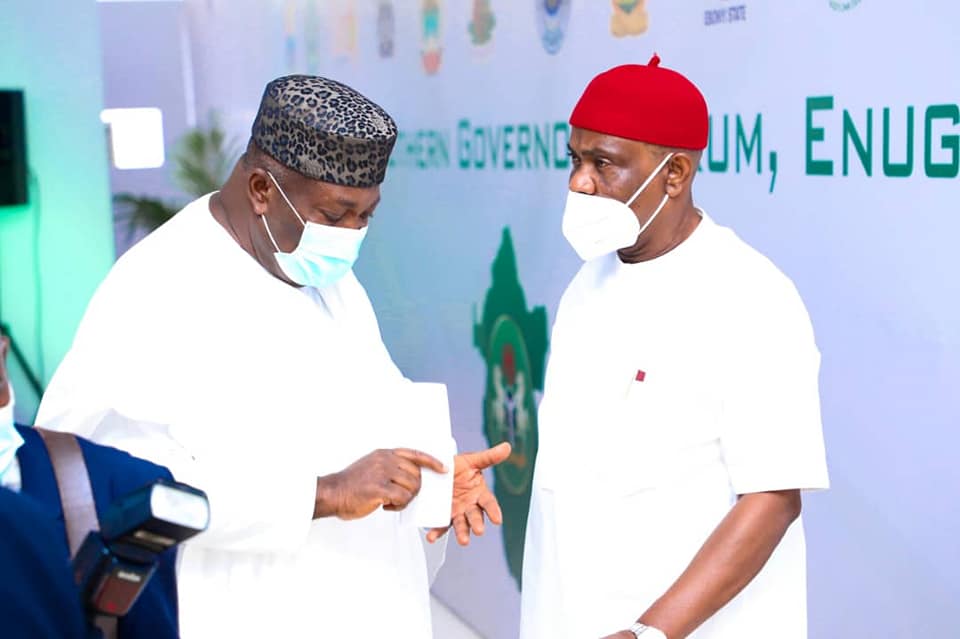 Wike Chairs Special Duties Committee
6,000 Delegates Expected To Attend
The Peoples' Democratic Party (PDP) National Convention Committee, yesterday, in Abuja inaugurated 15 sub-committees for its national convention scheduled for October 30.
The sub-committees as read by the Bayelsa State Governor, Senator Duoye Diri, include the National Convention Organizing Committee, chaired by Adamawa State Governor, Hon Ahmadu Fintiri.
Others are Constitutional Amendment Committee, chaired by Akwa lbom Governor, Udom Emmanuel; Zoning Committee chaired by Enugu State Governor, Ifeanyi Ugwuanyi; Screening Committee, chaired by former Minister of Justice, Mohammed Adoke.
Sub-committees and their chairmen also inaugurated were Screening Appeal Committee chaired by Senator Ike Ekweremadu; Special Duties Committee chaired by Rivers State Governor, Chief Nyesom Wike; Accreditation Committee chaired by Delta State Governor, Dr Ifeanyi Okowa; and Security Committee chaired by former Inspector General of Police, Solomon Arase.
The Electoral (Statutory) Committee, with Adamawa Governor, Hon Ahmadu Fintiri as the chairman; Publicity Committee chaired by Edo State Governor, Godwin Obaseki; and Venue Committee, chaired by Bauchi State Governor, Senator Bala Mohammed are also among them.
Others include: Welfare and Entertainment Committee with Mariya Waziri as chairperson; Transportation Committee, with Ibrahim Dankwambo as chairman; and Contact and Mobilization Committee with Taraba Governor, Darius Ishaku as chairman.
The rest are, Protocol Committee with Sen. Biodun Olujimi as chairperson; Medical Committee — Nuhu Zagbayi; and Secretariat Committee — Umaru Ibrahim Tsauri.
Inaugurating the sub-committees, Fintiri expressed belief that the October convention would be successful and lead PDP to victory in 2023.
Fintiri said that the leaders and members of the sub-committees were carefully selected to organize a credible convention for the party.
The Adamawa governor urged them to make the necessary sacrifices to deliver the best convention to the party.
Fintiri, fielding questions from newsmen after the inauguration, said that by PDP's new constitution, over 6,000 delegates were expected at the convention.
"We are fully prepared for that. We are expecting everybody in every ward that is a delegate to attend the convention."
He said that the sub-committees had been given directions and they were expected to go back, adequately prepare and submit their report to the main committee for approval.
On which part of the party's Constitution would be amended, Fintiri said he could not pre-empt the Constitution Sub-Committee, but allow them do their job.
On how far the zoning committee had gone after the one-week appeal he gave them, last week, Fintiri said the committee was in a meeting in Enugu carrying out its responsibilities.
"You can see the party is working, and it is a turning point for all of us," Fintiri said.
According to him, the leadership tussle in the party has largely been addressed even as he came short of saying the PDP has moved on from the crisis.
He said, "We are moving on. I am the chairman of the convention committee and you can see that we are doing our work. Everybody is happy and participating. I don't see any crisis in this party."
The party's national elective convention is slated for October 30 and 31 this year in Abuja.
RSG Recommits To Building Agric Sector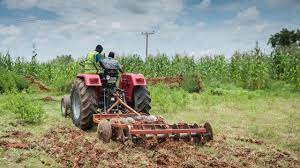 The Rivers State Government has said that it was committed to building the agricultural sector and utilise the huge potentials the state has for the benefit of Rivers people.
The state Governor, Chief Nyesom Wike, stated this while speaking at a seminar of the Norwegian Seafood Council at Hotel Presidential in Port Harcourt, yesterday.
Represented by his Deputy, Dr. Ipalibo Harry Banigo, Wike said, "In the face of dwindling oil prices, and the need to diversify the economy, we see a lot of potentials in the seafood industry especially post Covid-19. This is an important industry for creating employment opportunities, generate revenue and boost economic activities in our area".
Wike, who said that Rivers State was one of the coastal states in the Niger Delta endowed with valuable seafood resources, revealed that Norway and Nigeria have had a long history of relationship and trade.
According to the governor, "Rivers State, known as the oil and gas hub of Nigeria, is open to do business in all sectors including maritime and welcome more partnerships and investments from stakeholders who wish to do business in the state".
Wike further said, "In the effort to grow our economy, the Government of Rivers State supports making laws that work for us all, by putting laws in place to improve society's efficiency. Hence, the assent and signing of the VAT law".
The Rivers State chief executive, who commended the Norwegian Seafood Council for conducting the seminar in the state, stressed that stock fish was enjoyed across Rivers State by all groups, including low and high earners, while both men and women are involved in the sales in our markets.
"I believe this seminar will examine the many advantages and gains of seafood as well as anticipated support from the Norwegian Embassy in the areas of encouraging deep sea fishing, trawlers, good storage for sea products, training to grow and nurture fish production standard, fish ponds and open fish farms, use of technology and encouragement, support to artisan farmers.
"We believe that the gains for removing stock fish and stock fish heads from the list of items not valid for the FX windows far outweigh the losses if any.
"For all the reasons stated above and many more, we anticipate Federal Government and the CBN's removal of stock fish and stock fish heads from the list of items not valid for the Central Bank of Nigeria FX window", Wike further stressed.
In his remarks, the Ambassador Royal Norwegian Embassy, Knut Lein, who described the history of stock fish in Nigeria and Norway as fascinating, said it creates a bond between both countries, and expressed the desire to foster increased cooperation, build on bilateral relations and inform the government of Norway about the opportunities in the country.
He said, "together we could create lots of jobs", insisting that "doing what we can to promote stock fish trade was a win-win for all of us".
Highlights of the occasion were the presentation of papers by the Director Africa, Norwegian Seafood Council, Mr. Trond Kostveit, and other stakeholders.
The Norwegian Ambassador, Mr. Knut Lein, had earlier paid a courtesy call on Governor Nyesom Wike, at the Government House in Port Harcourt, where the state chief executive expressed the state government's desire to continue to partner with the Norwegian Embassy to facilitate economy growth and development of both countries, and the state in particular.
Encourage States To Harness Own Resources For Dev, Wike Tasks FG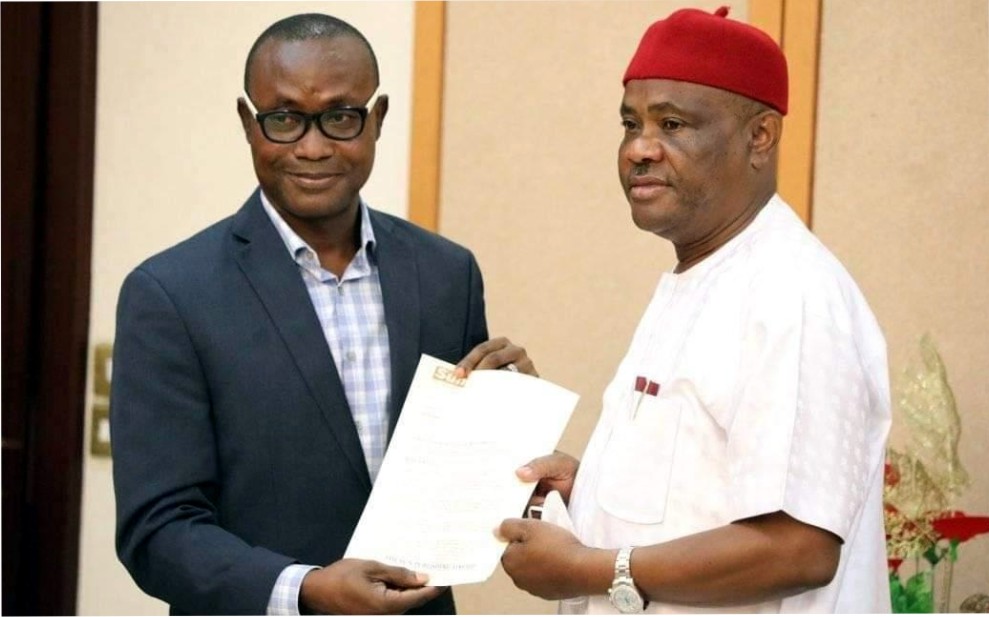 The Rivers State Governor, Chief Nyesom Wike, has said Nigeria must encourage federating states to harness their resources and generate revenues, including Value Added Tax (VAT) to advance their development.
He also stressed that it was baffling to note that Rivers State was not included among states to benefit from any of the projects to be executed with the fresh loan that the Federal Government was seeking to obtain from the World Bank.
Wike made the observation when the Managing Director and Editor-in-Chief of the SUN (Newspaper) Publishing Limited, Mr Onuoha Ukeh, led a delegation to present letter of nomination to him as the SUN Man of the Year 2020 Award at Government House, Port Harcourt, last Monday.
The Rivers State governor observed that there were mounted attempts to frustrate federating states like Rivers, to actualise the constitutional provisions that empower them to harness their resources and revenues, particularly VAT.
The governor decried the situation where the legality of states collecting VAT was not considered on the merit of the law by some public commentators, including state executives, rather, they were politicising it and looking at it from prism of ethnicity and religion.
According to Wike, what the FIRS was doing was illegal, and could be likened to robbing some states to pay others.
"You don't even need to be a lawyer to know that VAT is not in Items 58 and 59 of the Second Schedule of the 1999 Constitution as amended. Everybody knows that. It is not even in the Concurrent List. Therefore, it falls under the Residual List. It is not arguable. That yesterday, nothing happened, does not mean that today, nothing will happen or tomorrow, something will not happen.
"Nigeria should encourage states to be strong enough to have resources to develop themselves. We are in a federal system where we are practicing unitary system. Everybody at the end of the month will run to Abuja to share money. Nobody comes back to the state to think, how do I develop my state."
He explained that the contest against the collection of Valued Added Tax (VAT) was started by Lagos State, which had sued the Federal Government at the Supreme Court.
According to him, Rivers State only avoided their pitfall by suing the Federal Inland Revenue Service (FIRS), which is an agency of the Federal Government that was illegally collecting the tax in the state.
"The issue of VAT did not start from Rivers State. It started in Lagos State when Lagos State challenged it in Supreme Court. Unfortunately, the Supreme Court said you (Lagos) shouldn't have sued the Federal Government. All you would have done was to sue the agency."
The governor observed that rather than commend Rivers State Government for seeking to entrench fiscal federalism and constitutionalism, a particular state governor had threatened that the judgement of the court that declared that states, and not FIRS, are entitled to collect VAT within their jurisdiction, will not stand.
He urged those demanding for a brothers' keeper consideration to first, appreciate the position of the law and situate it rightly.
"Some people say, 'be your brother's keeper'. I have no problem in being my brother's keeper, but why not come out and say, let us tell ourselves the simple truth: as it is provided in the law, who is the person responsible to collect the VAT?
"When you agree to that, that it is the state, then, we can sit down to look at the different problems of states. And not to say 'be your brother's keeper' while you're doing an illegal thing, in disobeying what the law says you should not do."
Wike stated that it was sheer act of discrimination for the Federal Government not to include Rivers State as one of the states that will benefit from projects for which it was seeking fresh foreign loans to execute.
"Look at the money that Federal Government has gone to borrow from the World Bank. Of all the projects, in all the states, Federal Government did not include Rivers State.
"Look at the list of projects that states will benefit from this money they're borrowing from the World Bank that they have sent to National Assembly for approval, the only state that is not benefitting is Rivers State".
He further noted, "It is the prerogative of Mr President; if he says he does not like Rivers State, if the ruling party says they don't like Rivers State, I won't kill myself. But leave the one that the law says I should be the one to collect so that I will be able to develop my own state."
Speaking further, Wike explained that beyond the provision of infrastructure, his administration was seeking a law that would provide comfortable accommodation for judicial officers on retirement.
The reason, he said, was to ensure that, while in service, the judicial officers can concentrate on their jobs without cutting corners, and avoid corrupt practices.
In his remarks, the Managing Director and Editor-in-Chief of the SUN (Newspaper) Publishing Limited, Mr Onuoha Ukeh, said the SUN Man of the Year 2020 Award was the flagship of award the company.
According to him, Wike was unanimously selected for his remarkable contributions to the socio-economic development of Nigeria and promotion of fiscal federalism with his position on VAT, which would help in the restructuring of Nigeria.
"Today, His Excellency has guided Nigeria to true federalism with the issue of VAT. Knowing what fiscal federalism should be, His Excellency went to court to challenge the collection of VAT, and the court stated that actually the states should collect VAT. And that is laying the foundation for true federalism and fiscal federalism", he said.
Ukeh commended Wike for his sterling performance in office and infrastructural revolution taking place in Rivers State.