Tension In B'Haram, ISWAP As Commanders Turn Against Shekau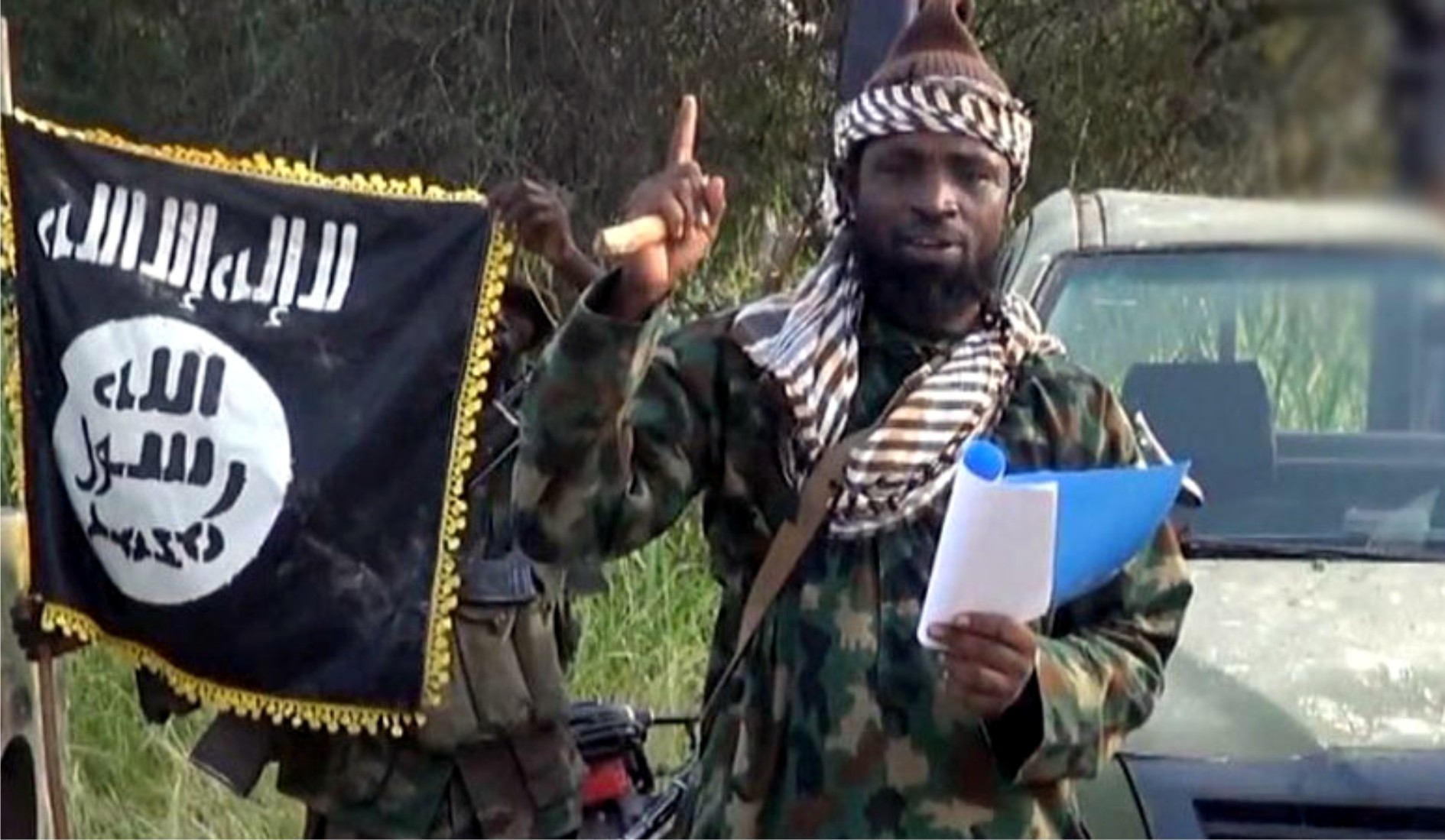 There is brewing tension among the hierarchy of the Boko Haram and the Islamic State in West African Province (ISWAP), the two major terror groups operating in the North-East, it has been reliably gathered.
A reliable source close to some of the repented Boko Haram commanders, said that there is a major plot to execute the Boko Haram leader, Abubakar Shakau, over growing mistrust and struggle for supremacy.
According to the source, who craved anonymity, many of the Boko Haram and ISWAP commanders have been killed as a result of infighting among the insurgents.
It was gathered that fresh crisis hit the terrorists' camps after the extermination of Muhammad Shuwa, Abu – Mossad Albarnawee and Baa Idirisa on February 9, 2020.
The death of these two top commanders, the source said has deepened the suspicion and distrust in Shekau's camp.
He disclosed further that most of Shakau's key commanders and fighters had deserted him and are secretly planning to execute him.
According to the source, "key commanders under the leadership of Mallam Bakura have been constantly planning to kill Shekau because of his high handedness, erratic disposition, mental imbalance and non-adherence to pristine Islamic tenets or the original BHTs' doctrine and Ideology.
"They further accused him of serial clandestine killings of some terrorists' commanders that he viewed as threats to his despotic leadership. Also it was revealed that Shekau has uncontrollable mad desire for women including his fellow jihadists' women and daughters".
All these the source said have "increasingly alienated him from some of his high profile commanders that are now surreptitiously planning to eliminate him. It is just a matter of time that Shekau will be no more.
The source added that "the latest information from though yet to be confirmed is that Shekau has been eliminated by his detractors who are averse to his inordinate lust for raping women and under aged girls including those married to his fellow jihadists fighters. His penchant for the use of girl-child for suicide bombings has been a great issue of concern in the terrorists' camp.
"The major point of disagreement between the two camps lies in what a source described as anti-Islamic activities and indiscriminate killing of people whether Moslem or Christians, children or adults, including raping women who are married or unmarried.
"These problems are compounded because of the increasing operational activities of Nigerian troops and the Multinational Joint Task Force in Northern Borno State".
However, no fewer than eight Boko Haram fighters and their family members, including six women and eight children have surrendered to troops of 152 Task Force Battalion deployed at Banki Town in Bama Council Area of Borno State during clearance operations by troops.
The surrendered terrorists, according to a statement by the Nigerian Army Operations Media Coordinator, Col Aminu Iliyasu, yesterday, include Tija Bo Isa, Ba Amodu Aba Kaka, Modu Zantalami, Malam Zantalami and Bakura Aba Kaka (Boko Haram logistics supplier).
Others were Bulama Modu Zantalami, Abukar Izahi and Bana Katum.
"During preliminary interrogation, the surrendered terrorists regretted their involvement in the dastardly acts of killing and abduction of innocent people as well as attacks on security agencies.
"They equally disclosed that their leadership has been in disarray for the past four months since the renewed offensive actions by the troops against their enclaves leading to high casualties on their foot soldiers amidst serious dislocation of their command structures.
"They further disclosed that many of their erstwhile colleagues are wandering in the forest and willing to give up their unholy adventure but are afraid of being killed by the security agencies. They therefore call on them to take the bold decision and surrender to any Nigerian Army unit closest to them as the safety of their lives are guaranteed", the statement read in part.
"Troops of 5 Brigade Mobile Strike Team in conjunction with Chief of Army Staff Intervention Battalion II and elements of 145 Battalion (Main) also rescued 126 Boko Haram captives while conducting clearance operations within the Gudumbali general area in Guzamala LGA of Borno State. The rescued victims comprised of 36 adult males, 36 adult females and 54 children.
"In a related development, troops of 707 Special Forces Brigade rescued 17 Boko Haram captives comprising six adult males, six adult females and five children".
According to the statement, all rescued victims were evacuated and handed over to Internally Displaced Persons Camp officials.
It added further that, "in a separate development on the same day, February 21, 2020, the combined troops of 19 Brigade, 127 and 130 Battalions in conjunction with Army Headquarters Strike Group conducted a massive clearance operation along Mile 4 – Cross Kauwa – Tukul Village – Daban Shata all in Kukawa LGA of Borno State.
"Troops made contact with some marauding Boko Haram criminals along a River Bank at Daban Shata. After a brief encounter, one Boko Haram criminal was neutralized while two others were captured alive by the gallant troops. Additionally, seven AK-47 rifle magazines, two bandoliers, one camel bag, one military waist belt and a sample of receipt were recovered. Preliminary investigation revealed that one of the captured insurgents is the Amir (a high ranking member of Boko Haram) of Daban Shata.
"Relatedly, on the same February 21, 2020, the combined troops of 29 Task Force Brigade, 273 Tank Battalion, 156 Task Force Battalion, Army Super Camp 4 and elements of 7 Division Garrison also conducted a robust clearance operation to Lambuwa, Abbusuri, Bamti, Malumti, Goni-Kanuburi and Sheworam all in Konduga LGA of Borno State. At Lambuwa, troops conducted a snap Cordon and Search Operation and arrested three suspected Boko Haram criminals with one of them bearing the name of Modu Solum (a high profile Boko Haram member and logistics supplier). However, further profiling is ongoing to ascertain the suspects' real identities".
Meanwhile, "in a similar vein, on February 23, 2020, troops of 231 Battalion and 331 Artillery Regiment in conjunction with elements of Borno State vigilantes arrested seven notorious Boko Haram/Islamic State's West Africa Province logistics suppliers at Maina Hari Check Point in Biu LGA of Borno State. The arrested suspects include: Mohammed Abba, Bukar Usman, Chulum Adam, Adam Alhaji Jidda, Ahmed Abba, Jidda Abdullahi and Modu Amadu. The suspects are currently in troops' custody giving useful information.
"In another development, on February 17, 2020, vigilant troops of 271 Tank Battalion of Operation Lafiya Dole deployed at Jada Check Point in Jada LGA of Adamawa State intercepted 2 Boko Haram Logistics Suppliers namely; Sani Audu and Bana Abba in a Toyota Starlet car conveying large quantities of anti-biotics, sex enhancing and other illicit drugs and a Dane gun (concealed in the vehicle apartment) meant to be supplied to the criminal terrorists".
Meanwhile, relentless and brutal attacks by the Nigerian military against the Boko Haram insurgents and their ally in the Islamic State in West Africa (ISWAP) have forced the terrorists to change their pattern of an indiscriminate onslaught on Nigerians and to focus on Christians and churches, Minister of Information, Alhaji Lai Mohammed has said.
The minister, who addressed a press conference in Abuja, yesterday, insisted that the unceasing pounding of the terrorists and their allies by the military had forced them to lose territories they once occupied, collected taxes and installing and deposing emirs.
Mohammed said: "Recall that Boko Haram insurgents didn't use to discriminate between Christians and Muslims when they carried out their attacks in the past. Churches and mosques, Christians and Muslims were attacked without discrimination.
Rivers'll Ensure Safe, Secure Environment For Economic Growth -Wike .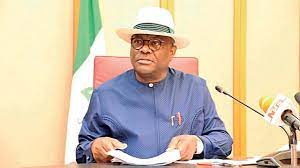 Rivers State Governor, Chief Nyesom Wike, has said that his administration would continue to support security agencies in the state to ensure a safe and secure environment for the economic prosperity of citizens.
He said the Rivers State Neighbourhood Safety Corps, the Operation Sting and the revitalised C4i security outfits were set up to help provide security to stimulate growth and prosperity of all in Rivers State.
The governor spoke through the Secretary to the State Government, Dr. Tammy Danagogo, at the 2021 Conference/Annual General meeting of the Nigerian Institute of Public Relations, Rivers State chapter, in Port Harcourt, yesterday.
"This administration has embarked on aggressive infrastructural development and a very deliberate urban renewal efforts around the capital to attract local and foreign investors to stimulate our economy.
"We have also opened up local governments through quality road networks. Upgrade of various social and recreational facilities in various local government areas," he said.
He commended the state chapter of the NIPR for the choice of the theme of the conference: "Nigeria's Security Situation: A Factor in Reputation and National Development", adding that stakeholders must begin to act in a very different, drastic and positive strategy to remedy the already battered reputation of Nigeria.
He urged the NIPR to use its expertise and experience to thrive to galvanise and stimulate the populace and government at various levels for the resuscitation of citizens sense of pride and responsibility of whatever was left of the nation's image and reputation.
"All hands must be on deck, especially reputation managers to call on government at all levels to begin to act in ways and manner that will help to revive the battered image of this country," he added.
Welcoming guests and participants to the conference, the Rivers State Commissioner for Information and Communications, Pastor Paulinus Nsirim, who is also the state chairman of NIPR, commended the cordial relationship existing between the institute and the state government under the leadership of Governor Wike who is a honorary fellow of the institute.
"Governor Wike has been very supportive of all the activities of the Institute. That is what you also get from a visionary leader who has changed the landscape of Rivers State with infrastructure, with various developmental projects that touch the lives of the ordinary man," he said.
Nsirim said the state chapter of NIPR was proud to associate with Governor Wike for the giant strides he has recorded and would continue to record until the end of his tenure in 2023.
"As a chapter that is responsive to the development of Nigeria, we have chosen the theme for this year's conference as our own way of contributing to the national discourse," he said.
He said the conference would produce a blueprint that would guide national discourse and urged participants to contribute robustly to the conversation.
"It is expected that the fallout of the conference will re-engineer national security and national development with the aim to put our country on the path of rapid growth," he said.
In his speech, the President and Chairman of Governing Council of NIPR, Malam Mukhtar Sirajo, emphasised on the need for all Nigerians to collaborate to fight insecurity currently confronting the country's economic and political stability.
He welcomed the theme of the conference, saying that it was coming at the time the institute had gotten sufficient worry about national security, peace and economic development.
In his keynote address, Dr. Ike Neliaku, chronicled the increasing violent crimes that had claimed thousands of lives in the various parts of Nigeria, and submitted that the rising insecurity situation in the country had impacted and would continue to impact negatively on corporate and national reputation.
He said the worrisome development would have concomitant consequence on individual and national development.
Chairman of the conference, Chief Felix Otuwarikpo, said the conference was put together to dissect the current carnage affecting the Nigerian nation.
"As an institute, we will leverage on the conference to proffer solutions to the security challenges affecting the nation," he said.
The conference also featured the presentation of awards for good public relations and community development to some distinguished members and organisations.
Church Of Nigeria Honours Wike, Sanwo-Olu, Akeredolu, Others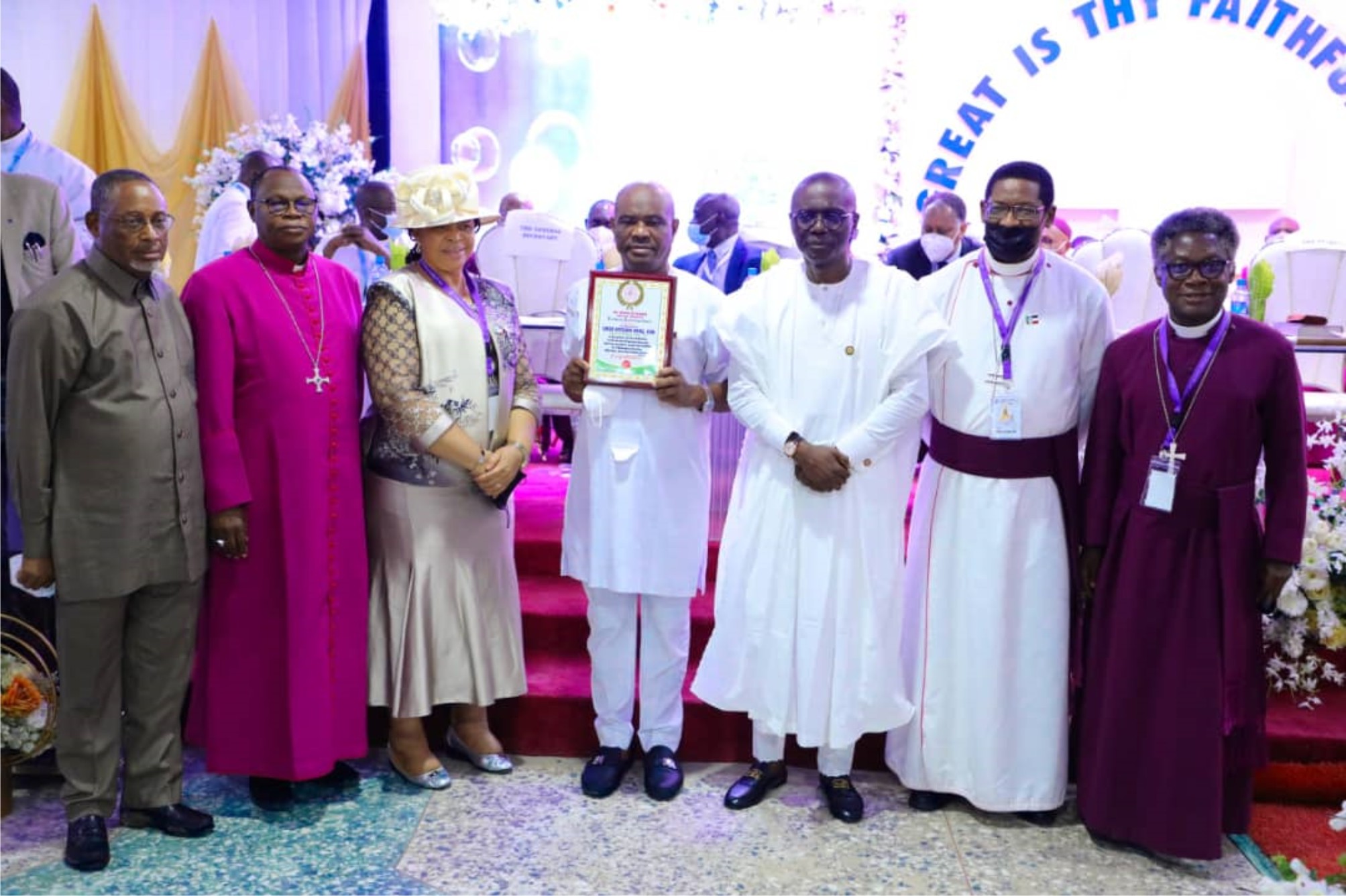 The Church of Nigeria (Anglican Communion) has bestowed awards for exemplary leadership qualities in a challenging economy and dedication in the service of God and humanity on the Rivers State Governor, Chief Nyesom Wike; Lagos State Governor, Babajide Sanwo-Olu; Ondo State Governor, Oluwarotimi Akeredolu, and Ogun State Governor, Adedapo Abiodun.
Also honoured is the Lagos State Commissioner for Health, Prof Emmanuel Abayomi, with an award for quality and equitable healthcare delivery.
The awardees were honoured at the standing committee meeting of the Church of Nigeria, at the Diocese of Lagos, Archbishop Adebola and Oluranti Ademowo Resource Centre, Faith Plaza, Bariga, Lagos State.
The Primate of All Nigeria Anglican Communion, the Most Rev. Henry Ndukuba, who conferred the awards on the recipients, said the political leaders were considered for the award for their outstanding role, courageous leadership, and standing firm in defense of Nigerians against insecurity, provision of basic infrastructure to the citizenry and the fight against Covid-19 pandemic.
Addressing the congregation on the state of the nation and the role of the church, Rivers State Governor, Chief Nyesom Wike, admonished the leadership of the church to encourage its members to be part of the governance process in the country.
The governor noted that a situation whereby Christians leave governance for politicians alone is no longer obtainable.
According to Wike, the effect of bad leadership will also affect the church if they remain passive to the issue of governance.
"You must be part of choosing leadership. Don't say you have no role, you have a role. When you don't participate, bad leaders will emerge and when bad leadership emerges, you are part of it.
"You must encourage your people to be part of leadership. I didn't go to any school to study leadership.
"So, nobody should say that as a Christian you cannot be a governor, no. The head of SUBEB in my state is a priest and you can see the leadership he has given to that agency today. You will feel proud about it. That used to be the most corrupt agency, but today it is headed by a priest and you can see the difference."
Wike decried the inherent injustice that has characterised the Nigerian State, and urged the church to speak against socio-political issues adversely affecting the progress of the country.
"We say we are all one Nigeria. We went to World Bank to borrow money to do specific projects. One of the states that make up Nigeria I hear is Rivers State. And I also know in paying this money back to World Bank, money that comes from the resources of my state will be used in paying back this money. But my state was denied to have projects from that loan."
The Rivers State governor said a situation where states depend on the Federal Government to survive can no longer be tenable, and insisted that states must be allowed to collect revenues such as Value Added Tax (VAT) to enable them improve the welfare of their people.
"You have gone to take loan and I am one of those states that will pay back those loan and you deny me to benefit from the projects that that money will be used for. I have no problem with that.
"Allow me the one (VAT) the Constitution says I am entitled to, let me collect that one and develop my state."
He regretted that some governors in Nigeria have refused to think out of the box on how to boost economic activities in their states.
"There is flood in my state, it requires N200millon, I will go to Abuja to beg. Even as a governor, I will knee down before a DG of an agency of government. You will knee down for a director just because of N300million. That is the status of some of the governors of some states."
In his remarks, Lagos State Governor, Babajide Sanwo-Olu, commended the church for its support, and announced the waiver of N2billion for land acquired by the Church of Nigeria in Lagos State.
The governor stated that Nigeria and the rest of the world are going through difficult times amidst the Covid-19 pandemic, and used the occasion to canvass for mass vaccination of the citizens.
The Primate of All Nigeria Anglican Communion, the Most Rev. Henry Ndukuba, while speaking on the theme of the conference: "Abiding in Christ: God's Panacea in an Unstable World", lamented that Nigeria was fast becoming a land flowing with tears and blood because of the impact of terror, banditry, herdsman attacks on communities and kidnapping.
He said a situation in which communities that are predominantly Christians are targeted one after another in some parts of Kaduna State and North-Central of Nigeria was unacceptable.
"We call on President Muhammadu Buhari to brand the bandits and herders attackers as terrorists and let them be treated as such."
The Primate urged Nigerians to avail themselves the opportunity 2023 general election offer to exercise their right to choose new leaders.
He appealed to the Federal Government to urgently address the free fall in the value of the country's currency because of the attendant impact on the store of value and confidence of investors.
Rivers Begins Process To Check Flooding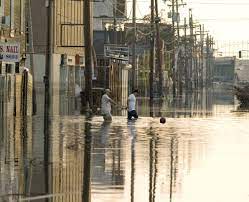 The Rivers State Government has said that it was working with relevant agencies to roll out the process that would check perennial flooding in the state.
The state Commissioner for Information and Communications, Pastor Paulinus Nsirim, disclosed this at a media briefing in Port Harcourt, last Wednesday.
Nsirim, therefore, called on those living and doing business in the state to play their part in line with the programme that would be executed by government to address the problem of flooding.
He frowned at the situation where residents of Port Harcourt had turned the drainage systems into refuse bins, and warned that "that is not what it should be.
"The present administration under Governor Nyesom Wike is desirous to make Rivers State a destination of choice and that is why the government has embarked on massive infrastructural development in line with its urban renewal programme.
"So, what is expected of those living and doing business in Rivers State now, is to co-operate with government to ensure that the urban renewal programme and the plan by government to make this state a destination of choice is realised," he said.
He noted that the state government could not do it alone as it required the support of corporate organisations, civil society groups, religious organisations and the media to enlighten their publics on the need to behave as responsible citizens.
He called on the media to embark on massive enlightenment programmes along the line of the roles of citizens in checking flooding in the state.
"We believe that if the citizens cooperate with government, as government is out to ensure that everyone living and doing business in the state does so in a healthy environment, we believe that in the next few days or weeks we will find a solution to this (flooding)," he said.
Nsirim also announced the names of entrants selected for the essay competition on the title, "Our State Our Responsibility" introduced under the second phase of the #OurStateOurResponsibility advocacy campaign of the ministry launched at the beginning of this month.
He said those shortlisted were expected to be at the conference room of the ministry by 11am on Monday, September 27, 2021, for a physical test to ascertain their original ownership.
Those shortlisted are: Jessica Hart, Samuel William, Amarachi Chimezie, Jasper Dorcas, Jaja Tamunoimiegba Christian, Sophia Oyibo, Blessing Pepple, Anyiam kelechukwu, Deborah Adegbami, Gift Samuel, Okiche Golden, Okiche Miracle, Orovwigwo Deborah, Otuka Goodluck and Ziga Paago.
By: Beemene Taneh