Check Bad Police Officers
I want to join other well-meaning Nigerians in condemning the nonsensical attitude of police officers. It is a well known fact that there is hardly any profession, department or organization without bad eggs.
Unfortunately, in the case of the Police, the bad eggs far outnumber the good ones and the honest ones are almost unknown.
For instance, the Police whose responsibility is to ensure that lives and property of citizens are protected as well as ensure compliance to traffic regulations, use their position to extort money from innocent citizens who seek their help and exploit motorists. Some of the others have little or no feeling for others. They enjoy inflicting pains on citizens without cause.
I, therefore, call on the Inspector General of Police to look into this problem and educate his men to be transparent and polite to members of the public and also collecting of bribe and being hard to citizens without any cause should be a great offence.
Roseline Miekpainma,
Rivers State University.

COVID-19: Nigeria's Response Must Be Guided, Professional -Buhari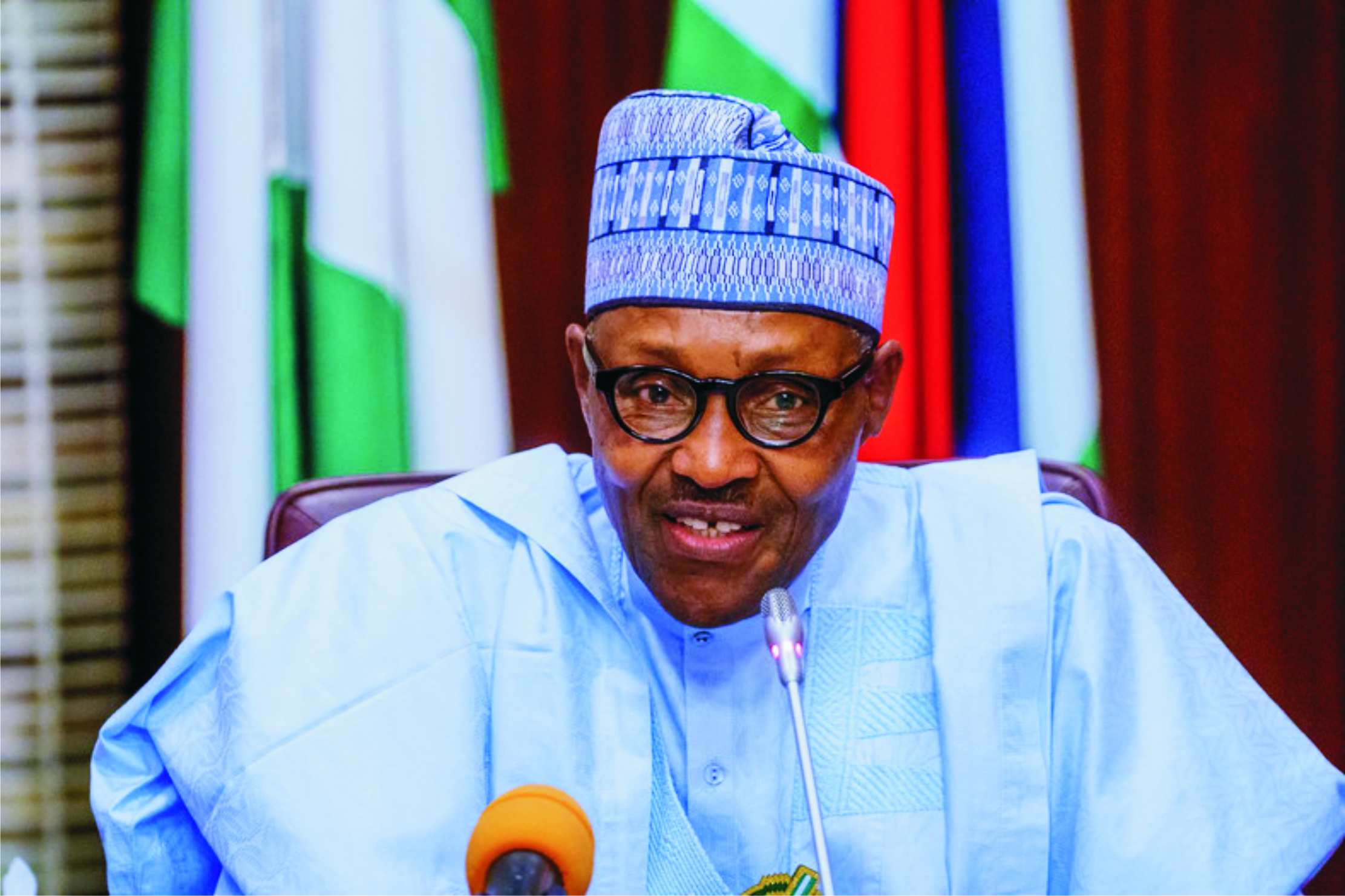 Fellow Nigerians, from the first signs that Coronavirus, or COVID-19 was turning into an epidemic and was officially declared a world-wide emergency, the Federal Government started planning preventive, containment and curative measures in the event the disease hits Nigeria.
The whole instruments of government are now mobilized to confront what has now become both a health emergency and an economic crisis.
Nigeria, unfortunately, confirmed its first case on 27th February 2020. Since then, we have seen the number of confirmed cases rise slowly.
By the morning of March 29th, 2020, the total confirmed cases within Nigeria had risen to ninety-seven.
Regrettably, we also had our first fatality, a former employee of PPMC, who died on 23rd March 2020. Our thoughts and prayers are with his family in this very difficult time. We also pray for quick recovery for those infected and undergoing treatment.
As of today, COVID-19 has no cure. Scientists around the world are working very hard to develop a vaccine.
We are in touch with these institutions as they work towards a solution that will be certified by international and local medical authorities within the shortest possible time.
For now, the best and most efficient way to avoid getting infected is through regular hygienic and sanitary practices as well as social distancing.
As individuals, we remain the greatest weapon to fight this pandemic. By washing our hands regularly with clean water and soap, disinfecting frequently used surfaces and areas, coughing into a tissue or elbow and strictly adhering to infection prevention control measures in health facilities, we can contain this virus.
Since the outbreak was reported in China, our Government has been monitoring the situation closely and studying the various responses adopted by other countries.
Indeed, the Director General of the Nigeria Centre for Disease Control (NCDC) was one of ten global health leaders invited by the World Health Organisation to visit China and understudy their response approach. I am personally very proud of Dr Ihekweazu for doing this on behalf of all Nigerians.
Since his return, the NCDC has been implementing numerous strategies and programs in Nigeria to ensure that the adverse impact of this virus on our country is minimized. We ask all Nigerians to support the work the Federal Ministry of Health and NCDC are doing, led by the Presidential Task Force.
Although we have adopted strategies used globally, our implementation programs have been tailored to reflect our local realities.
In Nigeria, we are taking a two step approach.
First, to protect the lives of our fellow Nigerians and residents living here and second, to preserve the livelihoods of workers and business owners to ensure their families get through this very difficult time in dignity and with hope and peace of mind.
To date, we have introduced healthcare measures, border security, fiscal and monetary policies in our response. We shall continue to do so as the situation unfolds.
Some of these measures will surely cause major inconveniences to many citizens. But these are sacrifices we should all be willing and ready to make for the greater good of our country.
In Nigeria's fight against COVID-19, there is no such thing as an overreaction or an under reaction. It is all about the right reaction by the right agencies and trained experts.
Accordingly, as a Government, we will continue to rely on guidance of our medical professionals and experts at the Ministry of Health, NCDC and other relevant agencies through this difficult time.
I therefore urge all citizens to adhere to their guidelines as they are released from time to time.
As we are all aware, Lagos and Abuja have the majority of confirmed cases in Nigeria. Our focus therefore remains to urgently and drastically contain these cases, and to support other states and regions in the best way we can.
This is why we provided an initial intervention of fifteen billion Naira (N15b) to support the national response as we fight to contain and control the spread.
We also created a Presidential Task Force (PTF) to develop a workable National Response Strategy that is being reviewed on a daily basis as the requirements change. This strategy takes international best practices but adopts them to suit our unique local circumstances.
Our goal is to ensure all States have the right support and manpower to respond immediately.
So far, in Lagos and Abuja, we have recruited hundreds of ad-hoc staff to man our call centers and support our tracing and testing efforts.
I also requested, through the Nigeria Governors Forum, for all State Governments to nominate Doctors and Nurses who will be trained by the NCDC and Lagos State Government on tactical and operational response to the virus in case it spreads to other states.
This training will also include medical representatives from our armed forces, paramilitary and security and intelligence agencies.
As a nation, our response must be guided, systematic and professional. There is a need for consistency across the nation. All inconsistencies in policy guidelines between Federal and State agencies will be eliminated.
As I mentioned earlier, as at this morning we had ninety-seven confirmed cases. Majority of these are in Lagos and Abuja. All the confirmed cases are getting the necessary medical care.
Our agencies are currently working hard to identify cases and people these patients have been in contact with.
The few confirmed cases outside Lagos and Abuja are linked to persons who have travelled from these centres.
We are therefore working to ensure such inter state and intercity movements are restricted to prevent further spread.
Based on the advice of the Federal Ministry of Health and the NCDC, I am directing the cessation of all movements in Lagos and the FCT for an initial period of 14 days with effect from 11pm on Monday, 30th March 2020. This restriction will also apply to Ogun State due to its close proximity to Lagos and the high traffic between the two States.
All citizens in these areas are to stay in their homes. Travel to or from other states should be postponed. All businesses and offices within these locations should be fully closed during this period.
The Governors of Lagos and Ogun States as well as the Minister of the FCT have been notified. Furthermore, heads of security and intelligence agencies have also been briefed.
We will use this containment period to identify, trace and isolate all individuals that have come into contact with confirmed cases. We will ensure the treatment of confirmed cases while restricting further spread to other States.
This order does not apply to hospitals and all related medical establishments as well as organizations in health care related manufacturing and distribution.
Furthermore, commercial establishments  such as;
food processing, distribution and retail companies;
petroleum distribution and retail entities,
power generation, transmission and distribution companies; and
private security companies are also exempted.
Although these establishments are exempted, access will be restricted and monitored.
Workers in telecommunication companies, broadcasters, print and electronic media staff who can prove they are unable to work from home are also exempted.
All seaports in Lagos shall remain operational in accordance with the guidelines I issued earlier. Vehicles and drivers conveying essential cargoes from these Ports to other parts of the country will be screened thoroughly before departure by the Ports Health Authority.
Furthermore, all vehicles conveying food and other essential humanitarian items into these locations from other parts of the country will also be screened thoroughly before they are allowed to enter these restricted areas.
Accordingly, the Hon. Minister of Health is hereby directed to redeploy all Port Health Authority employees previously stationed in the Lagos and Abuja Airports to key roads that serve as entry and exit points to these restricted zones.
Movements of all passenger aircraft, both commercial and private jets, are hereby suspended. Special permits will be issued on a needs basis.
We are fully aware that such measures will cause much hardship and inconvenience to many citizens. But this is a matter of life and death, if we look at the dreadful daily toll of deaths in Italy, France and Spain.
However, we must all see this as our national and patriotic duty to control and contain the spread of this virus. I will therefore ask all of us affected by this order to put aside our personal comfort to safeguard ourselves and fellow human beings. This common enemy can only be controlled if we all come together and obey scientific and medical advice.
As we remain ready to enforce these measures, we should see this as our individual contribution in the war against COVID-19. Many other countries have taken far stricter measures in a bid to control the spread of the virus with positive results.
For residents of satellite and commuter towns and communities around Lagos and Abuja whose livelihoods will surely be affected by some of these restrictive measures, we shall deploy relief materials to ease their pains in the coming weeks.
Furthermore, although schools are closed, I have instructed the Ministry of Humanitarian Affairs, Disaster Management and Social Development to work with State Governments in developing a strategy on how to sustain the school feeding program during this period without compromising our social distancing policies. The Minister will be contacting the affected States and agree on detailed next steps.
Furthermore, I have directed that a three month repayment moratorium for all TraderMoni, MarketMoni and FarmerMoni loans be implemented with immediate effect.
I have also directed that a similar moratorium be given to all Federal Government funded loans issued by the Bank of Industry, Bank of Agriculture and the Nigeria Export Import Bank.
For on-lending facilities using capital from international and multilateral development partners, I have directed our development financial institutions to engage these development partners and negotiate concessions to ease the pains of the borrowers.
For the most vulnerable in our society, I have directed that the conditional cash transfers for the next two months be paid immediately. Our Internally displaced persons will also receive two months of food rations in the coming weeks.
We also call on all Nigerians to take personal responsibility to support those who are vulnerable within their communities, helping them with whatever they may need.
As we all pray for the best possible outcome, we shall continue planning for all eventualities.
This is why I directed that all Federal Government Stadia, Pilgrims camps and other facilities be converted to isolation centers and makeshift hospitals.
My fellow Nigerians, as a Government, we will avail all necessary resources to support the response and recovery. We remain committed to do whatever it takes to confront COVID-19 in our country.
We are very grateful to see the emerging support of the private sector and individuals to the response as well as our development partners.
At this point, I will ask that all contributions and donations be coordinated and centralized to ensure efficient and impactful spending. The Presidential Task Force remains the central coordinating body on the COVID-19 response.
I want to assure you all that Government Ministries, Departments and Agencies with a role to play in the outbreak response are working hard to bring this virus under control.
Every nation in the world is challenged at this time. But we have seen countries where citizens have come together to reduce the spread of the virus.
I will therefore implore you again to strictly comply with the guidelines issued and also do your bit to support Government and the most vulnerable in your communities.
I will take this opportunity to thank all our public health workforce, health care workers, port health authorities and other essential staff on the frontlines of the response for their dedication and commitment. You are true heroes.
I thank you all for listening. May God continue to bless and protect us all.

Promotion Of Security: The Birth Of Operation Sting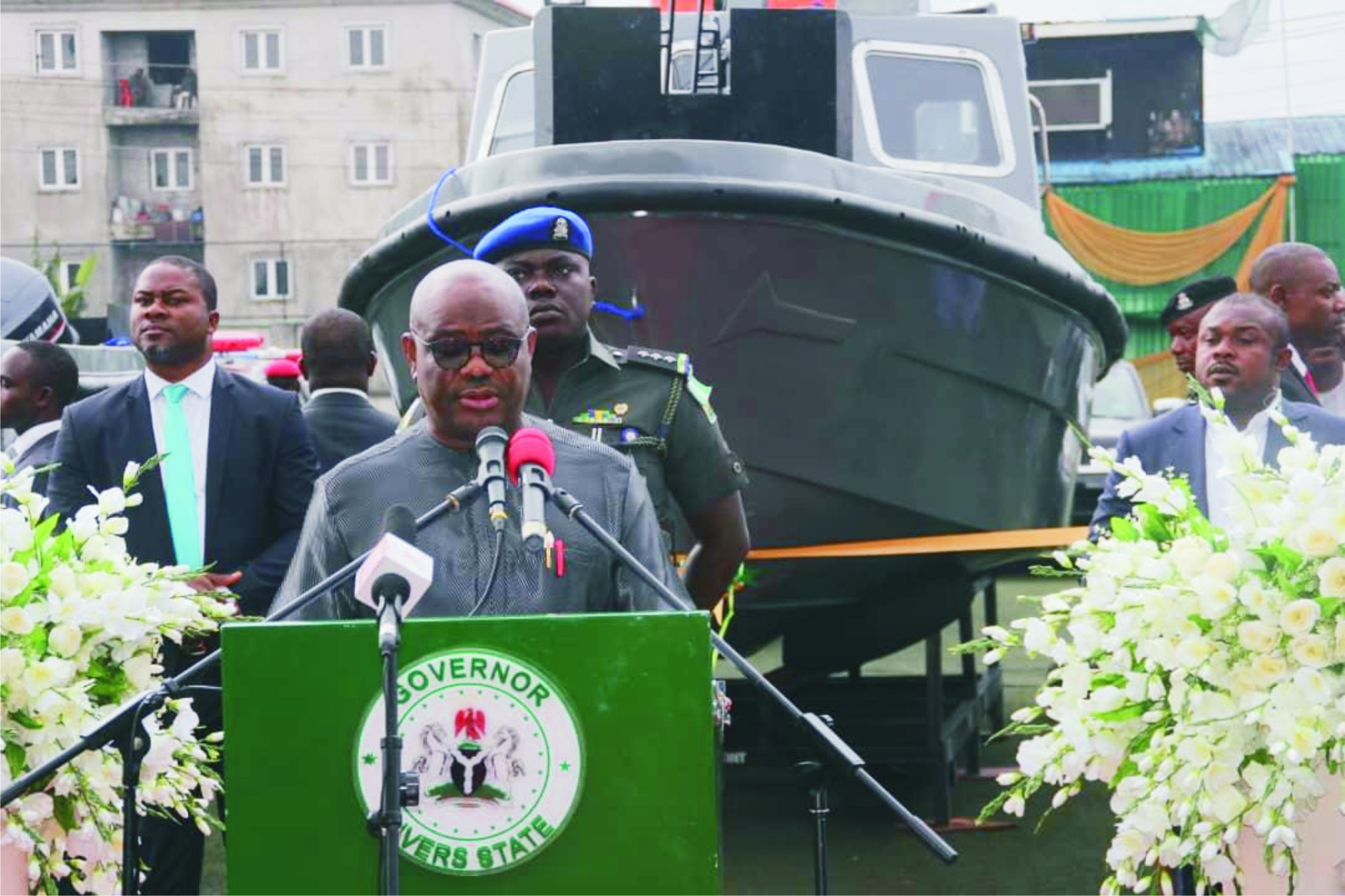 One of the key areas that the Rivers State Governor, Chief Nyesom Ezenwo Wike, has performed exceptionally is the promotion of security of lives and property. Though the state is yet to reach the desired point, marked improvement has been experienced by Rivers people.
At the commencement of his second term, Governor Wike initiated a comprehensive security platform to address the security challenges facing different parts of the state. This was a product of careful planning and implementation.
Right in the presence of all key stakeholders of the state at Sharks Stadium in Port Harcourt on Friday, 26 July, 2019, Governor Wike made a major move to improve the security of lives and property across the State. He launched a new Rivers State Security outfit code-named Operation Sting.
Operation Sting is an outfit that involves all the security agencies, working in unison to address security concerns in all parts of the state.
Operation Sting is fully funded by the Rivers State Government with the aim of tackling criminal elements and reducing crime and criminality in all parts of the state.
He said "OPERATION STING" is, therefore, our own specialized and dedicated security initiative anchored on an integrated and complementary approach, fully funded by the Rivers State Government to effectively tackle both the sources and drivers of insecurity in their diverse criminal manifestations and operations and nip them in their buds or rout and root them out of existence.
"Under Operation Sting we have taken concrete steps to strengthen the logistics and operational capability of the civil and armed security forces".)
Governor Wike said to ensure that the new security outfit responds effectively across the state, his administration provided the right logistics and equipment.
"76 patrol/operational vehicles fitted with communication gadgets; 8 armoured fitted gunboats, to tighten coastal security and protect our waterways from the activities of criminals; 2 Armoured Personnel Carriers for Police swift responses actions; 450 hand-held mobile radios to enhance communication among the security operatives and overcome the current wide gaps in intelligence gathering".)
The Governor said that the State Government has established operational bases in all the 23 Local Government Areas to strengthen the command and control structures of the initiative and ensure effective coordination and synergy between the State headquarters, the local government areas and the communities to achieve the common objectives of providing comprehensive security cover for the our State.
He said: "To achieve quick, timely and effective response we have established 30 toll free emergency call centres with capacity to support and transmit 30 concurrent calls from the public during distress situations and or during ongoing criminal activities in or around our neighbourhoods".
Governor Wike said the operationalisation of Operation Sting across the State is also expected to increase citizens' awareness and make the public to be more alive to the dangers of insecurity and their responsibility to be part of the present crusade to stamp this menace out from the State.
While appreciating the officers and men who will participate in the new security architecture, the governor said that the State Government has set up a fund to cater for their families, should they suffer any mishap in the course of service.
He acknowledged that the state has faced major security challenges in the area of kidnapping, cultism, armed robbery and community conflicts. He said that the state is not yet as peaceful as the administration desires, hence the renewed effort to stamp criminality.
He said: "It is this spirit that has led us to come to terms with the fact that insecurity, irrespective of the level of manifestation, whether big or small, violent or otherwise, is an insidious threat to our individual and collective development and prosperity.
"This being so, it has become rather compelling for us to bring all elements of State power, Federal, State and Local, to bear against every security threat to our State, our persons and our property, including those posed by pastoral conflicts and kidnappers, in order to create and sustain the right social environment to drive our development."
Governor Wike specifically assured riverine communities that his administration will ensure their safety. He said that Operation Sting has been mandated to work on security in the waterways.
Speaking during the launch of Operation Sting, the former Garrison Commander of 6 Division of the Nigerian Army, Brigadier General Adeola Kalejaiye, said that the armed forces will leave no stone unturned in ensuring the security of lives and property in Rivers State.
He said that Operation Sting will act on all credible information from members of the public to ensure that any form of insecurity is handled.
Rivers State Commissioner of Police, Mustapha Dandaura said that the objective of Operation Sting is to get rid of criminals and reduce crime to the barest minimum.
The Commissioner of Police assured Rivers people that the logistics provided by Governor Wike would be used to fight insecurity in the state. He said in the next one month, the improvement of security will be noticed.
Secretary to the Rivers State Government, Dr Tammy Danagogo, said that Operation Sting is an initiative of Governor Wike to promote security in the state. He said Operation Sting is another strategy by the Rivers State Governor to enhance the security of Rivers people.
Chairman of Rivers State Council of Traditional Rulers and Amanyanabo of Opobo, King Douglas Dandeson Jaja, expressed happiness that Governor Wike has always given priority to the security of lives and property.
In separate interviews, stakeholders commended the Rivers State Governor for his commitment to the security of lives and property in the State.
Selected mobile policemen engaged in drills to highlight their preparedness to tackle security challenges in the state.
On 8th August, 2019, Governor Wike further strengthened the structure and responsiveness of Operation Sting.
The Governor handed over 40 patrol vans fitted with communication gadgets to Federal Special Anti-Robbery Squad (FSARS), See 4 Eye, Police Anti-Kidnapping, Police Anti-Cultism, Federal Road Safety Corps and Eagle Crime at the Government House, Port Harcourt.
Speaking during the presentation, Governor Wike declared that the State Government is fully prepared to tackle insecurity and will do everything required to protect lives and property.
"Rivers State Government is fully prepared and will do everything required to protect lives and property. Without the protection of lives and property, there will be no governance and development.
"We are one State that has suffered neglect from the Federal Government in terms of support to fight insecurity. They have refused to pay back funds that we used in constructing Federal Projects. But that will not stop us from intervening when the need arises", he said.
The Governor said that he resolved to increase the support to the security agencies because of the successes recorded by Operation Sting.
Governor Wike also declared that the State Government proscribed all Youth Groups operating in the state because they have been hijacked by cultists.
He regretted that cultists have taken over youth groups across the State, necessitating the State Government to proscribe all Youth Groups.
He said: "Anybody operating under a youth body henceforth will be arrested by security agencies. Before you contest for any youth body's leadership, you must send the names to the DSS and Police for screening. If they are cultists, we will not allow them to operate."
Governor Wike said that the vehicles and gunboats donated to the security agencies must be deployed to secure Rivers State.
He announced that the Rivers State Government will establish a Trust Fund to cater for the families of policemen who lose their lives while fighting crime.
In his remarks, the Rivers State Commissioner of Police, Mustapha Dandaura said the security agencies will use the new security vans to tackle criminals across the state.
He said since the inauguration of Operation Sting, there has been improvement in the security of lives and property in the state. He said that security agencies will continue to dislodge criminals in all parts of the state.
The security outfit has ensured the promotion of peace in the state. Prior to the launch, the Emohua and Ogoni axis of the East West Road use to be flashpoints for kidnapping and armed robbery. That has been addressed. There are similar success stories in different parts of the State.
With improved security, law abiding citizens are carrying out their legitimate businesses, while the overall economy of the state has received a boost. Very importantly, the State Government is carrying out its constitutional responsibility of protecting lives and property.
Nwakaudu is Special Assistant to Rivers State Governor on Electronic Media.

PH Pleasure Park: Nigeria's Excellent Tourist Destination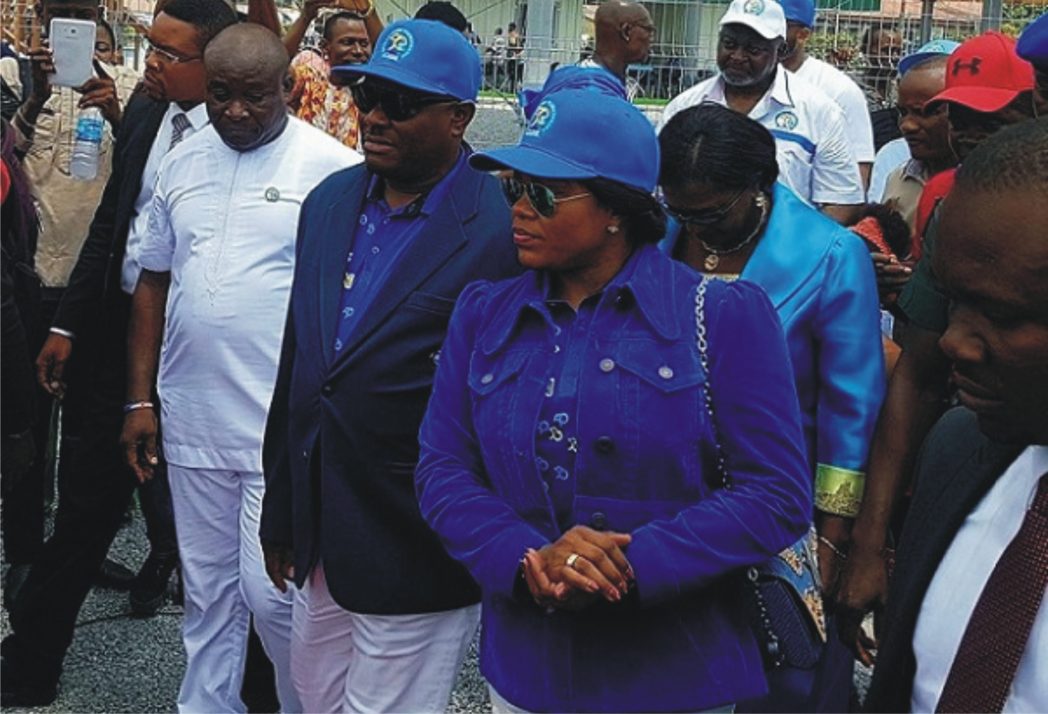 The Port Harcourt Pleasure Park is the gift of Rivers State Governor, Chief Nyesom Ezenwo Wike, to the nation's tourism sector. Its popularity is growing by the day.
Daily, tourists from across Nigeria especially the Niger Delta troop to the Port Harcourt Pleasure Park to enjoy the serene environment and first-class security network.
This is Nigeria's undisputed international tourism destination. This is Governor Wike's initiative to conserve foreign exchange for the country and attract visitors from across the world to Rivers State.
The project was flagged off as part of the first year anniversary of the Wike administration. Since then, the project site has transformed from the neglected "construction site borrow pit" to an international leisure centre.
Built by Julius Berger, the Port Harcourt Pleasure Park exudes beauty and serenity. It has a climbing tower, beautifully designed natural lake, sporting facilities, two five-aside football fields, Mini Golf Course, intercontinental restaurants, kids play centres and mobile gyms.
Commissioning the project, former Rivers State Governor, Dr Peter Odili said that the people of Rivers State are proud of the accomplishments of Governor Wike.
He praised the governor for delivering a world class international park which will make the state a prime destination.
The former Governor prayed God to grant all the aspirations of Governor Wike for living up to the expectations of the people.
"I have travelled to at least 26 countries, I have never seen anything like this. God will ensure that all your aspirations are realised ", Dr Peter Odili said.
Speaking at the commissioning ceremony, Rivers State Governor, Nyesom Ezenwo Wike announced that his administration will continue to expand facilities at the Port Harcourt Pleasure Park.
He said that the park will attract tourists to the state and also generate revenue for its maintenance.
PORT HARCOURT PLEASURE PARK CINEMA
To make the Port Harcourt Pleasure Park more attractive, the Rivers State Governor developed a modern world-class cinema within the facility.
The 250-person capacity cinema is divided into three sections. The cinema has standard walls, lighting effects and sound proof .
The project was designed to give the people maximum comfort . The Port Harcourt Pleasure Park Cinema has come on stream following the commissioning of the project as part of the first 100 days of the second term of Governor Wike.
Speaking during the commissioning of the Port Harcourt Pleasure Park Cinema, Governor Wike urged Rivers people to patronise the entertainment industry in the state for the growth of Rivers economy.
He said that Rivers people should expand their funds on relaxation and entertainment facilities in the state capital.
Governor Wike said: "This time, there is no need to travel to Dubai, United States or United Kingdom to relax or be entertained.
"We now have such facilities here in Port Harcourt. We have provided entertainment facilities to stop our people from travelling out for that purpose. Spend your money in our State. There is no need for you to go to Abuja ".
The Governor said that the new Cinema though built by the Rivers State Government, would be administered by a private investor for sustenance.
He added that high level security have been provided in and around the Port Harcourt Pleasure Park to protect the serene and beautiful facility.
He assured that the Rivers State Government will continue to work to satisfy Rivers people and create the right environment for them to live comfortably.
Governor Wike reiterated that the leadership of the State will not succumb to blackmail and negative propaganda.
Chairman of Obio/Akpor Local Government Area, Mr Solomon Eke, commended Governor Wike for executing key projects in the area.
He said the people of Obio/Akpor Local Government Area will continue to support Governor Wike. He said they exhibited their love for the Governor by the way they defended their votes during the 2019 elections.
THE KING OF CASTLES AND RANGE PAINTBALL AND AMUSEMENT INC
The 170 meters long inflatable bouncing castle is a multi-columned obstacle course that has found a home at the Port Harcourt Pleasure Park.
With this addition to the growing features of the Port Harcourt Pleasure Park, children now have much more fun and excitement when they visit the Park. The King of Castles is noted for, among others, building the physical and intellectual ability of children. Plus the fact that it is engaging and offers super fun.
There is also the Alpha Range Paintball & Amusement Inc at the Port Harcourt Pleasure Park. This is also handled by the managers of the King of Castles.
Since 2017 when the Port Harcourt Pleasure Park was commissioned, it has become a major point of relaxation and fun, especially during festivities such as Christmas, Easter and New Year celebrations.
Nwakaudu is the Special Assistant to the Rivers State Governor on Electronic Media.
Simeon Nwakaudu