13 Brigade Emerges 2nd In Army Officers' Competition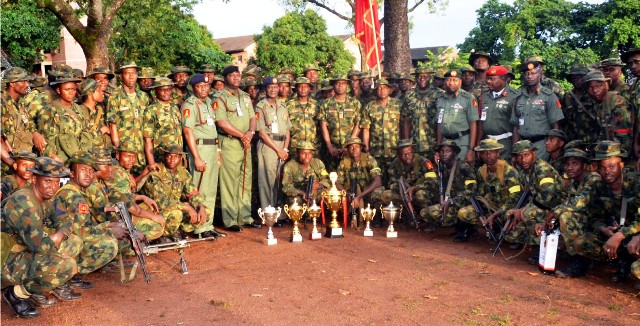 13 Brigade, Nigerian Army, Calabar, has emerged second in the army officers' combat proficiency competition which ended recently at the 82 Division of Nigerian Army, Enugu.
Chief of Army Staff, Tukur Brutai,  disclosed this while delivering a speech at the West African Social Activities (WASA) ceremony which held in Calabar.
Brutai charged officers and personnel  of the Nigerian army to be combat ready at all times by deploying the  tactics learned during the counter terrorist/counter insurgency training exercise  organised by military high command where they were equipped with skills on how to put  terrorists/insurgents at bay when need be.
Brutai, who was being represented at the ceremony by Commander 13 Brigade Nigerian Army, Brig. Gen. Oluyemi Thomas Olatoye, said,"The training activities were conducted based on 13 Brigade trainers circle as well as 82 division trainers circle and the Nigerian army trainers circle and doctrine focus event  of 2019 leading to  13 Brigade emerging second in the competition".
The army boss enumerated achievement of the brigade in the last six months to include conducting welfare activities for the troops, changing.  roofing sheets of 18 blocks including corporal below quarters and sinking of 36 new suck-away in below quarters.
"We raised perimeter fence of the Akim Barracks, 4 damaged submergible pumping machines were also replaced". The Brigade commander maintained.
Other projects executed at the command to motivate the troops include, establishment of a water point with 6 dispensing taps, with two other points with 3 taps each.
Olatoye maintained that 13 command under his watch has successfully reactivated waterboard reticulation within Akim Akim Barracks as well as equipped the 13 Brigade figment centre.
In a bid to strengthen civil military/civil relations, "We also conducted 3 medical outreach in Ekpri Ikang in Bakassi, Okpoma in Yala, Danare in Boki and Afi community of Ikom LGAs during exercise Crocodile Smile 4.
"Some other activities conducted by 13 Brigade in the year 2019 include construction of 13 Brigade dragon which you see down there spiting fire' He said, (pointing his fingers at a carved dragon monument).
"One of our major feats is the provision of conducive socioeconomic environment as well as conducive for the 2019 elections, he said.
The army boss maintained that the headquarters of 13 Brigade will in line with the vision of the army chief of Staff Lt Gen. Tukur Brutai's wish to have a professionally responsible army in the discharge of their duties.
Olatoye, who gave a brief synopsis of WASA stated that West African Social Activities popularly called WASA was an annual event in the Nigerian Army  first celebrated in January 1946 after the Second World War by the British Colonial Officials.

PSG Boss Reacts To FIFA Corruption Charges
Paris Saint-Germain president and UEFA executive committee member, Nasser Al-Khelaifi, has been charged by the office of the Swiss attorney general for financial crimes in connection with the award of media rights to various World Cup and FIFA Confederations Cup tournaments.
Former FIFA Secretary General Jerome Valcke, has been charged with accepting bribes, several counts of aggravated criminal mismanagement and falsification of documents in the same case.
Al-Khelaifi and another individual were charged with inciting Valcke to commit the aggravated criminal mismanagement. But the PSG boss no longer faces an accusation of bribery.
The PSG president is a major executive at beIN Media group, a broadcast company that is the biggest buyer of UEFA's television rights.
He also sits on the UEFA executive committee, the organisation's supreme executive body representing European clubs.
Breaking: The Swiss authorities criminally charge former @FIFAcom Secretary-General Jerome Valcke and @PSG_English boss/ @UEFA exco member Nasser Al-Khelaifi. The statement from the authorities is below… pic.twitter.com/nNxM8TpE51
Responding to the charge yesterday, Al-Khelaifi hit out at leaks, misinformation, a media agenda and materials that had been faked, fabricated, or illegally sourced.
"After an exhaustive three-year investigation, where I have fully and openly cooperated with the Public Prosecutor in Switzerland, I am pleased that all charge of bribery in connection with the 2026 and 2030 World Cups have been dropped," his statement read.
"As I have said vehemently and repeatedly for three years, the charges have not – and have never had – any basis whatsoever, either in fact or law. It is now – finally – indisputable fact that the 2026 and 2030 agreements were negotiated at arms-lengths [sic] and without any improper influence in any form.
"After the most forensic public, private, lawful and unlawful scrutiny of all my dealings, I have been cleared of all suspicions of bribery and the case has been dismissed definitively and conclusively. While a secondary technical charge remains outstanding, I have every expectation that this will be proven completely groundless and without any substance whatsoever, in the same way as the primary case.
"While I have cooperated with all authorities during the legal process, the three year investigation has been characterized by constant leaks, misinformation and a seemingly relentless agenda to smear my reputation in the media – completely irrespective of the facts and the notion of due process.
"For that reason, I have requested the relevant Swiss authorities to open a criminal enquiry into the conduct of the investigation. I also reserve the right to take action against certain media who for three years have repeatedly published factually-unsupported and highly damaging articles, often based on illegally-sourced and – quite remarkably in some cases – faked and fabricated materials, to satisfy their narrative of my supposed guilt."

Enyimba Thrashes Kwara United, Goes Fifth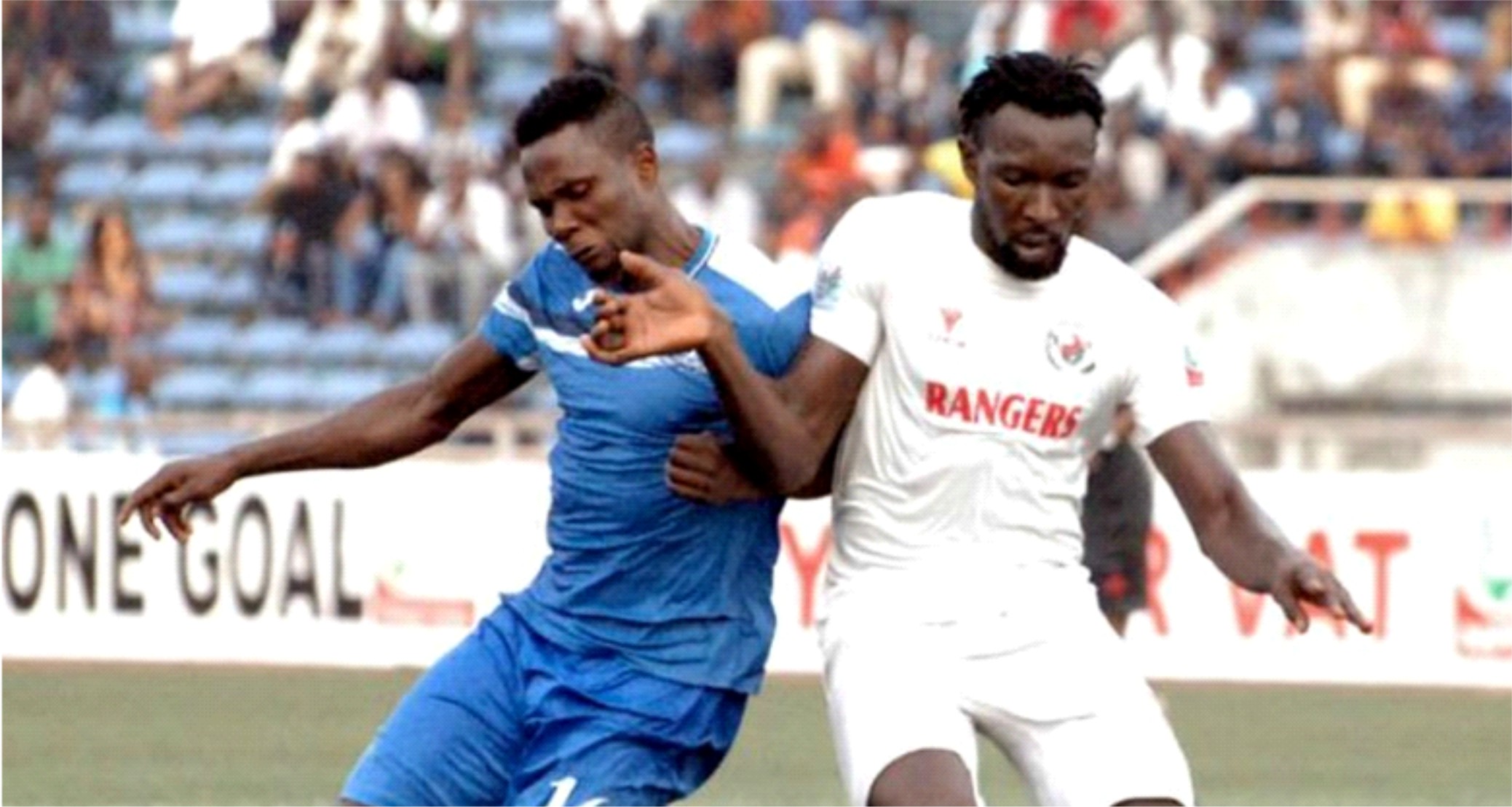 Enyimba thrashed Kwara United 2-0 in a rescheduled Match Day 13 game at the Enyimba Stadium in Aba on Wednesday.
The league champions went into the game at the back of their 4-1 win over their neighbours Abia Warriors in Okigwe on Monday.
Enyimba head coach, Fatai Osho, made just one change to his starting lineup that day; replacing Dare Olatunji with a more offensive midfielder Dayo Ojo,  while Kwara United coach Abdullahi Biffo made wholesale changes to his side after failing to beat Rivers United at home last Sunday.
Kwara United settled quickly into the game and almost took the lead in the fifth minute after Christopher Nwaeze's long-range strike beat Enyimba goalkeeper Theophilus Afelokhai but came off the woodwork.
Enyimba launched the attack of their own and were rewarded almost immediately after Cyril Olisema set up Stanley Dimgba, who hit a one-time beyond Kwara United goalkeeper Iwu, for his sixth league goal of the season.
Enyimba had the final chance of the half through Dimgba but Iwu denied him at his near post to bring the competitive half to an end.
Chances were few and far between in the second half although the visitors continued to dominate only in the midfield areas. When they managed to create a chance just before the hour mark, former Enyimba star Kamal Sikiru fired his effort wide.
Enyimba doubled their lead and killed any hope of Kwara united picking a point,  when Victor Mbaoma latched onto Farouk Mohammed's ball over the top, lobed the ball over a defender before hammering home a half-volley with just five minutes left on the clock.
Mbaoma has now scored 13 goals for the people's elephants in all competitions, with 9 goals in the league and four others CAF confederations cup.
Enyimba is now up to the fifth position on the log and will hope to extend their winning streak when they visit Nasarawa United in Lafia on Sunday before turning attention to the CAF confederation.

Rangers Narrowly Edged Kano Pillars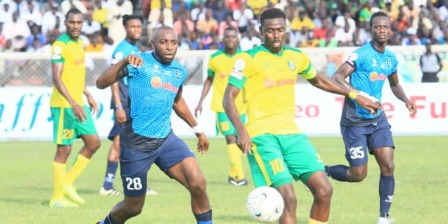 Rangers bounced back from their disappointing home loss to Akwa United on Sunday to beat Kano Pillars 1-0 in a rescheduled game at the Nnamdi Azikwe Stadium on Wednesday.
The match started with great intensity with both not ready to give anything away before the first chance of the game fell to Pillars in the 7th minute, but David Ebuka's shot went wide.
Rangers had their first opportunity almost immediately as Israel Abia was clear on goal but his effort was saved by Joshua Enaholo of Pillars.
The first half ended goallessly but the second forty-five minutes produced more chances as both sides opened up play,  but the finishing was still lacking.
However, Abia thought he had put Rangers in front in the 61st minute after he put the ball into the back of the net but the flag was up for an offside.
Japhet Opubo made a wonderful save in the 65th minute to deny Kano Pillars of the opening goal after Rabiu Ali curling strike from outside the area was sailing into the net.
Pillars from then all were in control of the match and created clear cut chances but it was Rangers who scored against the run of play in the 75th minute.
Ifeanyi George went on a solo run dazzling past three players before setting up Chinonso Eziekwe, who made no mistake in burying the ball into the net.