Bestiality Of Power: Whiteman's Burden (4)
Management experts would tell us that power is the ability to do something, while authority is the right to do so. Therefore, use of power without authority is an abuse of power. Sources of authority include constitutional, legal or bureaucratic one, while others are traditional or monarchical, charismatic, paternalistic and sapiental authorities. There are situations where individuals and groups, using the advantage of brute force and superior armament, impose themselves upon other weaker groups of people.
Slavery and colonialism remain classical examples of foreign forces imposing themselves upon weaker groups and causing irreparable damages both physically and psychologically to peaceful local communities. With an overwhelming technological superiority, the colonial powers embarked upon military invasion and occupation of West African territories between 1885 and 1906. They subjected the people to an administration which they did not bargain for, but resisted fiercely, resulting in the death of many local heroes and the invading intruders. Things began to fall apart.
The invasion and occupation of African communities by military conquest depict how the might of power can claim unmerited right and how power can become a bestial instrument. One success emboldens a conquering tyrant, and subsequent acts of brigandage became forms of missionary exploits. The invasion of communities in West Africa by European powers from 1885 was not the first time of such ruthless exploits. For about two centuries, West Africa had been the theatre of Trans-Atlantic slave trade, and after its abolition, another phase of the bestiality of power began. It was called colonialism.
Christian Europe which did not see anything bestial in slave trade, assumed a superior moral ground to convert heathen, inferior Africans to embrace the Christian faith. European scholars had propounded theories of racial classification which placed the Whiteman at the top and the Blackman at the bottom. Thus, what became known as the "Whiteman's burden" was a mission statement of fulfilling a "sacred trust" of saving inferior human stock from state of depravity.
The scramble for Africa became the focus of European powers after the abolition of slave trade, with a sacred duty of executing the Whiteman's burden of saving the race of inferior people. Such mission of forceful entry and occupation of other people's territories and ruling over the people became a "sacred trust" for the benefit of the Africans. Pure hypocrisy!
European colonial powers would hardly admit that they knew little about Africa and its communities. The assertion that Africa had no history spoke eloquently about the Whiteman's ignorance about Africa. Professor Hugh Trevor-Roper gave the following verdict: "Perhaps, in the future, there will be some African history to teach. But at the present, there is none; there is only the history of the Europeans in Africa. The rest is darkness… and darkness is not the subject of history".
Among some African elite who felt bitter about the marauding activities of European powers in Africa and their misrepresentation of the reality of Africa, was Late MKO Abiola. He initiated the pursuit of reparation by African nations, requiring European powers to make some payment to African nations for the damage, loss and injuries which colonialism had inflicted on African communities. Being a rich and powerful business man, Abiola's project made European powers jittery. Expectedly, they kept quiet.
Without going into a security report that enjoys the protection of the statute of limitation, the Abiola reparation project became an issue which brought about a gang-up to deny him the chance of becoming a president. There may be more to the factors which brought about the annulment of the "freest and fairest election in Nigeria" than Abiola's dream of reparation. But obviously, such prospect would have jolted our colonial masters into some underground actions to nip a possible danger on the bud. So, let it be with MKO Abiola and reparation!
A statement by a postgraduate student from Papua New Guinea in a conference hall in a British University long ago, brought an ominous silence. That statement was that "the coming of the Whiteman to Africa was not because of love or concern for the Africans, but because of selfish economic interests". Such a statement coming from a Blackman in a predominantly white environment obviously caused some embarrassment to some people, even though it was true.
When some international authority considered fit and right that the Bakasi Penisula be ceded to the Cameroon, with Nigeria having no option for an appeal, some issues came to light. It is to be expected that the glory and reputation of past heroes and macho-men are not meant to be tarnished, even when evidence of some atrocities come to light. Human vanity and ego can cause wars.
Highly placed individuals and great nations that had abused power and treated human beings as animals in the past have a way of asking for the sympathy of history. Atrocities that the Whiteman had committed in Africa can be presented as "sacred trust" of having to bear the burden of saving Africans from their state of depravity. Same culture or mindset prevails currently in various guises whereby winning emboldens tyranny and turns injustice into justice. Humanity has much to atone for, individually and collectively!
Bright Amirize

We Are Committed To Deepening Democracy, Says Rivers State Governor Wike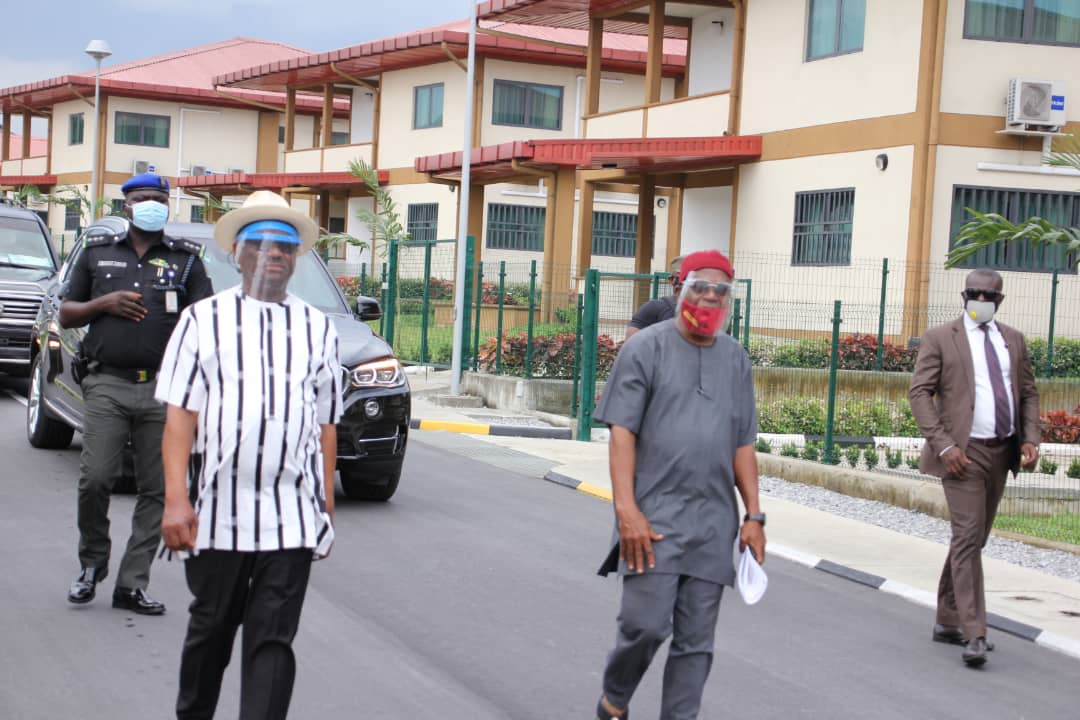 Rivers state Governor, Chief Nyesom Ezenwo Wike has explained that the support given to the judiciary by his administration is to deepen democracy in Nigeria.
He said all the arms of government need to work in synergy in discharging their  responsibilities to serve the people with courage and efficiency.
Governor Wike was speaking shortly after inspecting the progress of work at the reconstructed residence of the Presiding Justice of the Court of Appeal and other judicial staff located in Amadi flat, Old GRA in Port Harcourt and the Judges Quarters for Judges of Rivers State Judiciary in Orazi in Obio/ Akpor Local Government Area of the state, on Wednesday.
The governor said his administration had commissioned quarters for Judges of the Court of Appeal while the residence of the Presiding Justice and staff of the same court would  be ready soon to boost their morale to confidently discharge their duties.
"We are quite impressed with the level of work that is going on there. You must give the people all it takes to do their best because you can't talk about fighting corruption and then you will not give the Judiciary the support that it requires.
"You cannot talk about deepening democracy without having the Judiciary or Legislature playing their role.
"The  three arms of government must work together to be able to engender development for the state," he said.
Commenting on the provision of quarters for Judges of the Rivers State judiciary, Governor Wike said it would solve the problem of accommodation for Judges on retirement.
"I did say that we are going to give them owner- occupier residence so that when judges retire, they will get accommodation.
"It is very funny to find that when Judges retire, they do not have a place to stay or are compelled to stay in remote places after years of service. So, we thought that there is need to give them a befitting place after  retirement.
"We are happy that the contractor has completed the building, and now Julius Berger PLC is carrying out the furnishing. In a short time, we believe that it will be commissioned and handed over to the Chief Judge of the state who will then hand them over to the beneficiaries," he added.

COVID-19: Rivers State Governor, Wike Sues For Understanding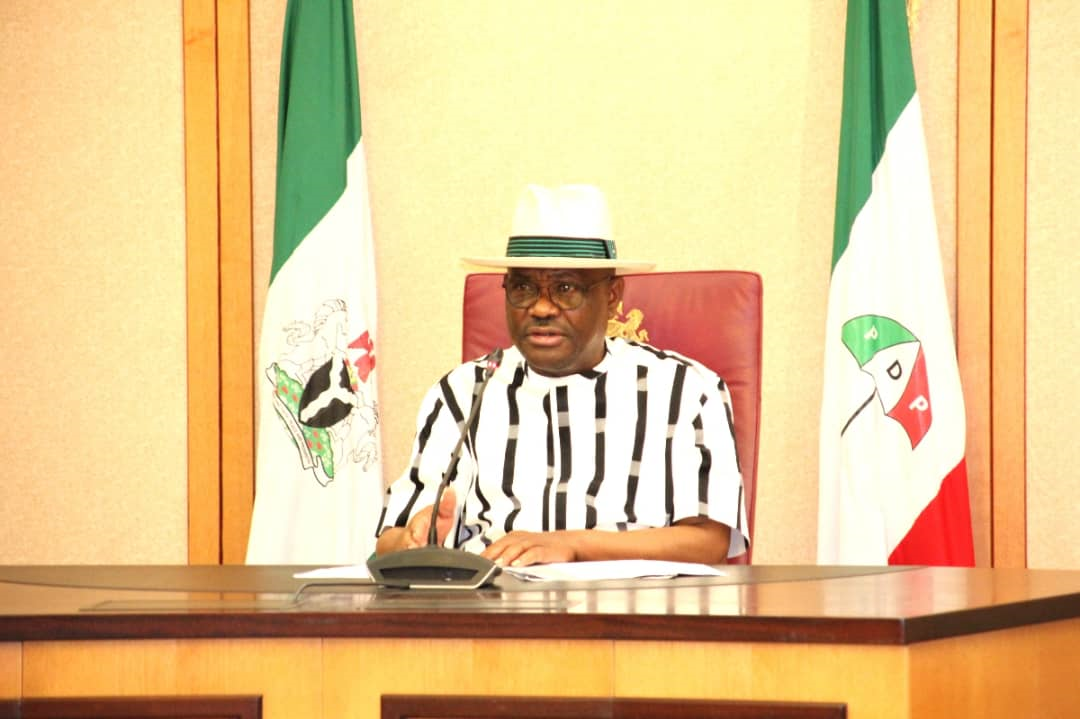 * Imposes night time curfew from 8p.m to 6a.m on Bonny LGA and Onne Community in Eleme LGA with effect from July 10, 2020 till further notice
*Sets up Taskforce to enforce wearing of facemasks
* Plans to reopen markets
*Sacks serving Permanent Secretary for flouting COVID-19 guidelines
Rivers State Governor, Chief Nyesom Ezenwo Wike has appealed to residents of the State to take personal responsibility to curb the spread of Coronavirus.
He also cautioned that with the commencement of inter-state travels and domestic travels, residents must be cautious in relating with friends and relatives coming from heavily impacted areas like Lagos and Abuja in line with the established protocol of 14 days Isolation.
Governor Wike made the appeal in Port Harcourt on Wednesday, in a state-wide broadcast.
"As at July 8, 2020, the COVID-19 status of our State is as follows:
Total samples collected: 4573
Total samples tested: 3871
Total confirmed cases: 1235
Total discharged cases: 810
Total active cases: 382
Total death: 43
New cases: 30
"From the first days of this virus, we took serious measures and literally set the pace in our country to slow down the spread.
"We have noticed that most affected people are resorting to self medication instead of presenting themselves for treatment at the State's Treatment Centres.
"Those who experience symptoms of fever, cough, loss of smell or taste and shortness of breath, among others should present themselves for appropriate treatment at the expense of the State Government.
"Furthermore, in the face of increasing infections and systemic risk to public health and safety, most residents have continued to disregard the mitigating protocols with reckless abandon.
"Public and private transporters, business owners and churches are refusing to adhere to the relevant protocols.
"Burial ceremonies are also reportedly being conducted in clear breach of the 50 persons maximum attendance limit such that a serving Permanent Secretary  had the temerity to chase away officials of the State Ministry of Health who went to enforce the established guidelines on public burials at Oyigbo," he said.
The Governor therefore announced the sack of the Permanent Secretary, Mr. Sunny Okere with immediate effect for flouting and obstructing the enforcement of the guidelines.
This, he said, would serve as a lesson to all other public officers who may wish to be irresponsible.
He assured that government would decontaminate public schools to keep them safe for resumption in line with the Federal Government's Guidelines.
Government, he said, is also appraising the prospect of opening markets as soon as it is satisfied that it is safe with appropriate guidelines on social distancing, hand washing and wearing of face masks.
Governor Wike announced the setting up of a Joint Taskforce made up of security and civilian personnel to enforce the wearing of face masks.
He stated that to sustain the progress made in the state, the State Security Council has imposed a night time curfew from 8p.m to 6a.m on Bonny Local Government and Onne Community in Eleme Local Government with effect from July 10, 2020 until further notice.
The Governor assured all health workers, including doctors and nurses that government would continue to cater for their welfare as they continue to serve the state at grave risks to their own lives.
He added that government would not fail to do whatever it takes to slow down the spread of the virus.

Governor Wike Is Building The Future For Rivers State – Nsirim …To Collaborate With CoolWazobiaInfo On Development Reportage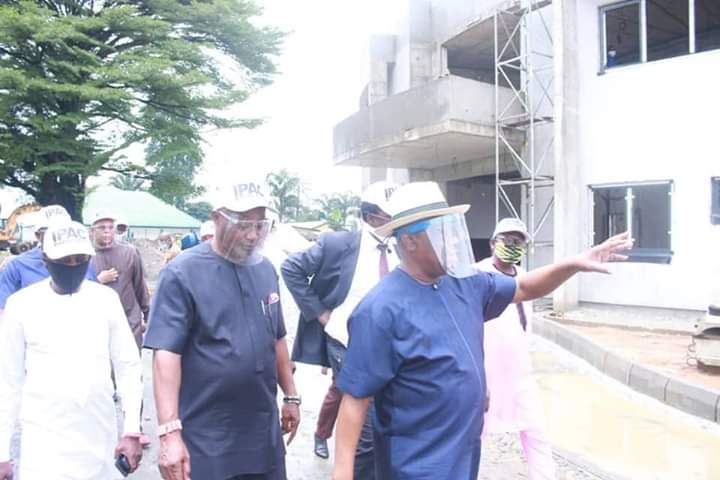 The Rivers State Commissioner for Information and Communications, Pastor Paulinus Nsirim, has stated that the State Governor, Nyesom Wike is deliberately building an enviable future for Rivers People.
Nsirim, who stated this on Tuesday, when the Management of CoolWazobiaInfo, operators of Cool, Wazobia, and Nigeria Info radio stations, paid him a courtesy visit in his office, stated  that every step the Governor has taken since 2015  had been targeted at developing the State.
"Within the last five years, His Excellency has demonstrated keenly that his passion to turn around the fortunes of Rivers State is not something that he is  just playing to the gallery. In almost all sectors of the economy of the State you can see the monumental changes that are taking place here.
"That's what we have found in this visionary leader and we are quite proud to be associated with him", he said.
The Commissioner noted that the manner in which the Governor executes all the developmental projects in the State is only characteristic of a leader who is driven by the will to serve the  people.
"Do you want to talk about the three flyovers that are ongoing simultaneously? You know, naysayers thought that it was a political gimmick when he said I have paid 70% of the contract sum of the projects.
"The speed with which the work is going on is so amazing. That is what you see when there is political will and you find a man whose passion for selfless service speaks in all that he does", he said.
While expressing the willingness of the Ministry to partner with the Station in areas that would develop the State, the Commissioner stated that such partnership would be based on the station ensuring strict adherence to the regulatory guidelines set by the Nigeria Broadcasting Commission (NBC).
Such guidelines, he said, has to do with the principles of objectivity, fairness and balance, noting that when this is not done,  there is a breach of the NBC guideline, which regulates the operations of the broadcast media in Nigeria.
He stated that media houses  are supposed to be  bridge builders who harness public opinion for the common good.
According to him, no Media house should expose itself to be seen to be antagonistic.
"Every Media house owe society the obligation to create a balance in the reportage of activities.
The Commissioner assured that the State Government welcomes criticism and would  only collaborate with initiatives that will ensure development for Rivers people.
We are looking forward to any partnership that will bring into focus ethics, objectivity, fairness, and balance. A partnership that will engender  development for Rivers people.
"Governor Wike has given governance a  new meaning and we believe that partnership with the media will compel him to do more for Rivers people.
" We welcome constructive criticism that will promote the state as an investors' haven," he said.
Earlier in his speech, the Programme Manager of the Station, Carl Orakwe, proposed a collaboration with the Ministry towards the development of the State.
"Part of the reasons why we are here is to extend our support and let everyone know that coolwazobiainfo family as a media outfit would strive to promote good governance.
He pledged that they would collaborate with the ministry to project the state in good light.
Also present was the Permanent Secretary of the Ministry, Mrs Ibiwari Clapton-Ogolo and all the Directors of the Ministry, as well as the Head of Station, CoolWazobiaInfo, Jeta Onomewho.