Why the UK's Exit from the EU could Represent a Golden Opportunity for Nigeria
Following Boris Johnson's dominant election victory in December, it appears the UK is edging ever closer to Brexit. One of Johnson's key campaign promises was to deliver on the results of the referendum in 2016 and allow the nation to "move on" from the chaos that has dominated British politics for more than three years.
Following his election victory, Johnson promised: "We can start a new chapter in the history of our country, in which we come together and move forward united, unleashing the enormous potential of the British people."
He added that he wanted to make the 2020s a decade of prosperity and opportunity, but where does that leave the UK's relationship with its other trade partners, and is there an opportunity for Britain to strengthen its ties with Nigeria?
The two nations have a long trade history and the latest data places Nigeria among the largest markets for UK exports. Although, at this moment, there is no existing trade deal between the UK and Nigeria, aside from World Trade Organisation ties and the UK's status as a 'most favoured nation'.
Their most favoured nation status means the UK enjoys the lowest tariffs, the fewest trade barriers and the highest import quotas, but could the ties to Nigeria become stronger in the fall-out of Brexit, and against the backdrop of the US-China trade war?
This economic conflict between the world's biggest markets poses a threat to Nigeria, as Africa's top oil producer, due to the tariffs being levelled by the two countries on the other's imports.
Speaking in 2019, Muda Yusuf of the Lagos Chamber of Commerce explained: "The US and China are the two biggest economies in the world, so if they are having issues with respect to trade, it will affect the global economy, it will slow down growth and when we have a slowdown in growth, it will invariably affect commodity prices.
"So, we are likely to see a drop in crude oil price and it will affect Nigeria because we are heavily dependent on oil."
The recent easing of the trade war between the nations could offer some respite, but could the UK's severing of trade ties with EU member states offers an opportunity for stronger trading connections with Nigeria?
In May of last year, the UK's then-Foreign Secretary, Jeremy Hunt, confirmed that Britain would aim to deepen its insurance sector ties to Nigeria through the introduction of Naira-dominated instruments in London's financial markets.
This is great news for the global strength of the Naira, which has dropped in value against the British Pound by around half since the turn of the century. And the explosion in popularity of forex trading online means that these markets are now being evaluated and discussed more than ever.
The list of forex brokers operating online is growing globally, and Nigeria is no exception to that trend. As a result, more and more citizens are paying attention to the nation's trade links – and paying closer attention to the Brexit picture unfolding thousands of miles away.
Source: Pexels
The two countries' commercial relationship is already underpinned by more than £6.1bn worth of annual trade. UK brands remain in very high demand throughout Nigeria, especially luxury items, while Nigeria's low-income tax rates make the nation an exciting prospect for British investors.
And as the nation edges ever closer to finally leaving the EU, we could see those ambitions of greater investment finally realized, but the UK isn't the only country paying closer attention to Nigeria and recognizing its trade potential.
If their trade war with China continues to cool, the USA could further develop its presence in Nigeria beyond its present investment, which was placed at $5.6bn in 2018, and increase its activities to support SMEs in the country.
President Donald Trump emphasised America's friendship with Nigeria on the occasion of the 59th independence anniversary last year, describing the nation as "our strongest partners in Africa".
He also affirmed that Vice President Mike Pence and Nigerian Vice President Yemi Osinbajo were working together to build on the two countries' "long-standing history of co-operation". Indeed, the pair came together last June to discuss trade reforms, among other topics.
But the slowdown caused by the tensions with China is bad news for countries that are trade partners of the two economic superpowers, and Nigeria's hopes of capitalizing on additional investment from America, and potentially reducing its debt profile of N26trn, could be dashed.
This perhaps makes the UK a much safer bet for future growth, and Prime Minister Johnson will undoubtedly be eager to promote trade discussions with new partners following his nation's exit from the EU.
But it falls on Nigeria to make the most of this opportunity, as there will be many other nations seeking to make inroads, and capitalize on the UK's desire to strengthen its international trade links outside of Europe.

Jobs on Jiji: Great Opportunities and No Scammers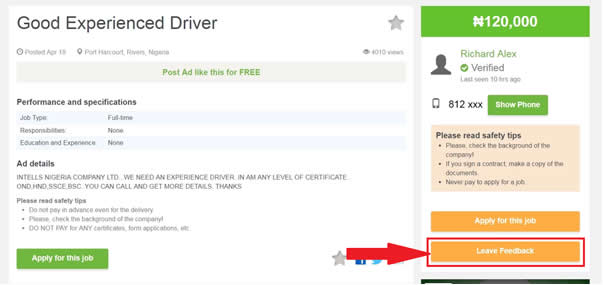 Some people still keep wondering: are Jiji jobs real? On the one hand, it is not surprising, for the wide variety of opportunities and offers often make job seekers question whether an attractive description is true or another ad among scam jobs posted by some frauds. On the other hand, it is not how Jiji works.
Jiji's customer support is available 24/7. All this time, we are communicating with our users, monitoring website activity, detecting suspicious processes, and controlling automatic mechanisms for employment scams detection.
For your safety and security (find the safety tips here https://jiji.ng/safety-tips.html) , we check user's personal data, including email, phone etc., so everybody has to pass verification process to use all benefits of the website. Also, we keep track on browsing activity, monitor users' behavior, typical patterns, proxy, access IP and location in case of need, check history, apply velocity etc.
Altogether, it helps to protect every employer and employee from job scams in Nigeria.
After we detect scammers, we put them in the general list, which is left in the open access on the website and goes to the police department, so criminals will not avoid the punishment.
Every user can join preventive actions for reducing job scams on Jiji and Nigeria in general. In case you notice scam job offers or resume scams, feel free to leave a comment about an employer or illegal actions on the website at support@jiji.ng. All your complaints are forwarded to managers and subject to verifications. In case everything is confirmed, an employer will be blocked. support@jiji.ng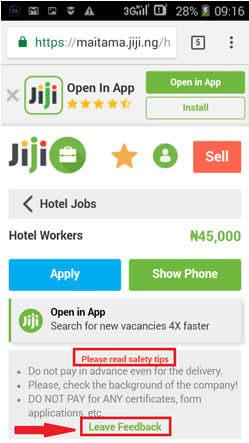 You don't have to be afraid to look for a job online. You just need to be careful and remember several simple rules.
Always double check company's background.
Look through their website before going for an interview – it will be helpful both for your conversation with an employer and inner peace.
Never submit any upfront fees for a job application.
Avoid going to remote, unfamiliar or suspicious places for an interview.
Do not disclose any personal information, like bank account number, financial data, ID photo copy etc.

Joining forces to support local entrepreneurs
Within only three months, the Aspire Small Business Fund a joint effort of GroFin and Shell Petroleum Development Company of Nigeria Limited (SPDC) to create sustainable growth in the Niger Delta Region, has helped Dezionite Interiors to position itself in as a strong brand and growing business.
Dezionite Interiors & General Services located in Port Harcourt is an interior decoration and commercial cleaning business founded by Mercy Ikeji. With only 13 employees and very little equipment, Ikeji contacted GroFin for support. Her desire to grow the business was perfectly in line with the Aspire Fund's mission to create sustainable employment, economic growth and social development.
Friday Essienenkak, Investment Executivefor GroFin in Nigeria, says "The Aspire Fund, with its anchor investor SPDC, is the perfect solution for entrepreneurs in the region struggling with obtaining finance integrated with business advice and support." The contribution of small and growing businesses to the overall economic growth of the country is much lower than that of countries with the same level of development as Nigeria. The main constraints associated with the development and growth of this sec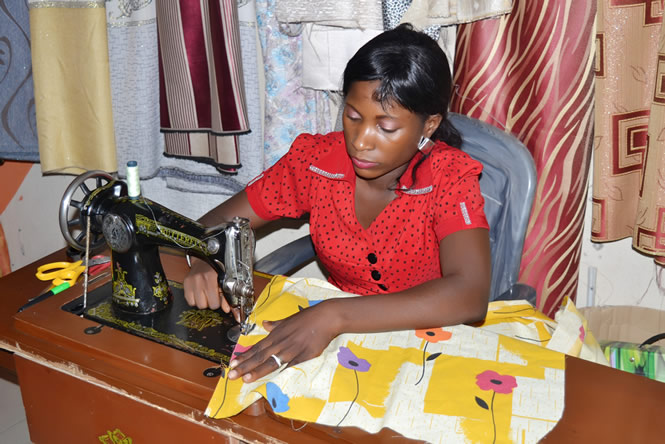 tor are electricity supply, road infrastructure, access to finance, tax administration, security, vocational education and business skill training. "With the mind-set to solve these many issues and improve on the facilities, together with SPDC, we are working to support more entrepreneurs like Ms.Ikeji," Friday added.
GroFin assisted Ikeji in the creation of her first set of financial statements from sales records from the business' three years of operation, then trained her on the running the accounting system. She is now comfortable with the financial management of Dezionite and feels confident in her ability to manage the business efficiently. However, she says she still appreciates the monthly visits from GroFin staff and their quick response time to her requests. "GroFin does not only finance you, they also help to organise the business so that it can run efficiently. We have hired more employees and Dezionite's sales have improved significantly," the proud business owner states, "The business has achieved over 100% of budgeted sales in January 2015."
With this investment, Aspire Fund has helped to actualise the dream of a female entrepreneur whilst simultaneously serving its purposes of creating jobs."I want to thank GroFin for making me a professional business woman. I can compete anywhere in the world!"concluded Ikeji.

Simple Accounting Software for Small Businesses

IFRS Compliant
Great software should work with little configuration and setup. Our Accounting Software is designed to get you up and running and fully functional within minutes.
An easy to use accounting software that helps you manage your finances, invoice customers, pay bills, payroll, tax reports, and manage inventory.
We work hard to make sure every release is in keeping with this philosophy. Have a look at some of the design principles that drive us when we design Our Accounting Software.
To place an order and for more enquirers:
Call E.commerce Systems International
+234 (0)8034780061, +234 (0)8026030456
 Email: info@eproafrica.com
Website: www.eproafrica.com
First-class Support for Every Country
We understand the frustration users experience when they discover their software doesn't work properly in their country. That's why Our Accounting Software  has been designed to adapt to any country. Our software is being translated to multiple languages. It supports local tax codes, local date formats, local currency formats, country-specific tax reports and more. Accounting principles are universal and there is no reason why universal accounting software shouldn't be suitable for all countries. We are more committed to delivering universal accounting software than any other accounting software developer in the world.
Convention over Configuration
We are developers and would love to create the most flexible software available, but flexibility comes at price. While users want flexible software, they don't want to spend hours trying to understand how to configure everything before using their software. That's why we work hard to come up with the best conventions that work for most people. That doesn't mean we will leave you out if you have custom requirements or different preferences. You can always override any convention.
The Last Responsible Moment
Traditional accounting software requires you to enter opening balances, setup chart of accounts, configure tax variables, select when your financial year starts and so on before you can issue your first invoice or record a payment. This is not needed because accounting software doesn't require all of these set up actions before you are able to simply issue an invoice. Our Accounting Software doesn't impose onerous set up before getting started. For example, Our Accounting Software doesn't need the financial year starting date until the financial year ends which can be a whole year after you start using the program. This greatly reduces the options to decide on and the actions to take before users are able to get started.
Striving for Simplicity
We're never done with simplicity. We aim to make Our Accounting Software easier to use with every upgrade. Our goal is to develop accounting software that is simple enough to use without a manual but provides guidance in case you have the slightest uncertainty anywhere within the program. We want everything to flow smoothly without any need for you to stop and think while using Our Accounting Software.
To place an order and for more enquirers:
Call E.commerce Systems International
+234 (0)8034780061
 Email: info@eproafrica.com
Website: www.eproafrica.com