Women Rights Group Preaches Accountability, Transparency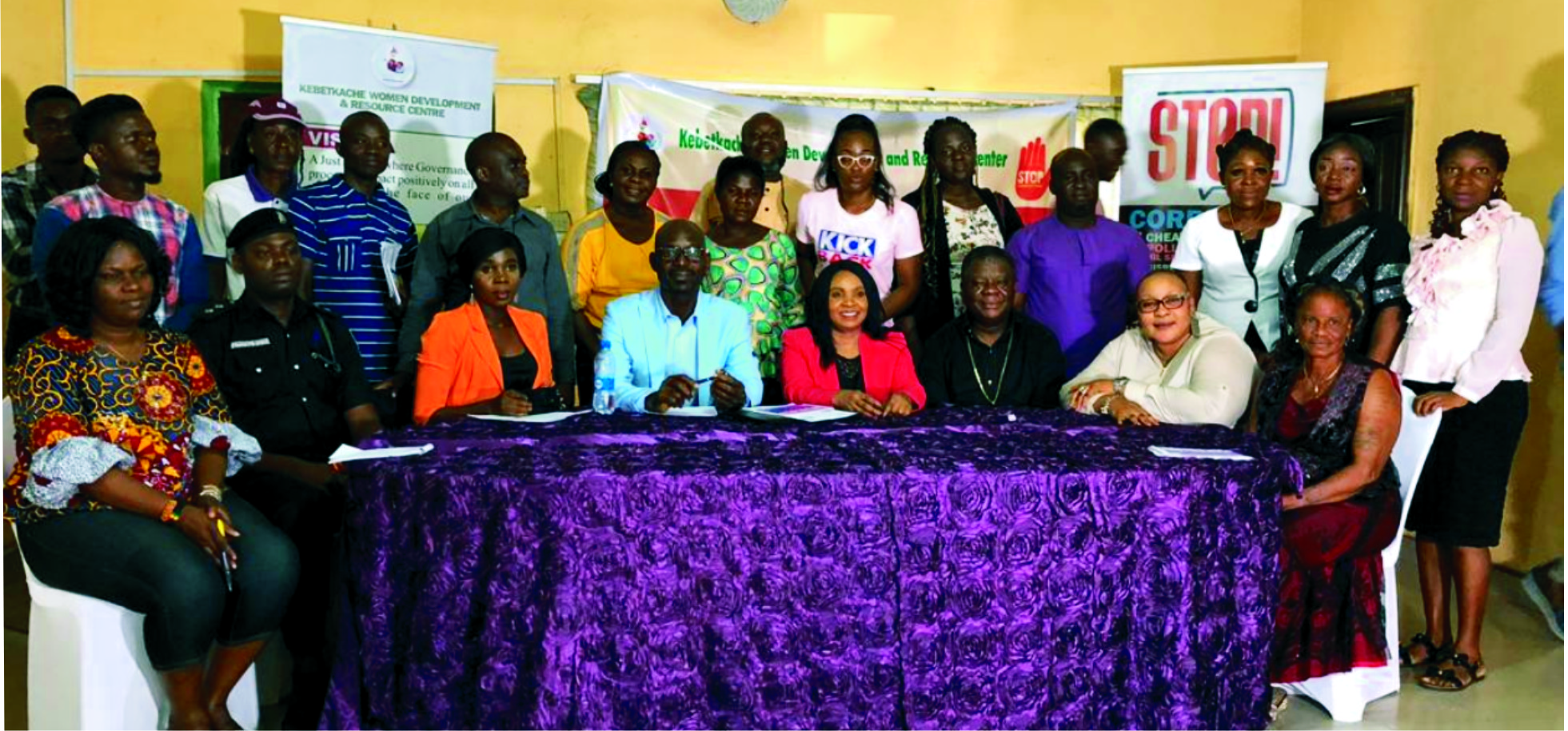 Kebetkache Women Development and Resort Centre, a women rights organisation, has taken a bold step to promote accountability and transparency in order to address issues of corruption as they affect women accessing social services.
The Executive Director, Madam Emem Okon in an interactive workshop session with the International Corrupt Practices Commission (ICPC), the Police and other anti-corruption agencies, organised by the body, on the topic: "Gender And Accountability: Promoting Ethics And Integrity," recently, in Port Harcourt, called on Nigerian citizens to promote ethical standards, accountability, transparency, and integrity so as to engender peace and progress in the country and society at large.
She said that in order to put an end to the high level of corruption in Nigeria, every citizen needs to conduct themselves in an acceptable manner worthy of emulation and commendation, while calling on anti-corruption agencies as well as the media to intensify efforts as much as possible at building consciousness in that direction.
In her response to if it is only women that suffer corruption and social vices in the society, she said: "Of course we know that it is not only women that require social services: such as quality education, functional health facilities, access to clean drinking water."
She expressed optimism that if every individual in the society begins to address the issue of corruption internally, there would be hope that in the soonest, it would be a thing of the past.
She charged that everyone need to know what is expected of them, noting that some people are made to feel that they are stupid, weak and don't know what they are doing when trying to promote transparency and accountability, which ought not to be.
"So people need to be encouraged that it is good to have integrity, it is good to be ethical in your profession. I want to charge participants to take the message home that there is hope as there are institutions that are still upholding integrity," she said.
She called on both leaders and citizens to have a change of attitude, mindset, behavior in whatever they find themselves doing, adding that their actions should be able to build good governance and better society and not to mar it.
"I am not only calling on leaders, but on every citizen, because people takes bribe, because somebody gives bribe, so am calling on everybody to change attitude, mindset, behavior, so that we can have good governance. If we don't have good governance, we cannot have those services that make life meaningful.
In his paper presentation titled: 'Entrenching Principles Of Ethics And Integrity In The Workplace,' the Guest lecturer, a member of the Independent Corrupt Practices Commission, (ICPC) facilitator, Mr Aveyina Peter defined ethics as those moral principles that control or influence a person's behavior, or the rule or standards governing the conduct of a person or members of a profession.
Peter also defined integrity as simply "doing the right when no one is watching or the quality of being honest and having strong moral principles," adding that without integrity individuals are untrustworthy.
Peter stated that ethical frame-works are those constitutional laws set out to checkmate activities of individuals, private, as well as public office holders and where the need arises, prosecute any airing member of the society that abuses his/her office.
He explained that public office is a position of stewardship for which an account must be rendered as it is a public trust as well as a national service for which an oath or pledge is made as a sign of responsibility and obligation to the people being served.
Talking about common forms of ethical risks, he advised that people guide judiciously against such risks, adding that ICPC has continued to surmount all those risks to maintain her integrity.
Peter itemised common forms of ethical risks as non-compliance with rules and regulations, conflict of interests, leakage of confidential information, unorthodox recruitment, compromised procurement, favouritism in training and promotion and abuse of office.
He stressed that if people adhere to rules and regulations and boldly doing the right things always, the society would be a better place for all.
The ICPC facilitator emphasised that ethics promote and preserve the well-being of members of the society as well as guide public servants in carrying out their official duties in order to achieve a united, peaceful and progressive nation, whose social order operates on the ideals of freedom, equality and justice.
He said: "It is the duty of every organisation in the public service to align its corporate behavior with the national ethics and goals.
He maintained that integrity in workplace fosters a positive workplace culture, stressing that organisations known for integrity perform better and as well gain more patronage from members of the society.
Also speaking, a Board member, Kebetkache Women Development Resort Centre, Chief Constance Meju commended ICPC for a well packaged lecture on corruption, describing it as a very welcome development, especially as everybody is crying that corruption is on the increase .
Meju stated that everyone needs to really understand what needs to be done and who needs to do what, noting that one of the things that need be done is first of all, everyone must have to check themselves as individuals in order to know how they are contributing to corruption and have a retrace upon realisation.
She condemned the act of over demanding which she said encourages people to take what does not belong to them.
She stressed that peace and progress cannot be achieved in a nation where there is injustice, noting that in order to achieve peace and progress, everyone must imbibe very high level of ethical standards in their day to day activities.
Meju charged public and private office holders to maintain high ethical standards in the discharge of their duties, while also calling on the anti-corruption agencies to ensure there is no sacred cow, but ensure that corruption check is on all.
Noting that Nigerian leaders are servants, she charged them to serve the interest of the nation first and not their own personal interest.
Meju added that they should also remember that they are in position of power because people put them there and as such they are accountable to the people, adding that they make themselves ready to answer questions, operate an open door policy and be transparent to the people.
She appealed to Nigerian leaders to lead the way that the people should go, noting that leadership is 'do as I do not do as I say'.
According to her, "Nigerian leaders must ensure that all the sectors function optimally by releasing the needed money that should go to all the sectors as well as ensuring that the people use money judiciously for the purpose it is meant. Everybody should do what is expected of them. If you are in the power sector give us light, if you are in the education sector upgrade our schools, so that we don't need to send our children out to study abroad. Let everybody go to school here and have quality education."
Meju maintained that education is very vital and as such it is important to check and monitor what is happening in the educational sector, adding that there is so much corruption as teachers are not teaching the students, thereby making them come out half-baked and as a result can't defend their certificates which in turn makes the future blink.
She said: "In future we may not just be talking about corruption, we need to make our children employable, we need to make them people that can compete favourably with people from other parts of the world."
Susan Serekara-Nwikhana

Nigeria's First Female Ambassador To US Emerges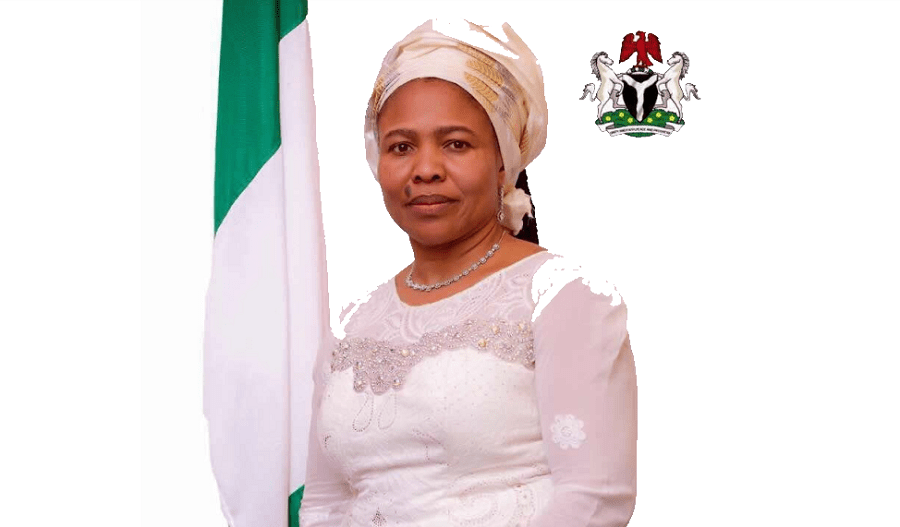 News was made Tuesday, as the special assistant on digital/new media to Buhari,  Tolu Ogunlesi, announced the president's approval for the appointment of Uzoma Emenike, a woman with over 30 years experience in foriegn affairs, as the country's ambassador-designate to the United States.
The appointment of the country's ambassador to the United States on a normal day, couldn't have been anything to talk about, but the mention of the first female diplomat to man the country's embassy in US, is in itself newsworthy.
The posting comes six months after senate's confirmation of the list of ambassadors-designate submitted by the president. With the development, the diplomat has emerged as the first female ambassador to US, raising the bar and setting a new standard.
Until Emenike's appointment, the Nigerian embassy in US has been headed by men since its opening on October 1, 1960, according to office of the chief protocol, US Department of State.
Emenike, who currently serves as Nigeria's ambassador to Ireland with concurrent accreditation to Iceland, came into limelight in 2016 when Buhari sent her name, alongside 45 others, to the senate for confirmation as non-career ambassadors. This thus marks a new era at the Nigerian embassy in the US.
Emenike received education both locally and overseas. She is a recipient of two bachelor's degrees, two master's degrees, and a doctorate.
The diplomat holds a B.Sc. in Sociology and Anthropology from the University of Maiduguri, and an LL.B. from the University of Reading in the UK. She also earned a master's degree in International Law and Diplomacy from the University of Lagos (UNILAG) and another master's in International Management from University of Reading. Emenike capped her academic pursuit with a doctorate in International Relations, also from the University of Reading.
Emenike'current appointment has thus bridged the gap  created in terms of diplomatic relations between both countries due to the demise of her predecessor,  Sylvanus Nsofor, on December 10, 2020.
Aside from her role as a foreign diplomat, Emenike is a writer with a host of published works. Among her published articles are: "The Africa We Envisage in 50 Years Time" and "Europe Needs Africa". She is also the author of "Africa: The Centre-Piece of Nigeria's Foreign Policy". Uzoma is married to Ikechi Emenike, and the union is blessed with four children.
Meanwhile, other Women also made the ambassadorial list. They are; Ambassador Eniola Ajayi of Ekiti State who was reposted to Netherlands from Hungary.  Mrs Opunimi Akinkugbe  of Ondo State,  posted to Greece. Maureen Tamuno of Rivers State,  posted to Jamaica.
Others are; Modupe Enitan Irele of Lagos State reposted from France to Hungary. Ijeoma Obiezu Chinenyerem of Imo state sent to Ireland. Deborah Illiyah of kaduna Posted to Congo, Hajara Ibrahim of Gombe posted to Malaysia. Safiya Ahmed Mallam of Kano posted to Romania, Zahra Omar of Kwara State posted to Malawi and Monique Oshame Ekpong of Cross River State, posted to Angola

I Respect Integrity – Dr Spencer
To followers and watchers of events in and around Port Harcourt metropolis, the name 'Dr Patience Spencer', has been in the news in recent times, incidentally, for all the good reasons.  Succinctly put in the language of the social media, Dr Spencer is trending, and her name has gone viral.
However, in case the name is still strange to you, just a few weeks ago, Dr Spencer misplaced her smart phone, fully loaded with information she ordinarily would find difficult to part with in a hurry.
A lad, by name Victor Ugochukwu Ami, a year one student of Political Science at the Ignatius Ajuru University, who by all standards  needed a phone to prosecute his academic programmes, picked the phone and eventually returned it to the owner.
The visibly elated Dr Spencer could not hold back her joy. For this reason, she not only exposed the lad and his rare act of kindness to the outside world via the social media, she personally introduced the boy and his act to the school authorities which instantly honoured him in an amazing manner.
Today, Master Victor Ugochukwu Ami, through that singular action of Dr Spencer, has a smart phone, an award of honour as the 'Student of the Year 2020' by Ignatius Ajuru University of  Education which has earned him a four-year comprehensive scholarship with reasonable pocket money. This singular exposure of a worthy act, has continuosly attracted financial gratifications from well-meaning Nigerians to the boy.
With all this drama that popularised Dr Spencer's name and personality on social media, as well as the sound of the name, many had already concluded that she is a foreigner found in our clime. On the contrary, The Tide's Women's Desk, went to town during the week,  just to find out who this rare gem in feminine apparel truly is.
You may probably be shocked to hear that Dr Patience Spencer as she is officially addressed, has got nothing to do with the white race. She is not only from the black race, she is  a Nigerian and a full-fledged Rivers-born lady. Hear her: "I am Dr Patience Spencer, a Senior Lecturer in the Department of Computer Science, in Ignatius Ajuru University of Education here in  Rumuolumeni, PortHarcourt. I also double as the Acting Director of the Directorate of Idea, Creativity and Innovation. I am from Rivers State, Kalio-Ama in Okrika precisely".
For those who think that Dr Spencer's action was not without any western influence or undertone, she said, " I actually had my nursery, primary and tertiary education here in Rivers State." Howbeit, the peculiarity of   this young lady simply stems from her respect for integerity and her acclaimed love for honesty and hardwork.
In her words, " In an era where negativity is the order of the day, I think any positive deed is worth celebrating. I actually felt it is a character to celebrate. When you look at the society, there is an air of fear of what the future would be. So Victor's attitude in this regard, was quite timely. It was a big relief. It is an indication that there are others somewhere we may not have identified. Definitely, there is hope for a better future for our society".
On her passion for discipline and promotion of integerity, Dr Spencer believes that using a strategic plan devoid of unhealthy political influence, she would like to change the narratives concerning corrupt and unacceptable practices  such as disrespect for university rules and regulations on the part of the students, abuse of office on the part of the lecturers, and poor attitude to work and ignorance of the importance of self development on the part of the non-teaching staff.
She loves singing and dancing and stands out as a passionate reader.
Stories by Sylvia ThankGod-Amadi

Womanhood In Ibani Nation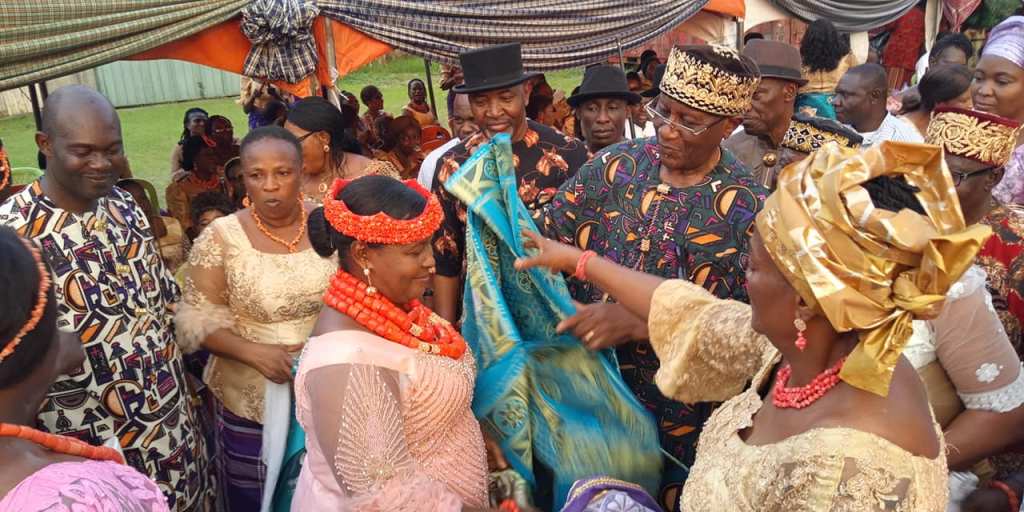 The Iria ceremony among the Ibani people (Bonny and Opobo) in Rivers State is an admired and valued rite that marks the passage to the age of child bearing and marriage.
Consequently, it is compulsory for all women and it gives the woman the leverage to participate in socio-political activities of the Ibani Kingdom. This ceremony makes the Ibani woman unique among other women in Rivers State and the world in general.
The practice of Iria (Mgbede) gives the status of complete womanhood. Any woman who does not perform the Iria, cannot be recognised and honoured among the womenfolk.
This, however, is performed in two levels. The first is between the ages of 12-15 years to celebrate the attainment of puberty, that is a strategy for preserving chastity among young girls. The second level is when the woman has attained the age of 30 and above. In recent times, due to the expensive nature  of the ceremony, women go through both levels within the same week.
Recently, Mrs Evelyn Owunabo, nee Brown, a public servant, an educationist and mother, completed her Iria rites, her passage to womanhood as an Ibani indigene from Bonny Kingdom.
According to Owunabo, "the ceremony named Bibite/Egerebite in Bonny Kingdom is a traditional rite of passage from a young maiden to a full grown woman. This is an induction into womanhood in Bonny Kingdom.
To prepare for the ceremony takes a lot of planning and preparation, it may take at least a year".
Enumerating the financial involvements, she attested to the fact that it is really huge  because it involves buying a lot of traditional wrappers which are expensive. They include Ikaki, Suu, Egerebite, Poopo, Akparakpa, Damask, Georges (Big and small). Each of these wrappers will go with a matching blouse, head tie and shoe. Then jewelry (gold), choral beads, food, drinks and other things.
Her advice to women and their husbands who wish to perform the ceremony is that they should start gradually, by buying the wrappers one at a time.
For the jewelry (gold) and choral, since they are so expensive, one can hire if you can't afford them.
On the perception by some people that the Iria ceremony is anti-Christian, which conflicts  with Christian beliefs, Owunabo disagreed with the fact that people have no understanding or are misinformed about the ceremony, According to her, there is nothing  fetish about the ceremony. The celebrant accompanied by the women, dances to the admiration of family members, friends and well-wishers. "It is not against my belief as a Christian because there was no ritual, libation or invoking of any diety involved. And at the end, all thanks, glory, honour and adoration is given to God Almighty".
She added that, "the ceremony has come to stay as long as Bonny Kingdom exists. It is our culture and it is our pride. This culture is one thing that makes us unique and stand out among others, so, it must be sustained. The ceremony is so important that if you don't perform it in your life time, you will do it in death. Whichever way, you must do it, so it's better done in life".
Recounting her ordeal after the ceremony, (though she rested a few days to recover from waist pain resulting from dancing), she narrated that the ceremony was not really stressful because it was properly planned.
"You will be in confinement for about two weeks to one month before the occasion. This confinement period, you are not to do any work. All you do is to eat, sleep enough, so in the evening, the older women will come to teach you the dance steps, so you are supposed to have enough rest so that on the day of your outing, you will look refreshed and full", she said.
By: Ibinabo Ogolo