Lagos Pipeline Fires Claim Five Lives, Raze 33 Vehicles, 15 Houses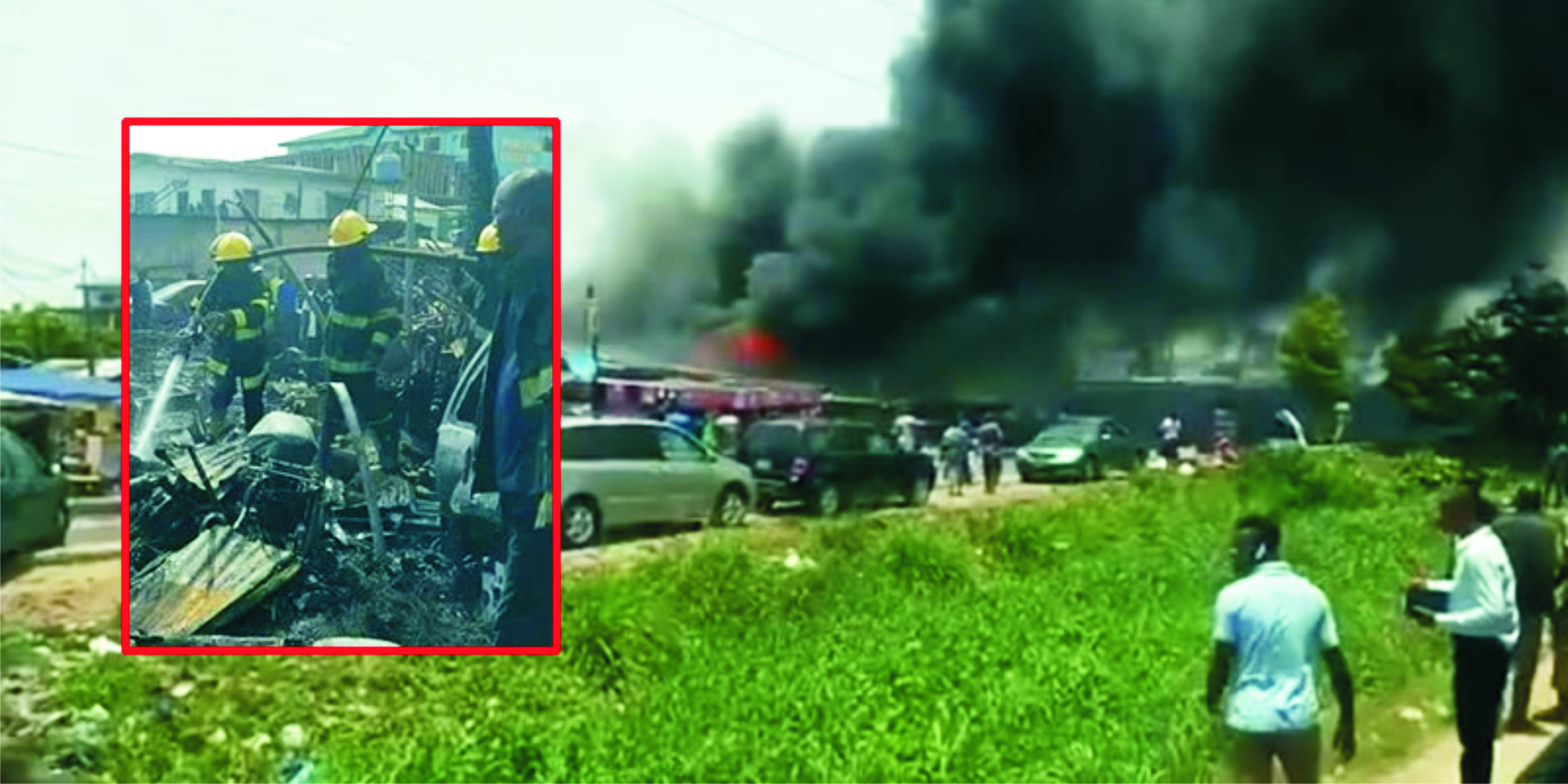 More fatalities are still being recorded after the multiple fires that swept through Lagos, Sunday night.
The worst fires occurred at Ile Epo Ekoro Road at Abule Egba inward Baruwa, in Alimosho Local Government Area of the state.
About the time this report was released, many people were reported to have died while millions of properties, including houses, cars, and tricycles have been consumed by the raging inferno.
According to the disaster report released by the DG/CEO of Lagos State Emergency Management Agency (LASEMA), Dr Olufemi Damilola Oke-Osayintolu, as at yesterday afternoon, the disaster had recorded five fatalities (3 adult males, 1 adult female and 1 female child aged 5 years).
"Twenty (20) people were treated for minor injuries and discharged at the scene. A total of 150 people, including children were displaced".
He disclosed that the buildings affected were No 18, Musa Erimo Street (a storey building); Joel Nnadede Street; No 7 (a storey building), No 20 (a bungalow), No 1 (bungalow), No 2 (bungalow), on Hamed Sodiq Street, No 8 (bungalow), No 4 (bungalow), No 2 (2 storey building). NNPC power line road No 45 bungalow, No 47 (bungalow), No 49 (bungalow), 17 attached shops in all.
He noted that the vehicles involved include, 33 trucks, 3 cars and 3 tricycles (Keke).
Meanwhile, a container truck fell on two transport rickshaws, locally known as 'Keke', killing three people at Omor Street, Mgbuka Nkpor in Idemili North Local Government Area of Anambra State.
The truck driver had reportedly lost control of the vehicle and ended up at gully along the road, killing the two Keke operators and a conductor of the truck instantly.
The Anambra State Police Command spokesman, Mr Haruna Mohammed, confirming the accident, said that the injured driver of the truck was receiving treatment at Inyienu hospital, while the corpses of the deceased were deposited at Iyienu Hospital, Ogidi
"On the 19/01/2020 along Mercedes Avenue by Omor Street, Mgbuka in Idemili North LGA of Anambra State, a Mack trailer conveying a container with registration number XS 254 ENU, driven by one Amuche Chinedu, 'M', of Ugwunagbo LGA of Abia State, lost control and knocked down two tricycles with registration numbers AAH 774 UW and AWK 191 QN, ridden by one Sunday Agbafor, 'M', aged 35 years of Onuofia Igboeze in Onicha LGA of Ebonyi State, and one Adindu Uchenna, 'M', aged 39 years of Ugwunagbo LGA of Abia State," Mohammed reported.
"As a result, the trailer with the container fell into a deep erosion gully, while the tricyclists, together with the conductor of the truck, one Chika – surname and address unknown – died on the spot.
"Police patrol team led by DPO Ogidi Division, CSP Mark Ijarafu visited the scene, corpses removed and deposited at Iyienu Hospital Morgue, Ogidi, and cleared obstruction to enable free flow of traffic in the area.
"Meanwhile, the truck driver also sustained injuries and he is receiving treatment at the hospital. The Commissioner of Police, CP John Abang, commiserates with the bereaved families and ordered for a discreet investigation to ascertain circumstances surrounding the incident," Mohammed stated.

JOHESU Suspends Warning Strike Says FG Resorted To Threats Than Negotiation
The Joint Health Sector Unions (JOHESU) and the Assembly of Healthcare Professional Associations (AHPA), yesterday, announced the suspension of its warning strike but noted that the Federal Government has still not attended to its demands; it disclosed that it will make its next decision in the coming days.
JOHESU, who disclosed this in a press statement signed by its National Chairman, Comrade Biobelemoye Josiah, further disclosed that instead the government has resorted to threats, intimidation and blackmail rather than calling for a resolve of the trade dispute.
The statement read in part: "This is to bring to your notice that the 7-day nationwide warning strike embarked upon by the members of the Joint Health Sector Unions (JOHESU) would come to an end midnight of today, 20" September, 2020.
"By this notice, all health workers under the five unions that make up Joint Health Sector Unions (JOHESU) and Assembly of Healthcare Professional Associations (AHPA) shall return to work on Monday, 21st September, 2020 across all Federal Health Institutions in the country.
"However, since the Federal Government through the Federal Ministry of Health has continued to exhibit high level of bias/discrimination by refusing to address the demands of our members as presented by JOHESU within the seven days of the warning strike as was done to other bodies in the health sector, the next line of action would be decided in due course by the expanded National Executive Council of JOHESU.
"If is pertinent to also inform members of the Press and the general public that rather than call JOHESU for dialogue to resolve the trade dispute, the Federal Government has resorted to intimidation and blackmail of JOHESU leaders using all forms of instruments and faceless organisations.
"JOHESU will continue to use all legitimate means to defend the rights and demands for the welfare of its members in the health sector. Nigerians should bear us witness that JOHESU has shown high patriotism by demanding that public health system in Nigeria is sustained and adequately financed for effective, efficient and affordable healthcare service delivery."

Wike Hails Mbata's Legacy Of Faith, Passion For God's Work
The Rivers State Chief Executive, Chief Nyesom Wike, says the late Elder Samuel Azuta Mbata left a legacy of faith and passion for the things of God.
Wike stated this during the funeral service in honour of the late elder statesman at Elder Sam Mbata's Compound in Eneka, Obio/Akpor Local Government Area, last Saturday.
Represented by his Deputy, Dr. Ipalibo Harry Banigo, the governor urged members of his family to build on that legacy and move forward, noting that the Almighty God would comfort them.
"The God of all comfort will comfort you; he will not leave you alone; he will not leave you without comfort. God is with you in a greater dimension than you can ever imagine". Wike stressed.
The governor, who described him as a trail blazer, said Elder Mbata had done so much in all the leadership roles that he played.
"In the Rivers State Government, he served meritoriously as the chairman of the Governing Council of the Rivers State College of Science and Technology, now Rivers State University.
"He was also the chairman of the Judicial Council. These are very key roles, and he also provided leadership in many other ways", Wike further stressed.
The governor, who said that the late elder statesman practically brought the Full Gospel Businessmen's Fellowship International to Nigeria, of which Rivers State was a beneficiary, added that he was a member of the Board of Trustees Internationally.
The state chief executive took a swipe at the Nigeria Police Force for the siege on his hotel in Benin City, the Edo State capital, where he lodged while on official national assignment.
"I call on the President of the Federal Republic of Nigeria, the Inspector General of Police, all the security agencies and INEC to, please, allow the democratic process to carry on in our nation, and allow Edo people vote in a violence-free process", he emphasised.
In his sermon, the Founder and President of Uma Ukpai Evangelistic Association, Rev. Uma Ukpai, extolled the sterling qualities of the late Elder Sam Mbata, describing him as a man of great purpose.
Ukpai said late Mbata was a reliable man, whom you can count on in times of need, noting that Sam Mbata used his resources to propagate the gospel of our Lord Jesus Christ sacrificially during his life-time.
He, therefore, prayed the Almighty God to empower his children to achieve greater exploits for Christ.

Gunmen Raid Zamfara, Abduct Over 40
Gunmen wielding dangerous weapons have raided Gobirawan Cali communities in Maru Local Government Area of Zamfara State, and forcefully kidnapped over 50 peasants to an unknown destination.
In an interview with the BBC Hausa service monitored, yesterday, an indigene of the community said the gunmen stormed the village, shooting sporadically.
According to him, "they came in troops, they entered our community, and shot guns repeatedly, chasing people. We were running, scampered for safety. The community is now deserted. We all ran away. We are about 3,500," he said.
"They took us by surprise. At about 3.30 pm, a gunman came and tried to kidnap one of our men. He was able to wrestle the gunman, slammed him on the ground and seized his AK-47.
"Immediately he picked the gun and threw it inside a maize farm nearby, the gunman regained consciousness and picked race. We never knew his colleagues were waiting in the bushes. They thereafter came into our community in great numbers and shot repeatedly.
"We ran away but they abducted over 40. Some managed to escape. We couldn't call the security agents because there were no networks.
"Our community is now empty, we are not going back unless the government provides us with security," he said.