Innovation, Creativity'll Take State Media To Productivity, Profitability -Nsirim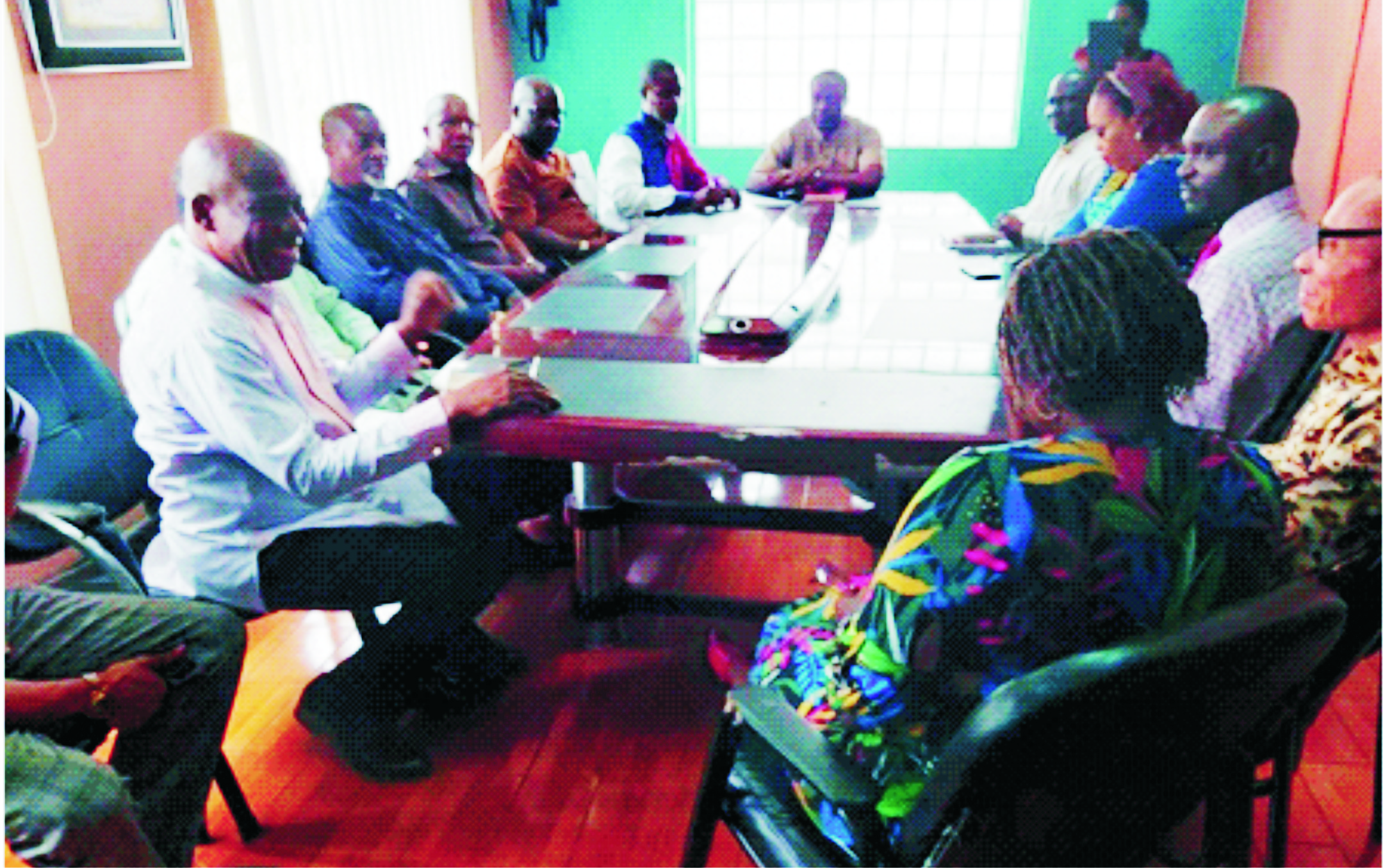 In attendance at the meeting were various directors from the ministry, RSNC, and Government Printing Press as well as Editors, and other categories of staff, while other highlights of the visit included a closed door meeting with the management of RSNC, interactive session with the Editorial Board of The Tide Newspaper, and inspection of facilities at RSNC and GPP.
At both RSBC and Garden City Radio, the commissioner called on the managements and staff to do everything possible to up their game in order to perform creditably towards achieving the NEW Development Vision of the state Governor, Chief Nyesom Wike, and restated that his appointment was a collective promotion for the entire journalists in the state, particularly those working in the government-owned media.
The commissioner stated that he shared in the pain of the state media houses as there were challenges facing government-owned media houses, but added as an optimist, he believed that "if we work together to support His Excellency, the Governor of Rivers State, Chief Nyesom Wike, things will change for good in government-owned media houses".
He emphasized that in every challenge, he sees opportunities for greater efficiency and productivity, adding that it was the reason why he has challenged both management and staff of the organizations on the need to be creative and innovative. "We need to have a re-orientation and begin to utilize what we have to make a mark. And the charge I have given to these organizations, as a commissioner, I will be demanding productivity, efficiency and improvement in news content, programming, better administration, and of course, profitability. These things are achievable, if we all galvanise our potentials. As staff of these media houses, if we galvanise our potentials, we can rewrite the story that I am seeing today", Nsirim added.
He challenged those in the government-owned media in the state to change their attitudes to work, adding that it would no longer be business as usual. "The time we are now demands enough innovation and creativity", he said, adding that "everyone must join forces to make a difference in my administration. It is not going to be business as usual. So, it is either you fit-in or you fit-out. If you don't put in your best, divinity will not smile at you, because hard work pays. Only hard-working staff will be my friends.
"We want to know the input every staff is making towards greater achievement. Programming, content, and revenue generation must improve. We are a family, and I'm expecting greater productivity in content and programmes," the commissioner emphasised.
"I am not just coming because I want to fulfill all righteousness. I want results. I want if I leave here today, from Monday, I am seeing things happening differently. I have challenged News and Current Affairs, Commercial, and even Administration, Programmes that there are creative things we can do to change the fortunes of this place, and as such, there will be no room for indolent staff. We are going to apply the rules to make sure that people stand on their toes and work. So, when my friend issues you disciplinary measures, if you are indolent, nobody should come and cry to me.
"I said this to my staff: we are human beings, we have challenges. If anybody has a challenge and as a result, he or she can't come to work, let your head of department know, but let's not take it for granted that it is government work and whether I come or not, I will be paid salary. That has to stop."
"The ultimate goal is for us to reposition RSTV, Rivers State Newspaper Corporation (RSNC), Rivers State Broadcasting Corporation (RSBC). Yes, there are challenges of equipment and transmitter, but my charge to all the state media houses is that within the limit of what we have, we need to demonstrate to the people of Rivers State that we have the potential to deliver.
"I told them at the management that from this station came out evergreen household jingles. Can't we replicate new ones? All of you standing and looking at me here are men and women with potentials, we can recreate those things. They are evergreen, 'Love Rivers State or leave her alone. Don't pull her down'. We can recreate those things," he added.
"In my work in this life I have found out that if you put in your best, reward comes, sometimes it might not come from the angle that you are expecting, but if you don't put in your best divinity will not smile at you. We are a family so am expecting greater productivity, greater revenue, greater programme content and better attitude to work beginning from tomorrow and we will set the examination."
"I want to be a commissioner for information that will leave a worthy legacy for information management in Rivers State, and if all of you looking at me want me to succeed, then you need to roll up your sleeves to work."
"So, we are in a new dawn in information management and everyone that is in the state media house must remove the cap of being a public servant, and put on the cap of professionalism and profitability. The media industry is one industry where, if you decide to be creative and innovative, you will be sought after. That is what I have seen. I am an industry person. I started as a core Reporter. When some people were looking for brown envelopes, we were looking for professional excellence. I have not seen any journalist, who says to himself: I want to make a career in journalism, and gets disappointed. So, you have a reach the platform to show people of Rivers State that you are here to announce yourself in the market," he added.
Nsirim also said that the state Governor, Chief Nyesom Wike, has come to reshape the destiny of the state for the better, adding that it was for this reason that the governor has turned the state into a huge construction site. He explained that it was also for the same reason that some detractors of the governor seek to de-market the state with a view to scaring away investors, in order to have perceived good reason for doing what they are doing.
"If in the present harsh climate that we find ourselves, the governor will start to build three flyover projects at the cost of N21billion, and they are being constructed simultaneously, and he has released 70 per cent of that amount to Julius Berger, I don't know what other proof people want. Where has any governor tried it in this country?" Nsirim said, and explained that the vision of the governor was to make the state a destination of choice, towards which the state-owned media need to up their game.
"He (Wike) is a man, who has come to reshape our destiny, make Rivers State a destination of choice. So, we must collectively use our various media organs to support the 'NEW Rivers Vision' of His Excellency. What I have come to do is to get us to have a change of mind-set, re-orientation to tell ourselves that in the present circumstance, we can still make ourselves relevant. The ultimate goal is for us to reposition Rivers State Broadcasting Corporation, in the face of challenges of equipment and transmitter.
"My charge to all the state media houses is that within the limit of what we have, we need to demonstrate to the people of Rivers State that we have the potential to deliver. In my work in this life, I have found out that if you put in your best, reward comes. Sometimes, it might not come from the angle you expect it. If you don't give, you will not get, and it translates to work. If you don't put in your best, divinity will not smile at you. Towards this end, my expectation is that the RSBC will come up with deliberately planned enlightenment programmes and jingles that will make people understand that demarketing the state is something we should reject totally", Nsirim added.
On his part, Chairman of Nigeria Union of Journalists (NUJ), Radio Rivers Chapel, Comrade Walson Ibim Asako, congratulated the commissioner on his appointment, saying that it was the dream of journalists in the state for one of their own to occupy the position. He, however, appealed to the commissioner to resolve what he termed "demarketing of the state-owned media" by most government officials who prefer to patronise other media houses, particularly privately-owned outfits, instead of the state government-owned.
Asako appealed to the commissioner for more patronage from government officials in order for government-owned media houses to be able to generate the needed revenue for the state. He promised that union leaders would ensure that staff adhered to all directives given by management, noting that defaulters would be allowed to face disciplinary measures without interference of the union leaders.
The NUJ chapel chairman regretted that it is saddening that Rivers State Government officials will ask questions such as: Is Radio Rivers working? Is The Tide functioning? Is RSTV working?, explained that to generate more revenue, government officials should stop taking adverts to private media houses, but rather patronize government-owned media houses, stressing that 95 per cent of news and adverts used by government-owned media houses were from government. He appealed that the campaign, #Our State, Our Responsibility should also focus on government officials, so as to sensitise them on the need to patronize government-owned media outfits, because to him, money spent on government-owned media houses is an investment in the development of the state.
Also speaking, the immediate past state Chairman of RATTAWU, Ope Erekosima, expressed happiness that among all the commissioners sworn-in by the governor, Nsirim, was one person who has grown from the ranks in the civil service, rising to the position of director and permanent secretary, before his recent appointment as commissioner.
Erekosima pointed out that the issues and challenges facing state-owned media houses were things the commissioner was abreast of, adding that there was need for the training and retraining of media workers as well as ensuring that the equipment lying fallow for long in Radio Rivers were put to use. She lamented the epileptic power supply in Nigeria, regretting that all stories that would have been handled by government-owned media houses were taken to private media outfits due to insufficient fund to fuel the station's power generating plant.
Erekosima appealed to the commissioner to do the needful, so that government-owned media houses can feel the impact of the present administration during his reign as commissioner.
In his remark, General Manager of RSBC, Sampson Fiberesima thanked the commissioner for the visit, and assured that the station would continue to do its best to promote the policies and programmes of government.
Similarly, General Manager of Garden City Radio, Dagogo Ezekiel-Hart assured that the charge given by the commissioner would be carried out, and urged staff of the organization to brace up for more work.
Ezekiel-Hart said, "We have internalized all you have said, we will do the best we can. The issues you have talked on today are basically focused on the reformation we have been harping on. I expect that we would take what you have said, build on it, and not surprise you, but ourselves.
"We should all understand our limits, and if we go beyond the, it's bad. And knowing full well that you will be our backbone as you have been for these number of years as permanent secretary and head of the ministry, we expect to see more of your support in return. We won't fail the ministry, we won't fail Garden City Radio, and we won't fail ourselves", Ezekiel-Hart added.
Having concluded his tour of the state government-owned media outfits, and given his directives, the onus is now on the management and staff of the media organs to bring to manifest reality, the set targets of the commissioner, and indeed, the Rivers State Government. That is what the media houses will be struggling to achieve in the coming weeks and months, even with the challenging working environment.

Pay Attention To Vehicles Carrying Scraps
To create wealth out of waste seems to have become an economic trend aimed at depopulating the labour market. This is no less a noble idea. As a result of this innovation, it has become a common sight beholding big trucks conveying scraps from one point of the town to another.
However, it smacks of security lapses should these scrap-ladden trucks be granted easy passage on the highways unchecked. This is because Nigerians can take advantage of such freedom to pass incriminating elements. This alone constitutes serious threat to our security .
In this era of insecurity in the country, the right thing is that every vehicle should be checked and certify safe before being allowed to proceed to its destination.
By: Philip Ejiogu, Owerri.

Take Coronavirus Seriously
Human nature generally is wont to trivializing issues which impact is not directly felt. When catastrophes are announced from afar, they either constitute a spectacle to be viewed by others and probably be amused by it, or a trend that attracts public discussion.
This has been the case with outbreaks of deadly diseases across the globe at different point in time and the attendant attitude of the people towards it. Today, the world's attention is drawn towards Corona Virus, currently ravaging China.
Zoonotic as it was known, meaning normally transmitted between animals and people. The novel Coronavirus (nCoV) is a new strain of the virus that has not been previously identified in humans. For this novel coronavirus (nCoV), both zoonotic and person- to-person transmission has been confirmed.
At the moment, the 2019 novel coronavirus (2019-nCoV), officially named as Covid-19 by the World Health Organisation (WHO), has spread to 26 more countries apart from China, alarming public health authorities across the world.
A total of 69,256 (including 68,566 in China, Hong Kong and Macau) confirmed cases of novel coronavirus infection including 1,669 deaths (one each in the Philippines, Hong Kong, Japan and France) have been reported across the world.
As at yesterday, out of the 68,566 confirmed cases in China, 11,272 are reported to be severe cases.This is indeed, a public health emergency of international concern which further international exportation of cases may not be ruled out in any country.
Thus, even though no strict travel or trade restriction is recommended based on the current information available, the possibility of interrupting spread is still high should countries put in place strong measures to detect disease early, isolate and threat cases, trace contacts and promote social distancing measures commensurate with the risk. The Public Health Emergency Operation Centres (PHEOCs) already established in 22 states of the federation would be tantamount to an effort in futility if they are not worth their raison d'etre.
By: Helen Peterson, Bonny.

Release Students' Results On Time
The issue of delaying the release of students results in our tertiary institutions has become a case to worry about. Some students hardly know their academic performance status until late. Some have had to carry over courses for semesters and sessions unknown to them.
This has caused victims staying longer years in school remedying courses that ordinarily they would have sorted out earlier, had they known about it in good time. Those with plans to change their course of study after one year of academic activities, miss this process because results are not released as expected.
Schools' examination results that were hitherto published on departmental notice boards as prompt as possible to enable students know their status in good time and decide on what next plan to take to better their academic performance, is gradually becoming history.
The most alarming is that even upon graduation, instead of releasing final year students' examinations results promptly, lecturers take more than enough time to submit their marks and care less about the implication of the delay on the students.
Truth is that this trend has robbed many victims the opportunity of proceeding for the compulsory National Youth Service Corps (NYSC) like their colleagues in other institutions. Many of our graduates lose opportunities for job elsewhere because their schools failed to release their results on time.
Some who missed the privilege of procceeding for the compulsory one year national service, due to delayed result, end up being cut off by age, and are eventually subjected to asking for NYSC exemption letter if they must proceed in their chosen careers.
In the light of the evil this emerging trend portends to the society, it is imperative that stake holders in education, nip it in the bud before more havoc is wreaked
By: Timothy Njoku, Umuahia.