NDDC: IMC Discovers N1trn Fraudulent Contracts In Seven Months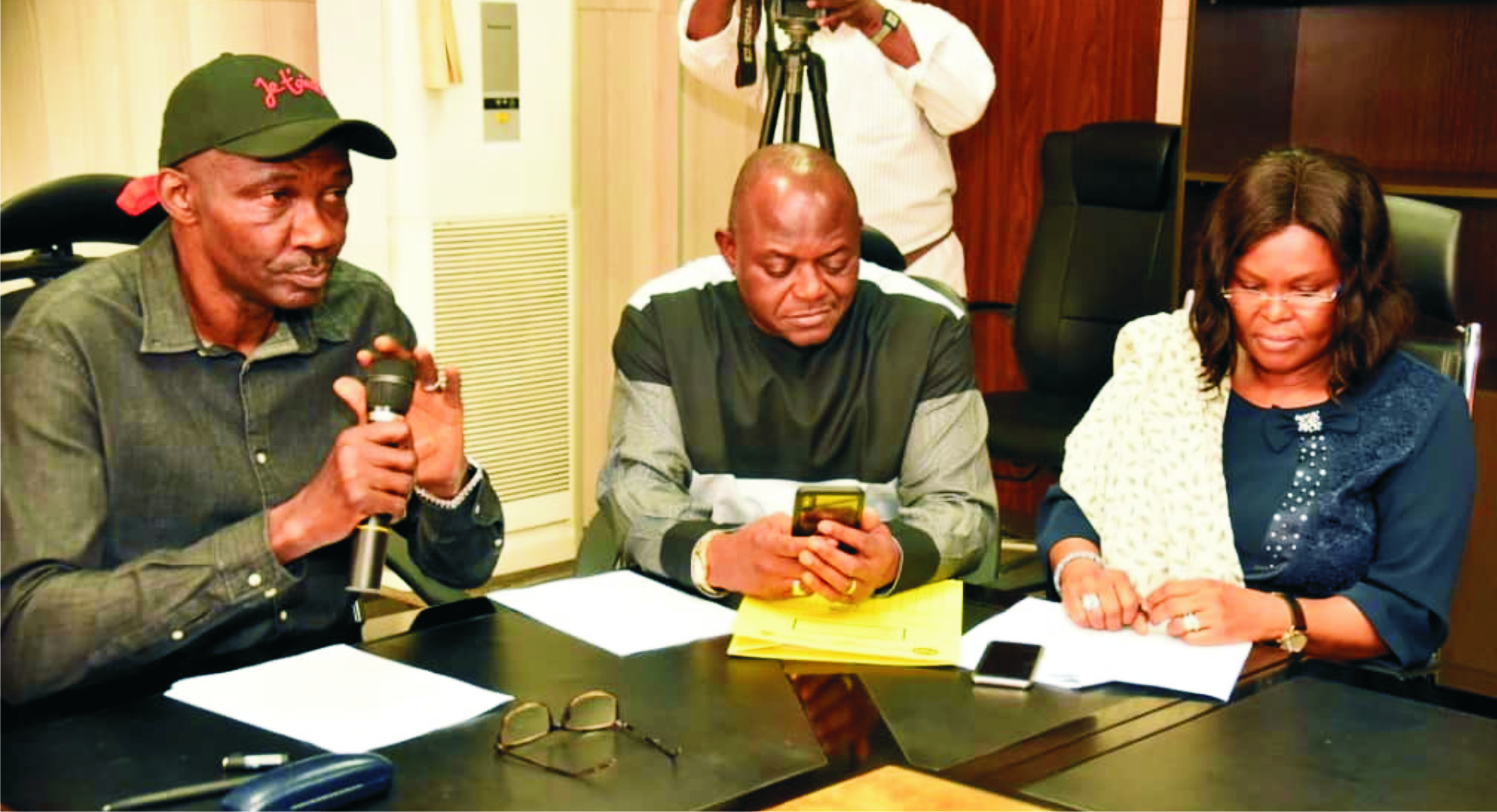 More revelations have emerged from the Niger Delta Development Commission (NDDC) as the Interim Management Committee (IMC) set up to audit NDDC finances, yesterday, released its latest findings.
The IMC said its findings showed that immediate-past NDDC management awarded 1,921 'emergency contracts' at N1.070trillion in just seven months, against an annual budget of about N400billion.
The NDDC's Acting Executive Director, Projects, Dr Cairo Ojougboh, disclosed this at a meeting in Port Harcourt, a statement signed by the commission's Deputy Director, Chijioke Amu-Nnadi stated.
It would be recalled that President Muhammadu Buhari had in 2019 ordered a forensic audit of NDDC, and appointed an IMC, which Ojougboh is a member.
According to Ojougboh, in just seven months of 2019, the commission awarded a total of 1,921 emergency contracts valued at N1.070trillion.
"In 2017, NDDC awarded a total of 201 emergency contracts valued at N100.4billion while in 2018, a total of 1,057 emergency contracts valued at N162.69billion were awarded.
"We are talking about a total of over N1.3trillion in less than three years. The yearly budget of NDDC is hardly above N400billion.
"A situation where contracts that do not qualify for emergencies were fraudulently awarded to over N1trillion in less than one year, this amounts to not only stealing from the pulpit but stealing the entire pulpit," he said.
Ojougboh, who is the IMC's chairman, Contract Verification Committee, said the findings have confirmed allegations of high-level corruption in NDDC.
The executive director said that President Buhari was fully committed to saving NDDC from being shut down by activities of corrupt contractors and officials at the commission.
According to him, the commission is sinking and would have been killed and buried due to over trading, bloated contracts and other sharp practices but for Buhari's intervention.
"At best, NDDC has been a lack-lustre performance, with very little to show for the humongous resources that have accrued to it over the past 19 years.
"Stories of pervasive corruption, flagrant abuse of due process, abandoned projects, poor quality project delivery, among others, at NDDC, have adorned our media space over the years.
"To this end, the contract verification committee will lay a foundation for the forensic audit of the activities of the commission from inception to date," he assured.
Ojougboh directed all NDDC contractors, consultants, vendors, suppliers and non-governmental organisations or their representatives who have business with the commission to report to the verification committee.
He said that the groups "are expected to come with three photocopies each of their letters of award, contract agreement, and interim payment certificates, where applicable".
According to him, they are also to present originals for assessment, evaluation and verification to the NDDC office where such business is located.
"They are also to present letters detailing a brief statement of their claims/request on their headed papers with verifiable addresses and certified true copies of their company registration documents.
"The contract verification exercise would among other things establish the true position of the emergency contract regime between 2016 and 2019 in NDDC.
"Some of the contract awards were not only spurious but criminal, as available records showed that most of the awards were not backed by budget, bills of engineering measurement and drawings.
"They were just open cheques for contractors and their collaborators to fill in at the nearest banks," he alleged.

We Are Committed To Deepening Democracy, Says Rivers State Governor Wike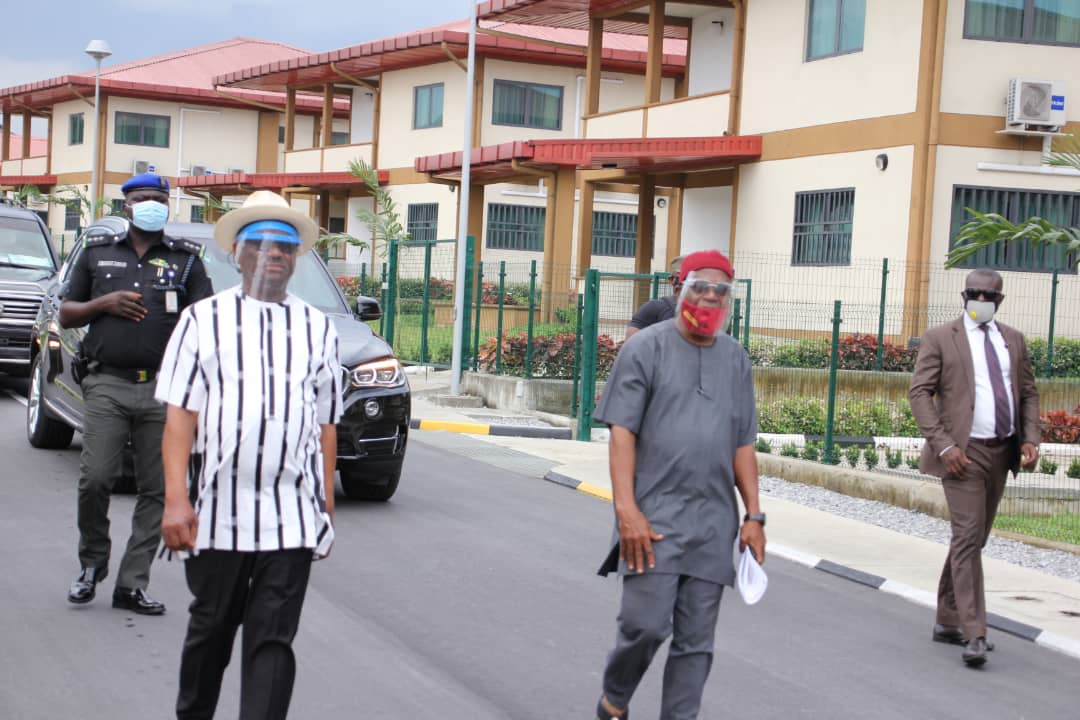 Rivers state Governor, Chief Nyesom Ezenwo Wike has explained that the support given to the judiciary by his administration is to deepen democracy in Nigeria.
He said all the arms of government need to work in synergy in discharging their  responsibilities to serve the people with courage and efficiency.
Governor Wike was speaking shortly after inspecting the progress of work at the reconstructed residence of the Presiding Justice of the Court of Appeal and other judicial staff located in Amadi flat, Old GRA in Port Harcourt and the Judges Quarters for Judges of Rivers State Judiciary in Orazi in Obio/ Akpor Local Government Area of the state, on Wednesday.
The governor said his administration had commissioned quarters for Judges of the Court of Appeal while the residence of the Presiding Justice and staff of the same court would  be ready soon to boost their morale to confidently discharge their duties.
"We are quite impressed with the level of work that is going on there. You must give the people all it takes to do their best because you can't talk about fighting corruption and then you will not give the Judiciary the support that it requires.
"You cannot talk about deepening democracy without having the Judiciary or Legislature playing their role.
"The  three arms of government must work together to be able to engender development for the state," he said.
Commenting on the provision of quarters for Judges of the Rivers State judiciary, Governor Wike said it would solve the problem of accommodation for Judges on retirement.
"I did say that we are going to give them owner- occupier residence so that when judges retire, they will get accommodation.
"It is very funny to find that when Judges retire, they do not have a place to stay or are compelled to stay in remote places after years of service. So, we thought that there is need to give them a befitting place after  retirement.
"We are happy that the contractor has completed the building, and now Julius Berger PLC is carrying out the furnishing. In a short time, we believe that it will be commissioned and handed over to the Chief Judge of the state who will then hand them over to the beneficiaries," he added.

COVID-19: Rivers State Governor, Wike Sues For Understanding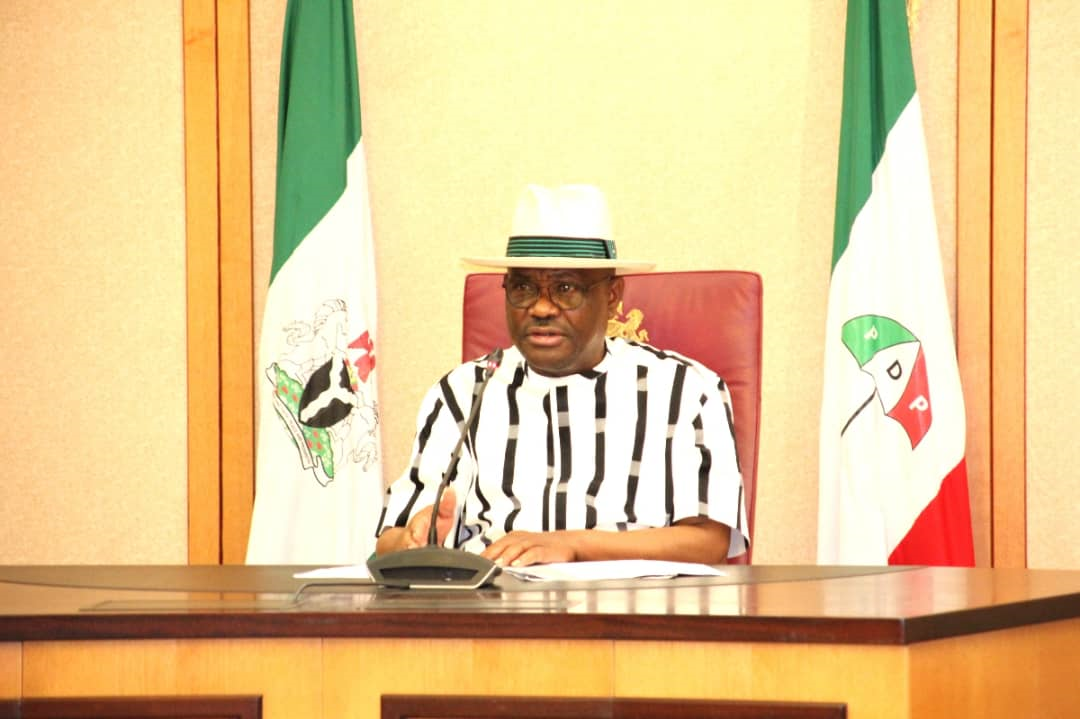 * Imposes night time curfew from 8p.m to 6a.m on Bonny LGA and Onne Community in Eleme LGA with effect from July 10, 2020 till further notice
*Sets up Taskforce to enforce wearing of facemasks
* Plans to reopen markets
*Sacks serving Permanent Secretary for flouting COVID-19 guidelines
Rivers State Governor, Chief Nyesom Ezenwo Wike has appealed to residents of the State to take personal responsibility to curb the spread of Coronavirus.
He also cautioned that with the commencement of inter-state travels and domestic travels, residents must be cautious in relating with friends and relatives coming from heavily impacted areas like Lagos and Abuja in line with the established protocol of 14 days Isolation.
Governor Wike made the appeal in Port Harcourt on Wednesday, in a state-wide broadcast.
"As at July 8, 2020, the COVID-19 status of our State is as follows:
Total samples collected: 4573
Total samples tested: 3871
Total confirmed cases: 1235
Total discharged cases: 810
Total active cases: 382
Total death: 43
New cases: 30
"From the first days of this virus, we took serious measures and literally set the pace in our country to slow down the spread.
"We have noticed that most affected people are resorting to self medication instead of presenting themselves for treatment at the State's Treatment Centres.
"Those who experience symptoms of fever, cough, loss of smell or taste and shortness of breath, among others should present themselves for appropriate treatment at the expense of the State Government.
"Furthermore, in the face of increasing infections and systemic risk to public health and safety, most residents have continued to disregard the mitigating protocols with reckless abandon.
"Public and private transporters, business owners and churches are refusing to adhere to the relevant protocols.
"Burial ceremonies are also reportedly being conducted in clear breach of the 50 persons maximum attendance limit such that a serving Permanent Secretary  had the temerity to chase away officials of the State Ministry of Health who went to enforce the established guidelines on public burials at Oyigbo," he said.
The Governor therefore announced the sack of the Permanent Secretary, Mr. Sunny Okere with immediate effect for flouting and obstructing the enforcement of the guidelines.
This, he said, would serve as a lesson to all other public officers who may wish to be irresponsible.
He assured that government would decontaminate public schools to keep them safe for resumption in line with the Federal Government's Guidelines.
Government, he said, is also appraising the prospect of opening markets as soon as it is satisfied that it is safe with appropriate guidelines on social distancing, hand washing and wearing of face masks.
Governor Wike announced the setting up of a Joint Taskforce made up of security and civilian personnel to enforce the wearing of face masks.
He stated that to sustain the progress made in the state, the State Security Council has imposed a night time curfew from 8p.m to 6a.m on Bonny Local Government and Onne Community in Eleme Local Government with effect from July 10, 2020 until further notice.
The Governor assured all health workers, including doctors and nurses that government would continue to cater for their welfare as they continue to serve the state at grave risks to their own lives.
He added that government would not fail to do whatever it takes to slow down the spread of the virus.

Governor Wike Is Building The Future For Rivers State – Nsirim …To Collaborate With CoolWazobiaInfo On Development Reportage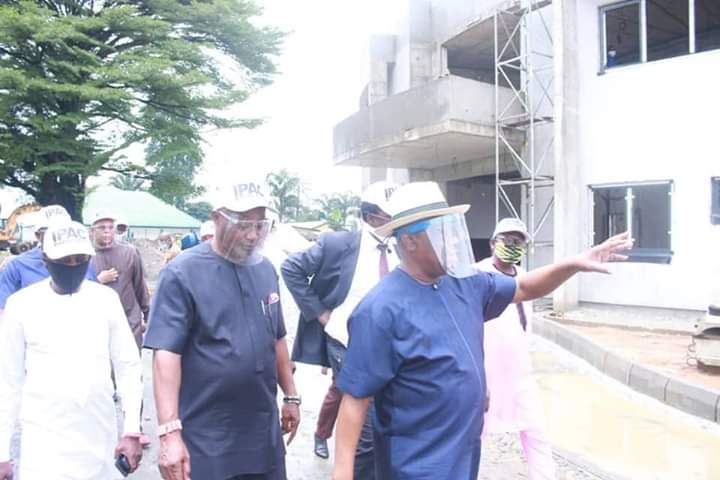 The Rivers State Commissioner for Information and Communications, Pastor Paulinus Nsirim, has stated that the State Governor, Nyesom Wike is deliberately building an enviable future for Rivers People.
Nsirim, who stated this on Tuesday, when the Management of CoolWazobiaInfo, operators of Cool, Wazobia, and Nigeria Info radio stations, paid him a courtesy visit in his office, stated  that every step the Governor has taken since 2015  had been targeted at developing the State.
"Within the last five years, His Excellency has demonstrated keenly that his passion to turn around the fortunes of Rivers State is not something that he is  just playing to the gallery. In almost all sectors of the economy of the State you can see the monumental changes that are taking place here.
"That's what we have found in this visionary leader and we are quite proud to be associated with him", he said.
The Commissioner noted that the manner in which the Governor executes all the developmental projects in the State is only characteristic of a leader who is driven by the will to serve the  people.
"Do you want to talk about the three flyovers that are ongoing simultaneously? You know, naysayers thought that it was a political gimmick when he said I have paid 70% of the contract sum of the projects.
"The speed with which the work is going on is so amazing. That is what you see when there is political will and you find a man whose passion for selfless service speaks in all that he does", he said.
While expressing the willingness of the Ministry to partner with the Station in areas that would develop the State, the Commissioner stated that such partnership would be based on the station ensuring strict adherence to the regulatory guidelines set by the Nigeria Broadcasting Commission (NBC).
Such guidelines, he said, has to do with the principles of objectivity, fairness and balance, noting that when this is not done,  there is a breach of the NBC guideline, which regulates the operations of the broadcast media in Nigeria.
He stated that media houses  are supposed to be  bridge builders who harness public opinion for the common good.
According to him, no Media house should expose itself to be seen to be antagonistic.
"Every Media house owe society the obligation to create a balance in the reportage of activities.
The Commissioner assured that the State Government welcomes criticism and would  only collaborate with initiatives that will ensure development for Rivers people.
We are looking forward to any partnership that will bring into focus ethics, objectivity, fairness, and balance. A partnership that will engender  development for Rivers people.
"Governor Wike has given governance a  new meaning and we believe that partnership with the media will compel him to do more for Rivers people.
" We welcome constructive criticism that will promote the state as an investors' haven," he said.
Earlier in his speech, the Programme Manager of the Station, Carl Orakwe, proposed a collaboration with the Ministry towards the development of the State.
"Part of the reasons why we are here is to extend our support and let everyone know that coolwazobiainfo family as a media outfit would strive to promote good governance.
He pledged that they would collaborate with the ministry to project the state in good light.
Also present was the Permanent Secretary of the Ministry, Mrs Ibiwari Clapton-Ogolo and all the Directors of the Ministry, as well as the Head of Station, CoolWazobiaInfo, Jeta Onomewho.