Nigerians Won't Honour Polls' Riggers, Wike Tells Armed Forces …Says Army Has Lost Its Integrity, Pledges To Sustain Peace, Security …Pledges Not To Impose Anybody On Rivers People In 2023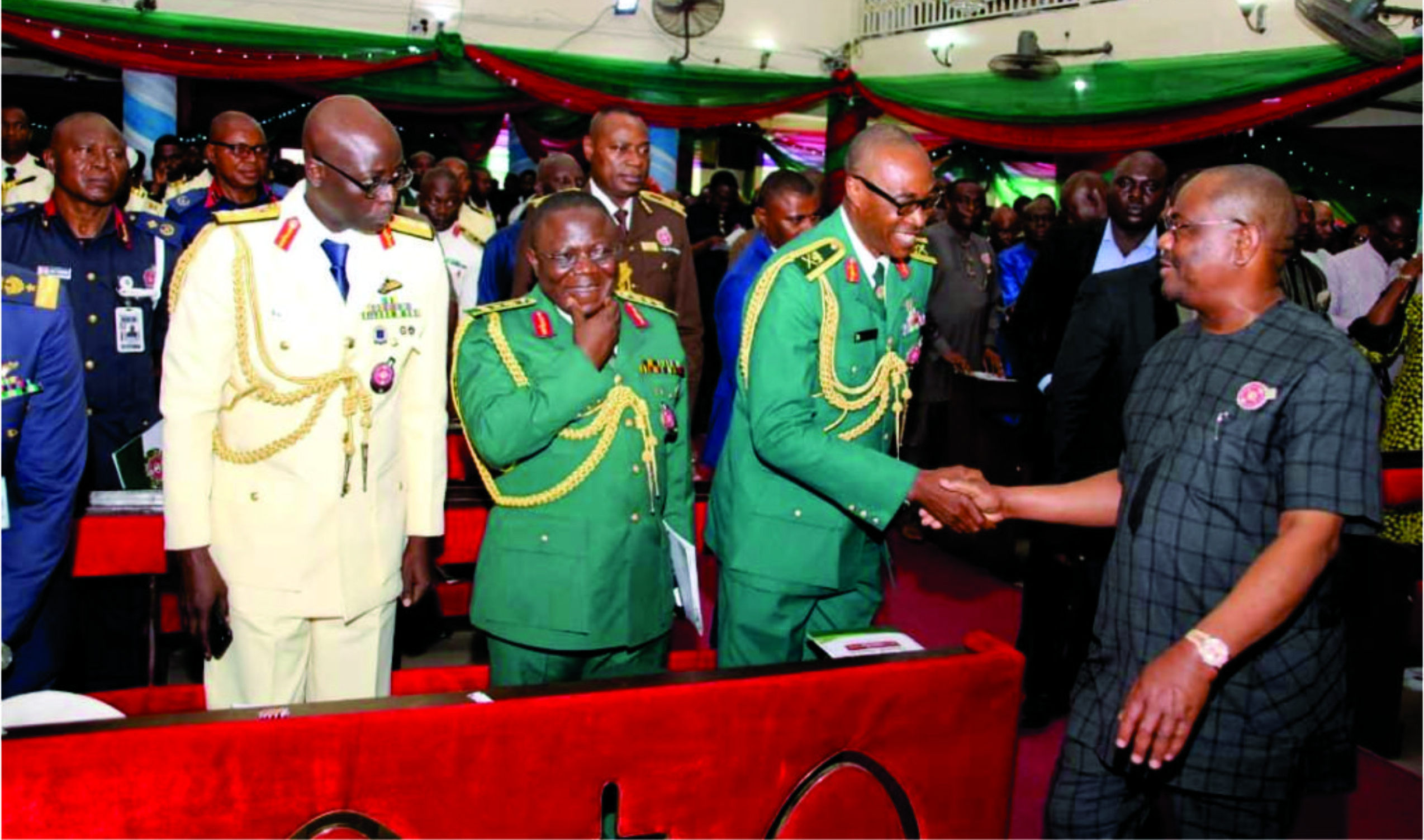 The Rivers State Governor, Chief Nyesom Wike has declared that Heaven and Nigerians would never honour members of the Armed Forces engaged in the snatching of ballot boxes and rigging of elections.
Speaking during an inter-denominational church service marking the 2020 Armed Forces Remembrance Day celebration at the Saint Peter's Anglican Church, Rumuepirikom, yesterday, Wike urged them to be professional and apolitical.
The governor said: "We are not honouring those who are unprofessional and carry ballot boxes to influence the electoral process.
"I urge members of the Armed Forces to choose the right path in the interest of the country. It is unfortunate that the military has lost its integrity because of some unprofessional personnel. Nobody is afraid of the military because of their unprofessional conduct.
"Those who come to rig election or kill Rivers people, Heaven will never remember them."
Wike said that he has been vindicated by the admission by Independent National Electoral Commission (INEC) chairman that security agencies were responsible for the electoral malpractices that marred the last general election.
He said: "I thank God that the chairman of INEC has owned up that the problem with elections is the security agencies. This confirms all I have said in the past."
The governor, however, praised the Armed Forces for the roles they have played in preserving the unity of the country.
"But for them, kidnappers, cultists, insurgents and armed robbers would have taken over the country ", he added.
Wike called for the institution of a reward system to encourage soldiers to put in their best for the country.
In a sermon, Ven Samuel Chimele called on soldiers to be professional in the discharge of their duties to the nation.
He said: "As we remember our fallen heroes, be professional. There are temptations to the military to be unprofessional, but strive to be professional."
He said that soldiers who engage in unprofessional acts would go unrecognised in the long run, even when they enjoy earthly promotion.
The cleric said that the military have no business attempting to enthrone different levels of leadership in the country, and advised them to focus on providing security and defending the nation's territorial integrity.
In the sermon titled: "Faithfulness in Service: The Hallmark of a True Soldier", Ven Samuel Chimele warned soldiers against the ruthless use of power against the national interest.
Prayers were said for the fallen heroes and God's blessing upon their families.
Prayers were also said for the government and people of Rivers State, the Federal Government and the Armed Forces.
The international service marking the 2020 Armed Forces Remembrance Day celebration witnessed praise and worship, with offering to support the Nigerian Legion.
Earlier, the Rivers State Governor, Chief Nyesom Wike had said that his administration remains committed to working with members of the Armed Forces to promote the security of lives and property in the state.
Represented by his Special Adviser, Mohamed Aribitonye Okiri during a Jumaat Service to mark the 2020 Armed Forces Remembrance Day in Port Harcourt, last Friday, Wike commended the Armed Forces for their contributions to national unity and security.
He assured that he would continue to invest in security, because security promotes development and inflow of investments.
Wike urged the security agencies to partner with his administration for the sustenance of peace across the state.
The governor added that the Rivers State Government would continue to support ex-servicemen and the families of war heroes who paid the supreme price defending the country.
In his remarks, the Sole Administrator, Rivers State Muslims Pilgrims Welfare Board, Abdulrazaq Cline Diepriye, thanked the Rivers State governor for his commitment to peace and the development of Rivers State.
In a message, the Deputy Chief Imam of Rivers State Central Mosque, Soliu Sai'd Olowo Okere, commended members of the Armed Forces for courageously fighting insurgents.
While praising the military for their role in preserving the unity of Nigeria, he said that the fight against insurgency was in line with the will of God.

Nigeria, 2nd Most Corrupt In W'Africa Under Buhari -TI … We Are Vindicated, Says PDP As FG Faults Rating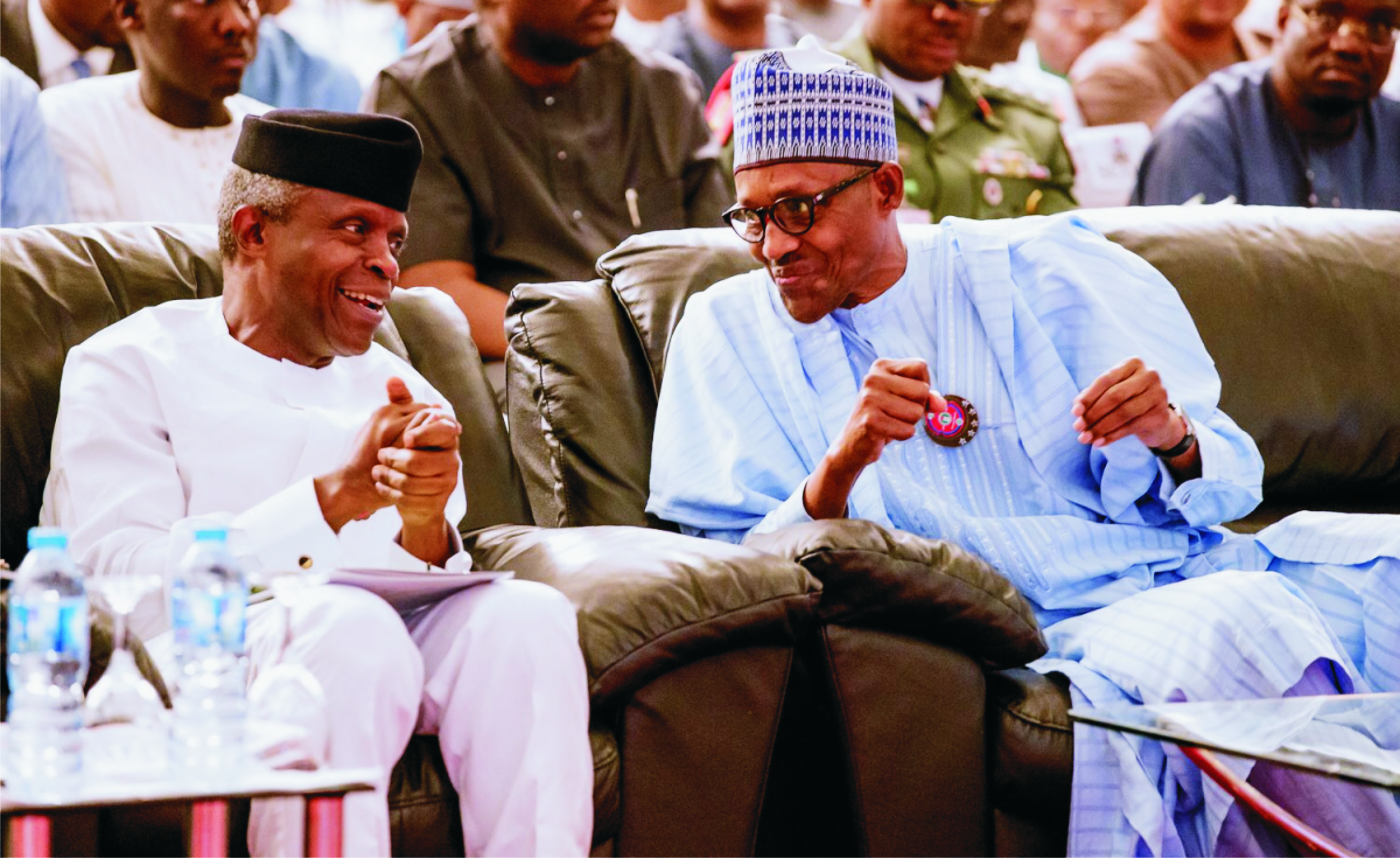 The Peoples Democratic Party (PDP), yesterday, said the damning 2019 corruption index report on Nigeria by Transparency International (TI), is a vindication of its stand that corruption has worsened under President Muhammadu Buhari and the ruling All Progressives Congress (APC).
The party said it is a national embarrassment "that under an administration by the same leader who wears the medal as 'African Union (AU), Anti-Corruption Champion,' and whose government boasts of zero-tolerance for corruption, our nation now ranks as fourth most corrupt country in West African and one of the leading most corrupt countries of the world."
In a statement issued by its spokesman, Kola Ologbondiyan, the PDP chided President's Buhari's handling of the economy since he came to power in 2015.
The statement read: "The TI report, which shows our country dropping to a malodorous 26, from the already disapproving 27 points it maintained since 2017, has further exposed the Buhari administration and the APC as merely posturing as saints and hounding innocent Nigerians with fake anti-corruption war, while engaged in unprecedented looting of our national resources.
"It indeed speaks volume that the Buhari administration and the APC that came into power in 2015 on an anti-corruption mantra, has ended up becoming the most corrupt in the history of our dear nation. Moreover, the fact that the APC and its government, with their numerous megaphones, have remained silent over the report is also very revealing.
"By this TI report, Nigerians are no longer in doubt as to why our nation has been plagued with worsening economic hardship, poverty and hunger, dilapidated infrastructure and devastating retrogression in critical sectors such as health, power, education, transport, agriculture among others in the last four years while APC leaders, their families and cronies, gloat in affluence to the chagrin of Nigerians.
"Nigerians can recall that our party has since been challenging Buhari Presidency and the APC to come clean, account for the over N14trillion allegedly stolen by APC leaders from government coffers in the last four years.
"This includes the stolen N9trillion detailed in the Nigerian National Petroleum Corporation (NNPC) leaked memo; the N1.1trillion worth of crude allegedly stolen by certain APC leaders using 18 unregistered vessels; the over N1.4trillion stolen from shady oil subsidy deals as well as monies stolen from sensitive government agencies, including the Federal Inland Revenue Service (FIRS), National Health Insurance Scheme (NHIS), National Emergency Management Agency (NEMA), among others.
"It is now clear that the Buhari administration and the APC have not only failed in their boasts to tackle corruption and insecurity but have ended up economically despoiling our nation and worsening our security challenges.
"The fact remains that the Buhari Presidency and the APC cannot controvert these damning facts. The only thing left for them is to apologize to Nigerians and get ready for their place in the dustbin of history as the worst government and political party ever in the history of our nation," the PDP spokesperson said.
Meanwhile, the Federal Government has berated Transparency International (TI) for naming Nigeria as the second most corrupt country in West Africa in the 2019 Corruption Perceptions Index (CPI) released, yesterday.
The Attorney-General of the Federation and Minister of Justice, Abubakar Malami (SAN), said there was no evidence to back the report by TI, which placed Nigeria at 146 out of the 180 countries on the 2019 Corruption Perception Index (CPI).
In an interview on Channels Television's LunchTime Politics, yesterday, Malami said TI's report had no bearing on reality.
He said, "In terms of the fight against corruption, we have been doing more, we have done more and we will continue to do more out of inherent conviction and desire on our part to fight against corruption devoid of any extraneous considerations relating to the rating by Transparency International.
"Our resolve to fight corruption is inherent, and indeed, devoid of any extraneous considerations, we will continue to do more and we will double efforts."
Speaking from the perspective of performance, Malami said there was nothing that has not been done as a nation in the fight against corruption.
Nigeria has slipped on Transparency International's Corruption Perception Index 2019, scoring 26 per cent.
Nigeria scored 27 out of 100 in TI's 2018 report but dropped by a point in 2019, making Africa's most populous country take the 146th position.
Malami complained that the Muhammadu Buhari-led Federal Government has done more in the fight against corruption.
He also said there are no proofs by Transparency International to rank Nigeria 146 out of 180 countries on the 2019 CPI.
Malami, however, urged Transparency International to provide indices and statistics, from which it got its facts and figures.
The justice minister said the facts on the ground did not correlate with the information dished out by Transparency International, adding that that there was nothing that has not been done as a nation in the fight against corruption.
"In terms of legislation, we have done more, in terms of enforcement we have done more, in terms of recovery of looted assets we have done more, and in terms of political goodwill, we have demonstrated extra-ordinary political goodwill," Malami stated.
Malami challenged Transparency International to provide indices and statistics from which the organisation adjudged that Nigeria is not doing enough in its fight against corruption, adding that for a conclusion to be legitimate, then there has to be specific facts and figures to establish a position.
However, the TI's latest report states that Africa's most populous country, like most other countries in Sub-Saharan nations, has continued to witness a high rate of corruption which has now worsened due to vote-buying.
After more than four years of anti-corruption campaign by the Buhari administration, Nigeria was ranked 146th out of the 180 countries surveyed by the group, one of the worst ranking in the last few years.
Nigeria was 144th in 2018.
Nigeria's score of 26 out of 100 points in 2019 is below the global average of 43.
In Africa, countries such as Botswana (61), Cape Verde (60), Rwanda (53), Namibia (52), Senegal (45), South Africa (44) and Tunisia (43) met the average.
Also, Benin (41) Ghana (41), Morocco (41), Burkina Faso (40), Lesotho (40), Ethiopia (37), Tanzania (37), Algeria and Egypt (35), Zambia (34), Sierra Leone (33), Niger (32), Malawi (31), Djibouti (30) and Guinea (29) are ranked higher than Nigeria.
Nigeria is ranked higher than Cameroon (25), CAR (25), Comoros (25), Zimbabwe (24), Madagascar (24), Eritrea (23), Chad (20), Equatorial Guinea (16), Guinea Bissau (18) and Somalia, the worst country in the world, with a score of 8 and ranking at 180th.
The CPI ranks 180 countries and territories by their perceived levels of public sector corruption, drawing on 13 expert assessments and surveys of business executives.
It uses a scale of zero (highly corrupt) to 100 (very clean).
Nigeria scored 28 out of 100 in 2016 and 2017 but fell in 2018 to 27 and fell further to 26 in 2019.
In the latest report, Nigeria scored the same as Iran, Honduras, Guatemala, Bangladesh, Mozambique and Angola.
Out of 180 countries surveyed, Nigeria scored better than only 28.
They include – Comoros, Cameroon, Central African Republic, Uzbekistan, Tajikistan, Madagascar, Zimbabwe, Eritrea, Nicaragua, Cambodia, Chad, Iraq, Burundi, Congo, Turkmenistan, Haiti, Democratic Republic of Congo, Libya, Guinea-Bissau, North Korea, Venezuela, Equatorial Guinea, Sudan, Afghanistan, Yemen, Syria, South Sudan and Somalia.
The TI survey measures public sector corruption in 180 countries.
The countries with the highest score were Denmark and New Zealand which both scored 87 out of 100.
Others that were highly placed include, Finland (86), Switzerland (85), Singapore (85), Sweden (85), Norway (84), Netherlands (82), Luxembourg (80) and Germany (80).
The United States and France ranked 23, United Kingdom and Canada 12, Japan 20, and Italy 51, respectively.
At 12, Canada and UK scored 83 and 81 in 2015, 82 and 81 in 2016, 82 and 82 in 2017, 81 and 80 in 2018 and 77 apiece in 2019, respectively.
Japan ranked 20, scored 75 in 2015, 72 in 2016, 73 in 2017, 73 in 2018 and 73 in 2019.
Tying at a rank of 23 in 2019, US and France scored 76 and 70 in 2015, 74 and 69 in 2016, 75 and 70 in 2017, 71 and 72 in 2018, and 69 and 69 in 2019, respectively.

Real Madrid Academy'll Educate Kid Football Stars -Wike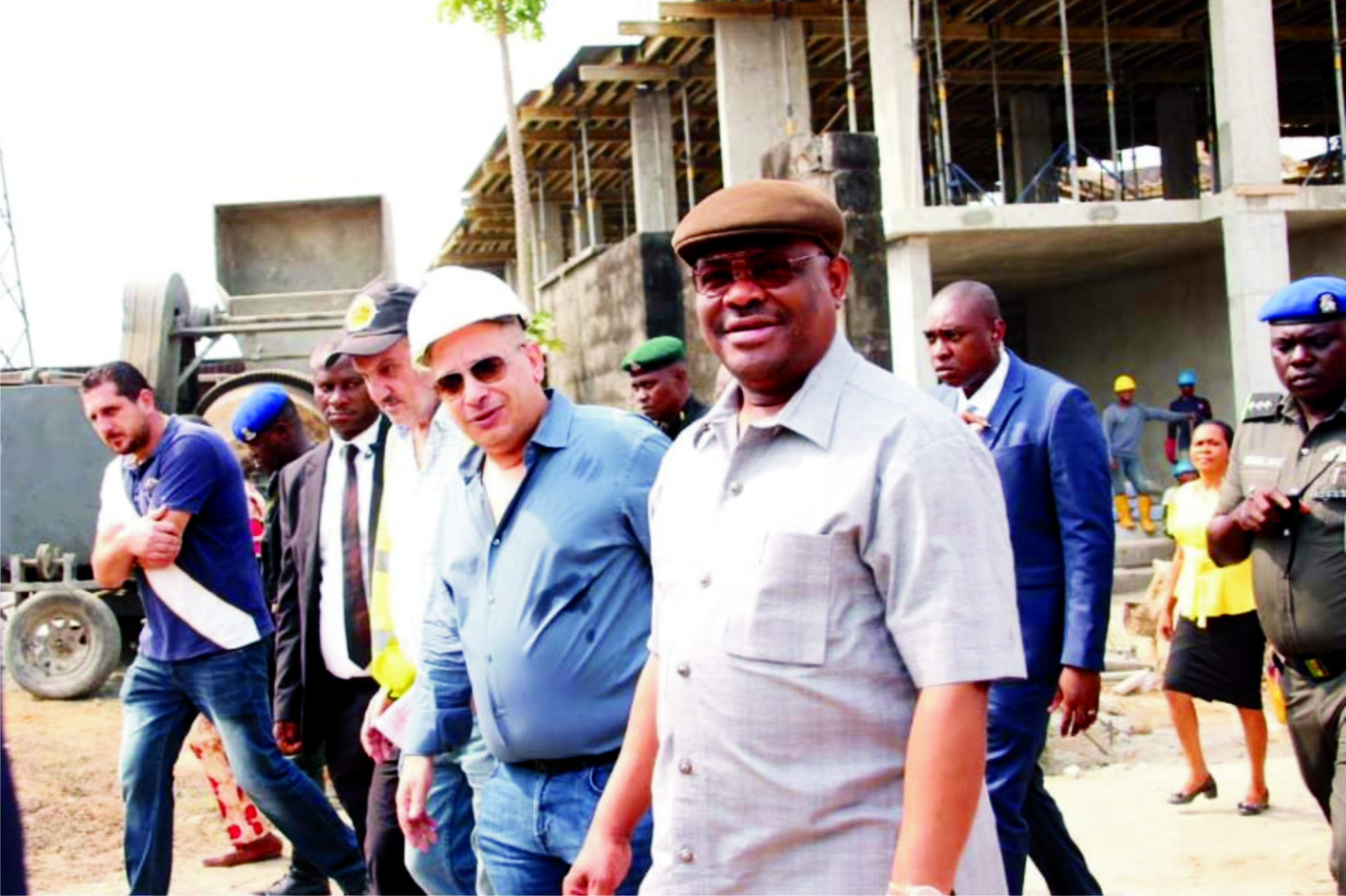 The Rivers State Governor, Chief Nyesom Wike has declared that the Real Madrid Academy would empower upcoming football stars with the requisite formal education to effectively rule the sporting world.
Addressing journalists after inspecting ongoing construction of hostels and additional classrooms at the Real Madrid Academy in Port Harcourt, yesterday, Wike said several footballers were short changed in the past due to lack of formal education.
The governor said: "We are combining education and football in this academy. We felt that while they are playing football, they should be educated. So, that those that may not make it, will continue with their education.
"While those who have made it in Football, will also have a formal education. Part of the problem we have had, is that most of our footballers don't have formal education. Sometimes, it affects them in terms of negotiation and knowing what you are supposed to do."
He expressed satisfaction with the quality of work at site of the hostels and additional classrooms, saying it is world class.
"I am quite impressed with the quality of structures of hostels and additional classrooms. With what we are seeing, before the next academic session, this phase will be ready.
"This will be the best in Africa. I don't know any country in Africa that will have this kind of facility", he said.
Wike noted that sports is one of the outstanding economy boosters, hence the commitment of his administration to use it as a driving force to empower the youths.
He said: "Sports today is one of the key factors that make a nation great. It attracts foreign exchange and the rest of it. I believe that there are so many of our youths who are talented and they don't have the opportunity to bring out their potentials.
"In trying to help our youths to bring out their potentials, we should do it amongst the best. Real Madrid as far as I am concerned is the best in the world. We felt that Rivers children should go for the best.
"We thank God that Real Madrid agreed to partner with us to establish an academy here, which will make our children play in the best teams of the world.
"Last time, we sent our children to have a feel of the best when they went to Real Madrid. They were all happy. You saw the kind of football they exhibited when the academy was commissioned.
"Football is a great thing today. When I heard that Neymar was sold for that huge amount of money, I don't think any other profession will give you that kind of money. You can imagine the kind of talents Brazil has exported and the kind of foreign exchange they have attracted."
Wike said that with the quality of investment by his administration, he believes that the Real Madrid Academy will stand the test of time, even after he has left office.
He said: "This Academy will not only serve only externally, it will also beef up our local football clubs.
"I believe by the Grace of God. Government is a continuum. I will do my best. I will take it to the level that the world will know about it. When I leave, I believe that those who will take over the affairs of the reins of government would continue.
"I cannot speak for who comes me. But I pray that the standard we have set should not come low. As I place it at the world level, I expect the person who will take over will continue to make it a world class facility."
Preliminary training programmes have started at the Real Madrid Academy, which was commissioned by the Oyo State Governor, Engr Seyi Makinde amid pomp and ceremony.
The technical staff of the academy have been trained, while the first set of students have been admitted and the official agreement between Rivers State Government and Real Madrid signed in Madrid.
Meanwhile, the Rivers State Governor, Chief Nyesom Wike has explained that his administration has put in place an organisation that will independently run Real Madrid Academy in order to achieve the objectives of establishing the institution.
In an interview, yesterday, at the Government House, Port Harcourt, Wike said that the framework that his administration worked out was satisfactory to Real Madrid Football Club.
He said: "We were able to assure Real Madrid that we have put in place an organisation, that even though government will fund it, the organisation is totally independent to run it, so that there will be no interference from government.
"We had in-house sceptics who didn't believe that Real Madrid will agree to open an academy here in Port Harcourt. We also had the challenge of the location of the school. We thereafter resolved to site it at the Yakubu Gowon Stadium.
"We are committed to achieving results as far as the Real Madrid Academy is concerned. What is important is identifying what we want to do and going ahead to do it."
Wike expressed optimism that the academy will outlive his tenure because the goals are youth-centred and the necessary steps already taken to ensure sustenance.
"My prayer is that whoever will succeed me should not allow the dream to die. It will be quite unfortunate killing the dream of youths. It will not be taken lightly. The youths will never forgive such a person. What is important, don't kill the dream of youths.
"God will pick someone who will continue with this dream to allow the children who want to excel to have the opportunity. Football is the in thing today. Every weekend, midweek, most of us don't go out, because we want to watch matches as Football has taken a central role in the unity of nations, in the economy of nations, and therefore, I don't think any development conscious person would want to kill this dream.

France Targets Zidane As Next Coach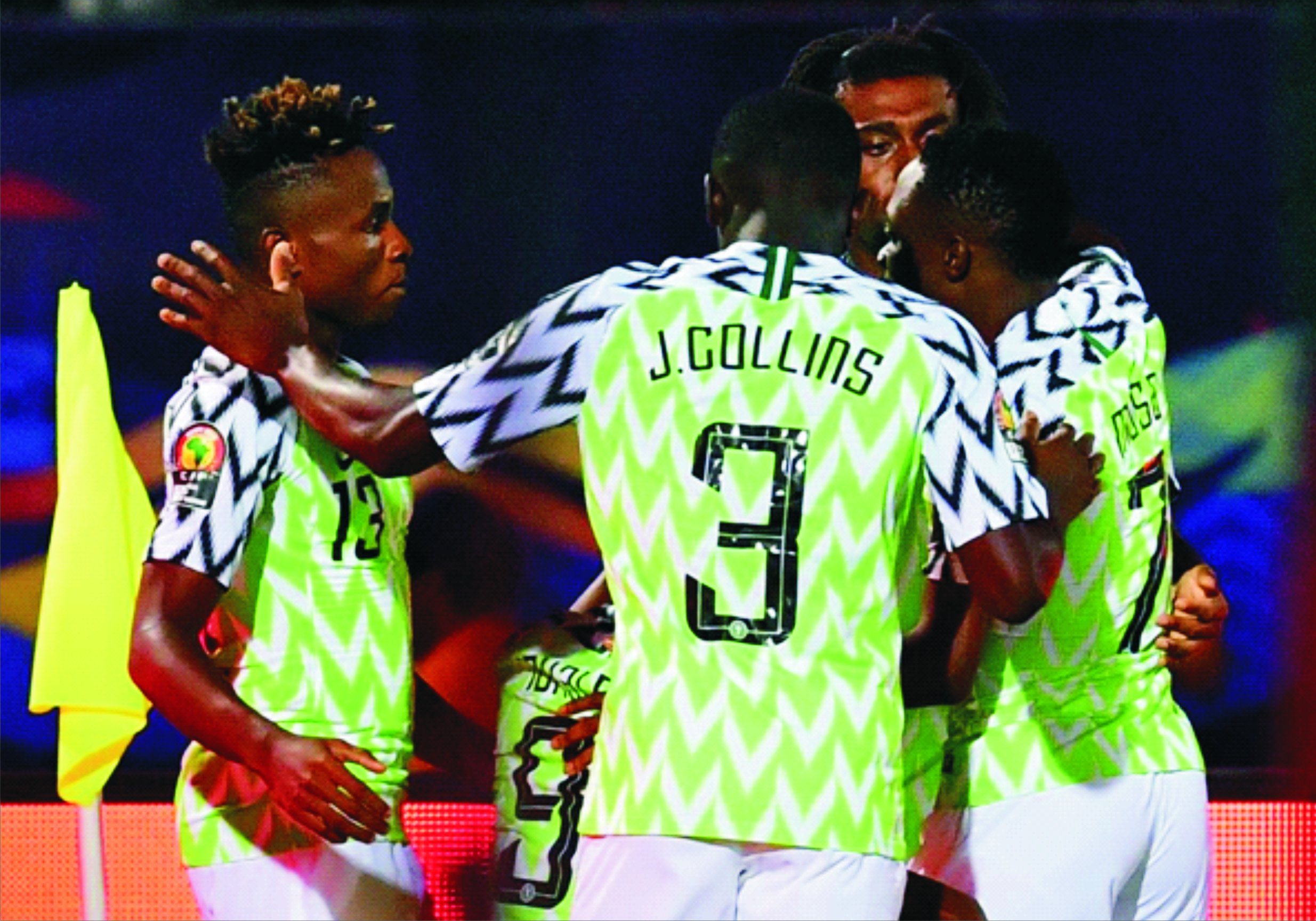 France will target Zinedine Zidane to replace Didier Deschamps when the World Cup-winning coach departs, FFF President Noel Le Graet revealed.
Real Madrid Head Coach Zidane has been linked with the France post previously, but he returned to the Santiago Bernabeu, last year.
Meanwhile, Deschamps, in charge of the national team since 2012, last month signed a contract extension to stay in his role through to the 2022 World Cup.
The France boss has championed his former team-mate as a future coach of Les Bleus, though, and chief Le Graet is also keen.
"The day Didier decides to leave or his contract is not renewed, if Zidane is available at that time, he will be the man for the job," Le Graet told Tidesports scoure
That opportunity could come as soon as 2022, as Deschamps' position beyond the Qatar World Cup is uncertain.
"There is Qatar," Le Graet said. "Didier will be there and then, maybe afterwards, I don't know."
Deschamps and Zidane won the 1998 World Cup together as players, before the former Juventus coach led his country to a second success two years ago in Russia.
Zidane won three consecutive Champions League titles in his first stint as Madrid coach, later returning when the LaLiga giants were struggling last year.