High Court Judgement On Soku Oil Wells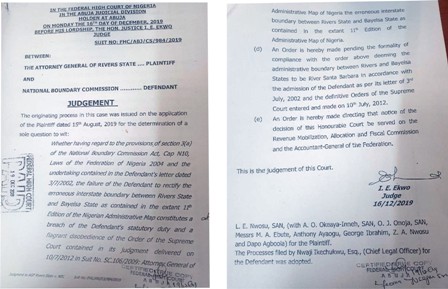 IN THE ABUJA JUDICIAL DIVISION
HOLDEN AT ABUJA
ON MONDAY THE 16TH DAY OF DECEMBER, 2019
BEFORE HIS LORDSHIP, THE HON. JUSTICE I. E. EKWO
ON SUIT NO: FHC/ABJ/CS/984/2019
BETWEEN:
THE ATTORNEY GENERAL OF RIVERS STATE …… PLAINTIF
AND
NATIONAL BOUNDARY COMMISSION ……….. DEFENDANT
JUDGEMENT
The originating process in this case was issued on the application of the Plaintiff dated 15th August, 2019 for the determination of a sole question to wit:
Whether having regard to the provisions of section 3(a) of the National Boundary Commission Act, Cap N10, Laws of the Federation of Nigeria 2004 and the undertaking contained in the Defendant's letter dated 3/7/2002, the failure of the Defendant to rectify the erroneous interstate boundary between Rivers State and Bayelsa State as contained in the extant 11th Edition or the Nigerian Administrative Map constitutes a breach of' the Defendant's statutory duty and a flagrant disobedience of the Order of the Supreme Court contained in its judgment delivered on 10/7/2012 in Suit No. SC.l 06/2009: Attorney General of Rivers State vs Attorney General or Bayelsa State and which has occasioned continuous denial of the Plaintiff or its constitutional right to be paid the 13% derivation funds, accruing from the Soku Oil Fields/Wells located within Rivers State.
The Plaintiff seeks the following reliefs upon the determination of the sole question:
(a) A declaration that the continued failure and/or refusal of the Defendant to rectify its admitted mistake in the 11th Edition of the Administrative Map of Nigeria since 2002. which erroneously showed San Bartholomew River instead of River Santa Barbara as the interstate, boundary between the Plaintiff State and Bayelsa State constitutes a breach of its statutory duty and ·a flagrant disobedience of the Order of the Supreme Court contained in its judgment delivered on 10/7/2012 in Suit No. SC. 106/2009.
(b) A declaration that the continued reliance on the said defective 11th Edition of the Administrative Map of Nigeria by other Government Agencies/Statutory bodies especially the Revenue Mobilisation, Allocation and Fiscal Commission and the Accountant General of the Federation in computation of the revenue accruable to the Plaintiff from the Federation Account has resulted in the continued unjust/unfair denial of allocation of derivation funds/money accruing from the Soku Oil Fields/Wells situate within the Rivers State to the detriment of the Plaintiff.
(c) An Order of mandamus or mandatory injunction compelling the Defendant to rectify forthwith in the 12th Edition of the Administrative Map of Nigeria the erroneous interstate boundary between' Rivers State and Bayelsa State as contained in the extant 11th Edition of the Administrative Map of Nigeria.
(d) An Order, pending the formality of compliance with the order of mandamus or mandatory injunction in (c) above, deeming the administrative boundary between Rivers and Bayelsa States to be River Santa Barbara in accordance with the admission of the Defendant as per its letter of 3/7/2002 and the definitive Orders of the Supreme Court entered and made on 10/7/2012.
(e) An Order, upon the grant of the above reliefs, directing that notice of the decision of this Honourable Court be served on the Revenue Mobilisation, Allocation and Fiscal Commission and the Accountant General of the Federation.
The facts of the Plaintiff's case are to be gleaned from their is-paragraphed affidavit deposed to on 22nd August, 2019. I consider the salient averments thereof to be found in paragraph 4-17. Therein it is averred that in 1996, Bayelsa State was created out of the old Rivers State. The geographical entity known as Rivers State
Included Soku Oil Fields/Wells from which derivation fund were paid to Rivers State. Upon creation of Bayelsa State, the administrative structure or unit hitherto known as Brass Division was excised from old Rivers State and constituted into Bayelsa State; while Degema and the remaining Divisions became present Rivers State with both States having their boundary as River Santa Barbara. This was the position from time immemorial and was so reflected in several Administrative Maps of Nigeria including the 10th Edition. Sometime in 2002 when the Plaintiff noticed that the 11th " Edition of the Administrative Map of Nigeria changed the natural boundary between it and Bayelsa State from River Santa Barbara to San Bartholomew River, the Plaintiff protested the change to the Defendant and the Surveyor-General of the" Federation (Exhs. A, B and C). In response to the protest letters, the Defendant in its letter dated 3rd July, 2002 admitted its mistake in the 11th Edition of the Administrative Map of Nigeria which placed the boundary between Rivers and Bayelsa States at San Bartholomew River and undertook to correct same in its 12th Edition of the Administrative Map of Nigeria (Exh. D). When the Defendant failed to redress the mistake in spite of its undertaking to' correct same, and, in spite of repeated demands by the Plaintiff to do so, the Plaintiff in 2009 instituted an action at the Supreme Court in its original jurisdiction in Suit No. SC.106/2009 – Attorney General of Rivers State v. Attorney General of 8ayelsa State and Attorney General of the Federation, On 10th July, 2012 the Supreme Court of Nigeria in a unanimous held that based on the admission of the mistake made by the Defendant and its undertaking to rectify the error of the interstate boundary between Rivers State and Bayelsa State in its 12th Edition of the Administrative Map of Nigeria, the Plaintiff's suit was accordingly struck out but the Court made an order against the Defendant to wit:
"From the tone of this letter, the fixing of St. Bartholomew River as the boundary between the plaintiff and the 1st defendant is an error acknowledged by the National Boundary Commission which it has undertaken to correct. Consequently, it is the order of this court that. the 2nd Defendant; the National Boundary Commission produces the 12th Edition of the Administrative Map of Nigeria expeditiously correcting all the alleged error in the 11th Edition."
It is then averred that the Order of the Supreme Court contained in the said judgement was delivered by Adekeye, JSC (as he then was) and is reported in Attorney General of Rivers State v. Attorney General of Bayelsa State & Anor. (2013) 3 NWLR (Pt. 1340) 123 at 167 paras D-E (Exh. E), and, the letter referred to by the Supreme Court In the judgement is to be found in Exh. D. Notwithstanding the Defendant's undertaking to rectify the error and the Order of the Supreme Court that it should do so expeditiously, the Defendant till date has failed and/or refused to amend the interstate boundary between the two States contained in its 11th Edition of the Administrative Map of Nigeria. The Defendant has recently been bandying a preliminary Administrative Map purportedly as the 12th Edition of the Administrative Map of Nigeria (Exh. F) which did not correct the anomaly complained of in the 11th Edition of the Administrative Map of Nigeria. When the Plaintiff became aware of Exh. F, the Plaintiff wrote a letter dated 19th July, 2019 (Exh. G) to the 1st Defendant complaining of the defects contained therein and demanded a withdrawal of the said document from circulation and also demanded compliance with its undertaking and Order of the Supreme Court within 21 days which period has since elapsed without compliance by the 1st Defendant. Unless compelled by this Court the Defendant will not produce an authentic 12th Edition of the Administrative Map of Nigeria in compliance with its undertaking and the Order of the Supreme Court. Consequent upon the failure of the Defendant to correct the said anomaly, other Governmental Agencies/Departments/Statutory bodies have continued to rely upon the 11th Edition of the Administrative Map of Nigeria to unjustly/unfairly deny the Plaintiff State of its entitlement to be paid the derivative funds/money accruing from the Soku Oil Fields/Wells which said Oil Fields/Wells are situated within Rivers State. Unless this Court makes a deeming Order that the boundary between Rivers and Bayelsa States is the River Santa Barbara in accordance with the admission of the Defendant as per its letter of 3rd July, 2002 and the Orders of the Supreme. Court thereto, pending the formality of compliance with the mandatory rectification Order sought in this Summons, other Governmental Agencies including, but not limited to the Revenue Mobilisation, Allocation and Fiscal Commission and the Accountant General of the Federation, will continue to deny the Plaintiff the derivative funds/money accruing from the Soku Oil/Fields/Wells.
In reaction, the Defendant filed a 14-paragrahed counter-affidavit deposed to on 12th November, 2019. I find the salient averments thereof in paragraphs 4-13. It is averred therein that there has been a lingering boundary dispute between the plaintiffs' State and Bayelsa State in which the Plaintiff's State claims River Santa Barbara as the boundary while Bayelsa State claims San Bartholomew River as the boundary. The Defendant has initiated several actions towards the resolution of the boundary dispute between the Plaintiffs State and Bayelsa State, and while the process of resolving the dispute was going on, the 11th Edition of the Administrative Map of Nigeria was produced in error because action on the boundary has not been concluded (Exh. A). The Defendant does not know exactly where the boundary between the Plaintiff's State and Bayelsa State is unless and until action is conclusive. A Joint Meeting of Officials convened on Wednesday 30th November, 2011 to receive and discuss the Joint Technical Report of November, 2007 and also chart a new road map towards fast-tracking the boundary dispute resolution process could not proceed due to a pending Court case at the instance of Plaintiff's State (Exh. B). Action on the boundary definition and delineation between the Plaintiff's State and Bayelsa State could not continue due largely to the fact- that the Plaintiff's State withdrew from further deliberation during a Joint Meeting of Officials held on Wednesday 30th January, 2013 (Exh. C). The conclusion of the boundary dispute resolution can only be possible where all the stakeholders participate in the process. The Plaintiff's State refused to participate in the Joint Meeting of Officials recently convened on 24th – 26th September, 2019 aimed at resolving the boundary dispute. Even when it acknowledged receipt of letter of invitation from the Defendant, it took no step to reply to the letter showing why it could not participate in the meeting, and, the Joint Officials Meeting could not take place (Exh. D). The 12th Edition of the Administrative Map of Nigeria mentioned in paragraph 13 of the Plaintiffs Affidavit is Provisional Administrative Map and cannot be relied upon by any authority or person in view of the fact that action on the disputed boundary has not been concluded. The Defendant has a procedure of defining and delineating boundary which must be exhausted before taking a decision on any boundary line including that of the Plaintiffs State and Bayelsa State, and the request by the Plaintiff to compel the Defendant to produce an authentic 12th Edition of the Administrative Map of Nigeria is premature. The Defendant is not aware and does not know any agency of the government/statutory bodies that rely upon the 11th Edition of the Administrative Map of Nigeria neither does the Defendant know where the Soku Oil Field/Well or any other Oil Wells/Fields are located. The Defendant cannot unilaterally define and delineate any boundary as between states, communities' and local government areas in Nigeria, the Plaintiff's State and Bayelsa State boundary inclusive, and to conclude work on the 'disputed boundary- between the' Plaintiff's State and Bayelsa state, stakeholders must resume resolution process.
The written .address of the Plaintiff is predicated on the sole question formulated for determination. It is asserted ther.ein that it is trite law that in the interpretation of statutes, (including the Constitution) where the words are clear and unambiguous, the law compels the Courts to accord them their plain and ordinary meanings; reliance is placed on Barbedos Ventures Ltd. II. first Bank of Nigeria PIc. (2018) 4 NWLR CPt. 1609) 241 at 286. It is then submitted that the relevant statutory provisions contained in S.3(a) of the National Boundary Commission Cap. N10, LFN 2004 ought to be given their plain and ordinary meanings. By S. 3 of the Boundary Commission Act, it is the duty of the Defendant to determine and intervene in the boundary dispute between Rivers State and Bayelsa State and the proper placement of the Soku Oil Fields/Wells in the Administrative Map of Nigeria; reliance is placed on Attorney General or Rivers State v. Attorney General or Bayelsa State (supra). Therefore when the Plaintiff protested the wrong placement of the boundary between Rivers State and Bayelsa State by the' pt Defendant at the River San Bartholomew instead of River Santa Barbara as contained in the 11th Edition of the Administrative Map of Nigeria, that is, Exhs. AI Band C. The Defendant admitted the error and undertook to correct the error in its 12th Edition of the Administrative Map of Nigeria (Exh. D). The Defendant having failed to do so, the Plaintiff sued in Attorney General orRivers State v. Attorney General or Bayelsa State (supra) wherein the 1st Defendant maintained that it made an error in the 1i th Edition of the Administrative Map of Nigeria and its undertaking to rectify same in the 12th Edition. The Court said the excuses given by the Defendant why it had not effected the correction and reflect same in the 12th Edition of the Administrative Map, were "lame excuses"; reliance is placed on Attorney General or Rivers State v. Attorney General of Bayelsa State (supra) at p. 154 paras C-E. At pp. 166 to 167 paras E-E of the judgement in the Law Report. The Defendant was ordered to produce the 12th Edition of the Administrative Map of Nigeria expeditiously correcting all the alleged errors in the 11th Edition. It is now more than 17 years when the Defendant in Exh. D. to the supporting affidavit undertook to correct the boundary error in the 12th Edition of the Administrative Map of Nigeria and more than 7 years since the Supreme Court ordered the Defendant to produce the 12th Edition of the Administrative Map of Nigeria and correct the error in the 11th Edition "expeditiously". The Defendant is yet to produce the 12th Edition of the Administrative Map of Nigeria and effect the correction it admitted it made in the 11th Edition of the Map concerning the proper interstate boundary between the Plaintiff State and Bayelsa State. The failure of the Defendant to produce the 12th Edition of the Administrative Map of Nigeria constitutes a breach of its statutory duty and also constitutes a fragrant disobedience of the Order of the Supreme Court and it is trite law that orders of Court are meant to be obeyed, and must be obeyed; reliance is placed on Chemiron International Ltd. v. Stabilini Visinoni Ltd. (2018) 17 NWLR (Pt. 1647) 62 at 83, Ezim II. Menakaya (2018) 9 NWLR (Pt. 1623) 113 at 136, and, APC v. Karfi (2018) 6 NWLR (Pt. 1616) 479 at 519.
The failure of the Defendant to so comply has continued to rob the Plaintiff State of its entitlement to be paid the derivative funds/money accruing from the Soku Oil Fields/Wells which are situated within the Rivers State. The Plaintiff State is being denied this entitlement because other government agencies/ departments/statutory bodies such as the Revenue Mobilization, Allocation and Fiscal Commission, and the Accountant General of the Federation are still relying on the defective 11th Edition of the Administrative Map of Nigeria in determining the derivative revenue accruable to the Plaintiff State. Therefore, it will be in the interest of justice to make a deeming Order that the boundary between Rivers State and Bayelsa State is the River Santa Barbara in accordance with the Defendant's 'admission in its letter of 3rd July, 2002 and the Order of the Supreme Court pending when the Defendant will comply with the production of the 12th Edition of the Map in line with S. 287(1) of the 1999 Constitution. This Court is constitutionally vested with the power to enforce the Order of the Supreme Court contained in its judgement delivered on 10th July, 2012. By the provisions of S.14(1) & 2 of the Federal High Court Act, Cap F12 LFN 2004 (hereinafter the FHCA), this Court has the powers to make an Order of mandamus or mandatory injunction requiring any act to be done and such power may be exercised notwithstanding that the Order is made against an officer or authority of the Federation as such; reliance is placed on Ohakim v, Agbaso (2010) 19 NWLR (Pt. 1226) 172 at 228, and, Associated Discount House Ltd. v. The Hon. Minister of the Federal Capital Territory(2013) 8 NWLR (Pt. 1357) 493 at 509. It is posited that in the context of the facts of this case, all the Plaintiff seeks in this case is an Order compelling the Defendant, who has shown no respect for the Court of law and who has shown clearly the "shirking of its statutory responsibilities" to perform its statutory duty as claimed in this action. In conclusion, this Court is urged to answer the sole question for determination in the affirmative and grant the reliefs sought.
In the written address of the Defendant, a sole question is formulated for determination to wit:
Whether this action is competent in view of the fact that it centers on and seeks order of Mandamus or Mandatory injunction against the Defendant?
It is their argument that by Order 34 Rule 3 (1) and (2) of the FHCCPR 2019 an application for an order of mandamus, prohibition or certiorari; or an injunction restraining a person from acting in any office in which he is not entitled to act, shall be made by an application for judicial review in accordance with the provision of this Order. The application for judicial review shall not be made unless the leave of the Court has been 'obtained, and, the application for leave shall be made ex parte to the Judge and shall be supported by a statement setting out the name and description of the applicant, the relief sought and the ground on which it is sought, an affidavit verifying the fact relied on, and, a written address in support of the application for leave. Non-compliance with the provisions of Order 34 of the FHCCPR 2019 by the Plaintiff renders this action incompetent, and as such has divested this Court the jurisdiction to entertain this suit; reliance is placed on Dr. Gabriel Olusoga Onagoruwa & Anor. v. IGP & 5 Drs. (1'991) 5 NWLR (Pt.193) 593 at 639, and, Madukolu v. Nkemdilim (1962) 2 SCNLR 341. It is submitted that Court Rules when made are applicable and binding on all authorities and persons they relate to, they are not mere flowers to decorate the statute book. It must be obeyed and the repeated use of the word "shall" throughout the provision of Order 34 is an affirmation that compliance with the provisions of the Rules of the Order is mandatory and not optional. Accordingly, this Court is urged to resolve this question in favour of the Defendant and strike out this suit.
I have noted the argument of the Plaintiff in their Reply on Point of Law wherein it is stated that the claim of the Plaintiff relating to mandatory injunction or order of mandamus is made under a purely private law setting or ordinary claim and not under the procedure of judicial review under Order 34 of the FHCCPR 2019; reliance is placed on Ohakim v. Agbaso (supra). It is also submitted that under S. 14(1) and (2) of the FHCA this Court is vested with power to make order mandamus requiring any act to . be done. The exercise of this power is not restricted only to claims brought by way of judicial review procedure. This Court is urged to discountenance the argument of the Defendant.
I have to say that the response of the Defendant to the case of the Plaintiff in their written address is quite a procedural novelty in my opinion. It is a very rare form of defence and perhaps procedurally· extraordinary if I may say. This is because the averments in the counter-affidavit appears to constitute what I may consider as the defence of the Defendant. The written address attached to the counter-affidavit elucidates nothing concerning the averments in the counter affidavit but addresses what is apparently an objection to the competence of the suit of the Plaintiff. This is done by formulating a sole issue to be determined by the Court on whether this action is competent in view of the fact that it centers on and seeks order of mandamus or mandatory injunction against the Defendant? Their argument thereon is that by Order 34 Rule 3 (1) and (2) of the FHCCPR 2019 an application for an order of mandamus, prohibition or certiorari or an injunction restraining a person from acting in any office in which he is not entitled to act, shall be made by an application for judicial review in accordance with the provision. It is contended therein that the application for judicial review shall not be made unless the leave of the Court has been obtained, and, the application for leave shall be made ex parte to the Judge and shall be supported by a statement setting out the name and description of the applicant, the relief sought and the ground on which it is sought, an affidavit verifying the fact relied on, and, a written address in support of the application for leave. It is their conclusion. that non-compliance with the. provision of Order 34 of the FHCCPR 2019 by the Plaintiff renders this action incompetent, and as such has divested this Court the jurisdiction to entertain this suit.
By and large the written address of the Defendant constitute a preliminary objection on the competence of the case of the Plaintiff. Now, where a competence of a suit is being challenged, it is Order 16 of the FHCCPR 2019 that applies. It is stated therein thus:
Order 16 (1) – There shall be no demurrer allowed.
(2) (1) – A party shall be entitled to raise by his pleading any point of Jaw, and any point of law so raised shall be disposed of by the Judge who tries the cause at or after the trial.
(2) A point of law 'so raised may, by consent of the Parties, or by order of the Court or a Judge in Chambers on the application of either party, be set down for hearing and disposed of at any time before trial.
Cont'd on p. 28

My Primary Concern Is Security, Safety Of Nigerians -Buhari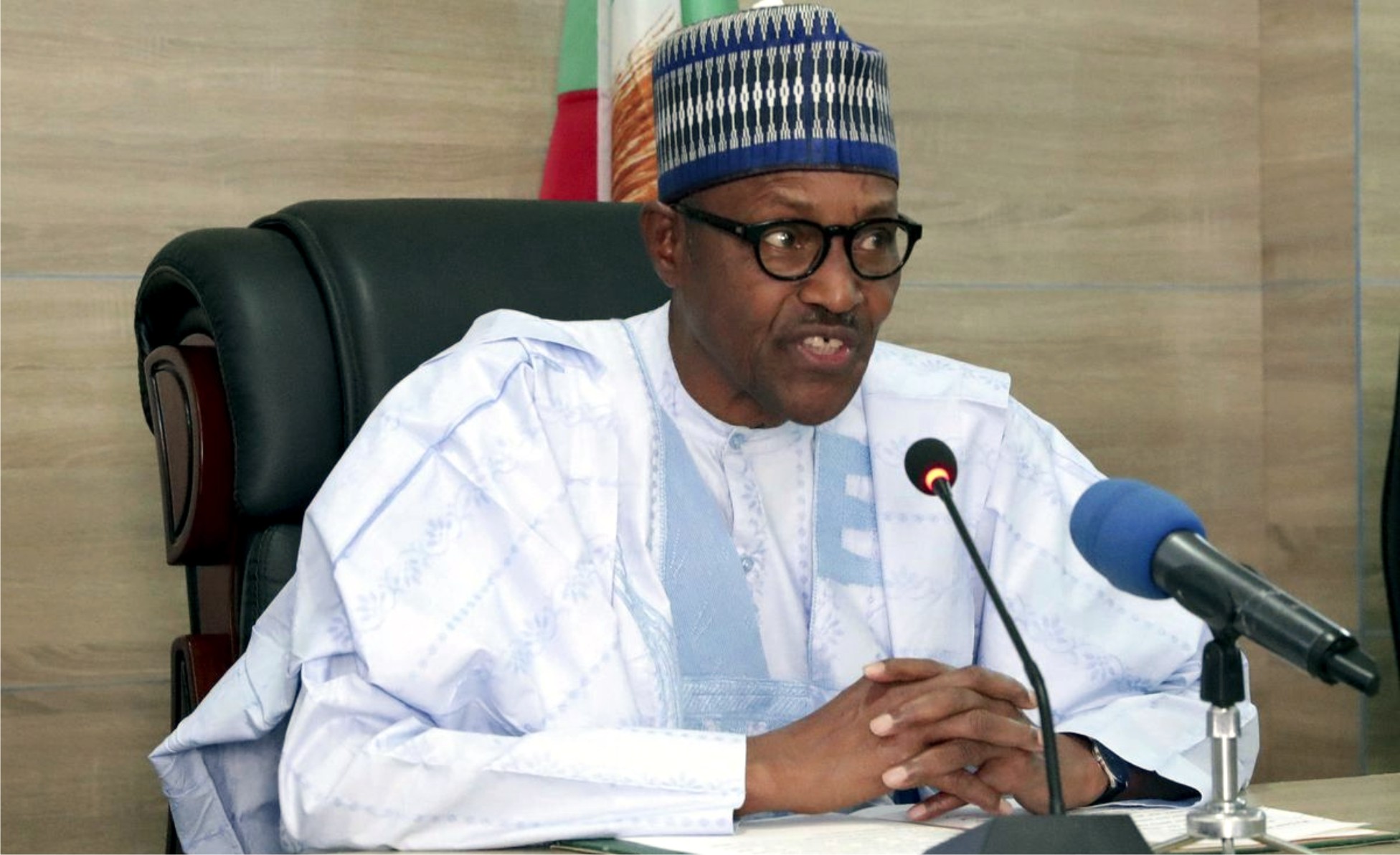 Being a text of the New Year broadcast of President Muhammadu Buhari on Wednesday, January 1, 2020. Excerpts.
My Dear Compatriots, today marks a new decade. It is a time of hope, optimism and fresh possibilities. We look forward as a nation to the 2020's as the opportunity to build on the foundations we have laid together on security, diversification of our economy and taking on the curse of corruption. These are the pledges on which I have been twice elected President and remain the framework for a stable, sustainable and more prosperous future.
Elections are the cornerstone of our democracy. I salute the commitment of the millions who voted in peace last February and of those leaders who contested for office vigorously but fairly, submitting to the authority of the electorate, the Independent National Electoral Commission and judicial process. I understand very well the frustrations our system has in the past triggered. I will be standing down in 2023 and will not be available in any future elections. But I am determined to help strengthen the electoral process both in Nigeria and across the region, where several ECOWAS members go to the polls this year.
As Commander-in-Chief, my primary concern is the security of the nation and the safety of our citizens. When I assumed office in May 2015 my first task was to rally our neighbours so that we could confront Boko Haram on a coordinated regional basis. Chaos is not a neighbour any of us hope for.
We have been fighting on several fronts: violent extremists, cultists and organised criminal networks. It has not been easy. But as we are winning the war, we also look to the challenge of winning the peace, the reconstruction of lives, communities and markets. The North East Development Commission will work with local and international stakeholders to help create a new beginning for the North East.
The Federal Government will continue to work with State Governors, neighbouring states and our international partners to tackle the root causes of violent extremism and the networks that help finance and organise terror. Our security forces will receive the best training and modern weaponry, and in turn will be held to the highest standards of professionalism, and respect for human rights. We will use all the human and emerging technological resources available to tackle kidnapping, banditry and armed robbery.
The new Ministry of Police Affairs increased recruitment of officers and the security reforms being introduced will build on what we are already delivering. We will work tirelessly at home and with our allies in support of our policies to protect the security of life and property. Our actions at all times will be governed by the rule of law. At the same time, we shall look always to engage with all well-meaning leaders and citizens of goodwill to promote dialogue, partnership and understanding.
We need a democratic government that can guarantee peace and security to realise the full potential of our ingenious, entrepreneurial and hard-working people. Our policies are designed to promote genuine, balanced growth that delivers jobs and rewards industry. Our new Economic Advisory Council brings together respected and independent thinkers to advise me on a strategy that champions inclusive and balanced growth, and above all fight poverty and safeguard national economic interests.
As we have sat down to celebrate with friends and family over this holiday season, for the first time in a generation our food plates have not all been filled with imports of products we know can easily be produced here at home. The revolution in agriculture is already a reality in all corners of the country. New agreements with Morocco, Russia and others will help us access on attractive terms the inputs we need to accelerate the transformation in farming that is taking place.
A good example of commitment to this inclusive growth is the signing of the African Continental Free Trade Area and the creation of the National Action Committee to oversee its implementation and ensure the necessary safeguards are in place to allow us to fully capitalise on regional and continental markets.
The joint land border security exercise currently taking place is meant to safeguard Nigeria's economy and security. No one can doubt that we have been good neighbours and good citizens. We have been the helpers and shock-absorbers of the sub-region but we cannot allow our well-planned economic regeneration plans to be sabotaged. As soon as we are satisfied that the safeguards are adequate, normal cross-border movements will be resumed.
Already, we are making key infrastructure investments to enhance our ease of doing business. On transportation, we are making significant progress on key roads such as the Second Niger Bridge, Lagos – Ibadan Expressway and the Abuja – Kano highway. 2020 will also see tangible progress on the Lagos to Kano Rail line. Through Executive Order 007, we are also using alternative funding programmes in collaboration with private sector partners to fix strategic roads such as the Apapa-Oworonshoki Express way. Abuja and Port Harcourt have new international airport terminals, as will Kano and Lagos in 2020. When completed, all these projects will positively impact business operations in the country. These projects are not small and do not come without some temporary disruption; we are doing now what should have been done a long time ago. I thank you for your patience and look forward to the dividends that we and future generations will long enjoy.
Power has been a problem for a generation. We know we need to pick up the pace of progress. We have solutions to help separate parts of the value chain to work better together. In the past few months, we have engaged extensively with stakeholders to develop a series of comprehensive solutions to improve the reliability and availability of electricity across the country. These solutions include ensuring fiscal sustainability for the sector, increasing both government and private sector investments in the power transmission and distribution segments, improving payment transparency through the deployment of smart meters and ensuring regulatory actions maximise service delivery.
We have in place a new deal with Siemens, supported by the German government after German Chancellor Angela Merkel visited us in Abuja, to invest in new capacity for generation, transmission and distribution. These projects will be under close scrutiny and transparency – there will be no more extravagant claims that end only in waste, theft and mismanagement.
The next 12 months will witness the gradual implementation of these actions, after which Nigerians can expect to see significant improvement in electricity service supply reliability and delivery. Separately, we have plans to increase domestic gas consumption. In the first quarter of 2020, we will commence work on the AKK gas pipeline, OB3 Gas pipeline and the expansion of the Escravos – Lagos Pipeline.
While we look to create new opportunities in agriculture, manufacturing and other long neglected sectors, in 2020 we will also realise increased value from oil and gas, delivering a more competitive, attractive and profitable industry, operating on commercial principles and free from political interference. Just last week, we were able to approve a fair framework for the USD10 billion expansion of Nigeria Liquefied Natural Gas, which will increase exports by 35 percent, restore our position as a world leader in the sector and create thousands of jobs. The Amendment of the Deep Offshore Act in October signalled our intention to create a modern, forward-looking industry in Nigeria. I am confident that in 2020 we will be able to present a radical programme of reform for oil and gas that will excite investors, improve governance and strengthen protections for host communities and the environment.
We can expect the pace of change in technology only to accelerate in the decade ahead. Coupled with our young and vibrant population, this offers huge opportunities if we are able to harness the most productive trends and tame some of the wilder elements. This is a delicate balance with which many countries are struggling. We are seeking an informed and mature debate that reflects our rights and responsibilities as citizens in shaping the boundaries of how best to allow technology to benefit Nigeria.
During my Democracy Day speech on June 12, 2019, I promised to lay the enduring foundations for taking a hundred million Nigerians out of mass poverty over the next 10 years. Today I restate that commitment. We shall continue reforms in education, health care and water sanitation. I have met international partners such as GAVI, the vaccine alliance, and the Bill & Melinda Gates Foundation who support our social welfare programmes. I will continue to work with State and Local Governments to make sure that these partnerships deliver as they should. Workers will have a living wage and pensioners will be looked after. We are steadily clearing pensions and benefits arrears neglected for so long.
The new Ministry of Humanitarian Affairs, Disaster Management and Social Development will consolidate and build on the social intervention schemes and will enhance the checks and balances necessary for this set of programmes to succeed for the long term.
I am able to report that the journey has already begun with the passage and signing into law of the 2020 Appropriation Act. As the new decade dawns, we are ready to hit the ground running. Let me pay tribute to the Ninth National Assembly who worked uncommonly long hours to make sure that the 2020 budget scrutiny is both thorough and timely. The close harmony between the Executive and Legislature is a sharp contrast to what we have experienced in the recent past, when the Senate kept the previous budget for 7 months without good reason just to score cheap political points thereby disrupting the budgetary processes and overall economic development plans.
Our policies are working and the results will continue to show themselves more clearly by the day. Nigeria is the most tremendous, can-do market, offering extraordinary opportunities and returns. Investors can look forward with confidence not only to an increasing momentum of change but also to specific incentives, including our new visa-on-arrival policy.
They can also be certain of our unshakeable commitment to tackle corruption. As we create an environment that allows initiative, enterprise and hard work to thrive, it is more important than ever to call out those who find the rule of law an inconvenience, or independent regulation an irritation. We are doing our part here in Nigeria. We will continue to press our partners abroad to help with the supply side of corruption and have received some encouragement. We expect more funds stolen in the past to be returned to us and they will be ploughed back into development with all due transparency.
This is a joint initiative. Where our policies have worked best, it has been because of the support of ordinary Nigerians in their millions, numbers that even the most powerful of special interests cannot defy. I thank you for your support. Transition by its very nature carries with it change and some uncertainty along the way. I encourage you to be tolerant, law abiding and peace loving. This is a new year and the beginning of a new decade – the Nigerian Decade of prosperity and promise for Nigeria and for Africa.
To recapitulate, some of the projects Nigerians should expect to come upstream from 2020 include:
47 road projects scheduled for completion in 2020/21, including roads leading to ports;
Major bridges including substantial work on the Second Niger Bridge;
Completion of 13 housing estates under the National Housing Project Plan;
Lagos, Kano, Maiduguri and Enugu international airports to be commissioned in 2020;
Launching of an agricultural rural mechanisation scheme that will cover 700 local governments over a period of three years;
Launching of the Livestock Development Project Grazing Model in Gombe State where 200,000 hectares of land has been identified;
Training of 50,000 workers to complement the country's 7,000 extension workers;
Commissioning of the Lagos – Ibadan and Itakpe – Warri rail lines in the first quarter;
Commencement of the Ibadan – Abuja and Kano – Kaduna rail lines also in the first quarter;
Further liberalisation of the power sector to allow businesses to generate and sell power;
Commencement of the construction of the Mambilla Power project by the first half of 2020; and
Commencement of the construction of the AKK gas pipeline, OB3 gas pipeline and the expansion of the Escravos – Lagos pipeline in the first quarter of 2020.
Thank you very much!
President Muhammadu Buhari
State House,
Abuja.

2020 Budget Designed To Stregthen Macro -Economic Environment – Buhari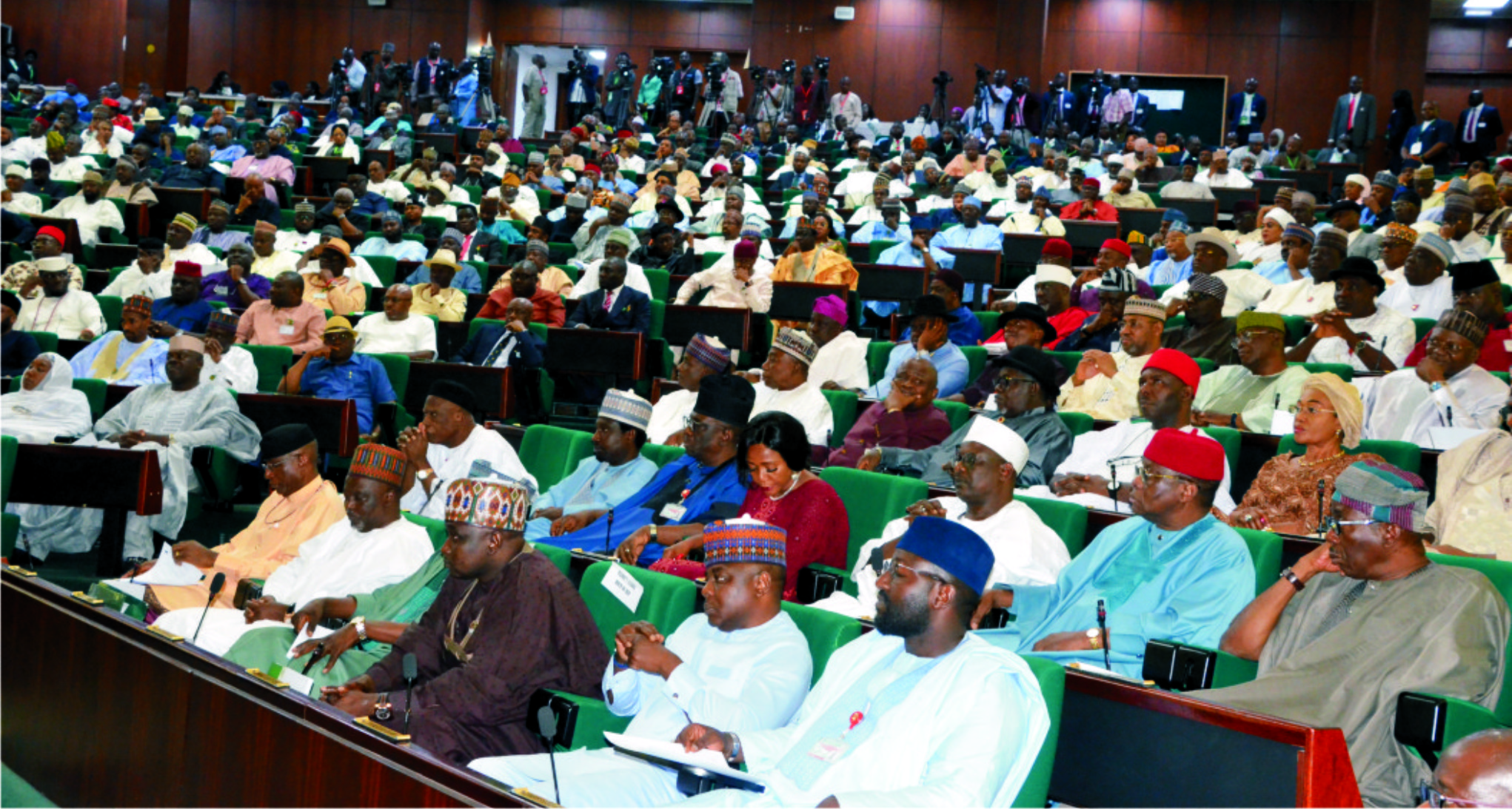 Being a text of the 2020 Budget speech delivered by President Muhammadu Buhari at the Joint Session of the National Assembly, Abuja on Tuesday, October 8, 2019.
Excerpt.
Protocols
I will start by asking you to pardon my voice. As you can hear, I have a cold as a result of working hard to meet your deadline!
I am delighted to present the 2020 Federal Budget Proposals to this Joint Session of the National Assembly, being my first budget presentation to this 9th National Assembly.
Before presenting the Budget, let me thank all of you Distinguished and Honourable Members of the National Assembly, for your avowed commitment to cooperate with the Executive to accelerate the pace of our socio-economic development and enhance the welfare of our people.
I will also once again thank all Nigerians, who have demonstrated confidence in our ability to deliver on our socio-economic development agenda, by re-electing this Administration with a mandate to Continue the Change. We remain resolutely committed to the actualization of our vision of a bright and prosperous future for all Nigerians.
During this address, I will present highlights of our budget proposals for the next fiscal year. The Honourable Minister of Finance, Budget and National Planning will provide full details of these proposals, subsequently.
Overview Of Economic Developments In 2019
The economic environment remains very challenging, globally. The International Monetary Fund expects global economic recovery to slow down from 3.6 percent in 2018 to 3.5 percent in 2020. This reflects uncertainties arising from security and trade tensions with attendant implications on commodity price volatility.
Nearer to home, however, Sub-Saharan Africa is projected to continue to grow from 3.1 percent in 2018 to 3.6 percent in 2020. This is driven by investor confidence, oil production recovery in key exporting countries, sustained strong agricultural production as well as public investment in non-dependent economies.
Mr. Senate President; Right Honourable Speaker; I am pleased to report that the Nigerian economy thus far has recorded nine consecutive quarters of GDP growth. Annual growth increased from 0.82 percent in 2017 to 1.93 percent in 2018, and 2.02 percent in the first half of 2019. The continuous recovery reflects our economy's resilience and gives credence to the effectiveness of our economic policies thus far.
We also succeeded in significantly reducing inflation from a peak of 18.72 percent in January 2017, to 11.02 percent by August 2019. This was achieved through effective fiscal and monetary policy coordination, exchange rate stability and sensible management of our foreign exchange.
We have sustained accretion to our external reserves, which have risen from US$23 billion in October 2016 to about US$42.5 billion by August 2019. The increase is largely due to favourable prices of crude oil in the international market, minimal disruption of crude oil production given the stable security situation in the Niger Delta region and our import substitution drive, especially in key commodities.
The foreign exchange market has also remained stable due to the effective implementation of the Central Bank's interventions to restore liquidity, improve access and discourage currency speculation. Special windows were created that enabled small businesses, investors and importers in priority economic sectors to have timely access to foreign exchange.
Furthermore, as a sign of increased investor confidence in our economy, there were remarkable inflows of foreign capital in the second quarter of 2019. The total value of capital imported into Nigeria increased from US$12 billion in the first half year of 2018 to US$14 billion for the same period in 2019.
Performance Of The 2019 Budget
Distinguished and Honourable Members of the National Assembly, you will recall that the 2019 'Budget of Continuity' was based on a benchmark oil price of US$60 per barrel, oil production of 2.3 mbpd, and an exchange rate of N305 to the United States Dollar. Based on these parameters, we projected a deficit of N1.918 trillion or 1.37 percent of Gross Domestic Product.
As at June 2019, Federal Government's actual aggregate revenue (excluding Government-Owned Enterprises) was N2.04 trillion. This revenue performance is only 58 percent of the 2019 Budget's target due to the underperformance of both oil and non-oil revenue sources. Specifically, oil revenues were below target by 49 percent as at June 2019. This reflects the lower-than-projected oil production, deductions for cost under-recovery on supply of premium motor spirit (PMS), as well as higher expenditures on pipeline security/maintenance and Frontier exploration.
Daily oil production averaged 1.86 mbpd as at June 2019, as against the estimated 2.3 mbpd that was assumed. This shortfall was partly offset as the market price of Bonny Light crude oil averaged US$67.20 per barrel which was higher than the benchmark price of US$60.
Additionally, revenue projections from restructuring of Joint Venture Oil and Gas assets and enactment of new fiscal terms for Production Sharing Contracts did not materialize, as the enabling legislation for these reforms is yet to be passed into law.
The performance of non-oil taxes and independent revenues such as internally generated revenues were N614.57 billion and N217.84 billion, respectively.
Receipts from Value Added Tax were below expectations due to lower levels of activities in certain economic sectors, in the aftermath of national elections. Corporate taxes were affected by the seasonality of collections, which tend to peak in the second half of the calendar year.
On the expenditure side, 2019 Budget implementation was also hindered by the combination of delay in its approval and the underperformance of revenue collections. As such, only recurrent expenditure items have been implemented substantially. Of the prorated expenditure of N4.46 trillion budgeted, N3.39 trillion had been spent by June 30, 2019.
In compliance with the provisions of the 2018 Appropriation Act, we implemented the 2018 capital budget till June 2019. Capital releases under the 2019 Budget commenced in the third quarter. As at 30th September 2019, a total of about N294.63 billion had been released for capital projects. I have directed the Ministry of Finance, Budget and National Planning to release an additional N600 billion of the 2019 capital budget by the end of the year.
Despite the delay in capital releases, a deficit of N1.35 trillion was recorded at end of June 2019. This represents 70 percent of the budgeted deficit for the full year.
Despite these anomalies, I am happy to report that we met our debt service obligations, we are current on staff salaries and overhead costs have also been largely covered.
2020 Budget Priorities
Distinguished Senators, Honourable Members, let me now turn to the 2020 Appropriation, which is designed to be a budget of:
a. Fiscal consolidation, to strengthen our macroeconomic environment;
b. Investing in critical infrastructure, human capital development and enabling institutions, especially in key job creating sectors;
c. Incentivising private sector investment essential to complement the Government's development plans, policies and programmes; and
d. Enhancing our social investment programs to further deepen their impact on those marginalised and most vulnerable Nigerians.
Parameters & Fiscal Assumptions Underpinning The Appropriation Bill And The Finance Bill
Distinguished and Honourable Members of the National Assembly, the 2020-2022 Medium Term Expenditure Framework (MTEF) and Fiscal Strategy Paper (FSP) set out the parameters for the 2020 Budget. We have adopted a conservative oil price benchmark of US$57 per barrel, daily oil production estimate of 2.18 mbpd and an exchange rate of N305 per US Dollar for 2020.
We expect enhanced real GDP growth of 2.93% in 2020, driven largely by non-oil output, as economic diversification accelerates, and the enabling business environment improves. However, inflation is expected to remain slightly above single digits in 2020.
Accompanying the 2020 Budget Proposal is a Finance Bill for your kind consideration and passage into law. This Finance Bill has five strategic objectives, in terms of achieving incremental, but necessary, changes to our fiscal laws. These objectives are:
a. Promoting fiscal equity by mitigating instances of regressive taxation;
b. Reforming domestic tax laws to align with global best practices;
c. Introducing tax incentives for investments in infrastructure and capital markets;
d. Supporting Micro, Small and Medium-sized businesses in line with our Ease of Doing Business Reforms; and
e. Raising Revenues for Government.
The draft Finance Bill proposes an increase of the VAT rate from 5% to 7.5%. As such, the 2020 Appropriation Bill is based on this new VAT rate. The additional revenues will be used to fund health, education and infrastructure programmes. As the States and Local Governments are allocated 85% of all VAT revenues, we expect to see greater quality and efficiency in their spending in these areas as well.
The VAT Act already exempts pharmaceuticals, educational items, and basic commodities, which exemptions we are expanding under the Finance Bill, 2019. Specifically, Section 46 of the Finance Bill, 2019 expands the exempt items to include the following:
a. Brown and white bread;
b. Cereals including maize, rice, wheat, millet, barley and sorghum;
c. Fish of all kinds;
d. Flour and starch meals;
e. Fruits, nuts, pulses and vegetables of various kinds;
f. Roots such as yam, cocoyam, sweet and Irish potatoes;
g. Meat and poultry products including eggs;
h. Milk;
i. Salt and herbs of various kinds; and
j. Natural water and table water.
Additionally, our proposals also raise the threshold for VAT registration to N25 million in turnover per annum, such that the revenue authorities can focus their compliance efforts on larger businesses thereby bringing relief for our Micro, Small and Medium-sized businesses.
It is absolutely essential to intensify our revenue generation efforts. That said, this Administration remains committed to ensuring that the inconvenience associated with any fiscal policy adjustments, is moderated, such that the poor and the vulnerable, who are most at risk, do not bear the brunt of these reforms.
Federal Government Revenue Estimates
The sum of N8.155 trillion is estimated as the total Federal Government revenue in 2020 and comprises oil revenue N2.64 trillion, non-oil tax revenues of N1.81 trillion and other revenues of N3.7 trillion. This is 7 percent higher than the 2019 comparative estimate of N7.594 trillion inclusive of the Government Owned En-

Good Of Rivers People, My Driving Force, Wike Affirms …As Work Begins On Garrison, Artillery, Rumuokoro Flyovers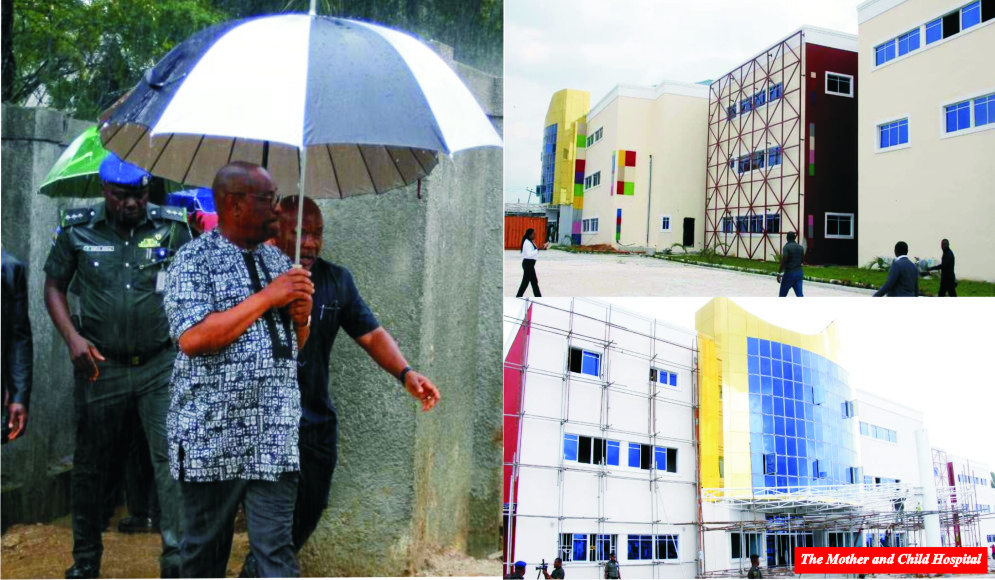 The Rivers State Governor, Chief Nyesom Wike has explained that the driving philosophy of his leadership model, is promoting the good of Rivers State in every action.
Addressing journalists after defying a heavy downpour to inspect the ongoing construction of Mother and Child Hospital in Port Harcourt, yesterday, Wike said he would continue to fulfill all his promises to the people of the state.
The governor said: "What is important is that when we make a promise, we fulfil that promise. We have no room for excuses. We will continue to promote the good of our people.
"For me, everything is Rivers. Whatever will improve the lives of Rivers people, we will do it".
Wike said that Julius Berger has started the process of preliminary works for the three flyover bridges at Garrison, Artillery and Rumuokoro in Port Harcourt.
He said that the construction giant has started soil tests, while the due process formalities would be completed, today.
"They are doing soil test. By tomorrow, they would conclude the due process formalities.
"We will flag off the construction of the three flyover bridges by the second week of October", he said.
Commenting on the Mother and Child Hospital, the governor said that it would be completed by this November ending.
"We believe that by the end of November, the Mother and Child Hospital will be ready. I am happy with the pace and quality of work by the new contractor.
"We were not impressed with the last contractor. We had to terminate the contract. We are impressed with what we are seeing now. This contractor is doing well with the supervision of relevant officials of relevant government agencies", he said.
He said the Mother and Child Hospital would provide specialist services to the people of Niger Delta, being the first in the region.
The governor noted that the hospital would also serve as part of the Rivers State University Teaching Hospital, explaining that the Rivers State Government has paid fully for the equipment of the hospital.
He added that full payment has been made for the furnishing of the hospital, while payment for the construction work is at 90 per cent level.
Wike was accompanied on the inspection by Director General, Rivers State Bureau of Public Procurement, Mr. Igonibo Emmanuel Thompson and former state lawmaker, Felix Nwaeke.